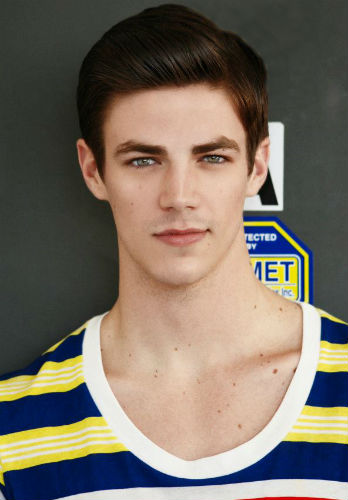 Grant Gustin
| | |
| --- | --- |
| Date Of Birth | January 14, 1990 |
| Age | 33 years 10 months 17 days |
| Day of Birth | Sunday |
| Place Of Birth | Norfolk, Virginia, United States |
| Zodiac Sign | Capricorn |
| Professions | Singer , Actor |
Personal Information
Religion
Christianity
Language
English
Nationalities
American ,

White

Ethnicity
Caucasian
Trademarks
Nerdy looks , Soft Voice , Lean and Tall

Body Features & Measurements
Height

183 CM


6 Feet 0 Inches
Eye color
Blue
Hair color
light brown
Weight

75 KG


165 lbs

Body Type
Athletic
Chest size
39
Waist Size
30
Biceps Size
14
Family Information
Father
Thomas Gustin (college professor; Thomas Avery Gustin)
Mother
Tina Lynne (pediatric nurse)
Wife
LA Thoma Gustin (Andrea Thoma; Doctor of Physical Therapy)
Brother
Tyler Gustin (Older; Photographer, Content creator; born Tyler Gustin)
Sister
Gracie Gustin (Younger; born Emma Gracie Guston)
Uncles
Jim Gustin (Paternal)
Nelson Gustin (Paternal)
Grandfather
Harry Gustin (Paternal)
Brother In-Law
Jonathan Thoma
Grandmother
Cherry Gustin (Paternal)
Sister In-Law
Louise Thoma (Weezy Thoma)
Stepfather
Kurt Krause
Stepsister
Erika Waitforit Krause

Education Qualifications
Education (Graduation)
Bachelor of Fine Arts
Alma Mater

Elon University

Career Information
Debut (Movie)
Affluenza (2014)
Years Active
2003-
Debut (TV)
Glee
Debut(Broadway)
West Side Story
Debut(Short movie)
Tom and Grant (2018)
Favorites, Hobbies, Likes/ Dislikes
Hobbies
Reading
Travelling
Favorite Actor
Joseph Gordon-Levitt
Favorite Foods
Hot Dogs
Mac and cheese
Favorite Movie
Hunger Games (Series)
Favorite Sports
Baseball , basketball
Favorite Author
Suzanne Collins
Favorite Car
Porsche
Likes
Michael Jackson
Favorite Sports Team
Los Angeles Dodgers
Favorite Artists
Mumford and Sons
Eric Hutchinson
Ben Folds
Bruno Mars
Maroon 5
Jason Mraz
Favorite superhero
superman
Favorite Brand
J.Crew
Favorite Holiday
Thanksgiving Day
Favorite Composer
Pasek and Paul
Social Networks, Web links
Facebook Profile
Grant Gustin Facebook Profile
Twitter Profile
Grant Gustin Twitter Profile
Instagram Profile
Grant Gustin Instagram Profile
Contact
Talent Agent
Robert Stein Management
Fan Mail
1180 S. Beverly Drive Suite 304 Los Angeles, CA 90035
More Information
Inspiration
Gene Kelly
Net worth

$2 million

Celebrity Crush
Rachel mcadams
Biography
Grant Gustin born is an American actor, singer. He is most known for playing 'The Flash' in the TV series 'The Flash'. He has appeared playing 'The Flash' in other TV series of Arrowverse- Arrow, Supergirl, Legends of Tomorrow. Grant has also appeared in other less known projects such as- '90210' (as Campbell Price), 'Glee' (as Sebastian Smythe), Tom and Grant(2018), Krystal(2017), Affluenza(2014) among others. He has a minor role in Jay and Silent Bob Reboot as well.
Grant Gustin was born as Thomas Grant Gustin on 14th January 1990 in Norfolk, Virginia, United States to Thomas Gustin(father)- a professor at college & Tina Lynne (Mother)- a pediatric nurse. He has an older brother named Tyler Gustin and a younger sister named Gracie Gustin.
Education:
Granby High School: Grant attended 'Granby High School', a public high school in Norfolk, located in '7101 Granby Street Norfolk, Virginia 23505'. He graduated in 2008 from the High School.
Governor's School for the Arts: Grant attended the regional secondary arts school located in "254 Granby Street Norfolk, Virginia 23510". He studied musical theatre in the program
Hurrah Players Incorporated: Grant trained at 'Hurrah Players Incorporated', A non-profit Family Theatre organization in Norfolk, Virginia
Bachelor of Fine Arts: Grant graduated with a BFA in music theatre at the Elon University, Elon, North Carolina.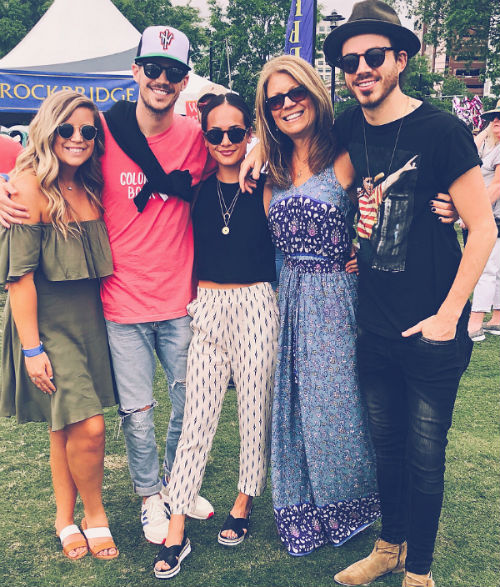 Image: Grant Gustin Family- Brother Tyler, Sister Gracie, Mother Tina & Wife Andrea
Grant Gustin & Andrea Thoma Marriage:
Grant started dated Andrea Thoma- a Malaysian-American Doctor of physical therapy ( & an Orthopedic Certified Specialist) in 2016, the couple hit it off instantly, the couple got engaged on 29th April 2017. Eventually an year later, on 15th December 2018 they got married.
The proposal: He has a hilarious story about the proposal, he had hid the ring in his backpack while they were travelling abroad, he was waiting for a better time to propose, she went through his back looking for her water bottle and found the ring to her surprise, he anyway went ahead with the proposal, she thought he was joking at first. The diamonds were really big and thus made the impression that it was dummy.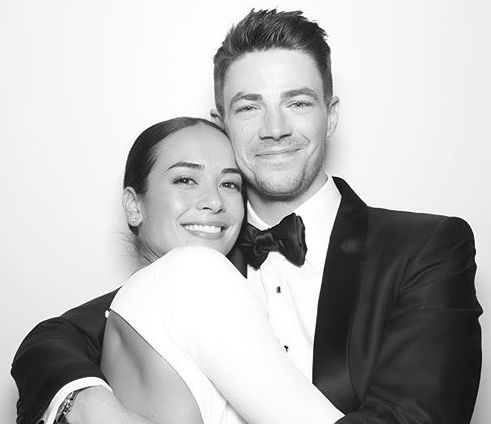 Image: Grant Gustin & Wife Andrea Thoma
Grant Gustin Interesting Trivia
Early interest in acting: Initially it was his mom who made him act and sing at home, he would put on shows with his brother and sister at home with a movie in the background in front of fire place, his mom recognized his natural talent.
Middle names: All three Gustin siblings use their middle names as first names. Grant's full name is Thomas Grant Gustin, while Tyler's is Charles Tyler Gustin and Grace's Emma Gracie Gustin
He is a very good Tap dancer. He attended tap dance classes since he was 8 years, he was inspired by Gene Kelly, he attended an all boys Tap dance class.
The first musical theatre show he did was 'The Whiz' he played the tornado in the series. Willy Wonka was another of his firsts.
Ethnicity: Grant is of English, German, Irish & Welsh ancestry. Most of his ancestors have been in American for 400 years.
He is a natural singer, he has learnt music and theatre together.
Friendship with Chris Wood: Chris wood and Grant Gustin have been friends since college.
NASA's Children's Science program: Grant appeared in NASA's science related program back in 2003
Grant's wife Andrea is two years elder to him, she was born in 1988, he was born in 1990.
Hunger Games Series: Grant was one of the final 22 candidates selected to play Finnick Odair in the series, he was considered too young for the series, the role eventually went to Sam Clafin
Grant previously dated dancer Hannah Douglass from 2014, they met on the sets of Glee, they dated for about 2 years
Road Trips: Grant loves road trips, he loves travelling with his friend Kyle Harris (he played Tony in West Side story)
Favorite Super Hero: Superman is his favorite superhero, many of his childhood babysitters were fired because they refused to walk in the streets with him dressed as superman.
Tattoos (He never had one until 2012):

Left Arm: He has a tattoo reading "Superman ... I love him" on the left arm
Right Arm: on the right arm he has a tattoo reading "Love Above All Else"
Left shoulder: Another tattoo reading "GOLD" on the left shoulder.
Left Chest: shape of his home state- Virginia
Flash Tattoo: He has the logo of 'The Flash'
LA & G Arrow: He has a tattoo with initials LA on one arm & G on another. LA for his wife, G for Grant and then an arrow passing through.
A pirate skull embedded in a crystal in honor of his marriage to Andrea of ​​Kadazan origin from eastern Malaysia in Borneo.
Superman tattoo: He had been a childhood fan of superman, he has a superman tattoo on him

Grant and Tom Cavanagh launched a fundraiser on IndieGoGo to finance their short film Tom and Grant in 2017. Tom Cavanagh is a versatile personality, Grant and Tom have a good rapport off the camera as well.
Grant and his wife Andrea have 3 pet dogs at home, they are named- Rookie, Jett, Nora.
Tweeting the Phone number in public: Grant tweeted his phone number on twitter by mistake, within the next 10 minutes he received 20 calls, he immediately changed the number through AT & T
Grant Gustin played Barry Allen in 'The Flash', it was played by John Wesley Shipp in the original 1990 series 'The Flash'. John played Barry's father in the 2014 series. Coincidentally they are both from Norfolk, Virginia
Gay bashing: Grant was Gay bashed in school for being who he was though he was straight. He had a hard time as a kid because of that
He is a mental health advocate, supports mental health awareness organizations and supports celebrities sharing mental issues as a part of life.
He supports LGBTQ, Immigration into USA among other causes.
Social Media presence: Grant used to tweet a lot initially, he discontinued facebook posting back in 2015, as of now he is only active on Instagram.
Shoes, Feet & Gustin: Grant used to post shoes and feet occasionally, his fans developed fetish for his shoes and feet. He has less than 20 pairs and not as obsessed as his fans think
Kyle Harris & Grant Gustin have been best friends since 2009.
Ice Bucket Challenge: Grant took the Ice Bucket Challenge in 2014, he nominated his friends Kyle Harris, Chris Colfer and brother Tyler Gustin
Grant is good with sketches and designs, if he was not an actor he would have become an architect.
Thunder foot: Gustin was called Thunder foot at school, he could run fast and kick the ball very far.
Grant Gustin Facts & Bio
Broadway Debut: Grant discontinued the school in 2010 to play the role of Baby John in West Side Story
TV Debut: Grant made his TV debut as Sebastian Smythe in Glee in 2011. He played an openly gay character. He got the role after a long search and long audition.
Smooth Criminal: Grant and Naya Rivera performed a duet of Michael Jasckson's 'Smooth Criminal' in the episode 'Michael' of TV series 'West Side Story'. The song backed by
2Cellos reached a peak rank of 26 at the Billboard Hot 100,
The Flash: It was originally planned as just 3 episodes with a backdoor pilot. Later it was revised to a 13 episode stand alone series. The pilot received highest ever views for a series on CW in 5 years. Encouraged by the continuous success The Flash has seen more than 5 successful seasons. He plays the role of 'The Flash' in Arrow, SuperGirl, Legends of Tomorrow as well as web series Vixen.
Grant's singing career: Grant has been a singer since childhood, some of his official performances include:

Uptown Girl (Glee: The Music, Volume 7)
Bad (Glee: The Music)
Smooth Criminal (Glee: The Music)
I Want You Back (Glee: The Music)
Stand (Glee: The Music)
Glad You Came (Glee: The Music)
Live While We're Young (Glee: The Music)
Super Friend (Glee: The Music)
Runnin' Home to You (Glee: The Music)

Awards: Grant has received plenty of nominations for his role in 'The Flash', he has won awards at Teen Choice Awards (2015- Choice TV: Breakout Star), Saturn Awards (Breakthrough Performance Award), Teen Choice Awards(2016- Choice TV Actor: Fantasy/Sci-Fi), Teen Choice Awards(2017- Choice Action TV Actor), Teen Choice Awards(2018- Choice Action TV Actor).
Grant Gustin Quotes
I've never been passionate about just music.. My love for music has always been connected to the stories told through music
My childhood dream was always to be on Broadway.. I want to end up there.
I've always been a sensitive person. I've always been a shy person and an anxious person.
Every year I try to take steps forward as far as my mental health is concerned. For me that means being honest with myself about how I'm feeling. It means not being so hard on myself all the time. I may always struggle with anxiety and depression. That doesn't mean it has to define me. There have been times where I've wanted to give up and there will most likely be more. But I'll always do my best to resist that urge and lean on the people around me that love me. There are so many things and people in my life that bring me an immeasurable amount of joy. Talking to people about what you're going through can be a healing process, but you'll also find out that you're not alone. Open up a conversation about mental health. It's normal to be dealing with these things.
I'm a very impatient person, I'm also bad at keeping secrets, I can also be neurotic.
I buy gifts for my family all year, but when it is their birthday [I forget].