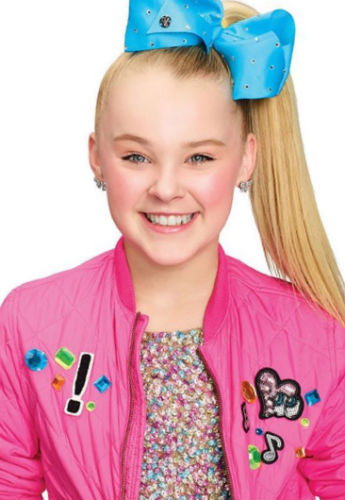 JoJo Siwa
Date Of Birth
May 19, 2003
Age
20 years 4 months 6 days
Day of Birth
Monday
Place Of Birth
Omaha, Nebraska, United States
Zodiac Sign
Taurus
Professions
Actress ,

Dancer

, Singer ,

Entrepreneur

Nickname

JoJo

Full Name

Joelle Joanie Siwa
Personal Information
Residence

Los Angeles, California, United States

Religion
Christianity
Languages
Spanish , Korean , Russian , English
Nationality
American
Ethnicity
Caucasian
Complexion
White
Trademarks
Hair bows , Broad Forehead

Body Features & Measurements
Height

178 CM


5 Feet 10 Inches
Eye color
Blue
Hair color
Blonde
Weight

50 KG


110 lbs

Body Type
Athletic
Family Information
Father

Tom Siwa

Mother
Jessalynn Siwa (Jessalynn Lombardi; a professional dance instructor)
Brother

Jayden Siwa

Cousins
Miley
Jada
Journey
Tessa
Taylor
Izabel
Jack

Career Information
Years Active
2014-
Favorites, Hobbies, Likes/ Dislikes
Hobby
Skydiving
Favorite Color
Pink
Favorite Singers
Britney Spears
Miley Cyrus
Meghan Trainor
Justin Bieber
Favorite TV shows
Dance Moms
Stranger Things
Grey's Anatomy
Game Shakers
Nicky, Ricky, Dicky & Dawn
Favorite Countries
United Kingdom
Australia
Favorite Music Band
Queen
Dislikes
Flip flops
Favorite Rapper
Herself
Favorite Dessert
Snow cone
Favorite Snacks
Candy chips
Chocolate chip cookie
Favorite Subject
Mathematics
Favorite Social Media
Youtube
Social Networks, Web links
Facebook Profile
JoJo Siwa Facebook Profile
Twitter Profile
JoJo Siwa Twitter Profile
Official Website
JoJo Siwa Official Website
Instagram Profile
JoJo Siwa Instagram Profile
YouTube Channel
JoJo Siwa YouTube Channel
Snapchat
dancerjojosiwa (5)
Tik Tok profile
JoJo Siwa Tik Tok profile
Contact
Contacts (Email)

JoJoSiwaPR@gmail.com


itsjojosiwa@gmail.com (Business)
More Information
Friends
Mackenzie Ziegler
Kalani Hilliker
Sophia Grace
Jordyn Jones
Matt Slays
Everleigh Soutas
Maddie Fisher
Annie LeBlanc
Jayden Bartles
Brynn Rumfallo
Duncan Ballinger
Halle Welton
Ruby Rose Turner
Savannah Soutas
Bailey Ballinger
Taytum Fisher
Hayley LeBlanc
Colleen Ballinger
Nia Sioux
Breanna Yde
Oakley Fisher
EJ Brown
Rebecca Zimolo
Cole Soutas
Kyler Fisher
Ashleigh Morrison
Inspirations
Guy Amir
Mark Meismer
Paula Abdul
Gianna Martello
Patrice Barakat
Abby Lee Miller
Net worth

$10 Million- $100 Million

Instruments
Piano
guitar
Biography
JoJo Siwa is an American actress, dancer, singer, internet sensation and a youtube star. JoJo is popular for appearing on the TV reality show Dance Moms along with her mother. She is a superstar on TikTok with approximately close to 20 million fans.
She has played Audrey in School of Rock(2017-2018), she plays JoJo (herself) in the show The JoJo & BowBow Show Show. She has recently appeared in Every Girl's a Super Girl Singer (2018), she has voiced T-Rex in The Masked Singer(2020).
Family - Childhood
JoJo was born on 19th May 2003 in Omaha, Nebraska, United States to Jessalynn Siwa(mother)- a dance instructor & Tom Siwa (father). She grew up in Omaha, Nebraska with her parents & brother.
Parents
JoJo's mother Jessalynn Siwa (Jessalynn Lombardi) is a professional dance instructor from Iowa.
JoJo's father Dr. Tom Siwa is a chiropractor from Nebraska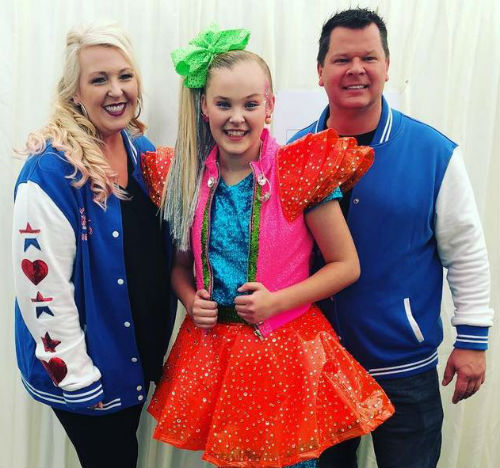 [ JoJo Siwa parents- father Tom Siwa, and mother Jessalynn Siwa]
Brother-Jayden Siwa
She has an older brother named in Jayden Siwa, he is a video blogger. He has a popular youtube channel at "Jayden Siwa- the food dude"
[JoJo Siwa with brother Jayden Siwa]
Interesting Facts & Trivia
Little Dancer: JoJo started dancing when she was just 2 years old. she danced solo to the song "Mama I'm a Big Girl Now", she was wearing a diaper at the time
JoJo the dancer: Jojo is popular for her appearances on Dance Moms, she loves all forms of dance. Hip Hop, Jazz & Musical theatre are all her favorite genres; Jazz and Hip-hop are her favorite compared to others as they are more fun. 'Rapunzel solo' (Abby's Ultimate Dance Competition), 'Zombie Hip Hop solo' (Dance Moms), 'Donkey Pot Pie' are among her favorite performances of herself
JoJo and her brother were born on consecutive dates (2 years 364 days apart). They have 2 consecutive days of birthdays in the Siwa household.
Dream job: She wishes to become a dancer on Broadway.
Bow Bow: JoJo has a pet dog named Bow Bow. JoJo & Bow Bow are adorable names.
Nickelodeon: JoJo has appeared frequently on Nickelodeon. She signed with them for JoJo Merchandise in 2017. She is known for Nickelodeon's Lip Sync Battle Shorties.
Jake Paul is her favorite YouTuber.
Breakout Artist of 2018: 'Vivid seats LLC' listed her as the breakout artist of 2018 following the success of her singles
Top 30 Stars Under Age 18: The Hollywood Reporter published a list of Top 30 stars under age 18 for the year 2019, JoJo was one of those.
Nomination as Queen: In 2019 Apple's voice assistant Siri was answering Siwa as the nominated Queen. It was a hoax and was later fixed by Apple Inc.
She considers her mother Jessalynn to be her best friend.
JoJo has had a very active childhood and youth, she has worked various chores, her previous jobs include:

Dance Extra
Baby sitter
Attendant

Jake Paul and JoJo Siwa dressed up as each other for Holloween in 2018.
Feud with Justin Bieber: Justin Bieber commented on a post by JoJo Siwa's twitter post of her new car bought by her parents. He commented "Burn It", and later clarified with "Nothing against you Jojo, just your car", she replied, "Its ok bro, I'll forgive if you perform at my 16th birthday". It received over 100,000 likes on twitter.
Nickelodeon SlimeFest: JoJo kick-started Nickelodeon Slimefest stage show in June 2019 at a music festival in Chicago, Illinois at Northerly Island. She has performed at the UK Nickelodeon Slimefest as well as the 2018 United States Nickelodeon SlimeFest.
Musical instruments: She likes playing guitar and piano in her favorite time.
Farting genius: It is said that JoJo Can Fart With 9 Parts Of Her Body. [4]
Multiple Languages: JoJo speaks a little bit of

Korean
Russian
Spanish and
English (of course)

JoJo Siwa in sports:

Track and field: She likes running, she always wanted to be a track and field athlete.
Softball: she was a good softball player at school, she was a good catcher. She once even broker her pinky while catching.

Philanthropy

Dancers against cancer: She donated $10000 with the help of 'Dancers against cancer' to people in need
JoJo Bows
JoJo likes wearing bows and loves it when fans wear it to her concerts. She has a collection of more than 1000 bows herself.
JoJo's trademark Bow has become so popular among fans that Claire's has been selling the Bow on their stores. It became a fashion in the UK primary schools, the designer bows were costly (£8 to £12 each) and schools had to ban wearing it after some kids started bullying those who didn't have those bows. Some schools reasoned that the bows were "a distraction, harmed students' concentration, violated school dress code"
JoJo has sold over 50 Million hair bows. There were over 7000 varieties of Bows created. Her mom makes a lot of Bow, JoJo helps her mom tying the ribbon. JoJo's bows are also available for sale in Australia, Canada, Mexico & the UK. JoJo says the bows are a symbol of "symbol of power, confidence, believing-ness"
Merchandise
JoJo sells Accessories, Apparels, Arts & Crafts, Bows, Cosmetics, Home Goods, Party Supplies on online and offline stores. Her merchandise is available in 6 continents.
Almost all big fashion outlets have JoJo themed products- Amazon, Target, Walmart among others.
JoJo has a partnership with J. C. Penney (American department store). She sells Accessories, bedroom decor, dolls, books through the department store.
Claire's recalled JoJo Siwa-branded cosmetics kit in June 2019 after FDA issued a warning of having dangerous levels of asbestos in the product
JoJo Siwa hair down
JoJo usually ties her hair up, it is so rare that she lets her hair down that a fan asked to pay her million to see her hair down. She has on occasions let her hair down.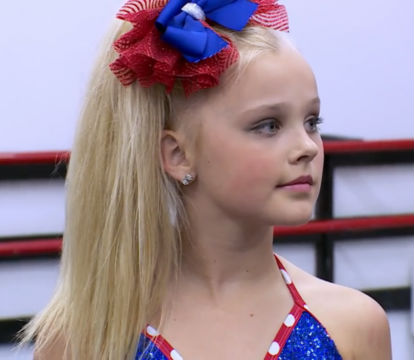 [JoJo Siwa with her hair down]
Jojo Siwa D.R.E.A.M. The Tour
Nickelodeon, AEG Presents produced JoJo's first-ever music tour. It was presented by Party City
JoJo's live concert tour began on 17th May 2019 in Phoenix, Arizona and moved to 80 cities spread all across the United States and Canada.
She sang "D.R.E.A.M", "Everyday Popstars", "My Story", "Only Getting Better" and other songs on her tour. The tour is planned for the UK, Ireland and other European nations as well.
Jojo Siwa Books
JoJo Siwa Biography- JoJo's guide to the sweet life: #Peace off haters
JoJo Siwa's biography was released in 2017. She became the New York Times best selling author with that. The book is available for sale on Amazon and other online places.
Children Books
A series of JoJo themed Children's books were released on Abrams Books, all authored by JoJo herself:
Social Media
JoJo has a huge following on social media, she has accounts on YouTube, Instagram, Facebook, Twitter, TikTok, and others. Her total social media following is close to 20 million.
Youtube Channel
JoJo has 2 youtube channels at- JoJo Siwa Music & It JoJo Siwa. Know It All Paul-La is a character created by and played by JoJo on her youtube channel.
Siwanatorz: Jojo has a large audience through all her social media accounts combined, her fans are called Siwanatorz. Siwanatorz are against negativity & bullying.
Jo'Bros: JoJo's boy fans have a new name- Jo'Bros.
JoJo's social media follower count: [as of 10 April 2020]
| Social Media | Subscribers/ Followers count |
| --- | --- |
| Facebook | 690k |
| Instagram | 9.1 million |
| TikTok | 17.7 million |
| Twitter | 440k |
| Youtube (2 channels) | 10.9 Million+ 3.7 million |
Questions & Answers
What makes JoJo Siwa cringe?

When people fart and don't admit to it.

Has JoJo Siwa ever let her hair down?

Yes, she has on numerous occasions, check her pictures section for some of her "hair down" pictures.

Which is JoJo's favorite TV Series?

Grey's Anatomy (2005) is JoJo's favorite TV series.

Which is JoJo's favorite subject in school?

Mathematics is her favorite subject in school.
Career
Abby's Ultimate Dance Competition
JoJo appeared as one of the finalists of the 2nd season of 'Abby's Ultimate Dance Competition'. She was the youngest ever contestant to participate in the show, she was eliminated in the 9th week as one of the top-5 contestants.
Dance Moms
JoJo auditioned for Abby Lee Miller's ALDC in 2014. She got selected in 2015. Jojo started to appear in the show Dance Moms, which has the same production team as ALDC in 2015.
Filmography
Movies List
| Year | Movie | Character | Comment |
| --- | --- | --- | --- |
| 2019 | The Angry Birds Movie 2 | Jay / Kira (voice) | |
| 2018 | Blurt | Victoria Martin | TV Movie |
| 2017 | Nickelodeon's Sizzling Summer Camp Special | Girl | |
| 2017 | Nickelodeon's Ultimate Halloween Haunted House | | TV Movie |
| 2016 | Ultimate Halloween Haunted House | Scar-acter | |
TV Series List
| Year | TV series | Character | Comment |
| --- | --- | --- | --- |
| 2020 | The Masked Singer | T-Rex | |
| 2019 | Middle School Moguls | Josie (voice) | episode: "Mo'gul Money, Mo Problems" |
| 2017-2018 | School of Rock | Audrey | "Not Afraid", "Minimum Wage" |
| 2016 | JoJo's Juice | JoJo | 27 episodes |
| 2016 | The Thundermans | Nora's Fan | Episode: "Thundermans: Banished!" |
Short movies List
| Year | Short movies | Character | Comment |
| --- | --- | --- | --- |
| 2018 | Every Girl's a Super Girl | Singer | |
| 2017 | Kid In A Candy Store | Dancer / Singer | |
Other works
| Year | Project | Character | Comment |
| --- | --- | --- | --- |
| 2019 | JoJo's Follow Your D.R.E.A.M | | TV Movie documentary |
| | | | |
TV Shows List
| Year | TV show | Comment |
| --- | --- | --- |
| 2020 | #KidsTogether: The Nickelodeon Town Hall | |
| 2020 | The Best of the Kids' Choice Awards | as performer |
| 2020 | The Substitute | as Guest Celebrity |
| 2019 | JoJo's D.R.E.A.M. Concert | |
| 2018-2019 | The JoJo & BowBow Show Show | 11 episodes |
| 2015-2019 | Dance Moms | 61 episodes |
| 2019 | JoJo's Livin' the D.R.E.A.M | |
| 2019 | JoJo's Dream Birthday | TV Movie |
| 2019 | JoJo Siwa Dream the Tour | short video |
| 2017-2018 | Lip Sync Battle Shorties | as Host & sidekick |
| 2017 | 91st Macy's Thanksgiving Day Parade | |
| 2017 | JoJo Siwa: Justine Magazine | short video |
| 2017 | JoJo Siwa: My World | TV Movie |
| 2015-2017 | JoJo's Juice | 46 episodes |
| 2017 | Nickelodeon's Not So Valentine's Special | as "Girl with Heart" / Dancer |
| 2016 | Dance Moms: The Girls' Guide to Life | |
| 2015 | Nickelodeon's Ultimate Halloween Costume Party | TV Movie |
| 2015 | Dance Moms Slumber Party | |
| 2013 | Abby's Ultimate Dance Competition | 12 episodes |
Music
Musical video collaborations: JoJo has made videos in collaboration with other content makers like- Addison LaFountain, 'Belles & Whistles', MattyB, Nia Sioux among others.
She raps pretty fast, she is her favorite rapper :)
Boomerang
Boomerang was the debut song of Jojo, it was released in May 2016. The song was about handling cyberbullying and winning over bullies. It was directed by Monseé Wood, written by Griffith Frank, Heather Miley, JoJo Siwa, Jordan Richman; produced by Jordan Richman and Heather Miley.
The song features her mother Jessalynn as well. On youtube, the song has crossed over 800 Million views and closing towards 1 Billion and has a whopping 4.2+ Million Likes and is liked by more than 80% of the viewers. She is super proud of Boomerang and "It is only the beginning" she says.
[JoJo in Boomerang]
Extended Plays
Year
EP
Songs
Comment
2019
Celebrate

"It's Time To Celebrate"

"#1U"

"Worldwide Party"

"Bop!"

Release: 12 April 2019

Label: Viacom International

2018
D.R.E.A.M. The Music

"D.R.E.A.M,"

"My Story"

"Everyday Popstars"

"Only Getting Better"

Release: 16 November 2018

Label: Viacom International
Singles
Year
Song
Album
Comment
2019
It's Time To Celebrate
Celebrate
"#1U"
Worldwide Party
also as the composer
"Bop!"
2018
D.R.E.A.M
D.R.E.A.M. The Music
Only Getting Better
Everyday Popstars
My Story
2016
Dance

as Tinman

Artist: Todrick Hall

Feat. Abby Lee Dance Company

2016
Boomerang

Her first single as the main performer;

RIAA: 2× Platinum certified

2016
I Can Make U Dance
2015
Right Now I'm Missing You

Artist: MattyBRaps

Feat. Brooke Adee:

2015
Turn Up the Track
Artist: MattyB
2017
Kid in a Candy Store
RIAA: Gold certified
2017
Hold The Drama
RIAA: Gold certified
2018
High Top Shoes
JoJo's favorites, Likes/ Dislikes
Favorite pizza: Cheese Pineapple pizza is her favorite
Favorite Desert: Snow Cone
She hates flip flops.
She likes trains over planes.
The United Kingdom is her favorite country outside the United States
Favorite Dance styles: Jazz and Hip Hop.
Foods that JoJo doesn't like:

Tomato
Sellerie
Cucumber
Honeydew
Cantaloupe
Star fruit
Papaya
Mangoes
Hamburgers
French Fries
Steaks

Foods that JoJo likes:

Mac and Cheese
Pizza
Ramen noodles
Mrs. Grass
Strawberries
Raspberries
Blueberries
Blackberries
Awards
Year
Won?
Award
Project
Category
Comments
2019
WON
Kids' Choice Awards
Favorite Social Music Star
2019
Nomination
Nickelodeon's Kids' Choice Awards
Favorite TV Host
2019
WON
The Streamy Awards
Best in Kids and Family
2018
WON
Kids' Choice Awards
Favorite Musical YouTube Creator
she performed a medley of hits at the event (also at the 2018 Kids' Choice Mexico)
2018
WON
Vivid Seats
Breakout Artist of the Year
2017
WON
Kids' Choice Awards

Favorite Viral Music Artist

(Blimp Award)

2016
WON
Reality Television Awards
Dance Moms
Most Heartfelt Moment
2016
WON
Industry dance awards
Favorite Dancer 17 & Under
2015
Nomination
Industry dance awards
Favorite Dancer 17 & Under
News & Updates
Magazine covers:

Appeared on the cover page of "Girls Life" magazine in April 2019
Appeared on the cover of "USA Today" magazine on 7th June 2018 (volume 36, issue 186)

Interviews:

An interview article titled "JoJo Takes a Bow" was published on "Girls Life" in April 2019
"The New York Times" published an interview of JoJo with the title "With Hair Bows and Chores, YouTube Youth Take On Mean Girls" in March 2019

Articles:

TIME Magazine published an article on her in September 2019
"USA Today" published an article titled "With Hair Bows and Chores, YouTube Youth Take On Mean Girls" in March 2019
Quotes
Every dancer works hard, so the more kids that get recognized for their work the better
I love dance because it is fun... We have so much fun when we are dancing
[On tackling pressure to perform on stage] I just tell myself no matter what happens, just make it happen
[Her advice to other dancers] Keep dancing, be yourself, be confident, have fun and never ever give up
When you are 13 you wanna be 15..... trust me though when you are 15 you wanna be 13
[About 2018] One of the things I'm very proud of is that I have worked hard every single day for 365 days straight.
My ultimate dream would be to have my own Album, make my own video, have my own singles
References