Biography
Danielle Cohn is a singer, an Instagram star, a musical.ly superstar and youtuber.
Danielle Cohn aka Dani Chon was born in Florida, United states on May 7th 2004 to Jennifer Archambault(mother)- a school teacher.
Danielle's mother Jennifer Cohn was instrumental in Danielle opening social media accounts, Dani runs her own accounts as of now. She lived with her parents till she was a teenager, her parents are split up now. Her father threw her mother out of the house, Dani and Chad being close to their mother live with their mother.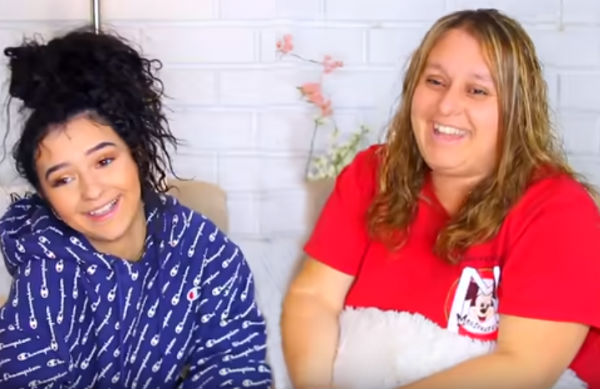 Image: Danielle Cohn with her mother Jennifer Cohn
She has a brother named Chad Cohn (older to her by 2 years), Chad is popular on Tik Tok. Chad also appears on Dani's youtube videos.
Danielle Cohn- Marilyn Monroe
Danielle Cohn Career Highlights
Danielle the Singer: Danielle has sung many songs of her own, she has turned some into music videos as well

Marilyn Monroe: Danielle released the single titled 'Marilyn Monroe' in 2017, it has received more than 10 Million views on Youtube.
Fix Your Heart: Dani (Danielle) co-wrote lyrics with Jon Hall & Matthew Wong, it was directed by Joslyn Nyce and has received more than 5 millions
Little Like Paradise: A music video co-written by Danielle along with Jon Hall & Jake Scott, the video has more than 2 million videos
Hate On The Summer
No Way: produced by Dimitri Green in 2019 for Danielle
Treat You Better
California Time
What's it about you
LIGHTS CAMERA ACTION
Hurricane

POMS Tour: Danielle hosted the tour in 2017 with social media stars like- Case Walker, Cole Walker, Conner Tenbrink, Connor Finnerty
Audity Music: She has a contract signed with the music record producers- Audity Music
Teen Choice Award: she received a nomination at the 2017 event for 'Choice Muser.'
Danielle Cohn Interesting Facts & Trivia
Don't judge me challenge: Dani's mom Jennifer was working 3 jobs at the time, she left her phone at home, which she rarely did, Dani too her phone and started browsing the apps, she got hooked on to the Musically app, being a music lover she got addicted to the app and started posting the challenge videos, she eventually became a star on musically.
The success: Dani eventually started making money on social media, she was too young to have her own account, so she used her mother's bank account to receive the money, her mother was initially not okay with Dani making money through social media posts, but when she saw Dani was happy doing the stuff she liked, Jennifer agreed to be supportive of her.
Miss Florida Jr. Preteen Queen: Before achieving success as a singer and instagram model she had won Miss Florida Jr. Preteen Queen award in 2014. In 2012 and 2013 she was the 2nd and 4th runner-up
Supermodels Unlimited: Danielle has worked with 'Supermodels Unlimited' for a few years
Danielle has more than 10 Million followers in total from Musical.ly, Instagram, Youtube & Twitter combined.
Target: Danielle has designed clothes in collaboration with Target, the product is sold with the name 'Art Class Fall Semester'
Endorsements: She has worked in ads and endorsements with brands such as- Lisa B Jewelry, Juicy Couture, Target
She bought a $1.4 Million Mansion in 2019 with her boyfriend Mikey Tua, the mansion has a swimming pool, pool table, garage (to park a car which she can't drive for a few more years).
Car accident: She had a serious car accident in June of 2018 when she was out with their friends, she was in the middle of back seat without proper belt support, both her shoulders got fractured, but only her right hand was seriously hurt, everyone else managed with very less harm
Her parents used to fight constantly before splitting up, Dani wouldn't invite her friends home, Dani was even scared to leave the parents to themselves at home, so she wouldn't go to her friends' home unless one of the parents went with her.
She doesn't call her fans as fans, she feels it is disrespectful to call them fans, she calls them her supporters.
Danimals: Dani's supporters are called Danimals, she calls them 'my danimals'
Eating disorder: Dani had a severe eating disorder at one time, she was in the cheer leading team and her coach wanted her to lose some fat, it hurt her and she stopped eating more than bare necessity, it made her weak, she learned her lesson eventually, stopped caring for what other people thought of her.
Dani sell her merchandize at the Young and Reckless online store
Danielle Cohn & her boyfrind Mikey Tua have a pet cat together. She also has a dog named silver
Is Dani Cohn pregnant? She is not pregnant. 'I have never ever done anything to even get pregnant' says Dani.
She goes to online school. She takes online classes
She has an uncle named Rich, he reviewed her instagram photos in one of her youtube videos
She bought her mother a car in July 2018
Pregnancy & marriage Controversy: Danielle posted a video of her getting married to Mikey Tua and announced that she was pregnant. It was a prank video, but without explicit mention of the prank some got confused and down voted it, even reported it, she was just 15 at the time and some saw it as over the board
She photoshops her own pictures, she is multi-talented
She doesn't have tattoos on her
Dani has a diamond on her tooth
Danielle Cohn Quotes
If you are embarrassed of something, don't go out of your way to make it seem like it is better, because when you are caught up in the lie, it is just not fun.
Music is something that always makes me happy naturally
Musically (app) actually saved me
The reason I don't look so sad is because I'm so proud of myself for being able to accomplish this much from literally nothing
Do not be ashamed of your past, just be proud of where you came from.
Do not let people get to you, when you let people get to you, you get something bad in return back.
Whatever path you are going, keep going on that path, because it is meant for you, of course if you don't love the path you are going, change it
If you love doing something, keep doing it.
Social media has definitely changed the way I look at things, but it has not changed the person I was before, I still talk to all my friends the same way. I think Social media changed me for good
Since the day I was born I have been a #patriots fan and so glad I am
It is hard to find friends who are loyal when you think they are, you see the truth
Life is too short to hold back
Make sure you tell your loved ones you love them all the time
Do what makes you happy if someone brings a smile to your face then spend time with them, don't worry about others my life flashed in front of my face last week and that moment god blessed me with another day. I will do what makes me happy
Dear haters, I have so much more for you be to be mad at. Just be patient
People will always try to bring you down cause they want what you have but u need to learn to not give them what they want and be strong I have lost a lot because I believe or give in to much and listen to others, people don't always have your best interest
It's sad when someone starts a rumor and people actually believe it
You know you love someone when their eating habits become a part of you
Sometimes a friend isn't as real as you think, may cause you to lose the real ones in your life
Obstacles are placed in our way to see if what we want is really worth fighting for
Live every moment, laugh everyday, and love beyond words
Photos/ Pictures