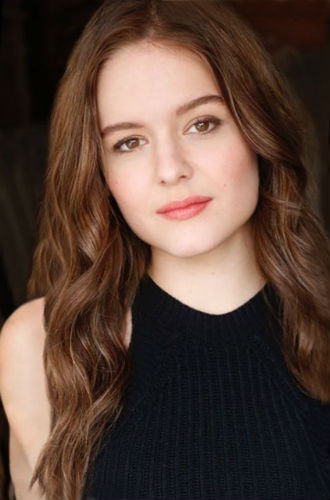 Izabela Vidovic
Date Of Birth
May 27, 2001
Age
22 years 6 months 4 days
Day of Birth
Sunday
Place Of Birth
Chicago, Illinois, United States
Zodiac Sign
Gemini
Professions

Producer

, Writer , Actress , Singer
Nickname

Bela

Other Name
Izabela Vidović (Croatian)
Personal Information
Residence

Los Angeles, California, United States

Religion
Christianity
Languages
English , Serbian , Croatian , German , Russian (Learning) , Bosnian (Learning)
Nationality
American
Ethnicity
White
Complexion
White
Famous For
Olivia Pullman in Wonder(2017)

Body Features & Measurements
Height
163 (2019) CM
5 Feet 4 Inches
Eye color
light brown
Hair color
Brown
Weight

50 KG


110 lbs

Shoe Size
8
Dress Size
4
Figure Measurements
29-21-29
Figure Type
Hourglass
Body Type
Slim
Bra Size
29A
Family Information
Father
Mario Vidovic (film producer)
Mother
Elizabeta Vidovic (Actress & producer; Elizabeta Basic)
Sister

Katarina Vidovic

Grandfather
Marko Basic (Paternal)
Grandmother
Ankica Basic (Paternal)
Relatives
Gabby Lukin
Josip Relota
Bojan Komsic
Saraa Krap
Dean Vidovic

Career Information
Debut (Movie)
Find Me
Years Active
2011–
Debut(Short movie)
Complexion
Debut (TV series)
Raising Hope
Debut (TV Movie)
Little in Common
Favorites, Hobbies, Likes/ Dislikes
Hobby
Baking
Favorite Singer
Jeff Buckley
Favorite Cuisine
Italian
Favorite Music Bands
Nirvana
Cage the Elephant
The Beatles
Likes
Dakota Fanning (Actress)
‎Elle Fanning (Actress)
Music
Favorite Cities
London
Vancouver
Favorite Beverage
Tea
Guilty pleasure
Chocolate
Favorite Album
Tell Me I'm Pretty
Social Networks, Web links
Facebook Profile
Izabela Vidovic Facebook Profile
Twitter Profile
Izabela Vidovic Twitter Profile
Official Website
Izabela Vidovic Official Website
Instagram Profile
Izabela Vidovic Instagram Profile
More Information
Friends
Henry Pruett
Ivan Mok
Matt moy
Deni Cabaravdic
Britney Moreno
Olivia Nikkanen
Inspirations
Frances McDormand
Kate Winslet (in Titanic; first inspiration)
Oprah Winfrey
Role Model
Emma Watson
Net worth
$1 Million ($100k-$1 million)
Instruments
Piano
guitar
Biography
Izabela Vidovic is a Croatian-American actress, Singer, producer and Writer. She is known for playing roles- Matty Ross in 'Veronica Mars', Young Kara in 'Supergirl', Isobel in 'iZombie', Taylor Shaw in 'The Fosters', Shea Garcia-Miller in 'About a Boy', Maddy Broker in 'Homefront', Via in 'Wonder', Charlotte in 'The 100', Daughter in 'Bones' among other roles.
Family- Childhood
Parents
Izabela Vidovic was born on 27th May 2001 in Chicago, Illinois, United States to Mario Vidovic(father) - a film producer & Elizabeta Vidovic- an actress & producer.
Mother: Elizabeta Vidovic is an actress herself and a producer as well. She is known for works such as- "Severed Silence", "Find Me", "Because These Kids Are..." and others. She was born in Kassel, Germany; grew up in Busovača, Bosnia; but actually a Croat by descent.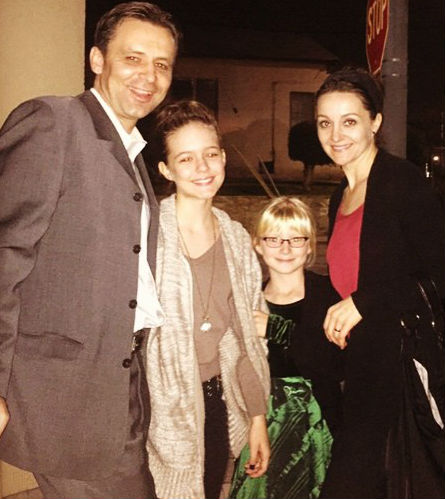 Image: Izabela Vidovic family: Father, Mother & Sister
Sister
She has a younger sister named Katarina Vidovic. Katarina has appeared in the movie Find Me (2012) alongside mother Elizabeta and sister Izabela in the role "Mary Kingsley" [4]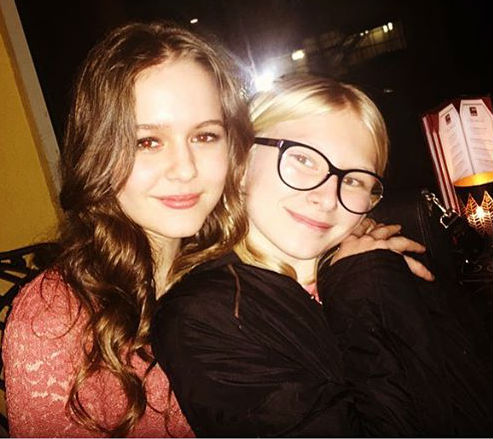 Image: Izabela Vidovic with sister Katarina Vidovic
Facts & Trivia
Ethnicity: Both her parents are of Croatian background.
Multilingual: She speaks multiple languages, she learnt croatian, Bosnian at home, she is learning German and Russian.
Vegan food: Izabela likes Vegan food (not sure if she is strictly vegan), she is a fan of gluten-free food as well.
Baking: She likes to bake, she once baked strawberry cheesecake for Easter, she likes to bake Black Forest cake. She baked Cookies & cream cake + chocolate chip cookies for her sister's birthday. She bakes when she is stressed. Some of the deserts she can bake are:

Black Forest cake
Chocolate & caramel cake
Chocolate peanut butter caramel tart with a shortbread crust, topped with almonds
Croatian Krofne
Nutella/cream cheese no-bake cake
Orange white chocolate pavlova
Vegan strawberry cheesecake: strawberry topping + lemon cashew filling on gluten-free shortbread crust

Almost Normal Productions: Izabela is a partner with her mom Elizabeta Vidovic & actress/ producer Kathryn Michelle in the funny named film production company based in Glendale, California
Passion for Compassion: Izabela founded 'Passion for Compassion', an organization whose main goal is to develop passion for compassion among people, They work in partnership with large organizations like- My Face & Children's Craniofacial Association
She celebrates her Croatian culture by attending 'Croatian culture' events frequently
EVERFI: She was chosen as an ambassador by EVERFI in partnership with Navy seal foundation to spread awareness and motivation
Twitter is her favorite social media among all, "on twitter you can just express a random thought without nobody judging you, people will all be excited about it" is her rationale
She felt her Freshman year was the most difficult year of her schooling
March for our lives: She participated in the march of 2018.
Variety magazine listed her as one of the 8 breakout performers from the fall of 2017
She has a pet dog named Phoebe
Izabela Introduced actor Jason Statham to Beef Jerkey
Science is her favorite subject in school.
She is Athletic, she can do cartwheels.
"Because these kids are", the short film Izabela was part of was accepted at the Boston International kids film festival
She likes reading at a coffee shop
She is a foodie, loves eating variety of foods
She has the all habit of eating popcorn before the movie even starts
If she was not an actress, she would have liked to go into medicine and become a doctor
She appears in the introduction part of the TV series supergirl. She has 2 bits of scenes in couple of episodes where she has dialogues.
Mother & Daughter in the same role: In the 2013 short movie "Complexion", "Elizabeta Vidovic" played the adult character "Eva" while "Izabela Vidovic" played the young version of the same character.
Career
The beginning: Bela's interest in acting started early at the age of 7, being the daughter of an actress helped her start early, she was performing in stage productions by 7. Some of her early stage performances include- Annie, Camp Rock, Mary Poppins.
Creative side of the business: Izabela has shown her interest in the creative field as well, she has produced four projects- "Severed Silence", "Hourglass", "Working it out", "Because These kids are". Of these she has written "Hourglass" & "Because These kids are" herself. She also directed "Hourglass(2019)"
Singer: She has performed in 2 soundtracks "Deck the Halls", "Jingle Bells" in the TV movie "Help for the Holidays(2012)"
TV shows: She has appeared on tv shows such as- On the Scene with Lindalee, Made in Hollywood, Home & Family, The Queen Latifah Show, The Talk among others
Find Me: Izabela made her big screen debut with the movie find Me(2012), it was co-written by her mother. both mother and daughter got to act together in the movie
Filmography
Movies List
| Year | Movie | Character | Comments |
| --- | --- | --- | --- |
| 2020 | Severed Silence | Sunny | Plays Lead role in the horror movie |
| 2017 | Wonder | Via | |
| 2013 | Homefront | Maddy Broker | |
| 2013 | Grave Secrets | Robin | |
| 2013 | Zombieland | Little Rock | TV Movie |
| 2012 | Little Brother | Sam Alexis | TV Movie |
| 2012 | Help for the Holidays | Ally VanCamp | TV Movie |
| 2012 | Christmas Angel | Olivia Mead | TV Movie |
| 2012 | Find Me | Frankie | |
| 2011 | Little in Common | Minnie Weller | TV Movie |
TV Series List
Year
Series
Character
Comments
2019
Veronica Mars
Matty Ross
Recurring (8 Episodes)
2017-
Supergirl
Kara Danvers
Young Kara Danvers (Supergirl) (3 Episodes)
2018
iZombie
Isobel Bloom
Recurring (4 Episodes)
2015-
The Fosters
Taylor Shaw
Recurring (20+) Episodes
2015
Halo: The Fall of Reach
Linda (voice)
All 3 Episodes
2014-
About a Boy
Shea Garcia-Miller
Recurring (10) Episodes
2014
Bones
(Daughter's role)
"The Nail in the Coffin" (Season 9 Episode 22)
2014
The 100
Charlotte

"Murphy's Law" (Season 1 Episode 4)

"Earth Kills" (Season 1 Episode 3)

2012
Deadtime Stories
Robin Peterson
"Grave Secrets" (Season 1 Episode 1)
2012
Harry's Law
Shelby Higgins
"After the Lovin'" (season 2 Episode 13)
2012
Up All Night
Tanya Moore
"New Boss" (Season 1 Episode 18)
2011
Criminal Minds: Suspect Behavior
(young) Rachel Lidge
"The Time Is Now" (Season 1 Episode 10)
2011
Raising Hope
Delilah (8 year old, there were also an adult & Teen Delilahs, played by other actresses)
"What Up, Cuz?" (season 1 Episode 14)
Short Movies
| Year | Movie | Character | Comments |
| --- | --- | --- | --- |
| 2018 | Working It Out | Alice | |
| 2015 | May I Die | Aishe | |
| 2013 | Because These Kids Are | Kat | Writer/ Producer; featured at Boston International kids film festival |
| 2013 | Complexion | (young) Eva | Adult Eva was played by her mother Elizabeta Vidovic |
Stage/ Play/ Broadway/ Off-broadway
Play
Annie
Camp Rock
Mary Poppins
Quotes
I think it is really all about, spreading love and equality, accepting yourself and others
All power to the people: regardless of gender, race, age, sexuality, and however you choose to identify yourself. Just a reminder for the ignorant people out there. Equality for everyone. Love you all.
I care about bullying because my friends are bullied, it was ugly to watch, I was bullied too in a different way, which doesn't make it any less ugly
My mom has been my main inspiration for pursuing acting as a career.
I look for three-dimensional characters, roles that are written with many layers.
Acting has taught me how to be a good listener. When you're in a scene with someone, you can't just be waiting for your turn to talk.
[If she were a queen] Equality and love for all is the most important thing. I would start by eliminating discrimination against any race, gender, sexuality, or way someone chooses to identify themselves. Prejudicial laws would no longer exist in the world.
Grilled cheese sandwiches are a godsend
Sources: