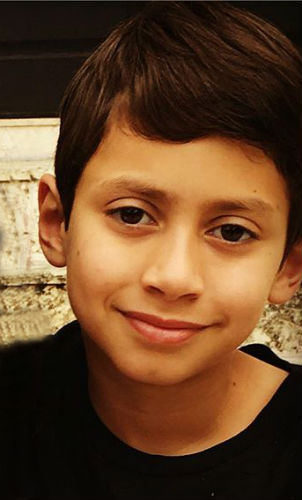 Maximilian David Muñiz
| | |
| --- | --- |
| Date Of Birth | February 22, 2008 |
| Age | 15 years 9 months 9 days |
| Day of Birth | Friday |
| Place Of Birth | Long Island, New York, United States |
| Zodiac Sign | Pisces |
Personal Information
Residence

New York, United States

Religion
Christianity (Roman Catholic)
Languages
English , Spanish
Nationality
American
Ethnicity
Latino
Complexion
Fair

Body Features & Measurements
Height
150 (in 2019) CM
4 Feet 11 Inches
Eye color
light brown
Hair color
Brown
Weight
40 (2019) KG
88 lbs

Body Type
Slim
Family Information
Father
Marco Antonio Muñiz (Singer)
Mother

Jennifer Lynn López

Sister
Natasha Alexander (Daughter of Alex Rodriguez)
Cousin
Lucie Wren Lopez-Goldfried
Uncle
Bigram Zayas
Grandfathers
David López (Maternal; computer technician)
Felipe Muñiz (Paternal; musician and hospital lunchroom worker)
Grandmothers
Guillermina Muñiz (Paternal; Housewife)
Guadalupe Rodriguez (Maternal; kindergarten teacher)
Aunts
Yolanda Muniz (Paternal)
Leslie López (Maternal)
Lynda López (Maternal; Journalist)
Relatives
Lourdes Rodriguez (Alex Rodriguez's mother)
Suzy Rodriguez (Alex Rodriguez's sister)
Victor Rodriguez (Alex Rodriguez's father)
Joe Rodriguez (Alex Rodriguez's brother)
Adam Goldfried (Father of Cousin)
Half Brothers
Cristian Marcus Muñiz
Chase Muñiz
Ryan Adrian Muñiz
Half Sister
Arianna Muñiz (Paternal, born in 1994)
Stepfather
Alex Rodriguez
Stepsister
Ella Alexander (Daughter of Alex Rodriguez)

Social Networks, Web links
Instagram Profile
Maximilian David Muñiz Instagram Profile
Biography
Maximilian David Muñiz is the son of popular singer Jennifer Lynn López & Marco Antonio Muñiz (singer, actor & producer)
Childhood- Family
Maximilian David Muñiz was born on 22nd February 2008 in Long Island, New York, the United States to Jennifer Lopez and Marc Antonio, he weighed 5 pounds 13 ounces at birth. Both Max & Emme were delivered through a C-section at North Shore University Hospital in New York.
Jennifer Lopez & Marc Anthony divorced in June 2014.
[Emme and Maximilian Muniz with mom Jennifer Lopez]
Mother- Jennifer Lopez
Jennifer Lynn Lopez was born on 24th July in 1969 in New York City, United States of America to two Puerto Rican immigrants Guadalupe Rodríguez & David López.
She is the middle child among three sisters. Leslie is the oldest and Lynda the youngest.
Jennifer is a very popular singer with multiple Golden Globe nominations and multiple songs hitting the billboard top 100. Many of her songs have been top sellers.
She is an actress as well, she is the first Latino actress to sign a $1 million movie contract. Some of her popular works are in roles of Harlee Santos in "Shades of Blue", Charlie in Monster-in-Law(2005), Marisa Ventura in Maid in Manhattan (2002) among numerous other hits.
She had been previously married to Ojani Noa(1997-98), actor Cris Judd(2001-2003), Marc Anthony(2004-2014)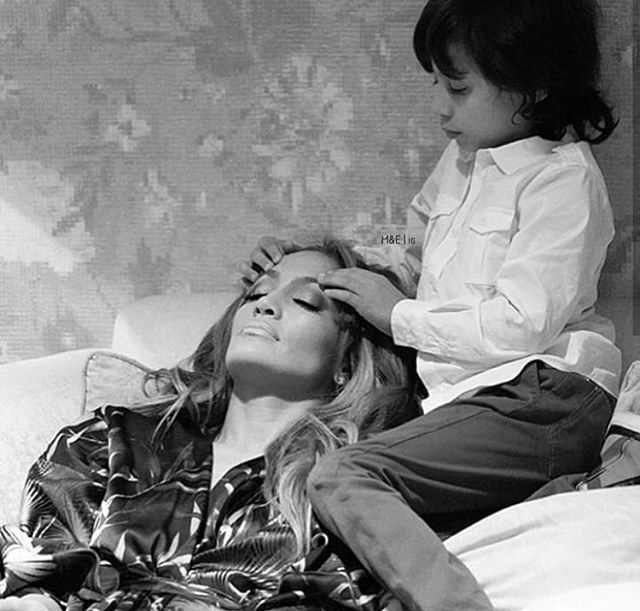 [Little Max helping mom with her headache]
Talking about the birth of her children Max & Emme, mother Jennifer Lopez says:
"My whole life became clear, my career became better, I stand here stronger and better than ever."
Mom Jennifer calls him an 'Old Soul', she thinks "He is mature for his age, has Love, caring, humor for everyone." His sense of humor, Vocabulary are her favorite things about him.
Father- Marc Anthony
Marco Antonio Muñiz is a singer, songwriter, and actor. Marco was born on September 16, 1968 in New York City to Puerto Rican parents Guillermina (a housewife) and Felipe Muñiz (musician and hospital cafeteria worker)
The two-time Grammy award winner holds the Guinness world record for having sold most #1 albums on Billboard tropical albums.
Marc has been married four times and has 6 children in total. He was married to Maria Von Ritchie Lopez from 1998 to 2000, to Miss Universe Dayanara Torres from 2000 to 2004, to Jennifer Lopez from 2004 to 2014. To Shannon de Lima from 2014 to 2017.
His other four children are Arianna Muñiz (with girlfriend Debbie Rosado), Chase Muñiz (adopted with Debbie Rosado), Cristian Marcus Muñiz and Ryan Adrian Muñiz (with Dayanara Torres)
As an actor, he has played Samuel Ramos in Man on Fire (2004), Nick Renata in "Hawthorne", Noel in Bringing Out the Dead (1999).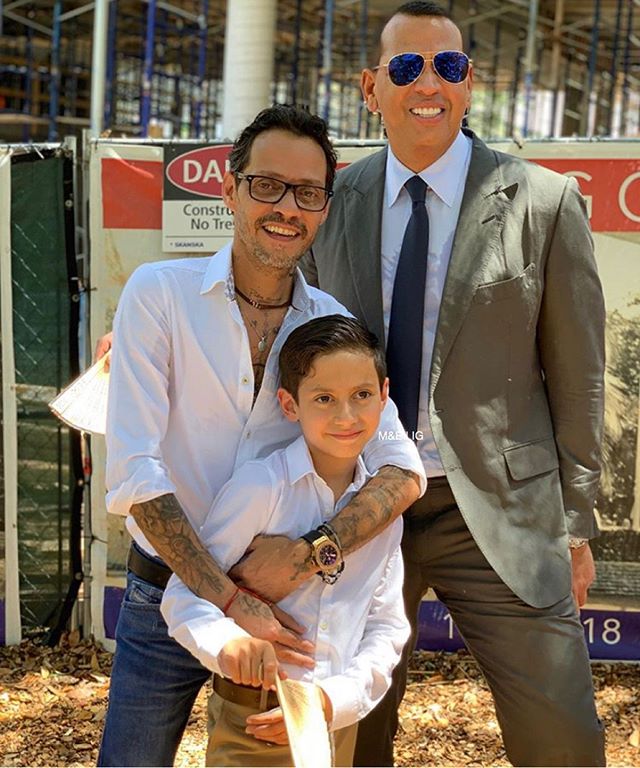 [Max Muniz with father Marc Anthony and Alexander Rodriguez]
Max has a twin in Emme Muniz. Emme is older than Max by a minute, she was born on 22nd February at 12:21. Max was born a minute later at 12:22
Emme is a singer herself, she performed live at the 2020 Superbowl halftime with her mother and Shakira.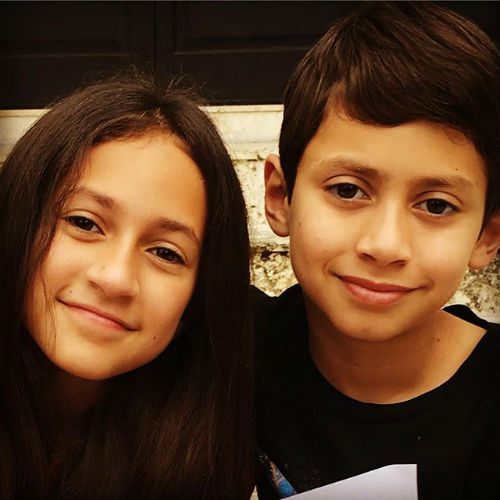 [Emme Maribel Muniz & Maximilian David Muniz]
Half- siblings
Arianna Muñiz, born in 1994 is the older half-sister of Max (daughter of Debbie Rosado & Marco Muniz). Chase Muñiz is the adopted half-brother (adopted by Marco & Debbie Rosado).
Half brother Cristian Marcus Muñiz was born in 2001 to Marco Antonio and his ex-wife Dayanara Torres. Ryan Adrian Muñiz was born in 2003 to the two of them.
Emma & Max spend a lot of their time with Mom Jennifer's boyfriend Alex Rodriguez's daughters- Natasha Alexander & Ella Alexander.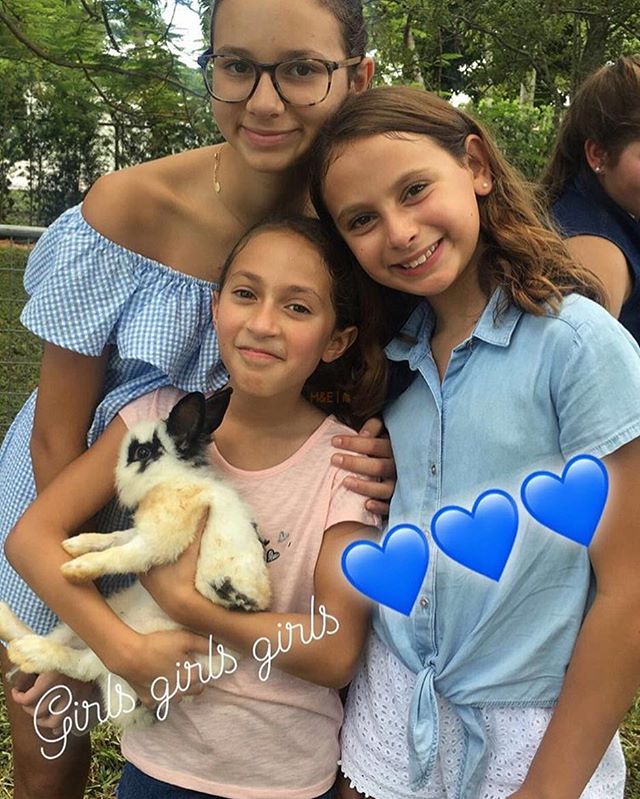 [Ella & Natasha Alexander with Emme Muniz]
Facts & Trivia
Ethnicity: Father Marc Anthony is of Puerto Rican descent, so are parents of Mother Jennifer Lopez. Both his parents are Roman Catholics by religion
David: Max's middle name comes from his maternal grandfather's name(David López).
He is a very active kid according to his mother (and family)
Instagram profile: Max and sister Emme have a fan Instagram account where their pics are posted frequently.
The Coconuts: Both Emme & Max together are fondly called The Coconuts.
Max and Emme are not the only twins in the family, "It runs in the family" according to Max's grandpa, Max's aunt also has twins.
10th Birthday: Emme and Max's 10th birthday was celebrated at 'Sugar Factory' in Los Angeles. Each twin had a specific birthday cake customized for them. The event was attended by close friends and family. Tom Cruise & his then-wife Katie Holmes gifted 'Bonpoint' clothes to the twins. Dolce & Gabbana gifted fur wraps.
Bodyguards for the little ones: When Emme and Max were born Jennifer Lopez was very anxious, she was very afraid that someone would kidnap them, she hired a team of finest bodyguards to guard them day and night
The Ellen DeGeneres Show: Max & Emme appeared on Ellen's show in 2017 along with their mother
Max the singer
Max has learned a thing or two from his parents about singing.
[Max singing]