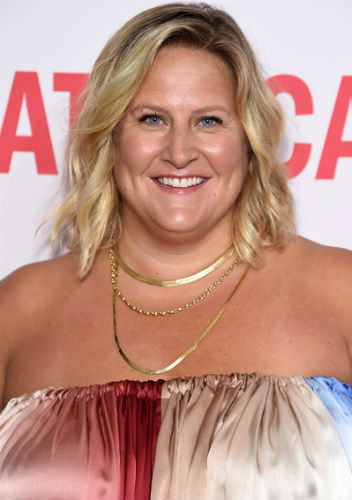 Bridget Everett
Date Of Birth
April 21, 1972
Age
51 years 7 months 10 days
Day of Birth
Friday
Place Of Birth
Manhattan, Kansas, United States
Zodiac Sign
Taurus
Professions

Comedian

, Actress ,

Dancer

, Singer
Full Name

Bridget Jean Everett
Personal Information
Residence

New York City, New York, United States

Religion
Christianity
Languages
Spanish , English
Star Sign
Taurus
Nationality
American
Ethnicity
Caucasian
Complexion
White
Famous For
Inside Amy Schumer (a Comedy Central show) , Patti Cake$(2017) (2017 Drama comedy movie)

Body Features & Measurements
Height

183 CM


6 Feet 0 Inches
Eye color
Light Blue
Hair color
Blonde
Weight

80 KG


176 lbs

Figure Type
Oval (Now) , Hourglass (in youth)
Body Type
Athletic
Family Information
Father

Donn James Everett

Mother

Frederica Everett

Brothers
Brock Everett (Elder)


Brinton Everett




Brad Everett




Brian Everett

Sister

Alice Everett

Nieces
Lauren Everett
Kathryna Everett

Career Information
Debut (Movie)
Sex and the City (2008)
Years Active
1995-
Favorites, Hobbies, Likes/ Dislikes
Hobbies
Karaoke
Piano
Favorite Singer
Freddie Mercury (She considers him her dream partner for a duet)
Favorite Sport
Softball
Favorite Song
You Oughta Know (by Alanis Morissette)
Favorite Artist
Amy Schumer (Comedian)
Social Networks, Web links
Facebook Profile
Bridget Everett Facebook Profile
Official Website
Bridget Everett Official Website
Instagram Profile
Bridget Everett Instagram Profile
More Information
Friends
Neal Medlyn
Rachel Feinstein
Adam Horovitz (Singer, part of the band)
Amy Schumer (Comedian)
Richard Simmons
Net worth

$1 Million

Celebrity Crush
Barry Manilow (Childhood Crush, still remains her crush)
Biography
Bridget Everett is an American actress, comedian, singer & writer. She is known for playing the lead role of Sam in "Somebody Somewhere", for playing Judy in "Twleve Forever", Melanie in "Fun Mom Dinner"(2017), Barb in "Patti Cake$", Dagmar in "Lady Dynamite", Harry in "Camping" among others.
Her recent appearances include Leah Norton in "Breaking News in Yuba County", Teresa in "At Home with Amy Sedaris". She has voiced characters in "Rumble", "Bob's Burgers".
Childhood
Bridget Jean Everett was born on 21st April 1972 in Manhattan, Kansas.
Her father Donn James Everett (1929-2007) was a lawyer, Korean war veteran and a republican politician who served in the Kansas State Senate and Kansas House of Repreesntatives from 1969-1978. [5]
[Young Bridget Everett with Dad Donn James Everett]
Her mother Frederica Everett (Frederica Voiland; married in 1956) a music teacher. Bridget learnt piano from her mother in childhood. [2] [5]
Her parents separated when she was young and divorced when she was 8 year old. She and her siblings were brought up by their mother.
She has five older siblings, she is the last child of her parents. Her siblings (listed alphabetically) are:
Alice Everett [7]
Brad Everett [8]
Brian Everett [8]
Brinton Everett [7]
Brock Everett [7]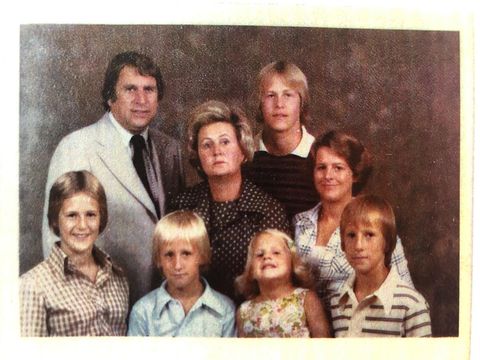 [Bridget Everett Family: Mom, Dad, siblings]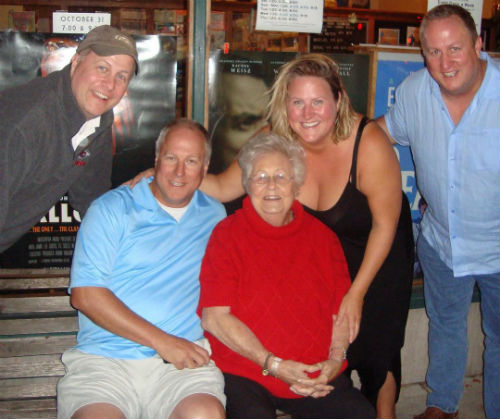 [Bridget Everett Family: Mother Freddie Everett & siblings]
Education
Bridget was a competitive swimmer at school. She was also part of the choir at school.
Arizona State University: She studied at the 'Arizona State University' on a full scholarship, she studied music and opera at the college.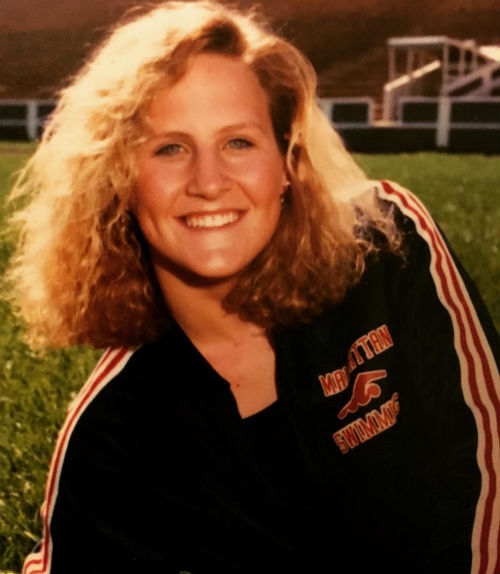 [Young Bridget Everett]
Career
Bridget worked in the restaurants for about 25 years while seeking her dream as an entertainer, she worked at Ruby Foo's on the Upper West Side for 10 years [9]. It was finally in 2015 that she finalyl quit everything else and worked full time as an entertainer.
Sex and the City (2008): She appeared in the role of Cathy, a drunk in the movie. She was a huge fan of the TV series herself and she was surprised to find out that Sarah Jessica Parker knew her work and was a fan.
Amy Schumer
Amy Schumer changed my life. - Bridget Everett [6]
Bridget first met Amy at the 2009 "Just for Laughs" comedy festival. Bridget was opening the show for Amy on her tours since 2012. As Bridget's shows started getting more and more applause, Amy chose to Bridget to close her shows.
Somebody Somewhere(2022)
Bridget produced the series "Somebody Somewhere" where she stars in the lead role of "Sam". Sam is middle aged woman living in a small farming town, trying to keep her family together. To keep her sister's marriage unbroken, her mother's addiction controlled, help her family deal with the death of the family member (her sister character).
It was created by Hannah Bos and Paul Thureen and starred- Jeff Hiller, Mary Catherine Garrison, Danny McCarthy, Mike Hagerty, Murray Hill, Jane Drake Brody, Jon Hudson Odom, Heidi Johanningmeier and others.
The story of the series was inspired by her own life. "It's inspired by if I'd never moved to New York, what my life might be like. And the other parts that are in concert with my real life are the grief of losing a sister and then also the complex relationship I have with music and singing and what it means to me and how it informs my life and who I am" said Bridget in an interview with Variety Magazine. [3]
It was chosen as one of AFI's Top TV Programs of the Year.
Music and Stage Preformance
Singing and Cabaret
She started her career as a singer in mid 30s, she has been performing for a decade. She likes Karaoke, she started singing because of Karaoke. She likes 'Sing Sing' Karaoke in New York City which she frequently visits. Joe's pub, another of her favorites.
Singing at the Cabarets is one of her talents.
2014 Bonnaroo Music Festival: She performed at the festival and participated in the show Down n Dirty.
Bridget Everett: Gynecological Wonder(2015)- She has had her own one hour comedy cabaret show aired on Comedy Central.
The Tender Moments
She is part of the musical band named 'The Tender Moments', Adam Horovitz & Carmine Covelli are the other members of the group.
Pound It!(2014): She released an album of 12 songs with the Tender Moments.
Music videos:
"What I Gotta Do" (2014): A funny music video starring Bridget Everett, Directed by Gregory Kramer and Timothy Reukauf.
"T*tties" (2014): A funny song about types of t*tties
Betty vs the NYPD (2014): she made an appearance in the The Jon Spencer Blues Explosion album video, It was directed by Michael Lavine.
"Eat It" (2016)
"P*ssy Grabs Back" (2017)
Interesting Facts
The Tonight Show Starring Jimmy Fallon: She appeared on the Jimmy Fallon show on 1st August 2017 where she sang the song 'Piece of my Heart'
Fun Mom Dinner: She appeared on the comedy theater titled 'Fun Mom Dinner' where she appeared with Toni Collette, Paul Rudd and others.
Her favorite Gig: playing with her band at the pubs (Joe's Pub). Singing and do whatever she wants.
She likes pets and has a cat which she takes everywhere, she also has a Pomeranian pet dog named 'Poppy'. She rescued Poppy and adopted her.
Miss Fag Hag Pageant: She participated in the show.
She has a motto- DDHD: Dreams Don't have Dead Lines.
She worked as a waitress in her initial career days when she was trying to establish herself.
Her secret talent: Make her breasts go round and round, her mom likes it.
Larry King Show: She appeared on it in August 2017.
Person she would trade places with for a day: Anthony Bourdain.
Guilty pleasure: Stay home on Saturday nights and drink wine and watch documentaries with her dog Poppy.
Best piece of advice she ever got: Jump off the cliff and take a chance on yourself.
Worst piece of advice she got: You are silly, stupid, Don't listen to yourself.
Her go to Karaoke Song: You Oughta Know Alanis Morissette.
She wishes she was better at- Golfing.
Best compliment she received- Her mom watched her show once, she said 'Her show was freedom in motion'.
Alt-cabaret provocateur: She describes herself as "alt-cabaret provocateur". [4]
Her brand of music is rich with- Bawdy humor, self-empowerment.
She studied Opera in school, she got into college because of that and even got scholarship.
She worked in the restaurants for 25 years as a waitress.
In 2014, Village Voice magazine called her- the Most Exciting Performer in New York City. Time Out called her 'One of the Funniest People in New York'. New York Times called her 'Raw & Riotus'
She criticizes Donald Trump's presidency candidacy, she released music titled 'Pussy Grabs Back' and also T-shirts with the Phrase and her face.
She wears the necklace which has letters- P O P P Y, which is same as the name of her pet dog.
Amy Schumer: She met Amy at 'Just For Laughs' comedy festival in 2009. Amy offered her join her troupe which was touring the country at that time.
Her mother had breast cancer and recovered from it.
Through Sundance she met actor Robert Redford.
When she was first offered a major role in the movie Pattie Cakes$, she rejected it fearing she won't be up for it, she eventually did it and did it good.
Singing in the Carnegie hall was one of her dreams, she has sung there twice.
Social Causes:

Animal rescue: IT is a cause she really cares about. [3]
Filmography
Movies
| Year | Movie | Character | Notes |
| --- | --- | --- | --- |
| 2021 | Rumble | Lady Mayhen (voice) | |
| 2021 | Breaking News in Yuba County | Leah Norton | |
| 2020 | The Stand In | Bridget Everett | |
| 2017 | Love You More | Karen Best | TV Movie; co-executive producer and writer |
| 2017 | Little Evil | Al | Uncredited |
| 2017 | Fun Mom Dinner | Melanie | |
| 2017 | Patti Cake$ | Barb | |
| 2017 | Saving a Legend | Alice Dugan | |
| 2015 | Trainwreck | Kat | |
| 2014 | The Opposite Sex | Stella | |
| 2014 | Are You Joking? | Waitress | |
| 2012 | Gayby | Bridget | |
| 2008 | Sex and the City | Drunk Party Girl | |
TV Series
| Year | Series | Character | Notes |
| --- | --- | --- | --- |
| 2022 | Somebody Somewhere | Sam | 7 episodes; also as executive producer |
| 2021 | Bob's Burgers | Officer Bridget (voice) | 1 Episode |
| 2019-2020 | At Home with Amy Sedaris | Crystal Dangles | 2 episodes |
| 2020 | AJ and the Queen | Anna | 1 Episode |
| 2019 | The Coop | Detective Sally | 1 Episode |
| 2019 | Living with Yourself | Weinrod | 1 Episode |
| 2019 | Unbelievable | Colleen Doggett | 3 episodes |
| 2019 | Twelve Forever | Judy | 8 episodes |
| 2019 | Historical Roasts | Goddess Isis | 1 Episode |
| 2018 | Camping | Harry | 5 episodes |
| 2018 | Bobcat Goldthwait's Misfits & Monsters | Mermaid | 1 Episode |
| 2018 | Another Period | Mrs. Slagsby | 1 Episode |
| 2017 | No Activity | Special Agent Bonnie Lehman | 1 Episode |
| 2016-2017 | Lady Dynamite | Dagmar | 12 Episodes |
| 2013-2017 | Inside Amy Schumer | Bridget Everett (as herself) | 5 episodes |
| 2016 | Girls | Bebe | 1 Episode |
| 2016 | UCB Comedy Originals | | 1 Episode |
| 2015 | Difficult People | Bridget Everett | 1 Episode |
| 2012 | 2 Broke Girls | Shonda | 1 Episode |
| 2012 | Funny as Hell | | as writer; 1 Episode |
Quotes
Singing is the only thing I'm good at, If I was good at anything else I wouldn't be doing this, because it is heart wrenching, but it also takes you to the highest highs.
The kind of stuff I do on stage is not for everybody, occasionally someone walks out of the audience.
They are going to love you or hate you, luckily there are enough people who are going to love you. I'm doing just fine, there are going to be people who don't get what you are doing.
My mom always made me feel like I'm the best and special person in the world.
I often take my clothes off on stage, it is not like I plan such things, when you are on the stage it spontaneously happens, like letting the beast out. Ultimately what I'm saying on stage is- 'This is what I'm'.
I'm an open book, there are no secrets.
I'm the happiest when I'm drinking and doing Karaoke, so I found a career doing both.
I may never play Madison Square Garden... but I AM going to sit on your face.
Even though I had a lot of friends when I was growing up, I always felt like an outsider I was a little too blue, in terms of my comedy, and a little raunchy. [3]
Awards
Year: Award: Won?
Category
2023: Independent Spirit Award: Nomination
"Somebody Somewhere"
Film Independent Spirit Awards
Best Lead Performance in a New Scripted SeriesSources

2022: Dorian Award: Nomination

"Somebody Somewhere"

Dorian TV Awards

Best TV Musical Performance (Shared with Jeff Hiller)

2022: Dorian Award: Nomination

"Somebody Somewhere"

Dorian TV Awards

Best TV Performance

2022: Gotham Independent Film Award: Nomination

"Somebody Somewhere"

Gotham Awards

Breakthrough Series - Shortform

2022: HCA Award: Nomination

"Somebody Somewhere"

Hollywood Critics Association Television Awards

Best Actress in a Broadcast Network or Cable Series, Comedy

2022: Pena de Prata: Nomination

"Somebody Somewhere"

Pena de Prata

Breakthrough Performance in a Comedy Series

2022: Pena de Prata: Nomination

"Somebody Somewhere"

Pena de Prata

Best Lead Acting in a Comedy Series

2022: TCA Award: Nomination

"Somebody Somewhere"

Television Critics Association Awards

Individual Achievement in Comedy

2018: Athena List Winner: Win

Athena Film Festival

Athena Breakthrough

2017: Lost Weekend Award: Win

"Patti Cake$"

Film Club's The Lost Weekend

Best Supporting Actress
Sources
Bridget Everett on wikipedia
Bridget Everett IMDB Bio
Village Voice interview
Donn Everett on wikipedia
Bridget Everett on Larry King