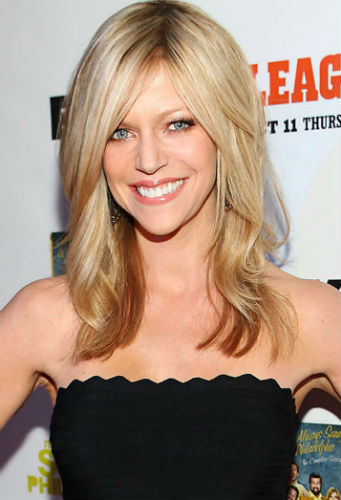 Kaitlin Olson
Date Of Birth
August 18, 1975
Age
47 years 7 months 13 days
Day of Birth
Monday
Place Of Birth
Portland, Oregon, United State
Zodiac Sign
Leo
Professions
Actress ,

Voice Artist

,

Comedian

Birth Name
Kaitlin Willow Olson
Nicknames

Sweet Dee

,

Kat

,

The Bird

Full Name

Kaitlin Willow McElhenney

Other Name

Kaitlin Olsen
Personal Information
Residence

Los Angeles, California, United States

Language
English
Star Sign
Leo
Nationality
American
Ethnicity
Caucasian
Complexion
White

Body Features & Measurements
Height

173 CM


5 Feet 8 Inches
Eye color
Blue
Hair color
Blonde
Weight

53 KG


117 lbs

Shoe Size
8 (US)
Dress Size
2 (US)
Figure Measurements
33-24-34
Figure Type
Rectangle
Body Type
Slim
Bra Size
32A
Family Information
Father
Donald Lee Olsen (Publisher at Portland Tribune)
Mother

Melinda Leora

Sons
Leo Grey McElhenney (born on April 5, 2012)
Axel Lee McElhenny (born on September 1, 2010)
Grandfather
Harry William Olson (paternal)
Grandmother
Alice Virginia Hall (paternal)
Sister In-Law
Katie McElhenney

Education Qualifications
Education (Graduation)
Bachelor of Science, Theater Arts
Education (High School)
Tigard High School, Tigard, Oregon
Alma Mater

University of Oregon

Love, Romance, Marriage
Husband
Rob McElhenney (married in 2008)
Career Information
Genres
Comedy
Years Active
2000-
Favorites, Hobbies, Likes/ Dislikes
Hobbies
movies
Walking on the beach
Cooking (she is a self taught cook)
Rollerblading
Favorite Actor
Ben Stiller (Comedian)
Favorite Foods
cupcakes
Parmesan truffle fries
Sushi
Favorite Drink
Wine
Favorite TV shows
Game of Thrones
60 Minutes
The Real Housewives
Mad Men
Sesame Street
Boardwalk Empire,
Favorite Comedians
Sacha Baron Cohen
Will Ferrell
Annette Bening
Michael Cera
Dislikes
Rain (because It messes with hair)
Favorite Characters
Charlie (From the show It's always Sunny in Philadelphia)
McPoyles (Game of Thrones)
Favorite Artist
Pink
Social Networks, Web links
Facebook Profile
Kaitlin Olson Facebook Profile
Twitter Profile
Kaitlin Olson Twitter Profile
Instagram Profile
Kaitlin Olson Instagram Profile
More Information
Friends
Heather Olson (High school)
Tricia O'Kelley (co-star on The Mick)
Net worth

$16 million


$6 Million (in 2014)
Biography
Kaitlin Olson is an American TV & movie actress, She is popular for playing the role of Sweet Dee in It's Always Sunny in Philadelphia- the longest running live TV show.
Kaitlin Olson was born on 18th August 1975 in Portland, Oregon to Donald Olson(Father)- a publisher by profession &Melinda Olson(Mother). She grew up at the family farm in Tualatin.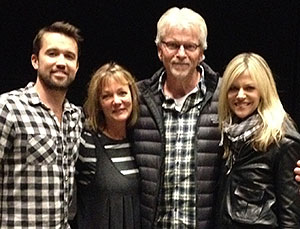 Image: Kaitlin Olson family: Donald Olson(Father), Melinda Olson(Mother), Rob McElhenney(husband)
Kaitlin Olson & Rob McElhenney's marriage:
Kaitlin was hired by Rob through an audition for the show It's always sunny in Philadelphia. When they met Kaitlin was dating another guy, during the second season of the show, the couple got closer and started dating (they went to Big Bear for their first date) for an year and half before getting engaged in December 2007, the couple got married at Danny Devito's Malibu Beach house in September 2008.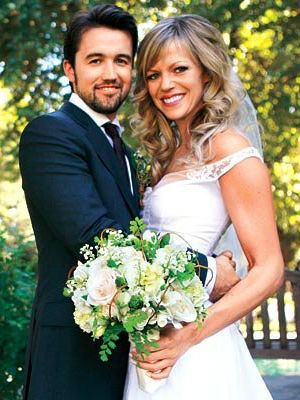 Image: Kaitlin Olson & Rob McElhenney wedding
Kaitlin & husband Rob have two sons, elder son Axel Lee McElhenney born in 2010 & the younger Leo Grey McElhenney born in 2012.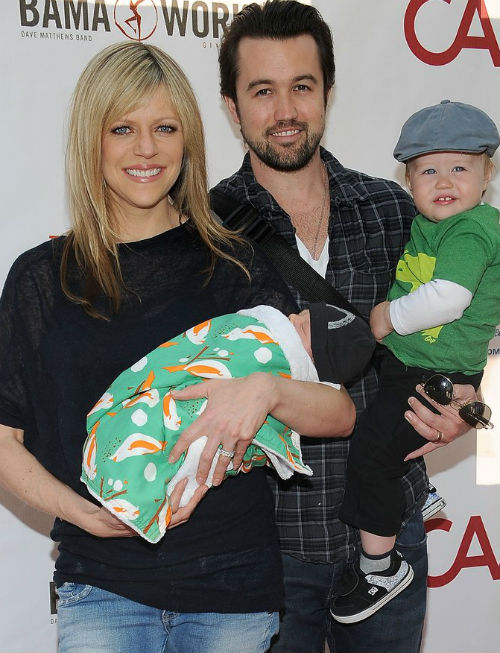 Image: Kaitlin Olson & husband Rob McElhenney with their sons- Axel Lee McElhenney & Leo Grey McElhenney.
Career
Kaitlin Olson started her career at 'The Groundlings', an improv & sketch comedy group & school in Los Angeles.
She made her debut with the movie Eyes to Heaven(2000), he first TV series was Curb Your Enthusiasm(2000-2007).
She has appeared in movies like Coyote Ugly(2000), Weather Girl(2009), Leap Year(2010), The Heat(2013), Vacation(2015). She lent her voice to the character named Destiny in the animation movie Finding Dory(2016).
she has had recurring roles in TV series like- Curb Your Enthusiasm, The Drew Carey Show, It's Always Sunny in Philadelphia, The Riches, Unsupervised(voice), Brickleberry(voice), The Mick.
It's Always Sunny in Philadelphia & The Mick are the highlights of her career.
Kaitlin Olson Interesting Facts
Bicycle Accident: When she was 12 she hit her bicycle to a moving vehicle causing herself severe injury. Part of her skull underwent surgery.
United Service Organizations Inc: She toured the countries- Bosnia, Kosovo, Norway with the group performing live entertainment & comedy.
Orlando Nightclub shooting victim tribute: She appeared in the video made by Human Rights group which talked of the lives of people who died on that night.
Sweet Dee: Her nickname 'Sweet Dee' from the TV show It's Always Sunny in Philadelphia has been popular among her friends, she gets called Sweet Dee sometimes.
On Sports Illustrated: She was selected as the Celebrity Mail bag Crush by the magazine in 2008.
She is funny & witty: Her husband Rob thinks she is he funniest contemporary actresses.
She loves Mom & Dad: She chose Oregon university because her father when there too, and she did not want to stay away from home.
Summer camp Plays: Her experience with acting started when she was in Elementary school at the summer camps. While playing as Alice in 'Alice in wonderland' at the age of 6 she decided she wanted to be an actress. She studied Shakespeare too, but if it was not funny it was not for her.
If she was not an actress she would have liked to be a secretary. Or she would have been doing Hair & Nails. She did acrylic nails of her friends for the prom.
While she was studying she would sometimes work two part time jobs and slept very little.
Waterboarding Episode: In one of the episodes she was waterboarded on the show, Kaitlin feels it was one of her worst experiences, that it hurt like being really waterboarded. One of her favorites is where the story went back in time to history.
Organic food: She prefers eating organic food.
Environmentalist: She is obsessed with recycling things and not wasting stuff.
As a child she was reserved, she did not even talk to people much, she was scared of people outside her family.
She had shaved her head in junior High as a way to stand out, she felt like hiding away immediately after that.
College life: She was low profile in her Freshman year, she was not popular, however by the end she got into plays and theater, she grew so confident that she was leading department.
She is full time into TV shows, she likes to try theater again sometime.
What Kaitlin likes about her character Dee: That she is Insecure, despicable, Stupid, self-involved, Funny.
She likes pets, she has a French bulldog named- Luke another dog named Oscar.
'I will eat your babies, bitch' is what she frequently gets screamed at by the fans of IASIP show.
Craziest thing she has seen her fans do: Tattoos of her and her cast from the TV show It's always sunny in Philadelphia.
Knack for getting hurt: She has talent for getting hurt, she often rams into things in the house.
The Ellen Show: She appeared on the Ellen Show in January 2017.
Jimmy Kimmel Live: She appeared on the his show in February 2017. She appeared on Seth Meyers in September 2017.
Her first son Axel is quite funny, he likes pranking parents as if its April fools day every day.
she is a pro-equality advocate. She identifies herself with democratic party.
She once ate 57 pieces of pizza.
She appeared on the cover page of Philadelphia Style in April 2016.
She is of English, German, Irish, Swedish, Welsh ancestry.
Stealing glue from grocery store: Once she and her brother stole the glue and put it on their hands, their mother though made sure they were humiliated by making them confess the crime to the store owner.
Turn-off on the first date: Bad breath.
Her go-to Excuse to skip work: Sick baby.
Recurring Bad dream: She has had dreams of someone turning her room door knob when she is on her bed.