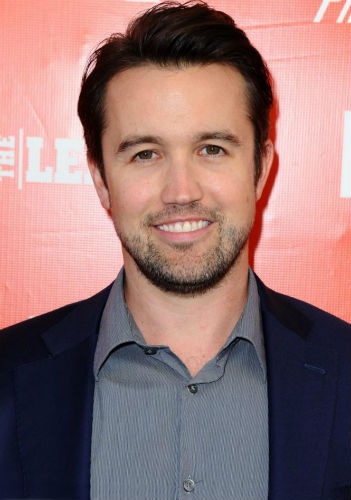 Rob McElhenney
Date Of Birth
April 14, 1977
Age
46 years 5 months 11 days
Day of Birth
Thursday
Place Of Birth
Philadelphia, Pennsylvania, United States
Zodiac Sign
Aries
Professions

Producer

, Actor ,

Director

,

Screenwriter

Birth Name
Robert McElhenney
Nickname

Mac

Full Name

Robert Dale McElhenney
Personal Information
Residence

Los Angeles, California, United States

Religion
Christianity (Roman Catholic)
Languages
Spanish , English
Star Sign
Aries
Nationality
American
Ethnicities
Irish American , Caucasian
Complexion
White
Trademark
Dark humour

Body Features & Measurements
Height

175 CM


5 Feet 9 Inches
Eye color
Hazel
Hair color
Black
Weight

75 KG


165 lbs

Body Type
Average
Family Information
Father

Robert McElhenney

Mother

Helena McElhenney

Sons
Leo Grey McElhenney (born on 5th April 2012)
Axel Lee McElhenney (born on 1st September 2010)
Wife
Kaitlin Willow Olson (Actress; born August 18, 1975; married on 27th September 2007)
Brother

Patrick McElhenney

Sister

Katie McElhenney

Uncle
Billy
Grandfathers
George F. Summers, Sr (Maternal)
Robert J. McElhenney (Paternal)
Grandmother
May Clements (Maternal)
Relative
Marcus McElhenney (Olympic Bronze medal winner in Rowing)
Father In-Law
Donald Olson (Publisher ; Father of Kaitlin)
Mother In-Law
Melinda Olson
Great Grandfathers
Mortimer Peter Summers (Maternal Paternal)
Hubert Patrick Morris (Paternal Maternal)
Joseph McElhenney (Paternal Paternal)
Great-grandmothers
Isabella Butler (Paternal Paternal)
Margaret F. McCullough (Paternal Maternal)
Emma Anna Geiger (Maternal Paternal)

Education Qualifications
Education
Waldron Mercy Academy
Education(School)
St. Joseph's Preparatory School (the Prep)
Career Information
Debut (Movies)
Minecraft(2019) (as director)
The Devil's Own(1997) (as actor)
Years Active
1997-
Salary
$4 Million (Annual Approximate)
Favorites, Hobbies, Likes/ Dislikes
Favorite Sports
Baseball , basketball
Favorite TV show
Game of Thrones
Favorite sports person
Ryan Howard (Baseball)
Skills
Wrestling (Martial Arts)
Judo (Martial Arts)
Social Networks, Web links
Twitter Profile
Rob McElhenney Twitter Profile
Reddit Profile
Rob McElhenney Reddit Profile
Contact
Talent Agent
Nick Frankel
More Information
Friends
Christopher Backus (Actor; previous room mate)
Donald McCloskey (High School Friend; musician)
Inspirations
Woddy Allen (Writing)
Norman Lear (Writing)
The Marx Brothers (Writing)
David Sedaris (Writing)
Gary David Goldberg (Writing)
Carl Reiner (Writing)
Larry David (Writing)
George Carlin (Writing)
Net worth

$44 Million
Biography
Rob McElhenney is an American Actor & Producer born on 14th April 1977 in Philadelphia, Pennsylvania to Robert McElhenney(Father) & Helena McElhenney(Mother). He is popular for playing the role of Mac in the Black comedy/ Sitcom It's Always Sunny in Philadelphia. He is also the creator & producer of the show.
Rob has two younger siblings(a brother and a sister). From his father's second marriage he has a half-brother(youngest) and a stepsister(older than him).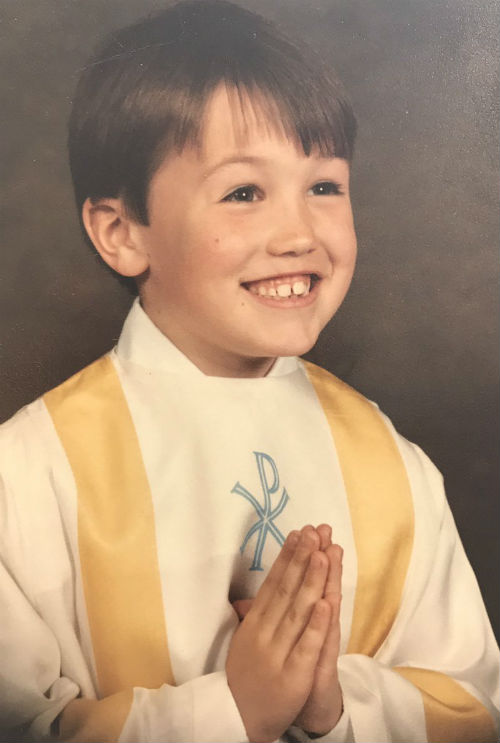 Image: Rob McElhenney in Childhood, being a Catholic kid
Rob McElhenney & Kaitlin Olson's marriage:
Rob started his creative career with It's Always Sunny in Philadelphia, as a part of production team he hired Kaitlin Olson for the role of Dee Reynolds.
They were also co-stars of the show, sparks flew between the couple and they started dating secretly during the filming of the 2nd season of the Series. Rob proposed to Kaitlin at Danny Devito's Beach house with a diamond cocktail ring. They got engaged in December 2007, after dating for couple of years the couple got married in September 2008. Kaitlin wore cotton & lace gown while Rob wore a Gucci suit.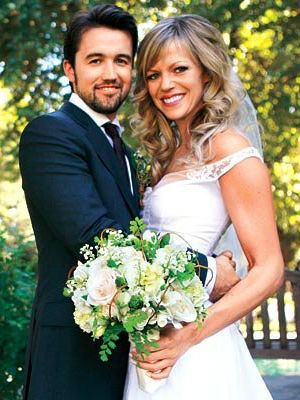 Image: Rob McElhenney & Kaitlin Olson wedding
The couple have two sons Axel Lee McElhenney (born 2010) & Leo Grey McElhenney (born 2012).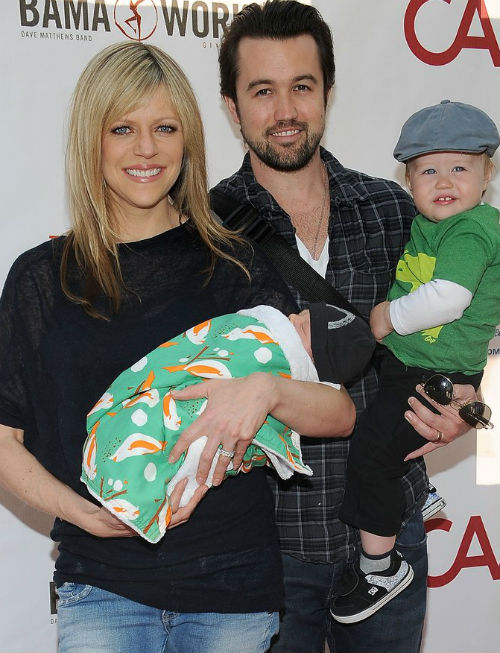 Image: Rob McElhenney & Wife Kaitlin Olson with sons-Axel Lee McElhenney(Elder), & Leo Grey McElhenney(young)
Career
Rob started his career with the movie The Devil's Own(1997) in the role of Kevin. The scenes were unfortunately omitted from the final copy though.
Some of his other notable movies are A Civil Action(1998), Wonder Boys(2000), Thirteen Conversations About One Thing(2001), Latter Days(2003), The Tollbooth(2004).
It's Always Sunny in Philadelphia has been one of the most successful TV series of his career. He has also appeared in TV series like- ER(2004), Lost, How to Be a Gentleman, Living Loaded, Unsupervised, The Mindy Project, Fargo.
Rob McElhenney is working on the movie Minecraft along with Shawn Levy, Jason Fuchs for Warner Bros. The movie is expected to be released in May 2019.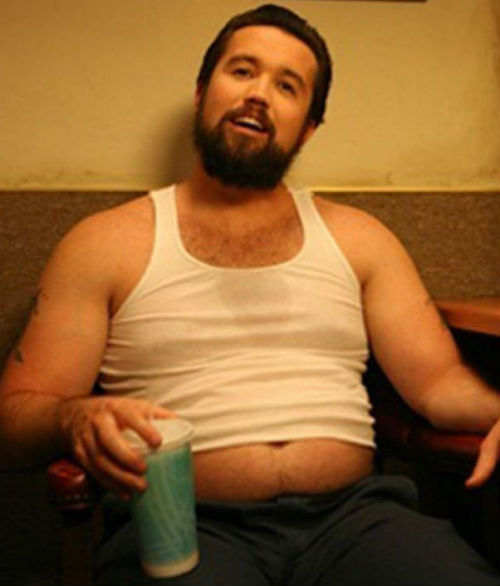 Image: Rob McElhenney when he was fat during the 7th season of IASIP
Rob McElhenney Interesting Facts
He was born in Philadelphia like the character Mac he played in the TV series It's Always Sunny in Philadelphia. None of the other characters were originally born in Philadelphia.
He is of Irish Descent, from both paternal & maternal sides.
His mother came out as a lesbian in 1985 leading to the separation of his parents. He mostly grew up with his father. His parents remained close even after divorce, so much so that his Dad lived with Rob's mom and her Lesbian partner after his second divorce for a while.
Before his big break in 'It's Always Sunny in Philadelphia' he worked as a waiter at the restaurants part time. He continued to be a waiter even during the first season.
In 2009 Rob & Kaitlin purchased Skinner's Bar in Philadelphia now known as Mac's Tavern. He usually stays at his bar on Saturdays. They serve couple of foods named after Rob & Kaitlin's IASIP characters- Mac's Chili, Sweet Dee's Turkey BLT.
When Kaitlin was carrying their first child, she went into labor while watching the Philadelphia Phillies vs Los Angeles Dodgers game, they went to the hospital in the middle of the game, the baby boy was born healthy and weighed 8 pounds, 7 ounces.
Weight gain & weight loss: During the 7th season of It's Always Sunny in Philadelphia, Rob gained 60 pounds in four months to make his character look funnier, he initially wanted to do 100 lbs but his doctor advised to limit it to 60, he tried to eat lot of healthy foods but that did not help, he consumed donuts, weight gain drinks, protein shakes to put on weights, he however on feedback of his friends decided to reduce back to normal, he lost 23 pounds within the next month.
Nike TV commercial: He has appeared in the Nike commercial in 1999.
Anti-smoking ad: He appeared in an Ad which said 'Think, Quit smoking' as an attempt to discourage smoking and make it hip.
His opinions on his own show: Rob believes 'It's Always Sunny in Philadelphia' should not be the mainstream idea of funny in a healthy society. The show according to him is an attempt to not be too uptight and be liberal in extracting comedy which is otherwise neglected by mainstream.
Dropping out of college: He stayed in Fordham University but did not take any course, he realized it would just be waste of money since no one was really learning anything, he faked an ID to live in the college dorms, he ate meals from the college cafeteria instead of a friend who disliked the food there. He joined the college drama despite not being a student there, he however was ratted out by the guy who lost the role to Rob, that ended his stay in the college.
He looked quite young even at 19-20, he looked 13-14 and was cast for Ads, he easily outperformed with experience
Karate Training: He joined karate class after he failed to kick the mirror of a car and incident around that.
Move to Los Angeles from New York: He was into drugs when he was in New York, he was also trying to get away from an Ex and also try and reboot his career which was moving nowhere.
If he wasn't an actor: He would have liked to be a Basketball player or an Engineer.
Inspiration behind creation of It's always sunny in Philadelphia: Desperation to find a job and make it big in Hollywood.
Rob's character Mac had written a letter to 'Chase Utley' on the IASIP show, the baseball star Chase reacted to it with a video, it was fun.
LGBT rights: He is supportive of the Gay rights, his mother is a lesbian.
McElhenney scholarship funds: Rob was a student at the Saint Joseph's Preparatory School during 1995, he and wife Kaitlin established scholarships for young children to help them afford education.
IASIP is one of the largest running TV shows ever.
He wants to concentrate more on Writing & direction, does not want to just focus on acting.
He is building a house for the family. He wants a swimming pool and possibly a playing court.
The pilot episode of It's always Sunny in Philadelphia was shot in $100-$300, with a hand held recorder.
He was brought up in Irish enclaves, his grandparents feared Italian neighborhood. He was not allowed to ride bike until he was 13-14.
His first school play: Sound of Music.
Rob took 11 months to write the first 15 episodes of IASIP.
The Devil's Own(1997): He had a small role in the movie, he was paid and he was quite happy to be finally making it in the Hollywood, he took all his family to watch the movie, but his scenes were cut from the final release much to his disappointment.
His first Car: A used mini van.
He doesn't want to see his kids growing up messed up, he takes parenting pretty seriously.
He feels his wife Kaitlin is a fantastic comedy actress around with great sense of humor, and wishes everyone had a mother like her