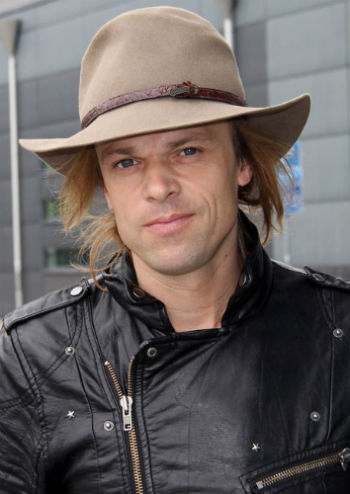 Carl-Einar Häckner [Deleted]
Date Of Birth
October 8, 1969
Age
51 years 7 months 3 days
Day of Birth
Wednesday
Place Of Birth
Nol, Alafors, Västra Götaland County, Sweden
Zodiac Sign
Libra
Professions

Comedian

, Actor ,

Illusionist

Full Name

Carl-Einar Fredrik Richard Häckner

Other Names

Charlie Häckner

, Wic Mack (Illusionist stage name)
Biography
Carl-Einar Häckner is a Swedish comedian and actor. He was born in Nol, Ale and brought up in Gårdsten, Angered, Gothenburg.
Bibliography
Gloria(1994) (poem collection)
Tivoli(1996) (poem collection)
A Monologue of Love(1998)
Noveller(1999)
Struktna texter(2001)
Chronicles(2002)
Wizard's Word(2007).
Discography
Visas of the time(1995)
Hugo Von Glesens Varieté(2002)
Songs of Life Variety(2006)
Injustice(2008)
Carl-Einar Hackner Videos
Carl-Einar Häckner Trivia and interesting facts
Carl started learning magic at the age of 6 with the magic set gifted by his mom.
His grand mother was the first magician he knew, she inspired him in his childhood with bottle-cap behind the ear trick.
Carl-Einar started his public magic performance at the age of 11.
At age 13 he was the youngest member of the Gothenburg Magic Club.
When he started magic, he and his father were both members of Gothenburg's magic club.
He studied Economics in High School, after that he turned to Illusions and comedy for a future.
Max Milton (stage name Arne Strömbom) another magician from Gothenburg mentored Carl in his initial years. Carl remembers him as a good friend and guide.
In 1983 Carl-Einar won the Nordic Magic championship.
Häckner was named Sweden's sexist man alive in 1996.
He has a show called Swedish Meatballs.
Häckner is a popular artist in Gothenburg.
Carl played the lead role of Robert in the TV series Herbert & Robert.
Häckner was part of the show Jul Jul Jul (Christmas Christmas Christmas)(2010).
Carl started a show in Comden, London, England named Carl-Einar Häckner: Big in Sweden.
Carl-Einar was part of the Melbourne International Comedy Festival (2013)
Carl-Einar has been performing annual varieties at Liseberg in Gothenburg since 1997.
Carl-Einar worked with Björne's magasin, a children's magazine for many years.
In 2011 he received The Karl Gerhard scholarship and the Caramel Modal Scholarship (20,000 Swedish kronor) in 2013.
Carl's father Einar Häckner was a professor of business administration at Luleå Technical University.
In 2015 he performed at the Edinburgh Fringe Festival.
Carl is a writer as well, he has released his poetry collections named Gloria(1994), Tivoli(1996)
Carl does a popular trick where he sneaks a condom into his nose and gets it through his mouth.
Carl-Einar joined the Stand up Comedy Club named SUCK.