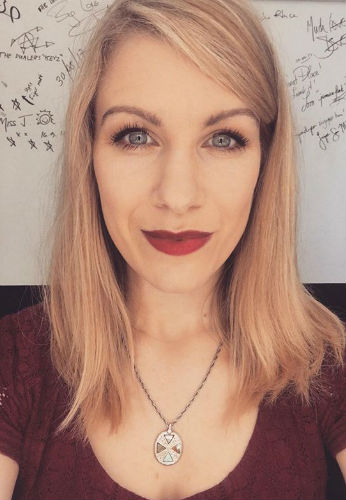 Rachel Parris
Date Of Birth
May 27, 1984
Age
39 years 6 months 4 days
Day of Birth
Sunday
Place Of Birth
Leicester, England
Zodiac Sign
Gemini
Professions

Musician

, Actress ,

Comedian
Biography
Rachel Parris is a British comedian, actress & musician. Rachel is known for roles- M.O.T.H.E.R in M.O.T.H.E.R Knows Best, Rachel in The Mash Report, Chrissy in Revolting, Sarah Millican in Murder in Successville, in Thronecast.
Childhood- Family
Rachel Parris was born on 27th May 1984 in Leicester, England.
Education
High school: She attended the Loughborough High School, a private school located in Loughborough, Leicestershire, England.
Graduation: Rachel graduated from Oxford University with a BA (Hons) (second-class (2:1)) in Music
Royal Central School of Speech and Drama: She later attended the Royal Central School of Speech and Drama' a school that trains young actors in speech and drama. It is affiliated with the University of London and a member of the Federation of Drama Schools.
Husband- Marriage
Rachel Parris and Marcus Brigstocke
Rachel married comedian Marcus Brigstocke on September 16, 2019. The two were engaged on 25 December 2018, they were in a relationship by April 2018.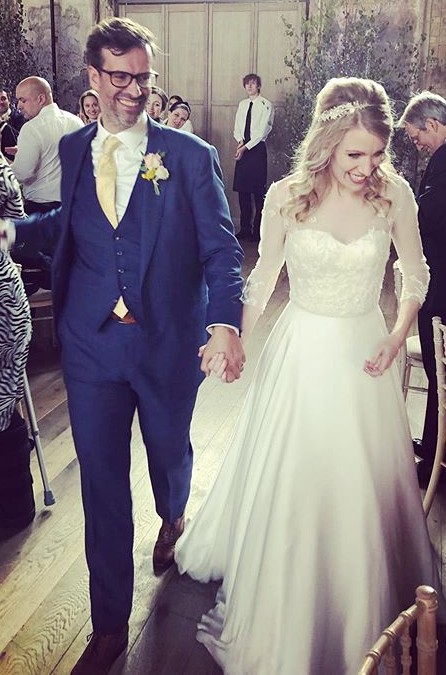 [Rachel Parris and Marcus Brigstocke wedding]
Marcus Alexander Brigstocke
Marcus is an English actor and comedian. He has worked on many BBC TV and radio shows. He was born on 8 May 1973 in Guildford, Surrey, England to Nick Brigstocke(a stockbroker) and Carol Pretty.
Some of the shows he has hosted are: "I've Never Seen Star Wars", "The Brig Society", "The Late Edition"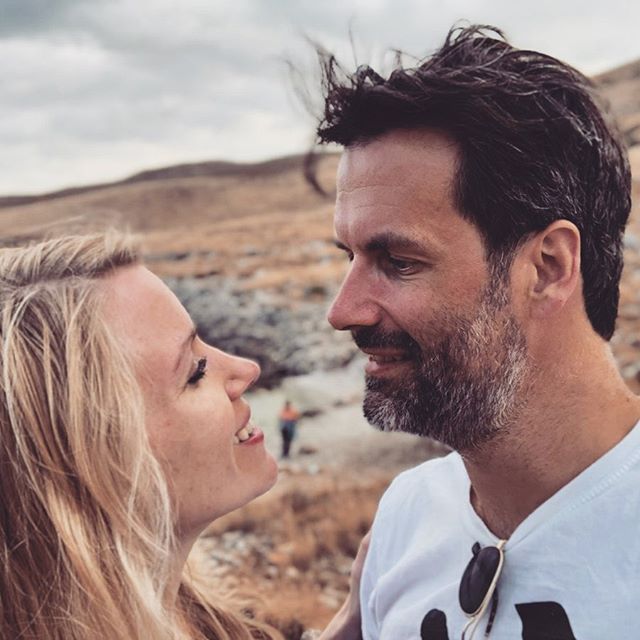 [Rachel Parris and Marcus Brigstocke]
Facts & Trivia
Rachel is trained in Improvisational comedy.
Thronecast: She has worked as a presenter of the show (which is aftershow to Game of Thrones), she joined the GoT aftershow team in the 4th season.
If she was a Game of Thrones Character she would be- Arya Stark, according to her.
Musical Comedy competition: In 2012 she participated in the comedy competition and was a runner-up in the competition. Rob Carter was the winner of the competition, Tom Adams was the 3rd place winner.
Rachel's favorite spots in London:

Yum Chaa(Soho): For Tea
The Lounge: For Drinks
The Ritzy: For Drinks
384: For Cocktails
Aeronaut (Pub)

Edinburgh Festival: She has been participating at the festival for years, performing her acts
Rachel's 'The Now Show' was nominated at the Bafta Awards
She wrote a satire piece on Piers Morgan's Love for Trump which attracted Piers Morgan's anger through twitter.
Photographer: she loves photographing nature, cityscape, and fine architecture; flowers, trees, and buildings in particular. Her Instagram account is full of beautiful flower pics and cute animals (we don't particularly mean her friends by that, but them too)
Philanthropy- Activism
Black Lives Matter: Rachel posted a Facebook post in 2020 after the George Floyd protests in the USA supporting the #BlackLivesMatter movement, she also talked about the difficulties of Black people in every society, and in particular about her home country the UK. She stressed on finding solutions for Black community issues, not just the gun issue but also deaths in police custody, during childbirth, and poverty.
Youtube
Youtube Comedy: Rachel writes, performs, produces comedy acts and music on her youtube channel. She has been inactive on the platform lately.
Music Videos
Some of the music videos she has published on her youtube channel are:
Song
Notes
Gym Song(2016)

Direction/ Editing: David Spearing

Music production: Laurence Hobbs

Featuring- Ben Fogg, David Jackson, Carrie Marx, Jonathan Monkhouse, Milly Thomas

A Tiny Bit Less (2014)
Featuring Jayde Adams, Jay Foreman, Tom Goodliffe, Jennifer Lack
"Amazing" (X-Factor winner's song Spoof) (2013)

Writer: Rachel Parris

Direction/ Editing: David Spearing

Music production: Laurence Hobbs

I Dreamed(2013)

Note: She was asked to write a song about the dangers of marijuana, she wrote this

Writer: Rachel Parris

Audio recording: Laurence Hobbs

Direction/ Editing: David Spearing
Career
The Commission: This was Rachel's first comedy show in 2007. It was praised by 'Guardian' ("captivating...a striking debut") as well as 'The Scotsman' ("classy clever comedy...uproarious"). She started her musical comedies in 2010.
10 Ways To Become A Musical Legend: She wrote and acted in a comedy skit for BBC 3, she played the irritated music teacher.
Austentatious: An improvisational comedy show co-founded by Rachel, the group tours the UK performing acts, they have won Chortle Award
Rachel the Musician: Rachel has been a singer and songwriter from her childhood, Music was the first thing she sought a career in.
Stand-up comedy
Rachel has been performing in the musical comedies, improv, and stand-up comedy throughout the UK.
The Mash Report
The Mash Report is a BBC2 news talk-show that has a comic take on the week's news. The series has Ellie Taylor as Susan Treharne, Steve N. Allen as Newsreader Tom, Rachel, and Nish Kumar playing themselves.
Rachel appears in about 22 episodes of the series.
M.O.T.H.E.R Knows Best
In the dark comedy web series by Chris Mayo and Scott Kingsnorth, Rachel plays M.O.T.H.E.R., the leading female character while Chris Mayo plays the leading character.
The series was launched on the mother's day of 2018. Pippa Evans, Scott Kingsnorth, Evelyn Lockley, Holly Mallett have also appeared in main roles.
Murder in Successville
It is a comedy series directed by James De Frond. The story revolves around solving murder mysteries in the town of Successville.
Tom Davis (DI Sleet), Liam Hourican (Gordon Ramsay), Luke Kempner (Allan Carr), Nico Tatarowicz (Sid Lowecroft) appear in lead roles. Rachel appears in 3 episodes as Sarah Millican / Tess Daly / Lady Gaga.
Filmography
TV Series
TV Series(year)
Character

Trying(2020)

Episode: "Someone Else's Kids"

Hayley

There She Goes (2018)

Episode: "Bubble Chess"

Katy

M.O.T.H.E.R Knows Best(2018)

10 episodes

M.O.T.H.E.R.

Plebs(2018)

Episode: "The Marathon"

Diana

The Mash Report(2017-2018)

9 episodes

Rachel Parris

Revolting(2017)

3 Episodes: Season 1 Episodes 1,4-5

Chrissy/ Tasmin Chivers

Murder in Successville(2015-2016)

3 episodes

Sarah Millican / Tess Daly / Lady Gaga

The IT Crowd (2013)

Episode: "The Internet Is Coming"

Alice

Count Arthur Strong (2013)

Episode: "Arthur.com"

Woman in Cafe
TV/ Radio Shows
TV/ Radio show(year)
Character
Richard Osman's House of Games(2019)

(for BBC 2)

I'm Sorry I Haven't a Clue(2019)

(for BBC Radio 4)

QI(2018-2019)

(for BBC Two)

Would I Lie To You(2019)

(for BBC One)

Hypothetical(2019)

Private Passions(2019)

(for BBC Radio 3)

Live at the Apollo(2018)

(for BBC One)

Plebs(2018)

(for ITV 2)

Mock the Week(2018)

(for BBC Two)

A Girl's Guide to TV(2018)

(As the writer)

The Now Show(2016)

(for BBC Radio 4)

Austentatious: An Improvised Jane Austen Novel(2015)

(also as a writer; for BBC Radio 4)

Improviser

Thronecast(2014)

(for Sky Atlantic)

The IT Crowd(2013)

(for Channel 4)

Count Arthur Strong(2013)

(for BBC One)
Short movies
| Movie(year) | Character |
| --- | --- |
| Godless(2019) | Jane |
| Bride Aid: Comic Relief(2017) | |
Awards
Year: Award: Won?
Project
Category

2019: BAFTA Awards: Nomination

The Mash Report (2017)

Outstanding Entertainment Performance

2017: The Monkey Bread Tree Film Awards: Nomination

Godless (2017)

Best Actress

2017: BAFTA Awards: Nomination

The Now Show(016)
Quotes
I have been a musician & a songwriter since I was a teenager, I have made my living with that
Much of TV presentation is about how you stand how you frame your body and the expressions you pull when you're not saying anything
Having my hair and make-up done by someone else was very weird, but I'm learning to like it
References