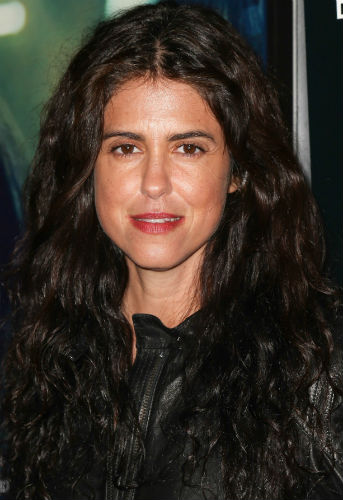 Francesca Gregorini
Date Of Birth
August 7, 1968
Age
51 years 9 months 29 days
Day of Birth
Wednesday
Place Of Birth
Lazio, Rome, Italy
Zodiac Sign
Leo
Professions

Screenwriter

,

Director

, Writer ,

Musician

,

Songwriter

Full Name

Francesca McKnight Donatella Romana Gregorini di Savignano di Romagna

Other Name
Francesca Starr (She is close to her stepfather Ringo Starr)
Personal Information
Residence

Los Angeles, California

Religions
Judaism , Christianity
Languages
English , Italian
Star Sign
Leo
Nationalities
American ,

Italian

Ethnicity
Caucasian
Complexion
White
Sexual Orientation
Lesbian

Body Features & Measurements
Height

170 CM


5 Feet 7 Inches
Eye color
Dark Brown
Hair color
Dark Brown
Weight

58 KG


128 lbs

Figure Type
Rectangle
Body Type
Slim
Family Information
Brother
Gianni Andrea Gregorini (younger; producer by profession; born in 1972)
Cousin
Lucy Walsh (stepcousin; daughter of Joe Walsh & Juanita Boyer)
Uncle
Joe Walsh
Grandfather
Howard Goldbach (Maternal)
Grandmother
Marjorie Goldbach (Maternal; Marjorie Mary McKnight)
Aunt
Marjorie Bach (Maternal)
Stepfather
Ringo Starr (married Barbara Bach in 1981)
Stepsister
Lee Starkey (Makeup artist; Daughter of Ringo Starr and Maureen Starkey)
Stepbrothers
Jason Starkey (Drummer; Son of Ringo Starr and Maureen Starkey)
Zak Starkey (Drummer; Son of Ringo Starr and Maureen Starkey)

Education Qualifications
Education (Graduation)
Brown University (graduated with major in Semiotics & Theater Arts)
Education(School)
The Moses Brown School (Providence, Rhode Island)
Alma Mater

Brown University

Love, Romance, Marriage
Partners
Morgan Wieland Marling (producer; January 2014-)
Portia de Rossi (Actress/ Model; 2000-2004)
Career Information
Debut (Movies)
See Jane Run (2001) (as Musician & actress)
Tanner Hall(2009) (as Director/ writer)
Years Active
2001-
Social Networks, Web links
Facebook Profile
Francesca Gregorini Facebook Profile
Twitter Profile
Francesca Gregorini Twitter Profile
Official Website
Francesca Gregorini Official Website
Instagram Profile
Francesca Gregorini Instagram Profile
Contact
Contact (Email)

piscesrisingproductions@gmail.com

Web Contact
Web Contact
More Information
Friends
Alice Bamford
Tatiana Von Furstenberg
Amelia Fleetwood
Net worth

$1 Million

Instruments
Bass
guitar
Piano
Biography
Francesca Gregorini is an Italian American director, musician and writer, she was born in Lazio, Rome on 7th August 1968 to actress Barbara Bach(mother) & Italian count & businessman Augusto Gregorini(father). She was brought up in Rome, Los Angelees & England.
Francesca Gregorini & Portia de Rossi: Francesca was living with her partner Actress & model Portia de Rossi for 4 years from 2000 to 2004, the couple were engaged, the couple separated in 2004 as Portia moved closer to TV host Ellen Degenres. She is now friends with both Portia and Ellen.
She worked as a musician in movies- See Jane Run (2001), she also appeared in a minor role in the movie.
She has directed, produced & written movies like- Tanner Hall(2009), The Truth About Emanuel(2013).
She has directed Episodes in TV series- Philip K. Dick's Electric Dreams, Humans.
Interesting Facts
She is of Irish & Jewish ancestry from her mother's side.
She comes from a musical family, her movies often have very strong musical background.
She is a professional musician, has produced music for movies, she is good at playing Bass & Guitar.
Her mother Barbara Bach is a former band girl (in The Spy Who Loved Me (1977))
"Sequel"(2003):She released her first CD as musician in 2003.
Her movies Tanner Hill was featured at the Toronto International Film Festival(2009).
The Truth About Emanuel(2013) was selected in the drama category at the Sundance Film Festival(2013).
She has a production company named- Pisces Rising Productions, it is looked after by her brother Gianni Gregorini.
She has had fertility issues and can not have children, her movie 'Emanuel and the Truth about Fishes' is partly autobiographical.
Her movies have appeared in Film festivals like- Sundance London, Ashland Independent Film Festival, LA Femme Film Festival, Provincetown International Film Festival, Bend Film Festival, Brooklyn Film Festival, MARFA Film Festival, Woodstock Film Festival among others.
She grew up in a alcoholic home.
She lived in England from 11 to 18, she considers herself part British with British sense of humor.
In 2011 Francesca kissing Amber Heard was published online giving the hint that the couple might be romantic.
She is a Vegetarian like her mother.
She is a countess.
In her early 20s she was addicted to drugs.
She and her mother did not see each other often in childhood, also Barbara's addiction to alcohol and drugs kept them distant, now they are close.
Quotes
I look better naked than I do in clothes
The best way to write is when you just don't know but happen to write.
I'm always happy when I hear laughter in the audience, it good to know people are experiencing the movie.
I feel good that now I'm a writer and director on my own.
Music is a very important aspect of the movie experience.