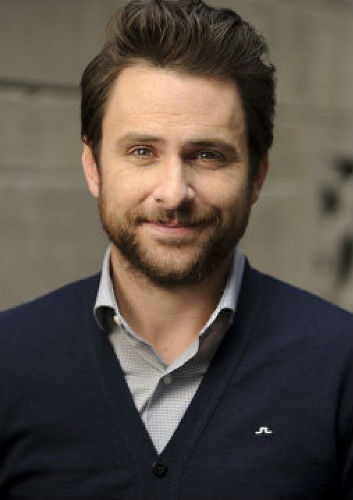 Charlie Day
Date Of Birth
February 9, 1976
Age
47 years 7 months 16 days
Day of Birth
Monday
Place Of Birth
New York City, New York, United States
Zodiac Sign
Aquarius
Professions

Producer

,

Screenwriter

, Actor ,

Comedian

,

Musician

Nicknames

Green Man

,

Dayman

Full Name

Charles Peckham Day

Other Names

Charles Day

,

Night Crawler Jack
Personal Information
Residence

Los Angeles, California, United States

Religion
Christianity
Language
English
Star Sign
Aquarius
Nationality
American
Ethnicity
Caucasian
Complexion
White
Trademark
High pitched tone

Body Features & Measurements
Height

169 CM


5 Feet 7 Inches
Eye color
Green
Hair color
Dark Brown
Weight

65 KG


143 lbs

Body Type
Average
Family Information
Father
Dr. Thomas Charles Day (music professor)
Mother
Mary Day (Mary Peckham; piano teacher)
Son
Russell Wallace Day (born on December 15, 2011)
Wife
Mary Elizabeth Ellis (Actress; married on March 4, 2006)

Education Qualifications
Education (High School)
Portsmouth Abbey School (Portsmouth, Rhode Island)
Education(School)
Pennfield School (Portsmouth, Rhode Island)
Education(College)
Merrimack College (North Andover, Massachusetts)
Alma Mater
Merrimack College (Art major)
Career Information
Debut (Movie)
Mary and Rhoda(2000)
Years Active
2000-
Debut (TV)
Madigan Men
Favorites, Hobbies, Likes/ Dislikes
Hobby
Karaoke
Favorite Sports
Boxing , Baseball
Favorite Songs
Cotton Tail (Duke Ellington)
Hurricane (Bob Dylan)
Favorite Musical instruments
Piano
guitar
Likes
Fist Fight
Dislikes
Cheese steaks
Favorite Artists
Willie Nelson (Country music)
Ice Cube (especially in high school)
Johnny Cash (Country music)
Bob Seger
Duke Ellington (jazz)
Patsy Cline (Country music)
Led Zeppelin
Social Networks, Web links
Instagram Profile
Charlie Day Instagram Profile
More Information
Friends
Jimmi Simpson
Jason Sudeikis
Glenn Howerton
Rob McElhenney
Net worth
$25 million (in 2017)
Biography
Charlie Day is an American actor, comedian, musician, producer, screenwriter, he was born on 9th February 1976 in New York City, New York to Mary Day(mother)- a piano teacher & Thomas Charles Day(Father)- a music professor. He was brought up in Middletown, Rhode Island.
Charlie Day is popular for his role of Charlie Kelly in one of the longest running American sitcoms- It's Always Sunny in Philadelphia, for his role as Dale Arbus in American black comedy Horrible Bosses (2011) & Horrible Bosses 2(2014)
He has appeared in movies such as- A Quiet Little Marriage(2008), Going the Distance(2010), Horrible Bosses(2011), Pacific Rim(2013), Horrible Bosses 2(2014), Vacation(2015), The Hollars(2016), Fist Fight(2017), I Love You, Daddy(2017), Pacific Rim: Uprising(2018), Hotel Artemis, Pizza Boys, I love you Daddy.
He has recurrently appeared in TV series like- Third Watch, Luis, It's Always Sunny in Philadelphia. He has made appearances in TV shows like- Madigan Men, Law & Order, Reno 911!.
Marriage
Charlie Day & Mary Elizabeth Ellis
Charlie & Mary first met in 2001 while acting in theater, they co-starred in the TV series Reno 911! as brother and sister in 2004, they got close on the sets and started dating soon after. They got married on March 4, 2006. The couple had a son named Russell Wallace Day born on December 15, 2011. (Russell comes from Ellis' family, Wallace from Day's family side)
Charlie Day giving the Commencement address
Interesting Facts
He is of English(maternal), Irish(maternal), Welsh(maternal), Irish(paternal), Italian(paternal) descent.
He played baseball in school, he was part of the baseball team at Portsmouth Abbey School. He continued playing baseball till college.
At Merrimack college Day started his theater practice, he was part of the group called- Onstagers. He would train with the group during summers as well.
He delivered a Commencement lecture at his alma mater Merrimack college, he was honored with a honorary doctorate, he gave a fantastic speech, a hilarious and full of life speech.
Producer & a writer: Charlie also worked as producer and writer of his super hit show- It's always suny in Philadelphia.
Hosted Saturday Night Live: Charlie hosted Maroon 5 on the SNL show on November 5, 2011.
Charlie and his future wife Mary Ellis starred together in Reno 911! as physically intimate siblings.
Charlie's wife Mary Elizabeth Ellis appears on the show- It's always sunny in Philadelphia as the love interest of Charlie Day's character- a waitress/ manager.
Saturday Night Live: Charlie Day hosted Jamie Foxx & Ne-Yo on the show Saturday Night Live in 2012.
Voice artist: He has lent his voice for characters in Unsupervised(2012), American Dad!(2012). He has also lent voice for video games like- Disney Infinity(2013), Lego Dimensions(2015).
Best Actor Awards: Charlie Day has been nominated twice in the best actor category for the show It's Always Sunny in Philadelphia.
Doctorate: He comes from a highly educated family, all his family members had doctorate degree except for him until 2014, when he was conferred a honorary one.
Musical instruments: Charlie can play both Piano & Guitar.
Waiting tables: He waited tables initially during his career to suppliment the income.
Working as a telephone attendant: He answered phones for a company selling telethon.
He was recognized by an agent while singing at a cabaret.
He often writes songs and composes music, some of those can be heard on the show- It's always sunny in Philadelphia.
His father's family's surname was 'Del Giorno' before it was changed.
Musician in college: He would make up songs and sing even if someone walked in front of him in dorm.
Both his parents are music teacher, they tried to teach him music, but being a rebellious kid he rebelled, now that he has grown up he wishes he had learnt some music properly from parents.
He feels rapping is most his style, being a white kid in the 90s wasn't helpful for rap.
He had leaked an unaired episode of the IASIP show as per the recommendation of the network for popularity.
Horrible Bosses introduced him to a larger audience.
Josh McRoberts: He is often confused with basketball player Josh McRoberts for similar looks, however Josh is considerably taller. 'I cut my legs when I come to act' joked Charlie when he was asked if both Josh and Charlie are one and the same.
Charlie Day Quotes: His quotes have become quite popular, there is a facebook fan page with over million followers.
Arm wrestling for Mary's date: Charlie and his friend were both interested in Mary the first time they met, the friends arm wrestled to settle who should go talk to her.
He appeared in the NFL Sunday Ticket campaign.
Quotes
The truth is- everybody's a little bit damaged in some way or another.
As an actor, you feel pressure to change yourself from time to time.
The higher in life you climb, the more ridiculous your hats will become.
I have always had a half-baked philosophy that having a Plan B can muddy up your Plan A
Rob is the most driven man we knew (Himself & Glenn Howerton)
I think I, like most people, enjoy a wide variety of music.