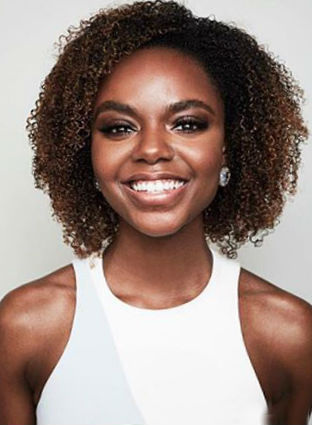 Ashleigh Murray
| | |
| --- | --- |
| Date Of Birth | January 18, 1988 |
| Age | 35 years 10 months 13 days |
| Day of Birth | Monday |
| Place Of Birth | Kansas City, Missouri, United States |
| Zodiac Sign | Capricorn |
| Professions | Actress , Singer |
| Full Name | Ashleigh Monique Murray |
Personal Information
Religion
Christianity
Language
English
Star Sign
Capricorn
Nationality
American
Ethnicity
Multiracial
Complexion
Black

Body Features & Measurements
Height

160 CM


5 Feet 3 Inches
Eye color
Dark Brown
Hair color
Dark Brown
Weight

49 KG


108 lbs

Figure Measurements
33-24-34
Tattoo
One on Back (11:11)
Body Type
Slim
Hair type
Curly

Education Qualifications
Education (Graduation)
New York Conservatory for Dramatic Arts (2009)
Alma Mater

New York Conservatory for Dramatic Arts

Career Information
Debut (Movie)
Finding Harmony(2007)
Years Active
2007-
Favorites, Hobbies, Likes/ Dislikes
Hobbies
Piano
Jazz
hip-hop
Favorite Singer
Whitney Houston
Favorite Destinations
Australia
Italy
Favorite Drinks
Aperol
Sparkling wine
Favorite Character
Kevin Keller (from Riverdale)
Favorite Dessert
Ice Cream (Breyers vanilla bean)
Girl Crush
Lili Reinhart
Camila Mendes
Social Networks, Web links
Twitter Profile
Ashleigh Murray Twitter Profile
Instagram Profile
Ashleigh Murray Instagram Profile
Snapchat
curleighq
Contact
Talent Agents
Innovative Artists Talent
Literary Agency
Jago Ciro Entertainment
More Information
Net worth

$100,000
Biography
Ashleigh Murray is an American Actress & Singer. Some of the projects she has appeared in are- Finding Harmony(2007), Welcome to New York (2012), The Following, Grind(2014), Younger(2016), Deidra & Laney Rob a Train(2017), Riverdale (as Josie McCoy), Valley Girl.
Ashleigh Monique Murray was born on 18th January 1988 in Kansas City, Missouri, United States.
She is most popular for her role as Josie McCoy in the Teen Mystery drama Series- Riverdale. Ashleigh starred in the lead role in the Netflix TV movie 'Deidra & Laney Rob a Train' as Deidra.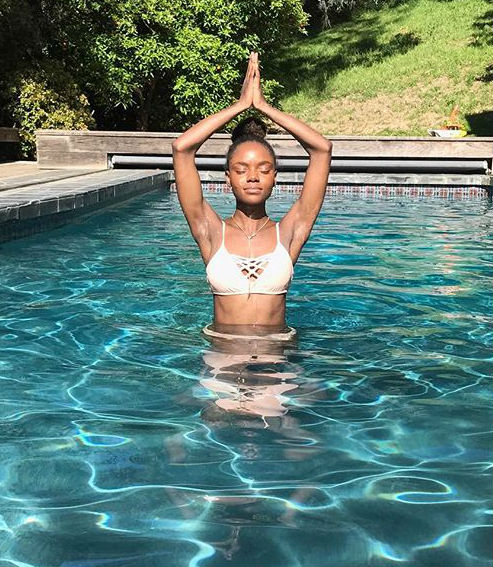 Image: Ashleigh Murray in the swimming pool
Education
New York Conservatory for Dramatic Arts: She graduated from the New York Arts School in 2009.
Interesting Facts & Trivia
Ashleigh had learned jazz, hip-hop, piano in California while living with her aunt
She appeared in the lead role of 'Child of the Movement' an off-Broadway drama based on story of Claudette Colvin.
Before Riverdale she was in difficult position despite working 2/3 jobs, she was robbed by her employee and she had just $186 in her account, she would sell her belongings to survive.
She is the first African-American to play a character in 'Josie and the Pussycats'
Her Hair secrets: Diet, Water, Jamaican Caster Oil.
Her favorite dessert: Vanilla Ice cream.
Her TV series Riverdale was selected for the Sundance Film festival 2017.
She advocates gun control.
She donated to help victims of earthquake in Mexico.
Opinion On going topless on screen: 'That is just for myself and whoever goes to bed with me'
She has a brother and a sister.
She likes Cantaloupe juice.
She is a vegan by choice.
She loves pets and has couple of puppies.
She appeared in a complex interview with her white boyfriend.
She is married now and has a husband.
Career
Singing
She has performed in various soundtracks of the Series- Riverdale. Some of them are:
| Year | Episode | Soundtracks |
| --- | --- | --- |
| 2017 | The River's Edge | "All Through the Night" |
| 2017 | A Touch of Evil | "Candy Girl (Sugar Sugar)" |
| 2017 | Faster, Pussycats! Kill! Kill! | "Fear Nothing", "I Feel Love" |
| 2017 | To Riverdale and Back Again | "Our Fair Riverdale" |
| 2017 | The Sweet Hereafter | "These Are the Moments I Remember" |
| 2017 | Nighthawks | "Milkshake" |
| 2017 | When a Stranger Calls | "Out Tonight" |
| 2017 | Tales from the Darkside | "Spooky" |
| 2017 | Silent Night, Deadly Night | "God Rest Ye Merry Gentlemen" |
| 2018 | The Wicked and the Divine | "Bitter Sweet Symphony" |
| 2018 | Primary Colors | "Sufferin' 'Til Suffrage" |
| 2018 | A Night to Remember | "In", "Unsuspecting Hearts", "A Night We'll Never Forget" |
| 2018 | Brave New World | "The Star-Spangled Banner" |
| 2018 | Fortune and Men's Eyes | "Jailhouse Rock" |
| 2018 | As Above, So Below | "Anything Goes" |
| 2018 | The Midnight Club | "Dream Warriors" |
| 2019 | No Exit | "Cabaret", "Maybe This Time" |
| 2019 | The Red Dahlia | "Sooner or Later" |
| 2019 | Bizarrodale | "People Like Us" |
| 2019 | Requiem for a Welterweight | "We Don't Need Another Hero" |
| 2019 | One: Big Fun | "Beautiful", "Big Fun", "Fight For Me", "Seventeen (Encore)" |
| 2019 | In Memoriam | "Amazing Grace" |
Filmography
Movies List
| Year | Movie | Character | Comments |
| --- | --- | --- | --- |
| 2020 | Valley Girl | Loryn | |
| 2017 | Deidra & Laney Rob a Train | Deidra Tanner | Lead role (Tv Movie) |
TV Series List
| Year | Series | Character | Comments |
| --- | --- | --- | --- |
| 2020 | Katy Keene | Josie McCoy | Main cast (continuation from Riverdale) |
| 2017- | Riverdale | Josie McCoy | Main cast |
| 2018 | Alex, Inc. | Melissa | "The Unfair Advantage" Season 1 Episode 1 |
| 2016 | Younger | | "The Good Shepherd' (S02E09), "No Weddings & a Funeral" (S02E12) |
| 2014 | The Following | College student | "Resurrection" (Season 2 Episode 1) |
Short Movies
| Year | Short Movie | Character | Comments |
| --- | --- | --- | --- |
| 2014 | Grind | Workout Girl | |
| 2012 | Welcome to New York | Simone | |
| 2007 | Finding Harmony | Harmony | Lead role |
Quotes
Riverdale audition was going to be my last, I would have given up after that.
I have unrelenting faith in myself.
I'm good at lot of stuff, but acting is the thing I'm meant to do.
She read Archie comics as a kid, she will be appearing in the big screen version of the comics.
When you look a little different, people think it's okay to talk to you a little different
Why does all Starbucks taste like the cup it's in
It's really amazing when you can have healthy, productive conversations about life, race, etc
Technology makes it harder to backpedal. But things change, people change (About opinions changing with time)
We're not all the same
Sources