Biography
David Harbour is an American stage and movie actor born in New York City on 10th April 1975 to Nancy Riley(mother) & John Kenneth Harbour(father).
David is popular for playing Jim Hopper in Netflix Supernatural science fiction horror drama 'Stranger Things'. His role as agent Gregg Beam in British spy film Quantum of Solace is popular as well.
David has had quite a popular stage career, some of his stage performances include- The Rainmaker(1999), The Invention of Love(2001), Who's Afraid of Virginia Woolf?(2005), The Coast of Utopia: 1, 2, 3; The Merchant of Venice, Glengarry Glen Ross, Hamlet, Between Us, The Two Noble Kinsmen, A Bad Friend, Fifth of July, Stranger, The Time of the Cuckoo.
David has had appeared in movies like- Kinsey (2004), Brokeback Mountain (2005), War of the Worlds (2005), Confess (2005), The Wedding Weekend (2006), Awake (2007), Quantum of Solace (2008), Revolutionary Road (2008), State of Play (2009), Every Day (2010), The Green Hornet (2011), W.E. (2011), Thin Ice (2011), Isolation (2011), End of Watch (2012), Between Us (2012), Knife Fight (2012), Parkland (2013), Snitch (2013), The Equalizer (2014), A Walk Among the Tombstones (2014), X/Y (2014), Black Mass (2015), Suicide Squad (2016), Sleepless (2017), Human Affairs (2017), Hellboy (2018). He is taking on the lead role as Hellboy in Hellboy: Rise of the Blood Queen.
David has had recurring roles in TV series such as- Pan Am, The Newsroom, Rake, Manhattan, State of Affairs, Stranger Things and has appeared on TV in- Entertainment Tonight, Live! with Kelly, Law & Order, HBO First Look, Extra, Law & Order: Special Victims Unit, Law & Order: Criminal Intent, Hack, Last Call with Carson Daly, The Unit, The Book of Daniel, Lie to Me, Royal Pains, Elementary, Blue, Banshee, Crisis in Six Scenes, Beyond Stranger Things.
David Harbour Interesting Facts
David was nominated at the Tony Awards for his role in Who's Afraid of Virginia Woolf?
David was nominated at the Emmy Award for his role in 'Stranger Things' in the supporting actor category.
He was nominated at the Fangoria Chainsaw Awards for his role in Stranger Things.
He won Screen Actors Guild Award for his role in 'Stranger Things'
He appeared on Jimmy Fallon in 2014.
He graduated with major in Drama and Italian language
Sigma Phi Epsilon: He was part of the fraternity ΣΦΕ while in Dartmouth College.
Actors Sean Maher & Eyal Podell were his school mates.
He has been critical republican president Donald Trump.
Michael Jackson once appeared in his dream, MJ knocked on his door and asked DH to teach him dancing.
He often involves himself with challenges and pranks on internet with his fans.
He loves poetry.
He actively participated in the FreeInternet campaign.
As a young man he delivered pizzas.
He volunteers to help raise cancer awareness.
He likes animals, he is often seen taking selfies with puppies, ducks, birds, squirrels.
Controversy: A woman named Christin Croft jumped out of David Harbour's apartment in Manhattan and died back in 2015. Later David informed it was a friend struggling from mental problems.
He is of English, German, Irish, Scottish Ethnicity
He auditioned to play Blob in the Wolverine X-men movie but did not get it.
There is a rumor that he is gay, however he has had girlfriends in the past and no evidence to suggest his homosexuality is available.
David Harbour Quotes
You don't deserve me, internet. You really don't deserve me.
The very American & inspiring free press doesn't need to be attacked anymore.
Stop with the greed, Washington. It went out of style in 1984.
Pure passion does not a lasting marriage make
In the face of terror our best option is to remain unafraid.
In the silence you don't know, you must go on, I can't go on, I'll go on.
Don't give me the freedom to choose my provider, just provide me with healthcare.
Do not compromise your desire.
Who doesn't have a troubled past?
I've been booed on a Broadway stage and never demanded an apology.
The only good demogorgon is a dead demogorgon
David Harbour: Photos, Pictures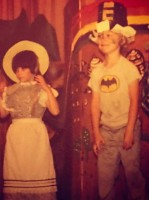 David Harbour from childhood (Batman shirt)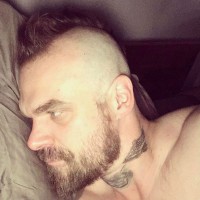 David Harbour being bad ass