Biography
Sunny Dhaliwal is a Canada born Indian footballer. He plays as the goal keeper. Sunny was a Person of Indian Origin (PIO), he gave up the Canadian citizenship to take Indian citizenship so that he could participate in the U-17 football world cup on the Indian side. Since he is under 18 he is allowed multiple citizenships however.
Sunny Dhaliwal was Born on 28th March 2000 in Canada.
After Namit Deshpande, Sunny Dhaliwal is the second foreign raised player to compete at the U-17 world cup competition 2017 for India. He had attended 10-day trials held in Goa.
His tall figure make him a valuable player. He is in competition with 4 other goalkeepers to be part of the playing 11 in the world cup.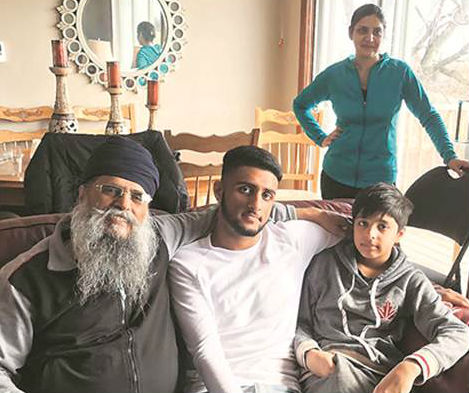 Image: Sunny Dhaliwal with his family
Sunny Dhaliwal Interesting Facts & Trivia
Sunny Dhaliwal was playing for a youth team of a Toronto FC.
Senior Major League Soccer clubs such as- DC United & Chicago Fire have shown interest in him.
He was spotted by the Sports Authority of India(SAI) through internet, he was procured a passport through Overseas Scouting Portal(OSP), Sunny's father had sent a video of acrobatics of Sunny to the SAI.
He had an offer from the English club Bolton Wanderers, he chose to play for India
His father Jasjeet was cricket player in his college days.
He helped North Miss Soccer Club enter the final of Ontario Cup in 2014
His younger brother Robin Singh is also a footballer.
Photos/ Pictures