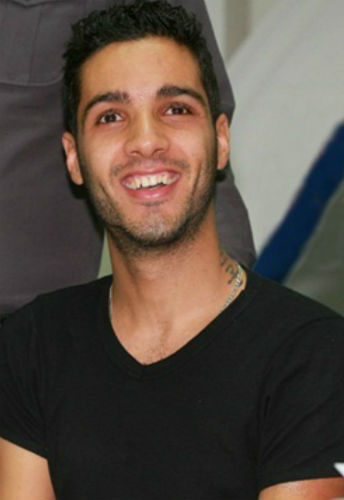 Hamza Bendelladj
Date Of Birth
June 3, 1988
Age
34 years 9 months 28 days
Day of Birth
Friday
Place Of Birth
Tizi Ouzou, Kouba, Algeria
Zodiac Sign
Gemini
Professions

Hacker

,

Engineer

Nicknames

Smiling Hacker

,

Daniel HB

,

Robin Hood

Full Name

Daniel Hamza Bendelladj

Name (Arabic)
حمزة بن دلاج
Personal Information
Religion
Islam
Languages
English , Arabic , French
Nationalities

British

,

Algerian

Ethnicity
Algerian
Complexion
Brown

Body Features & Measurements
Height

175 CM


5 Feet 9 Inches
Eye color
Black
Hair color
Black
Weight

64 KG


141 lbs

Body Type
Slim

Education Qualifications
Education (Graduation)
Bachelor in Science and Technology
Alma Mater

University of Sutton




University of Bab Ezzouar

More Information
Net worth

$10 Million
Biography
Hamza Bendelladj is an Algerian computer hacker who is known to have hacked the American banks and robbed millions, according to some speculations up to $280 billion. More authentic records estimate the total value of his fraud at $10 Million.
Hamza Bendelladj was born on 3rd June 1988 in Tizi Ouzou, Kouba, Algeria.
He used Trojan Horse virus to steal the passwords, he would install the virus into other people's computer and steal their login information, and later use it to transfer the money.
Education
University of Bab Ezzouar: He has a Bachelors in Science & Technology from University of Science and Technology Houari Boumediene.
University of Sutton: He is an alma mater from the University of Sutton.
Hacking- Arrest- Extradition- Conviction
Hacking & Selling spyware
He co-created the software called SpyEye, which he is alleged to have stolen the money from the banks. He has also sold the software to other hackers in the market, it was used as a part of Botnet. It is believed that the virus affected as many as 50 million computers. The software is still said to be available on black market for about $10,000.
He used Automated Transfer system (along with Zues Trojan) to transfer the money automatically into his account once the account login information was gathered & the account was hacked.
Arrest & Extradition
He was caught by an undercover agent who was posing to be an underground hacker buying the software from Hamza.
Hamza was arrested in 2013 in Thailand, at the Bangkok's Suvarnabhumi Airport while travelling back from Malaysia to his home country Algeria. Unfortunately for him Thailand has extradition treaty with the United States, thus he was transferred to the United States for trial of his crimes, he was imprisoned in the United States on charges of unethical hacking, his case was heard in the court.
Sentence
In April 2016, US courts sentenced him to 15 years in jail.
Death Rumors: There is no truth to the claims claiming he is sentenced to death. U.S ambassador in Algeria clarified in an Arabic tweet that "There is no capital punishment for computer crimes in the law of United States." Pictures of a public hanging incident from Iran was mistaken for Hamza's execution.
Robin hood hacker
A twitter account supporting Hamza claimed he had donated $280 Billion from Israel and West and had transferred it to Palestinian charities, thus the nickname Robin hood hacker by his fans. It seems to be a claim by a Palestinian supporter and the statement needs to be factually supported.
Some of his supporters from Algeria & the Hacking world around, hacked Air France and Virginia University websites to show their support and demanded his release. #FreePalestine, #FreeHamzaBendellaj hashtags trended on social media in his support.
Interesting Facts
Code names: Some of the code names he has used are- Bx1, Daniel HB.
Smiling Hacker: He is popularly known as Smiling Hacker for his smiling baby face.
Darkode.com: He was a member of Darkode.com, an underground group of unethical hackers.
He is believed to have hacked 217 different banks & institutions.
He was part of the duo, another half was a Russian hacker named Aleksandr Andreevich Panin. He was arrested in 2013 when he was flying over Atlanta, Georgia in an international flight.
Aleksandr Panin & Hamza Bendelladj were considered legends in the dark world of hackers, police took it as a chance to teach others a lesson.
39 dangerous hacker: He was one of the 39 unethical hackers list submitted by Microsoft to the United States police.
Changing identity: He changed his Iphone mobile IMEI Number every Day to remain anonymous.
Computer maintenance: He worked as computer maintenance guy for three years.
He is believed to be married and have a child with the wife.
Luxurious Life: He lived a luxurious life travelling first class and staying in grand hotels.
Algerian academics praised him as a hero and supported him.
Mr.Robot: After the TV series on a young hacker became famous, some of the fans of the show started comparing the character to Hamza. They starting calling Hamza- "The real life Mr. Robot"
Sources