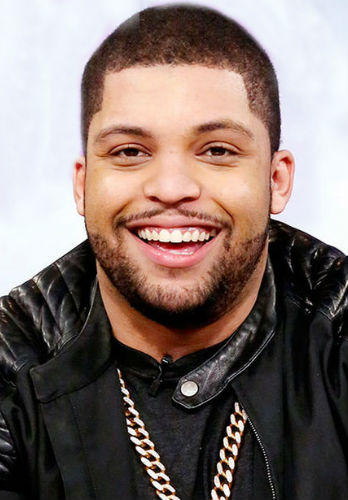 O'Shea Jackson Jr
Date Of Birth
February 24, 1991
Age
32 years 9 months 7 days
Day of Birth
Sunday
Place Of Birth
Los Angeles, California, United States
Zodiac Sign
Pisces
Professions
Actor ,

Rapper

, Singer
Personal Information
Religion
Christianity
Language
English
Nationality
American
Ethnicity
Multiracial (mostly African American)
Complexion
Brown
Trademark
Resemblance to Ice Cube

Body Features & Measurements
Height

182 CM


5 Feet 12 Inches
Eye color
Black
Hair color
Black
Weight

80 KG


176 lbs

Body Type
Large
Family Information
Brothers
Shareef Jackson (youngest)
Darrell Jackson (older)
Sister
Kareema Jackson (younger)

Education Qualifications
Education (High School)
William Howard Taft High School
Alma Mater

University of Southern California

Career Information
Debut (Movie)
Straight Outta Compton(2015)
Years Active
2010-
Favorites, Hobbies, Likes/ Dislikes
Favorite Singer
Michael Jackson
Favorite Sport
basketball
Favorite TV show
Dragon Ball
Favorite sports persons
Tyron Woodley (Fighter)
Mickey Kaline (Baseball)
Mohammad Ali
Lebron james
Favorite Sports Teams
Los Angeles sparks (Basketball Team)
Los Angeles Dodgers (Baseball)
Favorite City
California
Childhood Hero
Dwayne johnson
Favorite Movie genre
Animation
Social Networks, Web links
Twitter Profile
O'Shea Jackson Jr Twitter Profile
Instagram Profile
O'Shea Jackson Jr Instagram Profile
Snapchat
murdockthejedi
More Information
Friend
Cassie
Net worth

$1.5 million
Biography
O'Shea Jackson Jr. AKA OMG is an American actor, rapper, singer and songwriter. He is the son of Rapper O'Shea Jackson Sr. AKA Ice Cube.
OMG was born on 24th February 1991 in Los Angeles, California, United States to O'Shea Jackson Sr. AKA Ice Cube(father) and Kimberly Woodruff(mother). He grew up San Fernando Valley, Los Angeles. He is known for playing roles such as- Ice Cube in Straight Outta Compton(2015), Dan Pinto in Ingrid Goes West(2017), Donnie Wilson in Den of Thieves(2018), Clive Campbell in "Drunk History", Officer Barnes in Godzilla: King of the Monsters(2019)
OMG has three siblings, 2 brothers and a sister, Darrell is older to him while others are younger to him.
Darrell Jackson
Shareef Jackson
Kareema Jackson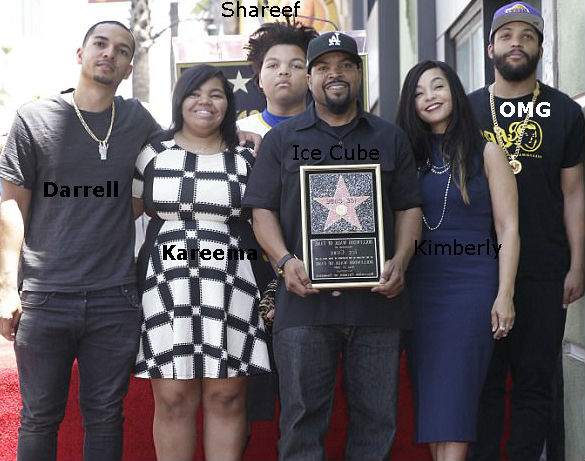 Image: O'Shea Jackson Jr family: Father (Ice Cube), Mother(Kimberly), Sister(Kareema), Brothers- Darrell & Shareef
O'Shea Jackson Jr Facts & Trivia
Life:
O'Shea's brother Darrell is a rapper as well, he goes by the name Doughboy (which is the name of the character played by Ice Cube in the movie Boyz n the Hood)
William Howard Taft High School: O'Shea attended the public school located in Ventura Boulevard, Woodland Hills, San Fernando Valley in Los Angeles, the school is named after the U.S. President William Howard Taft. His father Ice Cube attended the same school as well. basketball player Jordan Farmar, baseball player Gabe Kapler and actress Robin Wright are the alumni of the school.
Screenwriting: OMG graduated from the University of Southern California in screenwriting.
He is a facial replica of his father Ice Cube, it was one of the reasons he got to play his father in the movie Straight Outta Compton.
He considers Movies to be is first love, he was raised in the musical family, he had always loved music, but "movies are my first love" says O'shea.
He is a fan of animation movies and cartoons.
Tyron Woodley is his favorite UFC fighter , MCGREGOR his second favorite
He has appeared on ESPN LA radio to talk about sports, especially Lakers, his favorites.
He likes playing video games.
He is crazy about shoes.
Ancestry: He is part Cherokee but mostly African American.
Dragon Ball: He loves the characters from this show.
Has has those fancy rings all over his fingers.
L.A. Works: He is associated with the largest volunteer center from Los angeles, it helps create community service projects
Girlfriend confusion: There were pics of O'Shea with a woman named Jackie Garcia which made the fans guess she might be his girlfriend, which he denied through an instagram post.
He doesn't have a sister named Deja as was published on certain portals.
O'Shea revealed on the James Corden show that he did not like his name growing up
He started appearing on concerts at the age of 18 with his father
Is he Gay? we don't know, the fact that he has not had a girlfriend (known to public) for a long time gets us thinking.
Career:
Straight Outta Compton: O'Shea plays his father "Ice Cube" in the biographical drama movie "Straight Outta Compton" directed by F. Gary Gray and co-starring Corey Hawkins, Jason Mitchell. The movie was a hit and received high rating as well. Jimmy Kimmel praised OMg for his acting and said "He was born to play that specific role". He auditioned for the role like everyone else and had to go through 2 year audition process.
He will be reprising his role as Donnie Wilson in the sequel of Den of Thieves, named "Den of Thieves 2"
Awards: O'Shea received numerous nominations for his role as Ice Cube in "Straight Outta Compton" in events such as MTV Film awards, American Actors Guild Awards, Santa Barbara International Film Festival, Black Film Awards
Musical career:
O'Shea appeared in Ice Cube's album I Am the West(2010) along with his brother Darrell, OMG appears in the songs "She Couldn't Make It On Her Own', "Y'all Know How I Am"
OMG (OhMyGoodness): O'Shea took the name OMG for his first mixtape named "Jackin' for Beats", He wrote his own lyrics for the popular titles such as "The One", "Forever", "The Motto", "Marvin & Chardonnay", "Kush", "Tupac Back", "No Hands", "You're Everything", "Get Big", "House Party".
OMG(2014): He performed in the single titled "OMG" produced by Foreign Allegiance
Ain't No Place(2015): He performed in the single titled "Ain't No Place" produced by Foreign Allegiance.
Touch(2015): He appeared in Guamanian singer Pia Mia Perez's song "Touch" back in 2015
Out of Love(2016): He appeared the hip hop music video "Out of Love" (released April 2016) by the duo of Twenty88 (Big Sean & Jhené Aiko)
O'Shea Jackson Jr Quotes
Ice Cube's the coolest dad.
[About being black in America] It's always extremities when you are a young black male dealing with law enforcement.
Have confidence in everything. No matter what it is that you're doing, know that you can do it better than anyone.
The stress & turmoil my father went through to make sure that I did not have the same trials & tribulations, I couldn't be more grateful.
In the beginning they'll wonder why you work so hard at it. And you let them know, that where you wanna be in life and where you are, couldn't be any further apart. And you can have all the support from loved ones
A different approach on things is necessary. Sometimes you can be Goku. But other times.. embrace that Vegeta.
You know I'm a N*E*R*D
Don't try and make sense outta nonsense.
Growth can not be measured in numbers.
[On reaching 1 Million followers on Instagram] The support I get really does make me shake my head sometimes. I honestly can't believe it and I'm truly grateful that you all , even slightly, give a shit about me.
[To his friend Jason Mitchell] Halle Berry liked one of my tweets today. I might be dead. I'm on my way to the morgue right now.
Keep your business. YOUR business
Thank you God. For the path you have made for me to make
Life is hard. There is no easy way. The easy way brings risk. Risk means a gamble. Don't gamble with your life.
Though I can not control the direction of the wind. I can always adjust my sails to reach my destination. And one does not sail the seas. Simply by staring at the water.