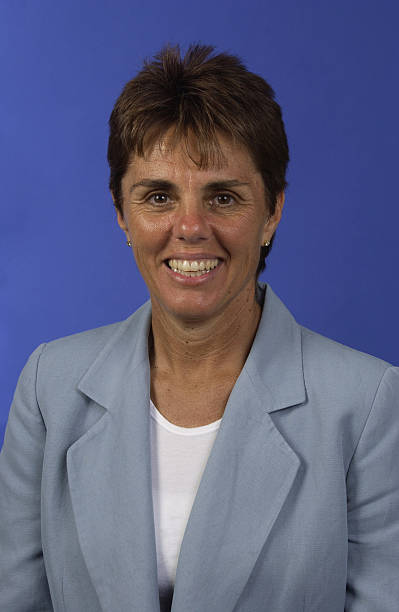 Ilana Kloss
Date Of Birth
March 22, 1956
Age
65 years 10 months 6 days
Day of Birth
Thursday
Place Of Birth
Johannesburg, South Africa
Zodiac Sign
Aries
Professions

Tennis Player

,

Businesswoman

Birth Name
Ilana Sheryl Kloss
Personal Information
Residence

Chicago, United States

Religions
Christianity , Judaism
Languages
Afrikaans , English
Nationalities

South African

, American
Ethnicity
Caucasian
Complexion
White

Body Features & Measurements
Height

165 CM


5 Feet 5 Inches
Eye color
Brown
Hair color
Brown
Weight

55 KG


121 lbs

Figure Type
Hourglass
Body Type
Athletic
Family Information
Father

Shlaim Kloss

Mother

Ruth Kloss

Sister

Yvette Merle Kloss

Love, Romance, Marriage
Partner
Billie Jean King (Former world #1 tennis player)
Career Information
Years Active
1974-
Social Networks, Web links
Twitter Profile
Ilana Kloss Twitter Profile
Biography
Ilana Kloss is a former world rank #1 tennis player who played for South Africa as well as United States. Ilana has been a coach as well as World Team Tennis commissioner.
Ilana Kloss was born on 22nd March 1956 in Johannesburg, South Africa to Shlaim Kloss(father) and Ruth Kloss(mother). She has a sister named Yvette.
Ilana Kloss facts & Trivia
Ilana turned pro in 1973.
World #1: She was ranked World #1 in Doubles back in 1976.
World Team Tennis commissioner: Ilana has been the commissioner of the mixed-gender professional tennis league WTT in the United states since 2001.
World #19: Her highest ever singles ranking was 19 back in 1979.
Highest Results Singles:

French Open: 2nd round
Wimbledon: 3rd round
US Open: 3rd round

Highest Results Doubles:

Australian Open: Quarterfinals in 1983
French Open: Semi finals in 1976 and 1979
Wimbledon: Semi finals in 1976
US Open: Win in 1976 with Linky Boshoff with Kim Warwick.

Highest Mixed Doubles results: Victory in 1976 at the French Open
Wimbledon Junior title: At the age of 20 Ilana had won the junior title at the Wimbledon
Partner: Ilana lives with her partner Billie Jean King, the former #1 Tennis player from the United States. Billie realized that she was attracted to women in 1981, she had been divorced from her marriage to Larry King by then. Ilana and Billie have been partners for around 40 years
Religion: Ilana was born to Jewish parents, she has participated in the Maccabiah Games which are held in Israel for Jews from all over the world. She won doubles and mixed doubles at the 1973 Maccabiah Games, silver at the 1977 Maccabiah Games
US Open juniors: In 1974 Ilana won the US junior title and made her mark in Tennis.
She was the youngest #1 ranked player of South Africa at the time.
Some of the titles Ilana has won are:

US Open
Italian Open
German Open
French Open
British Hard Courts Championship
Canadian Championship
Hilton Head Open

US National Jewish Sports Hall of Fame: She was inducted into the jewish half of fame in 2006
International Jewish Sports Hall of Fame: She was inducted into the jewish half of fame in 2010
Ilana, the coach: Ilana turned coach at the World Team Tennis in 1983 after participating in the sport for few years, she coached Chicago Fyre and Miami Beach Breakers
The Greatest Jewish Tennis Players Of All Time: The book by Sandra Harwitt lists Ilana along with Aaron Krickstein, Amos Mansdorf, Angela Buxton, Anna Smashnova, Brad Gilbert, Brian Teacher, Dick Savitt, Julie Heldman, Justin Gimelstob, Brian Gottfried.
Billie Jean King: Portrait of a Pioneer- a 60 minute documentary based on Billie was made by HBO, Ilana appears as herself in that.
WTT Smash Hits: Ilana co-hosts the annual charity event with Billie Jean King, Elton John. They have raised about $10 Million through the charity for Elton john AIDS foundation and other charity works
In July 2018 there was news of Billie Jean King and Ilana Kloss marrying, "If and when we do get married, we want former NYC mayor David Dinkins to marry us" said Billie King
Battle of the Sexes: Ilana worked as the special consultant on the movie, movie is the biographical film of Ilana's partner Billie
She is a fan of Barack Obama
She supports LGBT causes and is often seen participating in LGBT pride.
Ilana Kloss Quotes
It has been an incredible journey for me, for more than 30 years, to be with a person who looks at the world the way Billie does. She sees the best in everybody. She's the love of my life."
[On equality in sports in the modern day] We all stand on the shoulders of the generations that came before us.
Tonight after hearing President Obama's farewell address we all go to sleep proud Americans fortunate to be blessed by his class & dignity