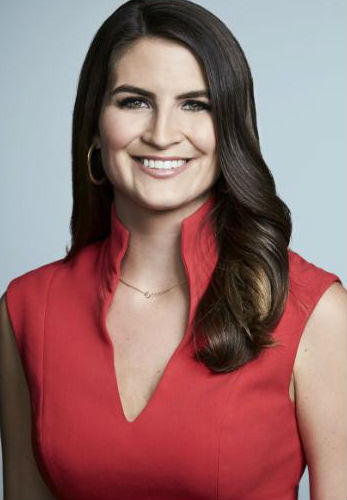 Kaitlan Collins
Date Of Birth
April 7, 1992
Age
31 years 1 months 29 days
Day of Birth
Tuesday
Place Of Birth
Prattville, Alabama, United States
Zodiac Sign
Aries
Professions

Blogger

,

Journalist

, Writer
Personal Information
Residence

Washington DC, United States

Religion
Christianity
Language
English
Nationality
American
Ethnicity
Caucasian
Complexion
White
Trademark
Cheek Bones

Body Features & Measurements
Height

172 CM


5 Feet 8 Inches
Eye color
light brown
Hair color
Brown
Weight

58 KG


128 lbs

Figure Measurements
32-26-30
Figure Type
Hourglass
Body Type
Average
Family Information
Father

Jeff Collins

Brothers

Cole Collins




Brayden Collins

Sister

Lena Grace Collins

Relative
Kelsey Collins

Education Qualifications
Education (Graduation)
Bachelor of Arts (journalism, class of 2014)
Education (High School)
Prattville High School
Alma Mater

University of Alabama

Love, Romance, Marriage
Boyfriend
Will Douglas
Career Information
Years Active
2014-
Favorites, Hobbies, Likes/ Dislikes
Favorite Foods
Chickfila
Beignet
Favorite Sport
Football (American)
Favorite Drink
Champagne
Social Networks, Web links
Twitter Profile
Kaitlan Collins Twitter Profile
Instagram Profile
Kaitlan Collins Instagram Profile
More Information
Friends
Melanie Ordonio
Sarah Fink-Carmichael
Alex Smith
Sidney Saindon Bugg
Hannah Collier
Kelsey Gary
Courtney Araskiewicz
Paige Trotter Thomas
Erin Berry Sams
Chelsea Ellis
Net worth

$150,000
Biography
Kaitlan Collins is an American journalist, CNN White House Correspondent, writer, reporter and blogger.
Kaitlan Collins was born on 7th April 1992 to Jeff Collins - a Senior Mortgage Banker in Alabama, United States.
Kaitlan is the oldest of the 4 siblings, her siblings are:
Cole Collins (younger brother)
Brayden Collins (younger brother)
Lena Grace Collins (younger sister)
Education
Prattville High School: Kaitlan attended the public high school located in Prattville, Alabama
University of Alabama: She went to University of Alabama for her graduation where she first opted for Chemistry, but later moved to political science and journalism. She graduated in May 2014. She was a member of Alpha Phi International Women's Fraternity (ΑΦ)
After her graduation she moved to Washington.
Romantic Life
Kaitlan Collins & Will Douglas
Kaitlan has been dating Will Douglas, the founder of Crimson Care Pharmacy Care in Texas since 2016.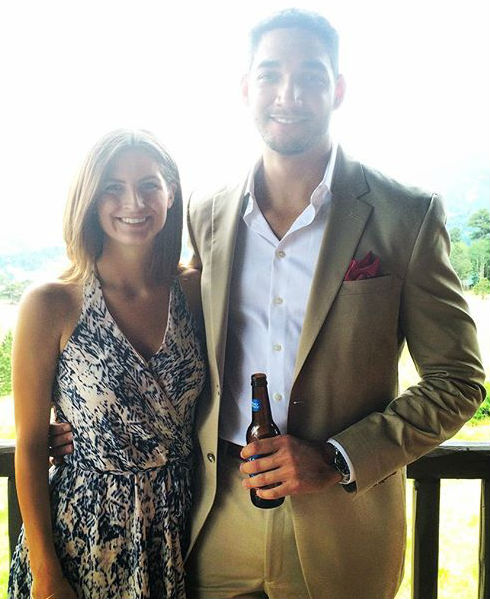 Image: Kaitlan Collins with Will Douglas
Interesting Facts & Trivia
Blogger: After her graduation from the University of Alabama Kaitlan tried blogging for a while.
Writer: Kaitlan has written for various journals and news papers as a freelancer.
Tours with Trump: Kaitlan has toured Asia with the team of president Donald Trump. She has been to many countries as a part of the press following Trump abroad. (Trip included Beijing, Singapore and others)
TV appearances: Kaitlan has appeared on various TV & web shows with Ben Shapiro, Ticker Carlson, Brian Williams, Kate Bolduan, Anderson Cooper, Jake Tapper, Erin Burnett among others.
Her family has a puppy named Baxter, she calls him her puppy brother.
50 Most Influential person in News Media: Mediate (Digital Nes Site) listed her as one of the top 50 among the news figures, for the year 2018. Jake Tapper, Trevor Noah, Rachel Maddow were among the top 50 listed by Mediate.
12 to Watch in TV News: Newspro (Crain Communications) Listed her as one of the 12 from the News media to watch out for in 2019
Forbes 30 under 30: Media: Kaitlan made it into the Forbes list of 30 influential media people under the age of 30 for the year 2019.
Anti-LGBT views in the college days: Log Cabin Republicans- The conservative LGBTQ group, unearthed her old tweets that were anti-LGBT. In one tweet she used the word "fag", another she tweet of her's read "Idk if I wanna (share) room with a lesbian.". She however expressed her changed views and apologized for her old tweets.
Turtleneck aficionado: She has called herself "turtleneck aficionado" on her instagram biography.
Surfing: She is a surfing enthusiast.
Became a Comic strip: Washington post made a comic strip of Kaitlan after the "White house Ban controversy"
Career
Some of the programs she has appeared in are:
Anderson Cooper 360° (as White House Correspondent)
Anderson Cooper Full Circle
At This Hour
CNN Newsroom (as White House Correspondent)
CNN Right Now with Brianna Keilar
CNN Today
CNN Tonight
Cuomo Prime Time
Early Start with Christine Romans and Laura Jarrett
Erin Burnett OutFront
Fox and Friends
Inside Politics
Media Buzz
New Day
Reliable Sources
State of America with Kate Bolduan
State of the Union with Jake Tapper
The 11th Hour with Brian Williams
The Lead with Jake Tapper
The Situation Room
Tucker Carlson Tonight
Wolf
2018
White House press conference suspension: She was suspended from a white house press conference, officials claimed that she asked inappropriate questions. White house officials claimed she was shouting and refusing to leave, American news networks however stood in support of CNN reporter on the issue, including the conservative news networks. It is believed that the question was about Donald Trump's personal lawyer Michael Cohen in relation with Russian president Putin.
2014
The Daily Caller: Kaitlin previously worked for the conservative American news website 'The Daily Caller' as their White House correspondent. She started her career there in June 2014 and was later promoted as the white house correspondent in 2017. She has also worked as their Entertainment section editor.
2017
CNN: Collins joined CNN in 2017, continuing her job as the white House correspondent
Quotes
[About her unofficial ban from the white house] I'm from Alabama. I'm not rude.
[About her anti-LGBT tweets from college days] When I was in college, I used ignorant language in a few tweets to my friends. It was immature but it doesn't represent the way I feel at all. I regret it and apologize.
Sources