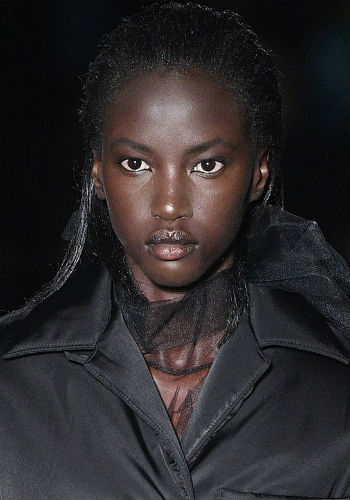 Anok Yai
| | |
| --- | --- |
| Date Of Birth | December 20, 1997 |
| Age | 25 years 11 months 11 days |
| Day of Birth | Saturday |
| Place Of Birth | Cairo Egypt |
| Zodiac Sign | Sagittarius |
| Profession | Model |
| Nickname | Chocolate |
Personal Information
Residence

New York, United States

Religion
Christianity
Language
English
Nationalities
American ,

Egyptian

,

Sudanese

Ethnicity
Afro-American
Complexion
Black
Trademarks
Dark Skin Tone , Sharp Eyes , curly hair

Body Features & Measurements
Height

178 CM


5 Feet 10 Inches
Eye color
Brown
Hair color
Dark Brown
Weight

54 KG


119 lbs

Shoe Size
10 (US/ 40 EU)
Dress Size
2
Figure Type
Banana
Body Type
Slim
Bra Size
30B
Waist Size
23 (inches)
Hip size
34 (inches)
Bust Size
30 (inches)
Family Information
Brother

Thiik Yai

Sister

Alim Yai

Brother In-Law
Sam Quinta
Relative
Marach Yai

Education Qualifications
Education (High School)
Manchester High School West
Education(School)
Bakersville School
Alma Mater

Plymouth State University

Education (Middle School)
Parkside Middle School
Career Information
Years Active
2017-
Favorites, Hobbies, Likes/ Dislikes
Hobbies
swimming
Singing
Music
Favorite Foods
Cheeseburger
French fries
Favorite Colors
Black
Red
Likes
Bingo
Pickles
Sports Activity
basketball
Social Networks, Web links
Twitter Profile
Anok Yai Twitter Profile
Instagram Profile
Anok Yai Instagram Profile
Contact
Talent Agent
Next Model Management
More Information
Friends
Fran Summers
Aube Jolicoeur
Ronelle
Alyssa Traoré
Selena Forrest
Net worth

$1 Million- $10 Million

Coach
Mario Pena (former Basketball coach)
Biography
Anok Yai is an Egyptian-American model, she is known for being a fashion icon, she is rated as one of the top 50 contemporary models.
Anok Yai was born on 20th December 1997 in Cairo Egypt to Kenyang Yai (Father). She grew up in Manchester, New Hampshire, United States since the age of 2 (as her family moved). Her mother is a licensed nursing assistant & father is a employee with Easterseals. The family of 6 siblings was brought up in Elmwood Gardens projects.
Anok has four sisters and a brother. Her sister named Alim Yai who also works as her manager & is a financial consultant by profession. Alim is the founder of Manchester-based Yai & Co. Wealth Management.
Yai Siblings:
Alim Yai
Anok Yai
Thiik Yai
Angong Yai (twin of Athel)
Athel Yai (twin of Angong)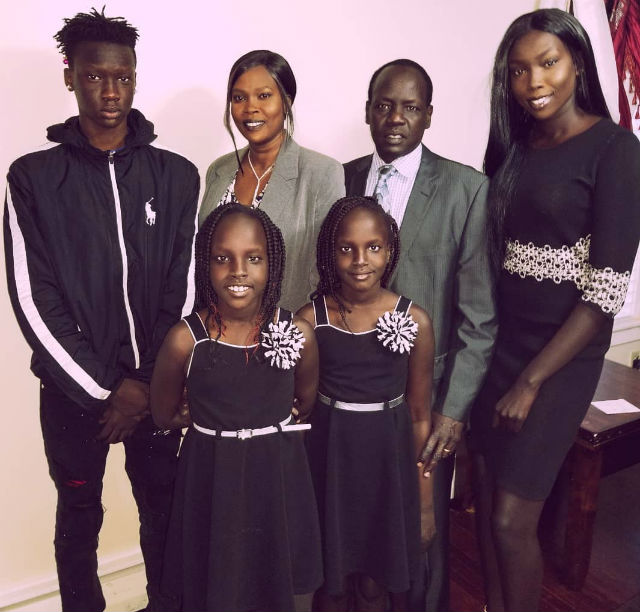 Image: Anok Yai Family: Sisters, Parents & brother
Video: Anok Yai introducing herself
Education:
Bakersville School: Anok & her sister attended Bakersville School
Parkside Middle School: She attended the Parkside Middle School before her High school.
Manchester High School West: She studied at the West High, a public high school in Manchester, New Hampshire.
Plymouth State University: Anok studies at the Plymouth State University(PSU), a public university with over 4000 undergraduates. She studies biochemistry at the college and desires to become a doctor in medicine.
Alton Mason & Anok Yai: Anok & fellow model Alton Mason are believed to be an item. The couple have been seen together both on and off the field.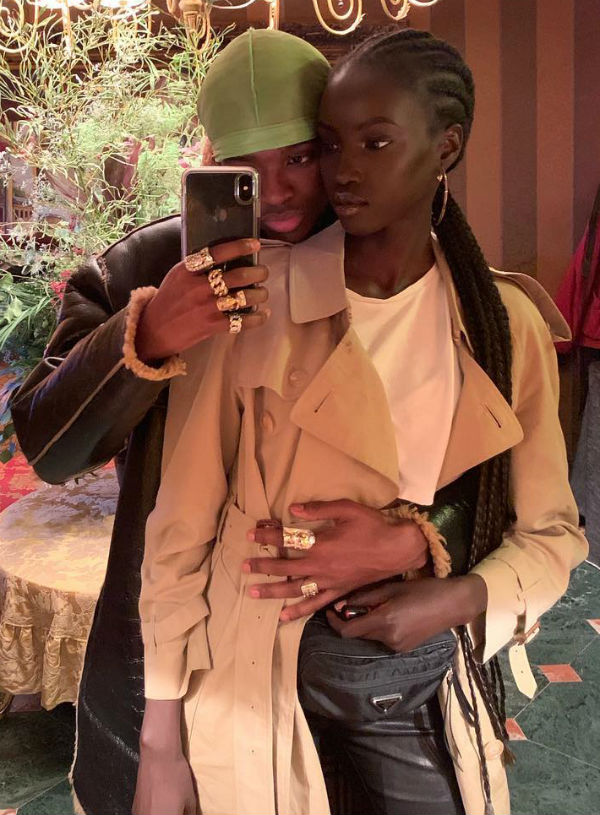 Image: Anok Yai & boyfriend Alton Mason
Anok Yai Facts & Trivia
Ancestry: Anok is a Egyptian born American by nationality, but a South Sudanese by descent
Second black model: Anok is the only second black model to open her own Prada show after English actress & model Naomi Campbell
America's Next Top Model: Anok used to watch 'America's Next Top Model' as a child, she grew up following fashion
Top 50: Models.com list Anok as one of the contemporary. She tops the chart by number of campaigns, Ranks 3rd by the number of covers and has quite a big social following as well.
The beginning: It all began in 2017 for Anok at the Howard University's homecoming week. photographer Steve Hall(of SUNK Creative) who noticed her perfect features, asked her for a picture, She posed in her blue jean cut shorts, with her curly hair spread over the shoulder, a tight black top with her eyes staring at the camera, he published it on his Instagram profile, the picture became viral among fashion enthusiasts and the industry heads recognized Anok. 'IMG Models' started talks with her, 'White Cross Management' reached out. 'Next Model Management' became her agents. Anok's follower count rose from 150 to about 60,000 within a week following the viral post.
Pet: The Yai family has a pet dog- German Shephard named Draco
Spokesmodel: she became an Estée Lauder spokesmodel in July 2018
Anok was always interested in modeling though she did not actively seek a career in it. Her lucks and looks landed her where her heart was.
Anok played basketball at school, she in fact continued to be the team leader ever after the injury she had in her junior year.
ROCK: Name Anok has used on her Instagram profile, possibly the name she likes for herself. It Rhymes with Anok and indicative of strong character. She has also referred to herself as 'Anok Rock the Witch' in one of her instagram posts.
Naomi Campbell: Anok considers British supermodel Naomi Campbell to be her inspiration. She had inspired Anok who had seen her at the Victoria's Secret fashion show of 2003.
Flexible thumb: she has a very flexible thumb, she can bend it all the way back
Night Owl: She calls herself a night owl, she loves staying awake for long in the night
Magazine covers: Some of the magazine covers she has appeared in are:

Another Magazine
CR Fashion Book
Dazed Magazine
Dust Magazine (Cover)
Garage Magazine
Harper's Bazaar U.S
Nike (Advertising)
Pop Magazine
Purple Magazine
Self Service
The New York Times Style Magazine
V Magazine
Vogue (Japan, Brazil, American, British, Italian, Korea)

Other works of hers are seen on these popular platforms:

Alberta Ferretti (Shows)
Alexander McQueen (Shows)
Alexander Wang (Advertising)
Anna Sui (Shows)
Bottega Veneta (Shows)
Burberry (Advertising)
Burberry (Shows)
Chanel (Shows)
Chloe (Shows)
Dior (Shows)
Dries Van Noten (Shows)
Elle U.S
Estee Lauder (Advertising)
Fendi(advertising)
Givenchy(Shows)
H&M (Advertising)
Haider Ackermann (Shows)
i-D Magazine (Editorial)
Lanvin (Shows)
Loewe (Shows)
LUISAVIAROMA.COM (Shows)
Marc Jacobs (Shows)
Max Mara(advertising)
Michael Kors (Shows)
Miu Miu (Shows)
Prada (Advertising)
Prada (Shows)
Proenza Schouler (Shows)
Sacai (Shows)
Saint Laurent (Advertising)
Saint Laurent (Shows)
Salvatore Ferragamo (Shows)
Stella McCartney (Shows)
Tom Ford (Advertising)
Tom Ford (Shows)
Valentino (Shows)
Versace (Advertising)
Versace (Shows)
W Magazine

Nike campaign: Anok has appeared in the Nike campaign designed by French luxury fashion wears- Givenchy's Italian fashion designer Riccardo Tisci.
Anok loves children and wants to have her own children and grandchildren
Anok Yai Quotes
Me opening for one of the top fashion houses is a statement to the world - especially for black women, that their beauty is something that deserves to be celebrated
Being a model is not like a stable job, If modeling doesn't work out, I'll just get my degree
I have always thought about modeling. It is a dream that I have wanted for a long time but always pushed to the side because of self doubt & distractions from school. Now I see this dream as something a lot more obtainable.
[On her inspiration Naomi Campbell] I saw that she was dark-skinned, and I saw how powerful she was and how successful her career had been, and it just inspired me to want to be like her.
I feel like I'm representing all the women of color who don't see themselves often portrayed or appreciated in the media
I could never get the right shade in the past, in an average store, it would be so many lighter shades, & then maybe like three options for black women. But black is a very broad spectrum [by itself]
We can show the world that there is more than one standard of beauty.
Women are not always raised to be as great as they can possibly be. They are told to care more about how they look & to be extremely feminine. Science, Mathematics & Technology are still considered male jobs. I definitely want girls to be looking into STEM programs.
I was insecure about my skin because I looked up to people in the media, though I looked up to the black women, I never saw women that were as dark as me. I want to be a role model for young dark skinned girls & girls in general, I want to bring to light ideas of self-love & self-confidence.
I'm happy because I can do what I am passionate about
Whenever you feel unloved, unimportant or insecure, remember to whom you belong
References