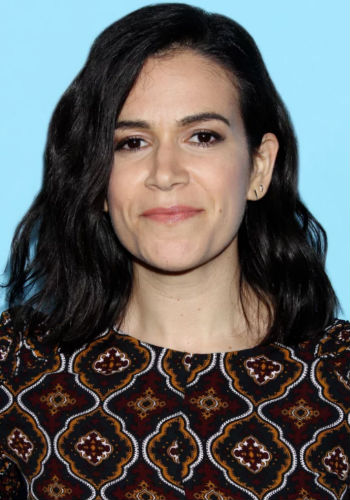 Abbi Jacobson
Date Of Birth
February 1, 1984
Age
39 years 7 months 24 days
Day of Birth
Wednesday
Place Of Birth
Wayne, Pennsylvania, United States
Zodiac Sign
Aquarius
Professions

Producer

,

Illustrator

, Actress , Writer ,

Comedian

Birth Name
Abbi Lee Jacobson
Personal Information
Residence

New York City, New York, United States

Religion
Judaism
Language
English
Nationality
American
Ethnicities
Caucasian , Jewish
Complexion
White
Trademarks
Wide Lips , Prominet Chin

Body Features & Measurements
Height

165 CM


5 Feet 5 Inches
Eye color
Brown
Hair color
Black
Weight

61 KG


134 lbs

Figure Measurements
32-26-34
Figure Type
Hourglass
Body Type
Average
Bra Size
32B
Family Information
Father
Alan Jacobson (Graphic Designer)
Mother
Susan Komm (Artist)
Brother

Brian Jacobson

Grandfathers
Jack Jacobson (Paternal)
Henry Mehr (Maternal)
Nieces
Mae Jacobson
Stella Jacobson
Grandmothers
Estelle Abrams (Paternal)
Mitzi R. Brody (Maternal)
Sister In-Law
Molly Etherington Jacobson
Stepfather
Barry Komm
Stepsister
Bailey Komm Ferazzi
Stepbrother
Mickey Komm

Education Qualifications
Education (Graduation)
Bachelor of Fine Arts (General Fine Arts)
Education (High School)
Conestoga High School
Education (Middle School)
Valley Forge Middle School
Love, Romance, Marriage
Girlfriend
Carrie Brownstein (Rumored)
Career Information
Debut (Movie)
Revelation 13 (2009)
Years Active
2009–
Favorites, Hobbies, Likes/ Dislikes
Favorite Actor
Will Smith
Favorite Foods
Bacon
Cheese
Egg
Favorite TV shows
The Oprah Winfrey Show
Vag Magazine
Saturday Night Live (Her Childhood obsession)
Likes
basketball
The Golden Girls (1980s show)
Beyoncé
Skating
Birdman (Movie)
The Cosby Show (TV show)
Frasier
Hockey
Topo chico
Roseanne (TV show)
Jonas Wood (Visual artist)
Favorite Brand
Sephora (Cosmetics)
Favorite Cartoon
Sonic
Favorite TV Series
Golden Girls
Social Networks, Web links
Facebook Profile
Abbi Jacobson Facebook Profile
Twitter Profile
Abbi Jacobson Twitter Profile
Instagram Profile
Abbi Jacobson Instagram Profile
YouTube Channel
Abbi Jacobson YouTube Channel
Tumblr Site
Abbi Jacobson Tumblr Site
Contact
Managers
Karl Austen
Susie Fox
Talent Agent
United Talent Agency
More Information
Teacher
Jeremy Sigler (poet)
Friend
Brooke Posch
Inspirations
Amy Ryan (Actress)
Oprah Winfrey
Gilda Susan Radner
Gloria Steinem
Maira Kalman (Illustrator)
Joan Rivers
Net worth

$1 Million- $5 Million

Celebrity Crush
Drew Barrymore
Biography
Abbi Jacobson is an American actress, comedian, producer, voice actor and writer. Abbi is known for co-creating & starring in the Comedy Central comedy series Broad city. Some of the most known roles of Abbi are- Abbi Abrams in Broad City & Hack Into Broad City, (voice of) Emily in BoJack Horseman, (voice of) Princess Bean in Disenchantment, Katie in 6 Balloons, Sneaky Patty in 'Pickle and Peanut', Nya in The Lego Ninjago Movie, Claire in 'Person to Person', Jessica Baiers in 'Neighbors 2: Sorority Rising', Katie in '6 Balloons' among others.
Abbi Jacobson was born on 1st February 1984 in Wayne, Pennsylvania, United states to Susan Mehr Komm(mother)- an artist & Alan Jacobson(father)- a Graphic Designer. She has an older brother named Brian Jacobson.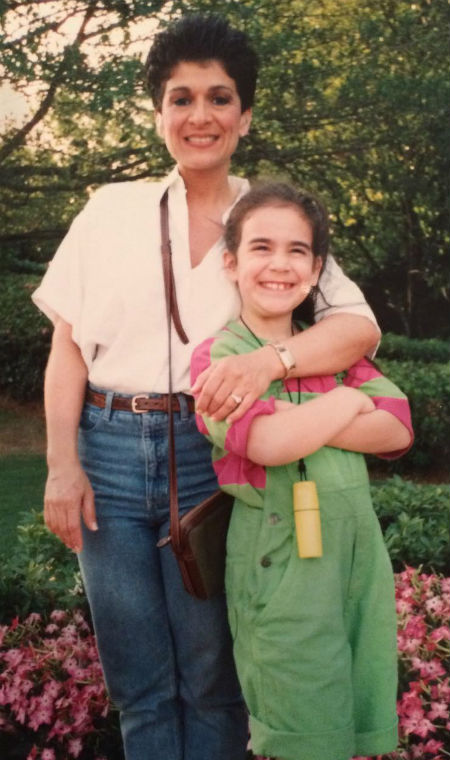 Image: Abbi Jacobson childhood (with mom)
Education
Valley Forge Middle School: Abbi studied at the 'Valley Forge Middle School' in Wayne, Pennsylvania
Conestoga High School: After middle school she attended 'Conestoga High School' at Tredyffrin Township, Pennsylvania.
Maryland Institute College of Art (MICA): After the High school Abbi attended MICA where she studied Fine Arts & video Production for her graduation and achieved a degree in 'General Fine Arts'
Emerson College: Abbi studied acting for a brief period at the 'Emerson College' after her time at MICA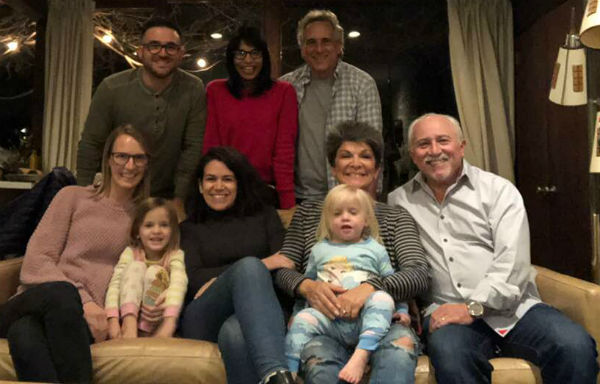 Image: Abbi Jacobson Family: Mom, Dad, Brother, Sister in-law, stepfather, neices
Trivia
Ethnicity: Abbi is of Ashkenazi Jewish, French, German, Lithuanian, Russian ancestry.
Sexuality: Abbi was a straight woman in her early days, she has recorded her encounters with love in detail in her book. The first intimate relationship she had with another woman changed her perspective on sexuality. Now she dates both men and women, just that "they have to be funny & doing something they love" according to her. It makes her Bisexual.
Abbi in Advertisings: Abbi has appeared in Ads for brands and movies such as- General Electric, Google Pixel 2(with friend Ilana), The LEGO Ninjago Movie, Rise of the Tomb Raider
Arts & Crafts: Abi was interested in Arts & crafts even as a child, she did not take professional classes, she just learned it herself. Her parents always gifted her and her brother Arts stuff.
Greeting card company: Abbi is a good illustrator as well, she believes in taking up multiple artistic roles, In New York City she started a greeting card company & sold cards all over New York
Abbi's mom Susan worked at 'Bed, Bath and Beyond' when Abbi was small, Abbi spent a lot of time there.
Most Favorite TV episode: "The Way We Met" episode from the season finale of "Golden Girls" is the most favorite ever episode in TV series for Abbi & Ilana.
Charity Fundraising: Abbi helped rise funds for 'Multiple Sclerosis research' by the National Multiple Sclerosis Society
Weed: She is for legalization of smoking weed, she really loves weed :)
Conestoga's Junior Cabaret: In the 11th grade Abbi was one of the hosts in the school. She hosted programs including musicals.
Comedy Story Teller of the year: Abbi Jacobson was awarded the 'Comedy Story Teller of the year' in 2017 by Harold Ramis Film School
Abbi's mom Susan Mehr-Komm made a cameo on Broad city in 2010 (Web Series)
She loves dogs and promotes adoption of dogs. She had a pug named Luke in her childhood
She often volunteers to help for good organization and charity events.
She is godmother to a baby boy named James.
Abbi supported Women's march and in defense of DACA
In 2015 she donated $10k to The Village of Arts & Humanities, Philadelphia
Abbi's alter ego in college was named "Val"
She is addicted to Snapple.
Joan Rivers inspired Abbi to seek a career in stand-up comedy. Abbi saw Joan's shows live during her first year in New York City.
She was 13 years old when her parents divorced, she lived with both of them, they were both uniquely artistically gifted and designed their houses uniquely, it helped Abbi with aesthetics.
Live from virgin: Abbi organized a comedy festival on a plane (Virgin Atlantic) in 2017
Abbi Jacobson naked: Abbi danced naked to Lady Gaga's 'The Edge of Glory' in one of the parody videos of Drake. Lady Gaga tweeted the video congratulating Abbi for the fun video.
Abbi Jacobson & Carrie Brownstein: Carrie Brownstein & Abbi Jacobson were rumored to have had a romantic relationship
Life Facts
Stand-up comedy training: Abbi practiced and refined the art of stand-up comedy at Maryland Institute College of Art where she studied with poet Jeremy Sigler
Religion: She was raised in a Jewish household.
Atlantic Theater Company: After her graduation Abbi moved to New York City seeking a career in acting, she went to 'Atlantic Theater Company' to take acting classes
Upright Citizens Brigade Theatre: Abbi joined 'Upright Citizens Brigade Theatre', a training center (founded by Amy Poehler, Ian Roberts, Matt Besser & Matt Walsh). It is here that Abbi met her friend and co content creator Ilana Glazer.
Broad City: Abbi Jacobson and Ilana Glazer co-created the web series 'Broad City' based on their own lives in the city of New York. It became a well received web series, Comedy Central bought the script and turned into a TV series, It received the highest viewership for a Comedy Central series in the recent times
Voice Acting: Abbi is also a talented voice actor, she has voiced many characters in TV series, short movies and feature films such as- Emily in BoJack Horseman, Princess Bean in Disenchantment, Sneaky Patty in 'Pickle and Peanut', Nya in 'The Lego Ninjago Movie'
A Piece of Work: Abbi hosted an online podcast on modern art, it was produced by 'The Museum of Modern Art' & 'WNYC Studios'
Awards & Nominations: Abbi has received multiple nominations in her career, and especially for 'Broad City'. Some of the award nominations she has recieved are- Writers Guild Award USA(Best Comedy Series), Primetime Emmy Award(Best Short Drama or Comedy Series), MTV Movie + TV Awards (Best role in a comedy), ECNY Award (Best Web Series) among others.
Walnut Street Theatre: She took classes at the 'Walnut Street Theatre'
Ilana Glazer
Abbi & Ilana Glazer met in New York at the 'Upright Citizens Brigade Theatre' where both of them were being trained in acting, the two became friends quickly. Abbi & Ilana co-created the comedy TV series 'Broad City' based on their own lives & both feature in it as the lead characters. They were both raised Jewish, a shared Jewish experience gives them a lot to talk about.
Fun fact: When Abbi met Ilana Glazer for the first time, she thought it was Alia Shawkat for at least 3 hours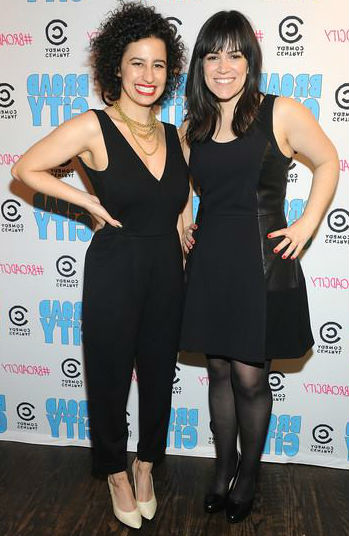 Books
Color This Book: New York City: A New York city themed coloring books for kids was designed by Abbi Jacobson, this was her first book.
Color This Book: San Francisco: San Francisco themed coloring book for children published by Chronicle Books in 2013
Carry This Book: A humorous take on the various hand bags used by celebrities in New York, insights and remarks on the bags laced with humor bring out the fashion experience of Abbi. It was published by Viking Press in 2016. It was a New York times Best seller.
I Might Regret This: Essays, Drawings, Vulnerabilities, and Other Stuff: A 300+ page book with essays and short stories based on the life experiences of Abbi Jacobson. It talks of her love life, lesbian experience, cross-country travelling and other normal life events expressed in a comical way.
Quotes
I have felt like an internal outsider for my entire life because I just never understood what love was
Why does 'writer' has no gender but 'actor' has a gender? What is that?
I'll say that a lot of art, some of the best art, has very powerful & meaningful messages behind it.. the more you learn the artist's intention, you have a totally new point of view of what it is about.
I'm so thankful for that struggling period. That time is really great where you have no idea what's going to happen.
If anything can be art, then anyone can be an artist.
[About her religion] I'm not super, super religious. I'm more culturally Jewish.
Maybe it's better to be really good at one thing than be okay at a couple things
Heaven is a flea market
when you get the chance to sit it out or dance... I hope you dance.
If asked, I would say... yes, I am definitely a crooner.
Finding a gray hair is like a early-30-something's game of pick-up-sticks.
One of my biggest fears is that people will randomly ask me to switch jeans with them, "just for fun!"
I think Kim Kardashian might be an extremely long, extended Cindy Sherman character piece, and I'm into it.
If I could find a man I trust even 1/4 as much as I trust toilets in general, I think I'd marry him immediately. [This is less about my distrust of men, and more about my enormous trust of toilets]
I'm honestly, incredibly inspired by a lot of commercials. I don't know what's happening to me.
Holding doors open for one another seems to be a dying fad, but for the lone door-holder, the lost soul, stuck holding that door forever.