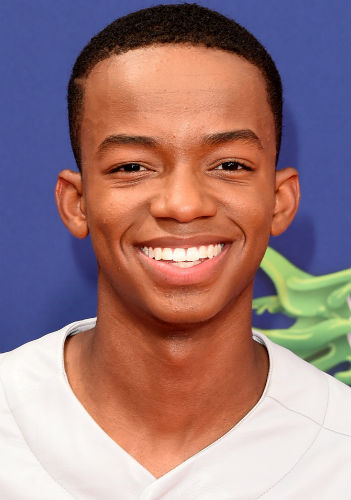 Coy Stewart
Date Of Birth
June 24, 1998
Age
25 years 3 months 1 days
Day of Birth
Wednesday
Place Of Birth
Columbia, South Carolina, United States
Zodiac Sign
Cancer
Professions
Singer , Actor ,

Rapper

Other Names

KOI

,

Tyson Stewart

,

Tyson Coy Stewart

,

Tyson Coy Stuart
Personal Information
Residence

Los Angeles, California, United States

Religion
Christianity
Language
English
Star Sign
Cancer
Nationality
American
Ethnicities
Black , African American
Complexion
White

Body Features & Measurements
Height

174 CM


5 Feet 9 Inches
Eye color
Black
Hair color
Black
Weight

60 KG


132 lbs

Tattoo
on Arms
Body Type
Slim
Family Information
Father
Derek Stewart (Author, professional basketball player)
Mother
Keisha Stewart (She works as a manager)
Brother
Chayse Stewart (younger; Also interested in acting)

Career Information
Debut (Movie)
Deadly Detention
Years Active
2010-
Debut (TV series)
The Glades
Debut (TV Movie)
Nickelodeon's Ho Ho Holiday Special
Favorites, Hobbies, Likes/ Dislikes
Hobbies
movies
swimming
Favorite Actors
Will Smith
Leonardo Dicaprio
Favorite Actress
Sandra Bullock
Favorite Food
Chocolate Chips (Cookies)
Favorite Movie
Place beyond the pines (with Ryan gosling)
Favorite Musician
Frank Ocean
Favorite Sports
swimming , basketball
Favorite sports person
Kobe Bryant (Basketball)
Favorite Artist
Ice Cube
Social Networks, Web links
Facebook Profile
Coy Stewart Facebook Profile
Twitter Profile
Coy Stewart Twitter Profile
Instagram Profile
Coy Stewart Instagram Profile
Snapchat
Coystewart
Spotify Link
Coy Stewart Spotify Link
Contact
Contact(Phone)

(818) 403-0547

Address

PO Box 36444 Los Angeles, CA 90036

Talent Agent
DeAbreu Modeling and Consulting (Columbia)
More Information
Role Model
Will Smith
Net worth

$900,000
Biography
Coy Stewart is an American actor & singer. He goes by the name KOI (a play on Coy) for his music. Coy is known for playing Flint in Agents of S.H.I.E.L.D. (2017-2019), Troy Dixon in Bella and the Bulldogs(2015-2016), Kevin Kingston-Persons in Are We There Yet? (2010-2012)
Coy has recently appeared in The Blacklist(2019) as Vontae Jones, has voiced the character Benson in Kipo and the Age of Wonderbeasts(2020).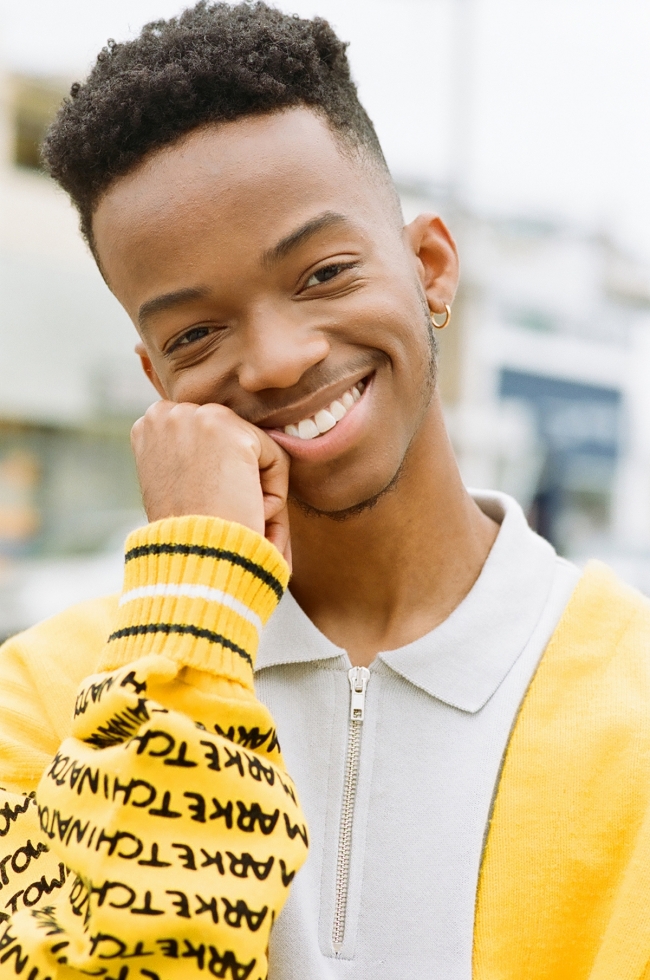 [ Coy Stewart ]
Childhood - Family
Tyson Coy Stewart was born on 24 June 1998 in Columbia, South Carolina, United States to Derek Stewart(father) & Keisha Stewart(mother). His parents are from Southern Carolina
Parents
Father- Derek Stewart
Coy's father Derek Stewart is an Author & former collegiate & professional basketball player. Derek was an all-time leading scorer & shot blocker for his college- Augusta College in his youth. He has travelled China, France, Germany & Israel playing pro-basketball across the continents.
Derek has previously worked in the mortgage industry, coaching at high school. He created Jumpball Training , an academy to train players in basketball.
Derek has written a book on Coy's journey into acting, titled- The Unlikely Journey.
Mother- Keisha Stewart
Coy' mother Keisha Stewart works as a manager. She is originally from Columbia, South Carolina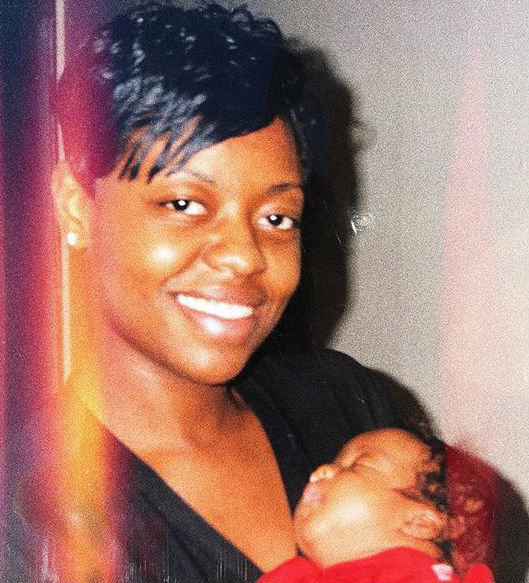 [ Coy Stewart with Mom- childhood ]
Brother- Chayse Stewart
Coy has a younger brother named in Chayse Stewart. Chayse is interested in acting as well.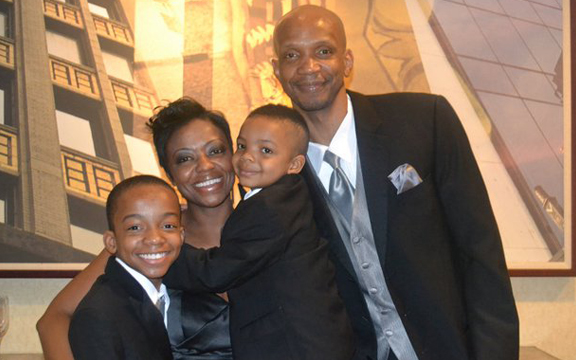 [ Coy Stewart's family: Derek Stewert(Father), Keisha Stewert(Father), Chayse Stewart(Father), ]
Girlfriend- Dating
Coy Stewart & JadaGrace
Coy Stewart is rumored to be in relationship with actress, singer & dancer Jadagrace Michiko Gordy-Nash. They have been friends with each other for years. The have worked together in some of the music projects such as "Bounce" & "Glow"
In his interview with BoybyGirls [6] Coy revealed that he has a girlfriend, someone who he has been friends with for years, with whom he has worked on music as well. Thus leading to the assumption it is her.
Back in March 2015 Jadagrace has tweeted a picture of the two with the caption "I love him but he doesn't love me". In August 2015 he tweeted "I love @DeaMaddie & @Jadagrace to death"
[ Coy Stewart & Jadagrace ]
Interesting Facts
Early interest: Coy developed interest in acting after practicing and reciting lines from popular TV shows & movies, he was 8 at the time.
Auditions: When he was 10 years old he told his parents that he wanted to act, in the summer the parents took him to New York for auditions. He joined DeAbreu Modeling & consulting agency for better exposure.
The beginning: He started acting playing the role of Travis Younger in the stage play- A Raisin in the Sun. He had appeared in 15 auditions before he landed this role.
First acting job: Coy's first acting job was as an extra in a movie which never got released.
Tattoos: He has emoji Tattoos on both his arms, Left arm has the tattoo of sadness, while the right arm emoji is of happiness.
He is an outgoing guy. Likes his adventures in the open.
Likes fun: Coy & Teala Dunn, who plays his sister on the show 'Are we there yet?' used to play cards after the shooting.
Political inclination: He has been very critical of Donald Trump.
Philanthropy

NO BULL: He participated in NO BULL campaign, an anti-bullying awareness campaign.
Move On, 2 vote: He encouraged US citizens to register to vote in the 2020 US presidential elections [4]

Gun control: He has been a vocal critic of gun violence and has supported demands for gun control laws.
He was home schooled for most part.
He likes self-taping to live auditions as it saves time & money to move and gives the chance to take as many shots as possible.
His Favorite cartoon character- Johnny Bravo.
His Favorite store to shop in- Top shops.
Commercials

CARQUEST: Coy's first commercial appearance was in a regional car commercial for CarQuest

Ice Cube taught him about the continuity of scenes on the sets. "when you have your shirt zipped up in one scene, you can't have it unzipped in the next part" taught Ice Cube
In 2012, Coy's father Derek Stewart wrote a biographical book on Coy's journey into the acting world, titled- The Unlikely Journey.
The book covers Coy sharing his dream of becoming an actor in 2008 at the age of 10. The unwavering support of his parents that changed the course of his future.
The book covers his journey through commercials, stage performances, TV debut, regular roles in "The Electric Company" & "Are We There Yet?".
The book talks about each member of the Stewart family- Keisha, Derek, Coy & Chayse. It is an inspiring journey of a normal American family having an unimagined experience.
Career
WTH: Welcome to Howler- Coy acted in the Web horror comedy series as Xavier.
Are We There Yet?
Coy lived in South Carolina when got a chance to audition for a role in the new TV series "Are We There Yet?", it was newly being made from the movie. Coy's New York agent thought it was going to be a long shot, but worth a try, so Coy's parents drove him to New York city for the audition, he read everything needed for the role, he was asked to read some more by the casting directors. He went home and waiting, they called him back and asked to read again, he read again and went home. They called later to confirm he has got the role.
Coy plays Kevin Kingston-Persons the son of Suzanne Kingston-Persons (played by Essence Atkins), stepson of lead role Nick Persons(played by Terry Crews), younger brother of Lindsey Kingston-Persons (played by Teala Dunn).
Kevin Kingston-Persons is a soccer fan, he is often found watching soccer on TV, he is an intelligent kid and he is also into computers and technology
Music
1-800-273-8255
Coy appeared in the lead of the music video '1-800-273-8255' by rapper Logic. Video dealt with homosexuality and suicide. Don Cheadle, Nolan Gould, Luis Guzmán, Matthew Modine also appeared in the video.
The song was written in collaboration by- Logic, Dylan Wiggins, 6ix, Khalid, Alessia Cara, Drew Taggart
It was placed at peak position of #3 on the US Billboard Hot 100. The song was nominated for both Song of the Year & Best Music Video of the year at the Grammy Awards.
Everybody's Got One
In 2018 Coy released his first album titled- "Everybody's Got One", It has 14 Songs:
Singles
Year
Song
Album
Comment
2018
Slave
Everybody's Got One
2018
Power
2018
15
2018
OMW
2018
Molasses
2018
Funds
2018
Dirty
2018
S.I.N
2018
Karma
2018
Run!
2018
Eyes
2018
Forbes Freestyle
2018
Sinking Seeds
2018
2:33pm
2019
Yikes
Yikes / Ice Chips
In collaboration with grouptherapy
2019
Ice Chips
Guest Appearances
| Year | Song | Artist | Comment |
| --- | --- | --- | --- |
| 2020 | Homecoming | grouptherapy, RHEA | |
| 2020 | Nighttime | grouptherapy, RHEA | |
| 2019 | Bounce | Jadagrace, grouptherapy | |
| 2019 | Glow | Jadagrace, grouptherapy | |
Questions & Answers
Who is Coy Stewart (according to Coy)?

"Coy is a young man who feels the need to express himself through art." [6]

What makes Coy Happy?

Coy is super reliant on his circle of people, which includes his family & close friends. without them "nothing else would really matter" say Coy [6]
Filmography
Movies List
| Year | Movie | Character | Comment |
| --- | --- | --- | --- |
| 2019 | Devil's Whisper | Gavin | |
| 2017 | House of the Witch | Dax | TV Movie |
| 2017 | Deadly Detention | Kevin | |
TV Series List
| Year | TV Series | Character | Comment |
| --- | --- | --- | --- |
| 2020 | Kipo and the Age of Wonderbeasts | Benson (voice) | Regular role |
| 2019 | The Blacklist | Vontae Jones | 6 episodes |
| 2017-2019 | Agents of S.H.I.E.L.D. | Flint | 8 episodes |
| 2019 | Mr. Iglesias | Lorenzo | 9 episodes; Netflix |
| 2016-2017 | WTH: Welcome to Howler | Xavier | 7 episodes |
| 2016 | NCIS | Brandon Conway | "Home of the Brave" (Season 14 Episode 7) |
| 2015-2016 | Bella and the Bulldogs | Troy Dixon | Main Role; 40 episodes |
| 2013 | Good Luck Charlie | Warren | The Bug Prom" (Season 4 Episode 12) |
| 2010-2012 | Are We There Yet? | Kevin Kingston-Persons | Regular; 72 episodes; |
| 2010-2011 | The Electric Company | Marcus Barnes | 13 episodes |
| 2010 | The Glades | Declan | Mucked Up" (Season 1 Episode 4) |
Short movies List
| Year | Short movie | Character | Comment |
| --- | --- | --- | --- |
| 2018 | The Judgment of Kyle Noble | Malik Martin | |
| 2015 | Jingle Hit Factory: Detention | Devin | |
| 2015 | Christian | Christian | |
| 2015 | Throwing Snowballs | Troy | |
Theater/ Stage/ Broadway
| Year | Play | Character | Comment |
| --- | --- | --- | --- |
| 2009 | A Raisin in the Sun | Travis Younger | Location- Weston Play House, Weston Vermont |
Awards
Coy won Young Artists Award for his role as Kevin in Are We There Yet?(2011). (Best supporting actor)
News & Updates
He has appeared in an interview by Portrait Magazine.
Quotes
Thankful to God & family for making me into the young man I'm today
If you want to bring the best part into your role, you have to go into it fully [3]
I think I'll be Acting for the rest of my life. [3]
I always try to stay hungry for more auditions, go on every audition that I can. [3]
Every audition that an actor goes on, is preparation for the next audition. [3]
I try to stay hungry & humble. [3]
Everybody trying to get an acting gig will get something to act someday. Stay humble, Stay hungry, Just keep trying.
Acting is very fun for me
My goal in life is to inspire kids & people to always dream big & never to be afraid to go after the dreams.
I try to keep myself grounded and stay true to southern roots.
We must have fun while auditioning, when they say No, it does not matter as much.
As a kid I hated auditions, as I grew older I realized it was part of the process
I'm so glad these sexual assault allegations are coming to light. I hope it gives more people the courage to call out those responsible.
If you wouldn't sacrifice everything, you don't want it bad enough.
To die a young legend, or live a long life unfulfilled
Family over everything.
Ambition and hard work are two different things. dream about it all you want, but the work ethic is what separates goods from greats.
Don't become a zombie and work a job you hate for things you can't afford.
Only thing that can stop me is God himself.
Say a little cause it says a lot.
Forget money, forget fame, do what you love and spread love along with it, we don't live forever.
Consistently working on myself, nobody ever got anywhere by staying the same, growth is crucial.
Patience is the biggest key I've learned. Trust in the universe's timing to lead you to the right place at the right time [5]
As a kid, I was never really great at expressing myself through conversation, but when it came to working in a scene or on music it felt like that was something that came very easily and naturally to me [6]
I grew up thinking that being a man meant you had to be tough and masculine and strong… But you can be all of those things while also be feminine, & afraid, & weak [6]
When you think about the idea of a man, society has kind of trained us to think that everything a man is, a woman cannot be. I find that I have a big issue with that.. If we view ourselves as people first, then we can connect on a much better level. [6]
Sources
The star Scoop interview 2010