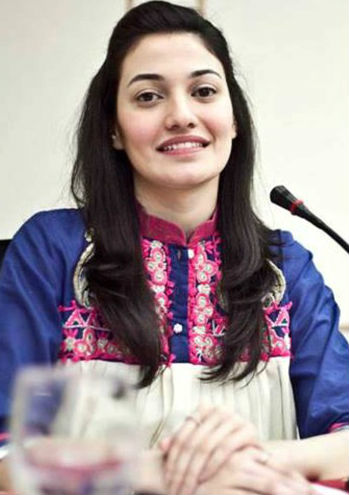 Muniba Mazari
Date Of Birth
March 3, 1987
Age
36 years 0 months 28 days
Day of Birth
Tuesday
Place Of Birth
Rahim Yar Khan, Punjab, Pakistan
Zodiac Sign
Pisces
Professions
Singer , Model ,

Motivational speaker

,

Artist

,

Activist

Nickname

Iron Lady

Full Name

Muniba Mazari Baloch

Name (Urdu)
منیبہ مزاری‎‎
Personal Information
Religion
Islam
Languages
English , Urdu
Star Sign
Pisces
Nationality

Pakistani

Ethnicities
Pakistani , Baloch
Complexion
Fair

Body Features & Measurements
Height

172 CM


5 Feet 8 Inches
Eye color
Black
Hair color
Black
Weight

56 KG


123 lbs

Figure Type
Hourglass
Body Type
Slim
Family Information
Son

Nael Mazari

Brothers

Sarfraz Ali Mazari




Zulfiqar Ali Mazari

Sister In-Law
Hira Zulfiqar

Education Qualifications
Education (Graduation)
Bachelor in Fine Arts
Love, Romance, Marriage
Husband
Khurram Shahzad (Ex; Pakistan Air Force pilot)
Career Information
Years Active
2012-
Social Networks, Web links
Facebook Profile
Muniba Mazari Facebook Profile
Twitter Profile
Muniba Mazari Twitter Profile
Official Website
Muniba Mazari Official Website
Instagram Profile
Muniba Mazari Instagram Profile
YouTube Channel
Muniba Mazari YouTube Channel
Contact
Contacts (Email)

munibamazari@gmail.com




askmunibamazari@gmail.com

Web Contact
Web Contact
More Information
Friend
Zeba Hussain (social activist)
Mentor
Sarmad Tariq (He was paralyzed from an accident & was a motivational speaker)
Biography
Muniba Mazari is a Pakistani model, artist, activist & motivational speaker.
Muniba Mazari Baloch was born in Rahim Yar Khan, Southern Punjab, Pakistan on 3rd March 1987. She has two younger brothers in:
Zulfiqar Ali Mazari
Sarfraz Ali Mazari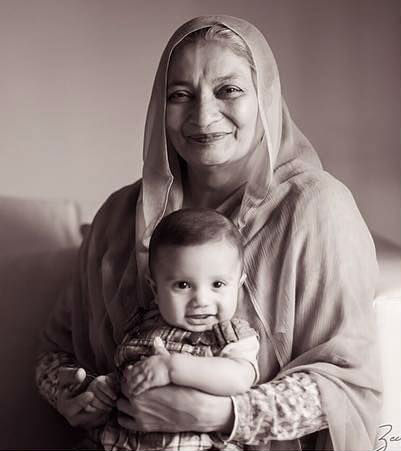 Image: Muniba Mazari childhood photo
Education
Army Public School- she studied from the Army Public School till age 18.
Bachelors in Fine Arts- She i
Marriage & Divorce
Marriage: At the age of 18 she was married to a pilot in the Pakistani Air-force named- Khurram Shahzad.
Accident
When she was 21 (27th February 2008) the couple had a bad car accident on the way to Rahim Yar Khan (Punjab) from Quetta (Balochistan). Muniba received several injuries:
Arm bones (broken)
Collar Bone
Liver (depp cut)
Lungs (depp cut)
Ribs
Shoulder blade
Spine
Most damaging of all was the injury to spine- It left her paraplegic (motor & sensory functions impaired). It left her entire lower body paralyzed. She was moved from local hospitals to the Karachi Agha Khan Hospital.
She was bed ridden for 2 couple of years after the initial treatment. Slowly she made partial recovery with physiotherapy. She uses a wheelchair to move. She now lives in Rawalpindi with her divorced mother.
Divorce: The marriage did not last long, the couple separated in 2014 and got divorced later in 2015. Khurram sued her in 2017 for defamation, demanding 10 Million Pakistani Rupees. The court dimissed the case in January 2018.
Adoption: She adopted a son in 2011, her son Nael is adorable.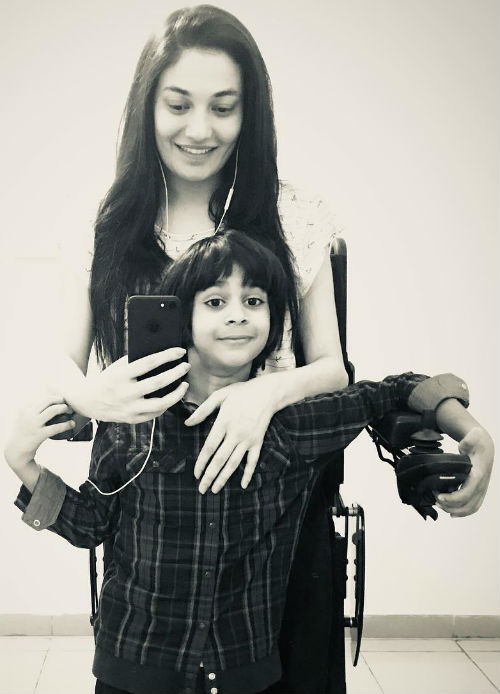 Image: Muniba Mazari with her son Nael
Interesting facts
Ancestry: Muniba is of Baloch ancestry, she belongs to tge Mazari tribe of Balochs
Spinal cord injury: she had a car accident at the age of 21 in 2007 which caused damage to her spinal cord, she has been using the wheel chair since then. She is the first Pakistani model on wheelchair.
TEDx Islamabad: She spoke at the TedX event in Islamabad on- 'Turning adversity into opportunity'.
Anchoring at PTV: She occasionally works as an anchor on Pakistan Television Network.
Toni & Guy: She works as a model for their products, she is the first in chair to be modeling for them.
She has worked with Chughtai Labs in Islamabad as their ambassador.
Art in childhood: As a child she grew up with drawing, handmade cards & crafts, painting.
Her father is an artist, he taught her basic art.
Helping refugees: She donated her art work to UNHCR(United Nations High Commissioner for Refugees) to support Afghan, Somalian refugees.
She prefers painting done with colors, canvas and brush to digital art.
She started painting from her hospital (Agha Khan hospital)
Lot of her art works feature women, with emphasis on traditional Pakistani ethnic wears and jewels.
Spiritualism: Lot of the characters in her work have one eye opened, a symbol of spiritualism.
In association with UNICEF she worked to help Children suffering of Thalassemia.
She was married at the age of 18 to a guy her parents chose for her, Her husband left her some time after the accident and eventually divorced her.
Late Salman Taseer who was the governor general at that time bought her paintings to encourage her continue the art, now she is an established artist and remembers his support fondly.
She along with her mother serve poor people through food service.
Court case by ex-husband: Her ex-husband Khurram Shahzad has sued her in court of defaming him, for blaming him for her afflictions, he has demanded 10,00,00,000 Pakistani Rupees. She replied on twitter- 'He is greedy, all he wants is money, feel sorry for him'. the court dismissed the case as unsubstantiated in January 2018
Iron Lady of Pakistan: The online community has a sweet nickname for her- Iron Lady of Pakistan
Career & Activism
Painting: Muniba has worked as a painter
Facebook page: She managed facebook page of Areeb Azhar for monthly salary
Pond's Miracle Woman: She is the brand ambassador of Body Shop & Pond's. She was termed 'Pond's Miracle Woman'
Woman of Substance: she is part of the campaign with Toni & Guy (hairdressing salon). She is their first wheelchair model in the entire Asia.
TV
PTV: Mohammad Malick, the managing director of PTV found her through Islamabad Ted Talk and offered her a job in his network.

Clown Town(2014)- a program that dealt with children and the old people

HUM News

Main Nahi Hum: She was part of the inspirational program on Hum News
Social Empowerement
"Dheeray Bolo": She taught Urdu in various schools as a part of the "Dheeray Bolo" project. It started with her son's school and expanded.
Dil Say Pakistan: she was part of the campaign to spread Patriotism & unity among the Pakistanis. She has also performed in events as a singer for the cause.
National Youth Council: She was selected to be a part of the 'National Youth Council' by the Pakistani Primer minister Imran Khan (former cricketer) in June 2019
Activism
She has conducted TV programs, events, speeches to promote and support:
Acid attack victims
Blind people
Gender Issues
Girls education
Physically disabled
Vertically challenged
Sexual abuse victims
Transgender issues
Art
Muniba used her bed ridden time to paint, she started in the hospital itself. She paints on a Canvas with Acrylics as well as Oil pastels
Muniba's Canvas: She opened a brand of Acrylics. whose slogan is "Let Your Walls Wear Colours"
Her Art has been displayed at several exhibitions,
Lahore Exhibition: 27 art works of Muniba were displayed at Collectors Galleria in April 2016
Dubai Exhibition: The event was held at Pakistan Association Dubai, the event was named 'And I Choose To Live'. It was hosted by the Embassy of Pakistan
UNHCR Charity Event: She attended the Charity event for 'United Nations High Commissioners for Refugees'. She donated her paintings to both 'Ministry of Women Development' & UNHCR during the event. The exhibition was organized by the NGO- SACH.
Other exhibitions include:
| | | |
| --- | --- | --- |
| Arts Council Exhibition | Rawalpindi | Collaboration |
| Australian High Commissioners' Charity Art Exhibition | At a Christian school in Rawalpindi | |
| Collab with National University of Modern Languages | Serena Hotel, Islamabad | Collaboration |
| My Art World Gallery | Islamabad (Pakistan) | |
| Nomad Art Gallery | | Group |
| Project for the US Embassy | US Overseas Buildings Operations, Islamabad | |
| Tribal Heritage Art and Craft Gallery | Islamabad (Pakistan) | Group |
| USEA Art Club | Islamabad (Pakistan) | Solo |
Motivational Speaker
She has delivered speeches and lectures on various issues and life experiences, some of them are at:
Army Public School, Peshawar
Bank Alfalah Training Centre, Lahore
Combined Military Hospital, Peshawar
Entrepreneurs' Organization Network
Leader's Summit
National University of Science and Technology Business School
TedX Islamabad
Vcon Dubai (2017)
VCon Malaysia (2017)
Young Presidents' Organization
Youth Alumni Reunion
Muniba's Youtube channel is full of motivational excerpts from her speeches.
Video: We are all perfectly imperfect
Awards & Achievements
National Ambassador: She has been made an ambassador for UN Women Pakistan. She is the first UN Goodwill Ambassador from Pakistan to the UN Women.
100 most inspirational women: She was one of the 2 Pakistani women to be featured on this list by BBC in 2015.
Forbes 30 under 30: She was listed by Forbes as one of the Top 30 under 30 in 2016.
The Muslims 500: She was listed as one of the top 500 most influential Muslims of the world in 2018 for the 2019 Edition. Pakistani prime minister Imran Khan also featured in the list, he was ranked 29. "Humbled and honored to be named among the 500 most influential Muslims in the world.. thank you for all the love, support and prayers" she thanked in one of her Instagram posts
GoExcellence Trainer Certificate: Canada Global Consulting & Trainint Centre Ltd awarded her in December 2017 [4]
The Humanitarian Prize: The Karc Brothers group awarded her in 2017 in Belgrade, Serbia [4]
Laurels Honour Award: Awarded in 2015 by WCCI Lahore [4]
Shaheen Award: young motivational speaker award in 2015 by NPC [4]
Silver Play Button Award: Youtube presented her a Silver play button award for passing the milestone of 100,000 subscribers [6]
Quotes
Everyone said don't do it because it has never been done before. I said 'I will be the one to do it all for the first time'
Art is a beautiful medium through which you express yourself.
When I see my mother smiling while going through my interviews, that smile is the biggest reward for me.
I want the world to know that a Pakistani woman is strong & passionate, she's a dreamer and her pursuit of freedom is never ending.
The best masterpieces are created in the worst form of agony.
Never listen to the Nay Sayers.
Never Let Anyone Dis your Abilities.
Adversities and hardships come in your way to make you stronger.
You are the only hero in the story of your life, and heroes never surrender.
There are no mistakes in life, only lessons.
Giving up should not be an option
I needed a hero, I couldn't find one, so I became one.
We all try to find happiness in our social circles, we always try to surround ourselves with lots and lots of people, just because we think that surrounding lots of people will make us happy, but that happens when you are unhappy by yourself. [2]
[On changing to fit it] When you do not know how to love your own company (you surround yourself with people). So what happens is that- they want you to change, and you try hard to fit it. You change yourself.. but somehow or the other you are never good enough. [2]
[On solitude] You need to love yourself enough, you need to spend some time alone, you need to love your company, because if you do not love your own company, nobody else will. [2]
People who expect change from you, people who want you to change yourself are not your people, those people who are genuinely your people will never want you to change, because they will accept you as who you are. [2]
We are all perfectly imperfect and that's perfectl alright [3]
You need to embrace al our imperfections, because nobody is perfect. Society wants us to be a certain way, but that is not the only way. So how about accepting all our imperfections [3]
We all are broken and we all need to embrace all those scars, because our scars share the story of survival. I have never seen anyone with an easy past. The people who are struggling even now are the strongest ones. [3]
You are the hero of your own life story and heroes Never Give Up [5]
You don't learn if you don't err. you don't grow if you don't break. you don't care if you are not hurt. You don't forgive if you don't forget. You don't heal if you don't let go. You don't win if you don't lose. You don't shine if there's no darkness. [7]
The word "empowered" is not determined by the amount of power that you have, it is determined by the anount of kindness that your heart carries; regardless of all the hurt [8]
Success is not how well people know you, success is how well you know yourself [9]
Embrace those scars for they share the story of your survival [10]
When you accept yourself the way you are, the world recognises you. It all starts from within! [11]
Healing doesn't come for us, it comes from us, through us [12]
Words have the power to heal. So choose wisely [13]
Happiness is that one previous possession which multiplies when shared with others [14]
Real success is when you can sleep with a contented heart [15]
Sources