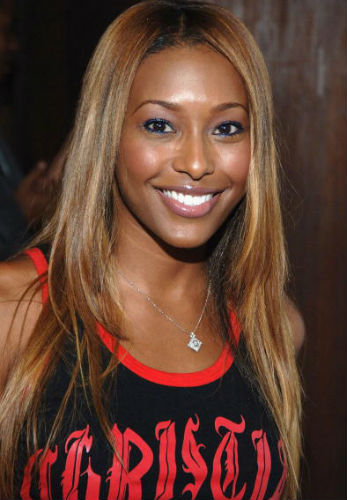 Nicole Narain
| | |
| --- | --- |
| Date Of Birth | July 28, 1974 |
| Age | 48 years 6 months 11 days |
| Day of Birth | Sunday |
| Place Of Birth | Chicago, Illinois, United States |
| Zodiac Sign | Leo |
| Professions | Model , Actress |
| Other Name | Nichole Narain |
Personal Information
Star Sign
Leo
Nationality
American
Ethnicity
Multiracial
Complexion
Brown

Body Features & Measurements
Height

163 CM


5 Feet 4 Inches
Eye color
Brown
Hair color
Black
Weight

50 KG


110 lbs

Figure Measurements
34B-27-35
Figure Type
Hourglass
Family Information
Father

Mr Narain

Mother

Rose Narain

Brother

Mike Narain

Sister

Mimi Narain
Biography
Nicole Narain is an American model, Playboy Playmate and an actress. She was the first playmate of the year 2002. Nicole has been featured in numerous Playboy videos.
She has been the center of attraction in the media as a model; with her athletic & shapely body it is only natural that cameras are pointed at her all the time. She has remained in the limelight through her modeling career, occasional TV appearances & the scandal involving popular actor Colin Farrell.
Childhood - Family
Nicole Narain was born on 2th July 1974 in Aurora, Illinois to an Afro-Guyanese mother and Indo-Chinese-Guyanese father. Her father is of Chinese-Guyanese and (East) Indian-Guyanese descent. Her last name Narain is of Indian origin.
She was raised by her single mother Rose [2] Narain. Her mother has been very supportive of the actress. When Nicole was going through the tape scandal, her mother stood in support, she said this to the people magazine about Nicole- "She is a strong person, but she is very upset.. Hopefully, it will be over soon."
Siblings
She has a sister named Mimi Narain and a brother named Mike Narain.
High School
Nicole had a very successful high school life. She was a track & field athlete in her high school days, she was a very popular figure in the high school.
Nicole was the homecoming queen at her high school for two consecutive years.
Sex Tape scandal
Nicole Narain & Colin Farrell
Nicole was sued by the British/ Irish actor Colin Farrell in 2005 for leaking their private sex tape of 14 minutes length, though the sale of tapes was ordered to be stopped by the court the video had gone viral on the internet by that time. The website was shutdown on the orders of the court. The case was settled outside the court between themselves, limiting the damage to minimum.
Farrell had argued that she had misused the trust with which he agreed to make the video just for themselves, that she had done such a thing because of her contact with some internet pornography site owner (she had tried to sell the recording to the "Internet Commerce Group"). Nicole's friend Candance Smith was also accused of conspiring to sell the tape.
Colin was defended by lawyer Paul Berra in the court. Leodis Matthews represented Nicole Narain. Judge Elihu Berle quashed Narain's appeal to allow the video airing, it was Judge David Yaffe who blocked Nicole from selling or distributing the tape.
In the interviews over the years Colin has confessed to being high at the time of shooting the video (it was shot in August 2002), He wouldn't have agreed to the idea if he was sober at the time as per the actor. He had tried to keep the video off the internet because he was worried his mother might see it if it is offered at some hotel as a "special" Colin Farrell movie.
Nicole has said that she is upset with the video leak as well as with Colin for making it look like she was the culprit. As far as she is concerned she had not given anyone the permission to publish the video, she has denied Colin's request to have exclusive right over video, Nicole says "It is mine too". She doesn't want to profit of it, but wants her legitimate right over the video.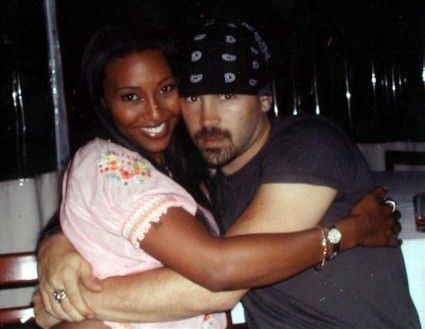 [Nicole Narain with Colin Farrell]
Boyfriend - Dating
Nicole Narain & Kevin Federline: Nicole and Kevin dated from September 2007 to December 2007 (more of a long fling). Rapper Kevin had come out of his divorce with Britney Spears just recently and wasn't looking for a serious commitment anytime soon, thus the break up, as per a friend of Kevin's.
Nicole Narain & Colin Farrell
Nicole and Colin met at a Playboy Mansion party after her being named magazine's miss January 2002, they are both free spirits by nature, they hit it off instantly. They started going out together. Eventually they made a video of their private time together which got them both into trouble afterwards.
over the years she has also dated:
Nelly (2004)
Fred Durst (2002 - 2007)
Christian Monzon (2008)
50 Cent (rumored)
Interesting Facts & Trivia
She has appeared twice on the Howard Stern show, once on 19th November 2002, for the second time on 13th April 2003.
Modeling: Nicole had been trying modeling since the age of 12, her huge breakthrough moment was appearing on playboy in 2002
Tattoo: she has a tattoo of a decorative ring on her upper right arm. A long floral design on her back, from neck to the bottom along the back bone.
She had previously worked in shipping at the General Mills in Chicago.
Playboy
Nicole was spotted at a local bar called Circus by Kevin Kaster, a senior editor at Playboy, the chance meeting opened doors for her playboy career. She was featured in the pictorial 'Girls of Mardi Gras' in the March issue of year 2000
She became the first playboy playmate of the year 2002 (January), she was crowned the playboy playmate following Shanna Moakler, Anka Romensky was Nicole's successor for the title.
Narain participated in the NBC's playboy edition of the adventure reality show- Fear Factor, but got eliminated after her very first stunt.
Here is the list of playboy editions she has appeared in:
| Pictorial/ Editorial | Month | Year | Volume | Issue | Page | Comment |
| --- | --- | --- | --- | --- | --- | --- |
| "Mardi Gras 2000" | March | 2000 | 47 | 3 | 85 | By: Gen Nishino |
| "Playmate Of The Month: Nicole Naturally" | January | 2002 | 49 | 1 | 106- | By: George Georgiou |
| "Prime Time Playmates" | June | 2002 | 49 | 6 | 80-85 | By: Stephen Wayda |
| "Playboy's Playmate Review" | January | 2003 | 50 | 1 | 160 | |
| "Playboy's Nude Playmates" | April | 2003 | | | 56-57 | By: Mizuno |
| "Rock Shots" | April | 2003 | 50 | 4 | 73 | By: Nelly |
| "Nicole Narain": Playboy Lingerie edition | July | 2003 | 92 | 4 | 62-63 | By: Mizuno |
| "Centerfolds On Sex: Nicole Narain" | December | 2003 | 50 | 12 | 161 | By: Nicole Narain |
| "The Year in Sex" | January | 2006 | 53 | 1 | 124 | |
she has appeared in many playboy videos as well, some of them are:
| Year | Name | Comment |
| --- | --- | --- |
| 2007 | No Boys Allowed, 100% Girls 4 | Video documentary |
| 2004 | No Boys Allowed, 100% Girls 2 | Video documentary |
| 2002 | Barefoot Beauties | Video documentary |
| 2002 | Playmates in Bed | Video documentary |
| 2002 | Playmate Calendar 2003 | Video documentary |
Sex Addiction & Rehab
Nicole was part of the first season of the reality show Sex Rehab with Dr. Drew where the experienced doctor Drew Pinsky discussed the issue with the participants and helped them to get over the sexual compulsion. Correlation between alcohol addiction, drug addiction and sex addiction were also discussed, Jennifer Ketcham, James Lovett, Kari Ann Peniche were among the other celebrities who were part of the show.
In 2009 Nicole Narain appeared on "The Joy Behar Show" where she discussed her sex addiction issues with the expert, this was in conjunction with the Dr. Drew show.
Career
Filmography
| Year | Movie/ Series | Character | Comment |
| --- | --- | --- | --- |
| 2012 | What Maisie Knew (Movie) | | as costume intern |
| 2009 | Sex Rehab with Dr. Drew (TV) | | 6 episodes; Season 1 Episodes 1-4,6-7 |
| 2007 | "American Heiress" (TV series) | Sally Hill | 2 Episodes; "Crash and Burn", "Lion King" (Season 1 Episodes 1-2) |
| 2005 | Entourage (TV Series) | Waitress | "Neighbors" (Season 2 Episode 5) |
| 2005 | MADtv (TV Series) | Playboy Bunny | Season 10 episode 22 |
| 2002 | Fear Factor (TV Series) | | |
Music Videos
She has appeared in some of the music videos by popular signers and rappers like R.L, LL Cool J, Fabulous and others.
[ Nicole Narain in Luv U Better]
Song
Year
Artist
Album
Comment
"I Don't Wanna Know"
2004
Mario Winans
Hurt No More

Genre: R&B/Soul

"Baby"
2004
Fabolous
Real Talk

Genre: Hip-Hop/Rap

Feat Mike Shorey

"Luv You Better"
2002
LL Cool J
10

Genre: Hip-Hop/Rap

Grammy Award Nomination for Best Rap

"Got Me a Model"
2002
RL
RL: Ements

Genre: R&B/Soul

ft: Erick Sermon
Sources