Biography
Nicole Narain is an American model, Playboy Playmate and actress. She was the first playmate of the year 2002. Nicole has been featured in numerous Playboy videos.
Nicole is of mixed race, her mother is a Guyanese black woman, while her father is of Chinese and Indian descent. Her last name Narain is of Indian origin.
Nicole Narain & Colin Farrell Sex Tape scandal
Nicole was sued by the British/ Irish actor Colin Farrell in 2005 for leaking their private sex tape of 14 minutes length, though the sale of tapes was ordered to be stopped by the court the tape had gone viral on internet by the time. The case was settled outside the court between themselves without blowing things further, limiting the damage to minimum.
Farrell had argued that she had misused the trust with which he agreed to make the video just for themselves, that she had done such a thing because of her contact with some internet pornography site owner.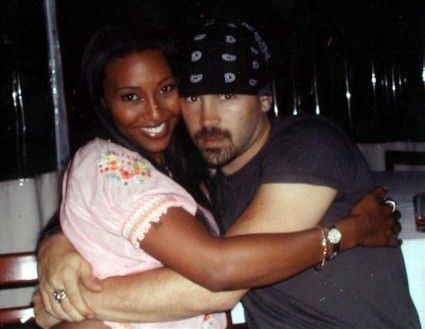 [Nicole Narain with Colin Farrell]
Nicole Narain -Interesting Facts
Nicole's predecessor (playboy playmate): Shanna Moakler; Nicole's Successor: Anka Romensky
Nicole has appeared in the music videos:

"Got Me a Mode" by R.L
"Luv You Better" by LL Cool J.
"I Don't Wanna Know" of Mario Winans
"Baby" by Fabulous

Narain participated in the NBC's playboy edition of Fear Factor, but got eliminated after her very first stunt.
Nicole is a former miss Ohio.
In 2009 Nicole Narain appeared on "The Joy Behar Show" where she discussed her sex addiction.
Nicole was part of the reality show Sex Rehab with Dr. Drew. Jennifer Ketcham, James Lovett, Kari Ann Peniche were among the others who were part of the show.
she has appeared couple of times on the Howard Stern show.
Nicole has appeared in TV shows like:

American Heiress
Entourage
MADtv

Nicole was a track and field athlete in High School
Nicole was the homecoming queen for two consecutive years.
Nicole was spotted at a local bar called Circus by Kevin Kaster, a senior editor at Playboy, it opened doors for her playboy career.
Nicole has had dated Colin Farrell (2003), Nelly (2004), Fred Durst (2002 - 2007), Christian Monzon (2008) previously, there are also rumours that she has dated 50 Cent.
She was discovered by "Playboy" senior editor Kevin Kaster at a local nightspot called Circus.