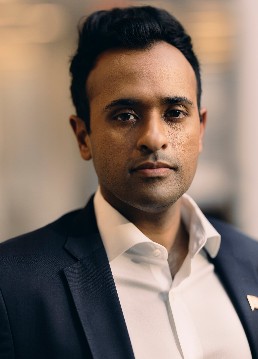 Vivek Ramaswamy
Date Of Birth
August 9, 1985
Age
38 years 1 months 16 days
Day of Birth
Friday
Place Of Birth
Cincinnati, Ohio, United States
Zodiac Sign
Leo
Professions

Entrepreneur

,

Author

Full Name

Vivek Ganapathy Ramaswamy
Personal Information
Religion
Hindu (Monotheistic)
Languages
Tamil , English , Malayalam
Body Features & Measurements
Height

173 CM


5 Feet 8 Inches
Eye color
Black
Hair color
Black
Weight

72 KG


159 lbs

Family Information
Father

V.G. Ramaswamy

Mother

Geetha Ramaswamy

Sons

Karthik Ramaswamy




Arjun Ramaswamy

Wife
Apoorva Tewari Ramaswamy (née: Apoorva Tewari)
Brother

Shankar Ramaswamy

Education Qualifications
Education
Juris Doctor (Post graduation) (Yale University) , Degree in Biology (Harvard University)
Alma Mater

Harvard University




Yale University

Social Networks, Web links
Facebook Profile
Vivek Ramaswamy Facebook Profile
Twitter Profile
Vivek Ramaswamy Twitter Profile
Instagram Profile
Vivek Ramaswamy Instagram Profile
YouTube Channel
Vivek Ramaswamy YouTube Channel
More Information
Net worth

$630 million
Biography
Vivek Ramaswamy is an American Entrepreneur, Author, Activist and an aspiring Politician. He is campaigning to run as the Republican Presidential candidate in the 2024 US Presidential elections. He is known for his intelligent and "to the point" debates, patriotic fervor and honest and open approach to American issues, the Motto of his campaign is "Truth."
Family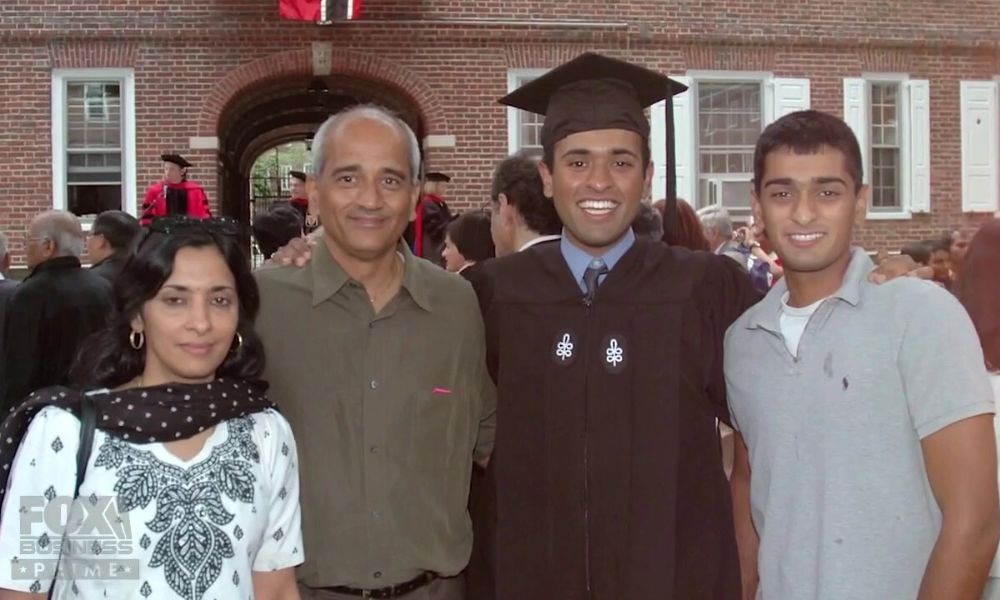 [Vivek Ramaswamy at his Yale Law school graduation with family: Mother Geetha Ramaswamy, father Vivek Ramaswamy and younger brother Shankar]
Vivek Ganapathy Ramaswamy was born on February 9th of August 1985 in Cincinnati, Ohio, United States to Geetha Ramaswamy (Mother)- a Geriatric Psychiatrist and V. G. Ramaswamy (Father)- an Engineer and a patent attorney. He is the eldest son of the Tamil Speaking Indian immigrant couple hailing from Vadakkencherry town of Palakkad district, Kerala State. His parents still have a summer house in the town and stay there when they visit India. Vivek too has enjoyed many summer vacations in the town of Kerala.
Father
Vivek's father V. G. Ramaswamy is from Vadakkanchery in Kerala, he is an Engineer from the National Institute of Technology, Calicut, Kerala (formerly Regional Engineering College, Calicut), he has worked as an engineer and also as a patent attorney, has worked as patent attorney for General Electric.
Mother
Mother Geetha Ramaswamy graduated from the Mysore Medical College & Research Institute, Karnataka. She has worked as a geriatric psychiatrist.
Brother
He has a younger brother in Shankar Ramaswamy, who is also an entrepreneur in his own right, he co-founded the biopharmaceutical company Kriya Therapeutics and works as the CEO.
Education
Public School: Vivek attended public schools till the eighth grade, later his parents decided to move him to a private school so that he could benefit from better quality education.
St. Xavier High School: Vivek attended Cincinnati's St. Xavier High School, a Catholic school of the Jesuit order. He graduated from the High School in 2003. He was the class valedictorian at the graduation ceremony.
[Valedictorian Speech by Young Vivek Ramaswamy, 2003]
Harvard College: Vivek has a bachelor's degree (Bachelor of Arts, Summa cum laude) in Biology from Harvard, he graduated in 2007.

Phi Beta Kappa: He was a member of the 'Phi Beta Kappa' Fraternity at the college.
Harvard Political Union president: He lived in the Kirkland House and was a president of the Harvard Political Union.
Rapper: He was also known for performing Eminem covers; as a rapper, he went by the stage name "Da Vek".
He told 'Harvard Crimson', the student newspaper of Harvard that he considered himself a contrarian who loved to debate
Thesis: His senior thesis was on the ethical questions related to the human-animal chimeras, he won a Bowdin Prize for the thesis. A summary on the thesis was published as an op-ed by Vivek on Boston Globe and New York Times.
Shabtai: He was a member of the Jewish intellectual society 'Shabtai' at college.

In 2011, Vivek was awarded a post-graduate fellowship by the Paul & Daisy Soros Fellowships for New Americans.
Yale Law School: Vivek has a J.D (Juris Doctor/ Doctor of Law) from Yale University. He graduated in 2013. He was already doing well with hedge funds and investment firms; he had a net worth of $15 million before graduating from the law school.
Religion
Vivek's parents are Tamil Hindu Brahmins (equivalent to priests), he was raised with Hindu values. Vivek has spoken about his approach to God to be a Hindu Monotheistic one, comparable to the universal idea of Monotheistic God, and especially to the Christian one. He often attended the events at the Dayton Hindu temple as a kid, along with his parents.
He spent his formative years in Cincinnati's St. Xavier High School, a Catholic school, he studied Christianity in depth at the school and proudly claims to have more working knowledge of Christianity than most Christians. His piano teacher who taught him from elementary school to High school was a conservative Christian, who also influenced Vivek's perspective.
Marriage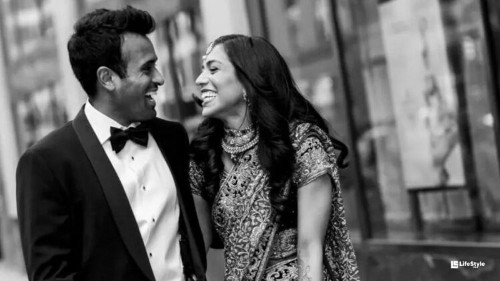 [Vivek Ramaswamy and Apoorva Ramaswamy wedding]
Vivek met his future wife Apoorva Tewari, a medical student at Yale when he was pursuing his J.D at Yale. She had a Bachelor of Science (2011) in Biology from Yale, and was pursuing Doctor of Medicine at the Yale Medical School. They were living next to each other, soon met and started going out.
The couple got married in New York 2015, officiated by one of the Dayton temple priest [12], She wore the traditional Indian bridal dress while he wore suits. He is three years older than her. The couple have two sons named Karthik (born 2020) and Arjun (born 2022)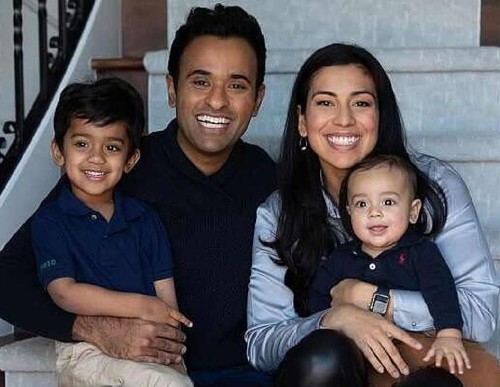 [Vivek and Apporva Ramaswamy family: kids Karthik and Arjun]
Apoorva Ramaswamy
Apoorva Ramaswamy works as a surgeon and as an Assistant Professor. She worked at the New York Presbyterian Hospital, from July 2015 to June 2020. She has been working at the Ohio State University Wexner Medical Center since August 2021.
Apoorva is a laryngologist, she specializes in handling voice disorders and swallowing disorders of cancer patients after treatment, Head and neck cancer, endocrine surgeries. She serves as a member of multiple committees under the Dysphagia Research Society. She is one of the members of the medical advisory board for the National Foundation of Swallow Disorders.
She is also a medical writer with multiple articles published in leading medical journals. [11]
Entrepreneur
Campus Venture Network Inc
In 2007, Vivek and Travis May founded the private social networking website studentbusinesses.com at Harvard, for university students with aspirations to start businesses and paired them with potential investors. Travis May acted as the C.E.O
The website was first tested at Harvard, then later spread to University of North Carolina, Duke University, The Massachusetts Institute of Technology (M.I.T), Stanford University, Yale University and others.
Ewing Marion Kauffman Foundation purchased the website from Vivek and Travis in 2009, the company has evolved into YouNoodle today, it is used for i3 (innovation challenge) competitions at Harvard.
Vivek interned at Amaranth Advisors LLC, a hedge fund, and Goldman Sachs, an investment bank.
QVT Financial: At QVT Financial, the investment management firm, he became a partner at the young age of 28. He worked there from 2007-2014. Some of the QVT investments under Vivek include Palatin Technologies, Concert Pharmaceuticals, Pharmasset, Retrophin.
Roivant
He founded Roivant in 2014, with start-up capitals and investments from QVT Financial and others such as RA Capital Management, Visium Asset Management, D.E. Shaw and Co., Falcon Edge Capital. It is a healthcare company which focuses on applying technology to drug development. It builds subsidiaries in the field of biotech and healthcare. Some of the subsidiaries of Roivant include [9]:
Affivant: to enable the innate immune system to fight cancer.
Altavant Sciences: treatment for pulmonary arterial hypertension
Covant: to discover novel small molecule therapeutics against hard-to-drug immunology and oncology targets.
Datavant: safe healthcare data sharing (later merged with Ciox)
Dermavant Sciences: Focuses on medical dermatology
Enzyvant Therapeutics: therapies for rare enzyme deficiencies
Genevant: RNA based therapeutics
Hemovant: focuses on blood disorders
Immunovant: focuses on autoimmune diseases
Kinevant: focuses on rare autoimmune and inflammatory diseases.
Lokavant: focuses on clinical trial monitoring
Myovant Sciences
Priovant (in partnership with Pfizer): focuses on developing and commercializing novel therapies
Psivant: focuses on physics-driven approach to drug design
Roivant Health: Business unit of Roivant that builds healthcare technologies
Spirovant Sciences: developing gene therapies for cystic fibrosis
Urovant Sciences: treatment of overactive bladder
His company Roivant (ROI stands for Returns On Investment) had just 8 members when it was founded, for such a small company, it had made enormous progress within a short span, the company's evaluation had jumped to $3 Billion by 2015, he sold a portion of Roivant stocks to Viking Global Investors. He had declared capital gains of $35 Million that year.
He stepped down in 2021 to dedicate his time towards writing, as per him, it was the best decision for the company considering he was going to write on sensitive issues, which could draw unnecessary criticism towards the company. He remained chairman until 2023.
In February 2021, Roivant acquired Silicon Therapeutics
Forbes 30 Under 30
Vivek was featured on the Forbes magazine cover in 2015, as his company Roivant had successfully converted 5 Million Dollars into 3 Billion Dollars. His company had become the biggest biotech IPO when it made entry into the stock market. The cover was titled "Boy in the Bubble"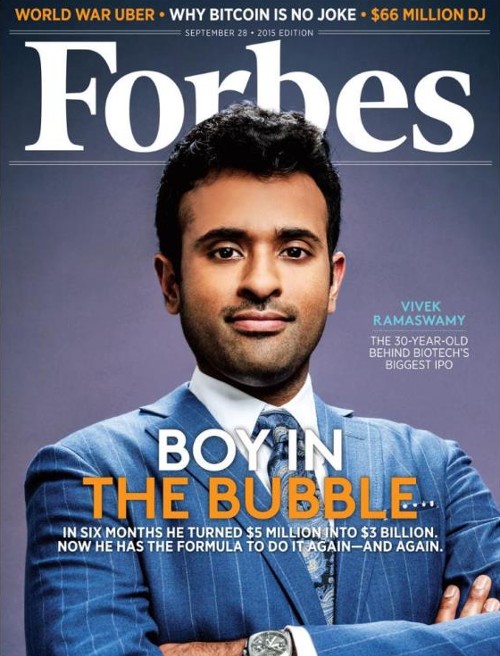 [Vivek Ramaswamy on the Forbes cover]
Forbes Under 40 Richest Entrepreneurs: In 2016, he was again listed in the Forbes list in the Under 40 category, as the 24th richest entrepreneur.
Strive Asset Management
In 2022 Vivek founded Strive Asset Management, an asset management company whose sole stated purpose is to make profits, it was in reaction to the companies pushing social justice agenda to the fore, neglecting the investor interest and wasting resources on irrelevant agendas. The firm raised its founding investments from investors such as Peter Thiel, J. D. Vance, and Bill Ackman.
Vivek has been a vocal critic of the biggest asset managers such as BlackRock, State Street, and Vanguard, which have been mixing business and politics through their ESG activities, which are not in the interest of the investors. He emphasizes on the doctrine of "shareholder primacy"
As of June 2023, Strive asset management had an AUM of $750 million. Vivek remained the executive chairman at Strive Asset Management till February 2023, He resigned from the firm to focus on his presidential campaign.
Vivek worked as the chairman of the OnCore Biopharma, when the company merged with Tekmira Pharmaceuticals (a Canadian biopharma company), he continued to be at the helm of things.
He has also worked as the chairman at the Canadian firm Arbutus Biopharma.
Author
Vivek has authored three books:
Woke, Inc.: Inside Corporate America's Social Justice Scam (2021)
Nation of Victims: Identity Politics, the Death of Merit, and the Path Back to Excellence (September 2022)
Capitalist Punishment: How Wall Street Is Using Your Money to Create a Country You Didn't Vote
Politics
Vivek identified himself with the Libertarian ideas in his college days. He voted for the Libertarian party presidential nominee in 2004. He remained apolitical until 2020 and didn't vote in the 2008, 2012, 2016 presidential elections. He supported Donald Trump in 2020.
Vivek identifies himself as Republican, in 2021 he registered to vote in Franklin County, Ohio, he was unaffiliated. In 2016, he had made donations towards the campaign of Florida Democrat Dena Grayson. From 2020-2023, he has made about $30,000 donations to the Ohio Republican party.
He had considered running for Ohio senate elections of 2022.
Vivek often lists ten ideals he believes in as Ten Truth.
Ten Truths:
God is Real
There are two genders
Human flourishing requires fossil fuels.
Reverse racism is racism.
An open border is no border.
Parents determine the education of their children.
The nuclear family is the greatest form of governance known to mankind
Capitalism lifts people up from poverty.
There are three branches of US government, not four.
The US Constitution is the strongest guarantor of freedoms in history.
Political/ Ideological Positions
Minimum voting age: In May 2023, during his campaign in Iowa, at the Royal Flooring furniture store in Urbandale, Vivek told that he would like to make an amendment to the U.S. Constitution that would allow 18-25-year-olds to vote only if they participate in a 6 month military or first responder service or if they pass a civics test (similar to one that those seeking citizenship in the U.S take). After 25 everyone would have a default voting right. [4]
ESG (environmental, social, and corporate governance): On Climate issues, Vivek agrees that global warming is happening and it is man-made, however he states that excessive guilt is a problem, it doesn't address the issue in the right measure. He has told that he would ban the measurement of carbon-dioxide emissions (being used as a solution for global warming)[2]
Ukraine-Russia conflict: during the Lake Winnipesaukee cruise with the Belknap County Republicans, Vivek expressed that the Ukraine issue does not pose a threat to the United States, unlike the Communist China. As the president, he intends to cut funds to Ukraine, make a deal with the Russians on terms that Russia finds are in their own good interest. Such as, a guarantee to Russia that Ukraine won't join NATO, and Russia would get to keep the territories of Donbas and Crimea, which it already has control of, lifting sanctions and closing U.S. military bases in Eastern Europe, in exchange for Russia staying away from a partnership with China [2]
China-Taiwan issue: Speaking to conservative radio host Hugh Hewitt in August, Vivek argued that Taiwan is crucial to the U.S.A because of its semiconductor industry, that it would take up to 2028 for the U.S.A under his presidency to free itself from the dependency on Taiwan for semiconductor chips. He says that Taiwan's independence is crucial until U.S.A is self-reliant for chips, to ensure that, he would take steps such as moving destroyers and guided missile submarines to the Taiwan Strait, and try to form a military alliance with India, which is another bigger power in the Asia pacific and is actually fighting China for its territorial integrity. After that he wouldn't risk American lives towards the nationalistic dispute between China and Taiwan. [5]
Pardoning Trump: Vivek believes federal criminal charges against Trump are unethical and driven by political motives. He has supported Trump and has vowed to pardon Trump if elected as president of the U.S.A
Edward Snowden and Julian Assange: Vivek has promised to pardon Edward Snowden, he has referred to Snowden's actions as heroic. Also has promised pardon to Julian Assange.
Unapologetic American nationalist: If he is nominated as the presidential candidate, he says he might consider Democrat Robert F Kennedy Jr. as his running mate.
Identity Politics and Victimhood culture: Vivek argues that identity politics leads to "victimhood culture", and it is necessary to replace it with a "merit culture" for the sake of excellence.
Affirmative Action: Vivek calls Affirmative Action the "single biggest form of institutionalized racism in America today" and promised to rescind Executive Order 11246 (signed by President Lyndon B. Johnson) if elected.
Critical Race Theory: He is opposed to critical race theory. He argues that the 'Secular religion' of critical race theory now taught in schools violates Civil Rights Act of 64. He has further said:

This is a toxic ideology that is tearing apart our country at the seams for the next generations, Kids do not ordinarily see race, they're taught to see race. You are being taught of the prisoner of the color of your skin. [10]

Pro-Lifer: Vivek is opposed to abortion, except in cases of rape, incest and danger to woman's life. He opposes federal ban, supports different states having their own law, as is the will of the people.
Abolishing Department of Education, FBI and IRS: Vivek wants to abolish these institutions, fire half of them and replace these institutions with less bureaucracy, and more focused on specific tasks, using an executive order. He has told that he would dismantle federal civil service protections. He has explained the process bit more through a detailed tweet here:

The FBI has a ~35,842 person staff. 56% of the bureau that are professional bureaucrats should be fired immediately. Just 44% of FBI employees are special agents & intelligence analysts—these 15,770 specialists should be reassigned to serve under the narrow focus of other federal law enforcement agencies doing the same specialist work.

Election Day as Holiday: He has proposed to establish Election Day as a Federal holiday, and has supported requiring Voter Id to cast vote.
Drugs: He is in favor of federally legalizing marijuana. He has pledged to use the might of US military to annihilate Mexican drug cartels, though self describes himself as "not a war on drugs person"
Global warming: He is not a climate denier, he believes fossil fuels can grow the economy well enough to fund the climate change mitigation efforts. He is opposed to the "climate cults", he vows to abandon the anticarbon framework as it exists. He is opposed to electric vehicle subsidies.
January 8 2021 incident:
Diversity, Equity, and Inclusion (DEI): He is opposed to DEI becoming mainstream.
On Juneteenth: On 19th June of 2023, Vivek tweeted

"Juneteenth is a new holiday so we still have a chance to define what it means to us. It needn't be about grievance & self-flogging. Let it be a celebration of the American Dream itself." [6]

While speaking at Vail, Iowa, he said "Cancel Juneteenth or one of the other useless holidays" (and have a Holiday for Voting Day) When asked if he thinks Juneteenth is useless, he said "I do", during the conversation, he explained further that "If we had a national commemorative Holiday for everything important that happened in our history, we would have no working days left. But I think the spirit of Juneteenth... we already channel into other Holidays like Martin Luther King Day, like President's day... we shouldn't have redundant holidays to celebrate overlapping purposes, they should have distinct purposes. Let's be honest, the reason for making it a holiday was under political duress...that is not how we should create holidays." [13]
2024 Presidential Campaign Timeline
In February of 2023. Vivek announced on Tucker Carlson Tonight show that he would be running for the Republican Party's nomination in the 2024 U.S Presidential elections.
Vivek released his income tax returns for the last 20 years, in a bid for transparency and encouraged that other candidates do the same.
He crossed 40000 individual donors to his campaign in May 2023, qualifying him to the national GOP debate in August, it is a spectacular feat, that even political veterans like Mike Pence and Chris Christie had not achieved that by May. Vivek's fundraising lags behind Trump and DeSantis's, but ahead of others.
In the early days of August 2023, Vivek was polling 3rd (6.7%) behind Donald Trump(54.6%) and Ron Desantis (14.8%), according to Real Clear Politics polls [7], FiveThirtyEight also put him at 3rd(7.2%) behind Trump(53.7%) and Desantis(15%) [8]
Iowa State Treasurer Roby Smith endorsed Vivek in August 2023, "Vivek Ramaswamy is a businessman, a fiscal conservative, and a champion of the taxpayer. He shares my ideals and the ideals of many Iowa families and small business owners"
Trump
Vivek has maintained good relations with other republican contestants. Especially so with former president Donald Trump. When Trump was arrested in Miami in June 2023, Vivek took to Twitter to criticize the move as a politically motivated hounding, he announced that he would pardon Trump if he was elected to the White House.
While talking to hosts on the All-In Podcast [3] Vivek revealed that he has met many of the candidates he'd be contesting against, that he is closer to Ron Desantis than anyone else. He also said that he has had dinner with Trump at Trump's New Jersey club in 2022, but way before he even thought of contesting in elections. They gain met in April 2023 at National Rifle Association of America convention.
Trump too has only been friendly with Vivek, so far. On TruthSocial, Trump's social media handle posted in appreciation of Vivek.
I am pleased to see that Vivek Ramaswamy is doing so well in the most recent Republican Primary Poll, CBS YouGov. He is tied with Mike Pence, and seems to be on his way to catching Ron DeSanctimonious. The thing I like about Vivek is that he only has good things to say about "President Trump," and all that the Trump Administration has so successfully done—This is the reason he is doing so well. In any event, good luck to all of them, they will need it!
Philanthropy
Roivant Social Ventures: In 2020, when Vivek was the CEO of the Roivant Sciences, the company established a nonprofit subsidiary for the purpose of finding solutions to social issues. The organization has worked to promote health equity and diversity within the biopharma and biotech industries.
Chapter Medicare: Vivek co-founded Chapter Medicare, a Medicare Navigation platform in 2020
COVID-19: He served on the COVID-19 response team
lzheimer's Drug Discovery Union: Vivek and wife Apoorva have made donations towards lzheimer's Drug Discovery Union
American Civil Liberties Union: is one of the charities to which Vivek has donated towards.
Controversies
Vivek's campaign team admitted that they had paid a Wikipedia editor to edit the page before announcement of candidacy. Forbes suspects that it may have been to make the page appealing to republican voters, by removing references to him taking Paul & Daisy Soros Fellowship (Paul and Daisy are relatives of George Soros) and such other points not appealing to Republicans. Vivek's team denied attempts of sanitization, and argues it was entirely to remove distortions.
Roivant Social Ventures, a social-impact arm of Roivant have worked in the past in support of pro-DEI and ESG initiates, which Vivek is opposed to now
As an investor in QVT, Vivek had invested in Martin Shkreli's Retrophin, Martin Shkreli was prosecuted by U.S Department of justice for fraud. Vivek has called Shkreli both "brilliant" and a "pathological liar"
Roivant has not been profitable according to sources. But it has been key in bringing out a few life saving drugs.
Vivek hasn't been critical of Trump, and Trump has only been appreciative of Vivek. It is still early days, what happens when they are pitted against each other in debates is yet to be seen.
Hunter Biden pardon: When asked about his promise to pardon Trump, Vivek explained that he is open to pardon anyone that was a victim of a politically motivated persecution, in the interest of moving the country forward. When specifically asked about Hunter Biden case, he has said that the best thing to do would be to "investigate and publish all findings relating to Hunter Biden and Biden-family business dealings".
W.E.F listed him as one of the "Young Global Leader', he had told them not to publish his name and has filed a lawsuit against, them, he answers some of the controversies in this short video
Trivia
Tennis Player: He was a nationally ranked junior Tennis player in his school days.
Piano Player: Vivek is trained in Piano, he shows off his good Piano skills in this video
He is the youngest Republican ever to run for the President.
Vivek Ramaswamy, the rapper: Vivek used to be a rapper at (Harvard) college, where he used the stage name "Da Vek" and performed Eminem covers. During his Republican presidential campaign he gave a glimpse of his rapping prowess.
Vivek is a vegetarian.
He has previously lived in New York. He owned a house in Butler County, Ohio back in 2016. As of 2023, the only real estate he owns is a house in Columbus, Ohio in Franklin County.
Quotes
[When asked why he is running for the President] To make the next generation of Americans actually proud to be American [2]
[When asked about his religious beliefs] I'm not Christian. I was not raised in a Christian household... But we do share the same Christian values that this nation was founded on.
[On being a Hindu appealing to majority Christian voters] The fact that we are believers, that we have that sense of humility, that we raise our children with true respect and fear and love of God — that's so much more unifying than the name of the God people pray to. [12]
I'm not running to lead a political party. I'm running to lead a nation. [Twitter Post linking to MSNBC interview]
I'm a George Washington America First conservative: act in the national interest of U.S. Just as Nixon opened China to win the Cold War against Russia, the next president must open Russia to defeat China - starting with a peace settlement in Ukraine. [On Russia-Ukraine-USA relations]
Are we a nation of Gods, are we a nation of men? we are a nation of human beings, human beings are by definition flawed, if you have nation built on ideals, and it is comprised of human beings and not angels, then you will short fall of those ideals [14]
The reason the people don't trust the government is that the government doesn't trust the people. In God we trust and government we distrust [Source]
There's no such thing as a "noble lie." Just tell us the TRUTH. About Covid-19. About Hunter Biden. About the trans school shooter. About Ukraine. About government-tech censorship. About the Trump prosecutions. [Source]
Hard work & taking risks are part of what it means to be American [source]
[On LGBTQ movements] in the name of protecting against tyranny of the majority, we have created a pervasive tyranny of the minority that is far more oppressive in its effect.
[On his style of candidacy] We don't have 20 years left. Some stand for incremental reform. I stand for revolution
[On Trans movement] When someone says they're trans, it usually means *something else* is badly wrong in their life. Let's abandon the farce that the "humane" thing to do is to affirm their confusion, rather than to actually help. It's inhumane.
Patriotism *is* cool. Faith *is* cool. Family *is* cool... Make family cool again. Make faith cool again. Make patriotism cool again. Make hard work cool again.
[Affirmative actions] Affirmative action is a badly failed experiment: time to put a nail in the coffin & restore colorblind meritocracy.
[On charges against Trump ] We shouldn't be some banana republic where the party in power uses police force to arrest its political opponents. I'm not running against the other candidates. I'm running *for* our national revival.
[on hounding of Trump] A nation of sheep breeds a government of wolves. It is un-American for the ruling party to use police power to arrest its political rivals. Principles go beyond partisanship. Let the American people decide who governs.
[On Civil services] If somebody works for you—and you can't fire them—they don't work for you. You work for them. Welcome to federal bureaucracy. End it. I will replace civil service protections with 8-year term limits.
[On Biden's student loan forgiveness] Biden's student loan forgiveness disaster is effectively a regressive tax disguised as a progressive policy. Barely over 1/3 Americans get a 4-year degree, yet Biden's student loan forgiveness plan forces every citizen to pay for anti-American gender-studies majors. It's a scam
[On American Woke-ism] We're going through a modern Spanish Inquisition in America, run by a new church. It's not a church of God. It's a new secular cult.
[Free speech] I'm a free speech absolutist. Especially for those who disagree with me.
Sources
Vivek Ramaswamy on Wikipedia
NYMag article on Vivek Ramaswamy, titled "Vivek Ramaswamy Is the Best Tennis Player in the GOP Primary"
Vivek on AllinPodcast
Vivek Ramaswamy tweet on Juneteenth
2024 Republican primary polls- FiveThirtyEight
Roivant Sciences on wikipedia
Vivek Ramaswamy on Critical Race Theory
Apoorva Ramaswamy coverage on LifeStyleUG
Vivek Ramaswamy as a Hindu contesting for the top post, coverage on NewYork Times
Vivek speaking on Juneteenth at Vail, Iowa