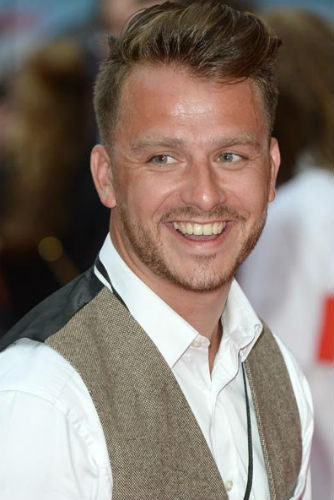 Dapper Laughs [Deleted]
Date Of Birth
November 28, 1984
Age
35 years 7 months 8 days
Day of Birth
Wednesday
Place Of Birth
Clapham, London, England
Zodiac Sign
Sagittarius
Professions
Model ,

Comedian

, Writer
Full Name

David Daniel O'Reilly

Other Name

Daniel O'Reilly
Personal Information
Residence

London, England

Religion
Christianity (Agnostic)
Language
English
Star Sign
Gemini
Nationality

British

Ethnicities
Caucasian , British
Complexion
White
Sexual Orientation
Straight
Body Features & Measurements
Height

178 CM


5 Feet 10 Inches
Eye color
Blue
Hair color
Light Blonde
Weight

75 KG


165 lbs

Body Type
Athletic
Family Information
Daughter

Neve

Love, Romance, Marriage
Girlfriend
Rae (Model)
Career Information
Years Active
2013-
Favorites, Hobbies, Likes/ Dislikes
Hobby
Dancing
Social Networks, Web links
Twitter Profile
Dapper Laughs [Deleted] Twitter Profile
Instagram Profile
Dapper Laughs [Deleted] Instagram Profile
Snapchat
dapper29
Contact
Contact (Email)

jason@asmtalent.co.uk

More Information
Net worth

$500,000
Biography
Dapper Laughs is the stage name of David Daniel O'Reilly a social media personality, he is popular for his videos on social media.
Dapper Laughs was born on 28th November 1984 in Clapham, London, England. He lives together with a model named Rae and has a child with her, a girl named Neve.
Celebrity Big Brother: Daniel has entered the Celebrity Big Brother 2018 house on January 2018. The show was launched on January 2nd. He entered the house on the 4th day. Other participants on the show are: Amanda Barrie, Andrew Brady, Ann Widdecombe, Ashley James, Elgin Baylor Lumpkin, India Willoughby, Jess Impiazzi, John Barnes, Jonny Mitchell, Maggie Oliver, Malika Haqq, Rachel Johnson, Shane Jenek, Shane Lynch, Wayne Sleep.
Dapper Laughs: Facts & Trivia
Moisturiser: Dapper gained the nickname after his video of putting wet floor signs in the sea went viral on internet.
Social Media presence: Dapper has huge following on Facebook, he used to be big on Vine as well (now it is closed), he is also active on Youtube, Twitter, Snapchat as well.
Proper Moist: A (single) song by Dapper trended at #15 on the UK chart of singles in 2014.
Moist Tour: Dapper toured the UK back in 2014 with a friend and viner Joe Charman
Take It To The Base: He released a music video on youtube in July 2014
Dapper Laughs: On the Pull- a somewhat controversial British dating show with sketch comedy aired on ITV2, where Dapper provided dating tips, some called it sexist and promoting violence against women
Proper Naughty Christmas: an album by Dapper released in November 2014. The money collected through sales was intended to be donated to charity shelter for homeless people. The charity foundation rejected the donations from him for the lyrics was abusive of homeless people. He apologized for the lyrics.
Controversy: His comments on a woman pleading for rape angered the audience and there were protests urging ITV to cancel his show, the hashtag #CancelDapper was trended on social media, there was a petition with more than 65000 signatures to cancel his show. ITV cancelled the 2nd season of the show after protests. Opining about that he said 'She has the right to do that'
He had temporarily discontinued his 'Dapper Laughs' character only to resume it a couple of months after in January 2015.
The Res'Erection: A stand-up show where he restarted appearing as Dapper Laughs
Amateur boxing: In support of 'Help for Heroes' he fought in the ring and defeated his opponent by a slight margin (10/9/10), where two judges thought he fought better while one sided with the opponent
He is a good dancer
He has a pet dog.
He has a sister.
He was called Almanac for rape by someone in the media through an article.
Dapper Laughs: Quotes
If you make a girl laugh, you make her moist
If she is looking at me and I'm playing with her hair by the end of the night she will need a wheel chair.
If she cries, she is playing hard to get.
(When asked why does insensitive content) At the time I didn't know it will become big and viewed by larger audience, it was meant for certain demographics
I think it's important that if we overstep the mark and cause upset that we apologise.
Dapper Laughs is an extension of myself
I did not realize that I was causing a problem
I was attempting to push the boundaries but had got carried away
Girls love it when you whistle at them
Be subtle when you want to get a bartender's attention, they can be a little stressed.
Look girls, I'm not a piece of meat, okay.
Bumping into ex-girlfriends can be awkward, remember you loved them once, be nice.
Lot of people think I'm stupid, what they don't know is that I have got a PhD. Pretty hrad D***
To pick up English girls just say they smell nice.
When a girl has nice personality, take notice of it
London is a scary place, you got to pretend you are hard
Never eat banana around gay men
(On entering Celebrity Big Brother House) I'm not sure if I'm going to get booed, if I get boooed in, it is better than getting boooed outside.
The cage was open, but the beast was asleep
Trumps the same age as my grand dad & we don't even let him drive any more and the Americans gave him a Nuclear Button to play with
Let's leave the crap stuff in 2017
f**k everyone off that drags you down and just spend holiday time with those that warm you
Is it sad to go cinema on your own, asking for a friend
If your experiencing what you think is your lowest point right now it's life's way of preparing your for what's next, so you appreciate it, when it gets better, so you enjoy it
(about TV show) I don't regret it, I wish I had done it differently.
It's taken me about 3 years but I've finally worked it out, some people are just f**king t**ts
There is a problem with men's attitude towards women.
Since that little thing(daughter) came into my life I have been a changed man, a better man
I honestly think you need to have the worst lows to appreciate life. It will always be ok.
If everything was always going right for you all the time you'd act like a d**k, I was when it was for me
Fed up of people getting mouthy online then getting upset when they get a response. Put down your keyboard & go try it in real life.
There are millions of people who think they know me based on one joke they heard through media (which misinterpreted me)
I don't make jokes about rape, I don't think it is funny, I have never made jokes about rape.
I write comedy for Dapper Laughs in a way it is bit shocking, sometimes it can be bit distasteful
Calm down it wasn't a one night stand, it is an audition.
Everyone has got right to their opinion, feminists are right in some of the things, but judging me by one joke isn't done.
I can be at times one of the insecure people as a result of the industry, drinking becomes more important than the job at those times