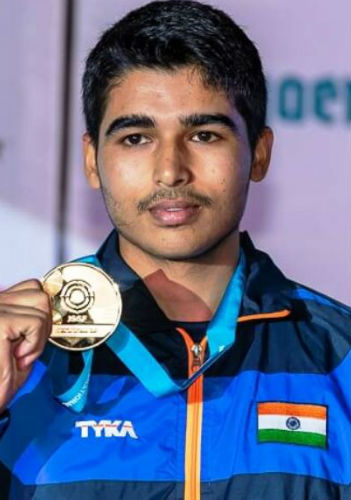 Saurabh Chaudhary [Deleted]
| | |
| --- | --- |
| Date Of Birth | May 11, 2002 |
| Age | 18 years 1 months 25 days |
| Day of Birth | Saturday |
| Place Of Birth | Kalina, Meerut, Uttar Pradesh, India |
| Zodiac Sign | Taurus |
| Profession | Shooter |
| Name (Hindi) | सौरभ चौधरी |
Personal Information
Residence

Kalina, Meerut, Uttar Pradesh, India

Religion
Hinduism
Languages
Hindi , English
Nationality

Indian

Ethnicity
Indian
Complexion
Brown
Sexual Orientation
Straight
Trademark
young mustache
Body Features & Measurements
Height

173 CM


5 Feet 8 Inches
Eye color
Dark Brown
Hair color
Black
Weight

60 KG


132 lbs

Shoe Size
10
Body Type
Athletic
Family Information
Father

Jagmohan Siwach Chaudhary

Mother

Brajesh Devi

Brother

Nitin Chaudhary

Sister

Sakshi Chaudhary

Career Information
Years Active
2015-
More Information
Coaches
Pavel Smirnov (National)
Amit Sheoran
Jaspal Rana (National)
Biography
Saurabh Chaudhary is an Indian pistol shooter who contests in the 10m Air pistol sport competitions. He holds both Junior world record as well Senior world record in the 10m air pistol category. Saurabh Chaudhary most known for winning Asian Games 10m competition in 2018 & securing a 2020 Olympics quota at the 2019 ISSF world cup held in Delhi.
Saurabh Chaudhary was born on May 11th 2002 in Kalina Village, Meerut, Uttar Pradesh, India to Jagmohan Siwach(father) & Brajesh Devi(mother).
Saurabh has two elder siblings in Nitin Chaudhary(brother) & Sakshi Chaudhary(sister).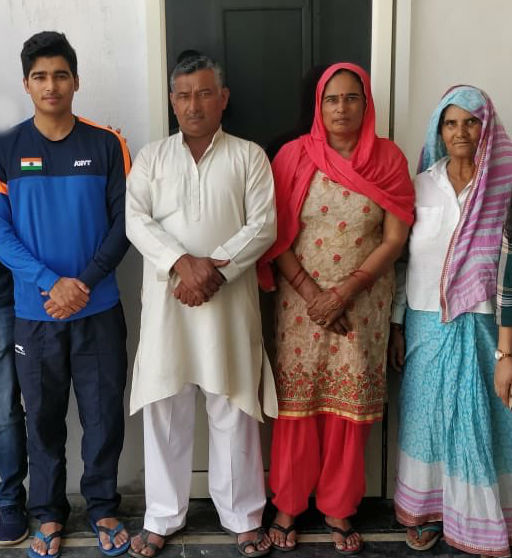 Saurabh Chaudhary parents- Mother & Father
[Credits: OGQ Team (twitter)]
Saurabh Chaudhary Facts & Trivia
Son of a farmer: Saurabh's ancestors are farmers from the Ganga-Yamuna valley. His father is a sugar cane farmer.
Saurabh: The Sanskrit word 'Saurabh' means Radiant or Bright. Used to mean charming.
The beginning: Saurabh's interest in shooting started with shooting balloons at fairs with plastic guns.
New Pistol: After his initial success, the family decided to get him his own pistol. They got him a new Morini Titanium pistol.
Youngest Indian Gold medalist: Saurabh became the youngest Indian athlete to win a gold medal at the Asian Games in 2018
Unique Record: Saurabh holds the distinction of being the only Indian shooter in the history so far to win Gold medals at all of- ISSF World Cup & ISSF World Championship, Youth Olympic Games, Asian Games & Asian Air Gun Championship
Junior World Record: Saurabh achieved the finals junior world record of 245.5 at the ISSF world championships held at Changwon, Korea in September 2018. He qualified with the score of 581-18x (581/600 with 18 bulls eye), he was the third among qualifiers, just behind the Korean duo of LIM Hojin & SUNG Yunho
Senior World Record: Saurabh created a senior finals world record at the ISSF World Cup held at Delhi with a gold medal winning score of 245.0, a 5.7 points above Serbian MIKEC Damir. He had qualified to the finals with a qualification score of 587-20X, LEE Daemyung of Korea had topped qualifications with 588-27x. In May 2019 Munich World cup Saurabh bettered his previous world record with a whopping 246.3 points.
He shoots at the Veer Sahamal Rifle Club located in Binauli , Baghpat, Western Uttar Pradesh, where he is coached by Amit Sheoran , founder of Aryan Gateway. Binauli is about 15km away from his village Kalina.
Youth Olympic Games: Saurabh won the 10m air pistol competition at the Parque Sarmiento shooting range in Buenos Aires, Argentina. Saurabh qualified top with the score of 580-19x and won the finals with a 244.2, a new record at the Youth Olympics Games. After the event he donated his medal winning pistol to the Olympic Museum in Switzerland (as requested by IOC).
Indian Olympics Medal prospect: Saurabh along with a select few is considered a medal prospect for India at the 2020 Tokyo Olympics, he qualified for the event at the 2019 ISSF world cup held in Delhi with a world record score, he won India a quota place, he will have to qualify himself again in the national trials too. Saurabh is also expected to do good in the mixed team event as well. Thus doubling the hopes of medals for shooting from him.
A champion of the finals: Saurabh rarely tops the qualifications, but his consistency and precision give him the edge ahead of others in the finals. He has won Golds in most of his finals encounters, for a teenager he has a firm head that keeps him relaxed and focused. Even the veteran shooters have been bogged down under pressure but not Saurabh (It reminds of Tomoyuki MATSUDA of Japan faltering in the 2018 Asian Games finals just before the final shot, it handed Saurabh a Gold)
Saurabh is supported by OGQ (Olympic Gold Quest) an initiative by the Indian sporting legends with the purpose of identifying talents and supporting them in every possible way to help them get a medal at the Olympics. an initiative founded by Geet Sethi and Prakash Padukone, supported by Leander Paes, Viswanathan Anand, Viren Rasquinha..
Saurabh is supported by the TOPS (Target Olympic Podium Scheme) scheme of Govt. of India. He is one of the very few young athletes to be selected.
Saurabh started training in shooting only in 2015, by 2016 he was shooting in the Asian Championships (junior).
Hard Practice: Saurabh revealed in an interview that he starts practicing as early as 5 A.M. At times he practices even in the nights, some neighbors would complain in the beginning, but they got used to it eventually, especially after his world record achievements and one Gold win after another. Sometimes he wakes up at 11 when everyone is asleep and starts practicing shooting.
Shooting Range at home: travelling every time to practice shooting was consuming lot of time, also practicing at the range was getting difficult with many aspirants occupying the range, it would only allow him short time. He got a shooting range constructed at home, the animal shelter was turned into the shooting range. His coach Amit Sheoran was the one to suggest that.
Saurabh defeated Olympic medal winner Jitu Rai at the National Selection trials just before Asian games 2018.
He is promised a job and 50 Lakhs by the U.P government after his Asian Games win.
When asked about Saurabh's activities and behavior, his father Jagmohan says "His world is in his mind. Even we have not fully understood him and his nature. He just needs his pistol and the shooting range and that is all he cares about. He doesn't fuss over anything else"
Saurabh's father Jagmohan on his son- "He has been like this since his childhood. He did not talk much to anyone or went out to play. The whole family shares the same nature. He generally stays home, in his room"
Skipped 10th exams: Saurabh skipped his 10th exams to participate in the ISSF world cup at Delhi in 2018. However the sacrifice turned sweet as he went on to win the Gold medal with a Olympic quota. He is set to take the exams next year.
Saurabh was congratulated by Prime Minister Narendra Modi on his Asian Games Gold win.
Consistency: Saurabh shoots at an average of 585 in the qualifications (during trials) & hits around 245 in the finals. These scores would have placed him 2nd in the 2016 Olympics, and it would have won him a Gold in the finals.
Yoga & Meditation: Saurabh practices Yoga and Meditation in the free time. He says it keeps him focused and relaxed.
Saurabh Chaudhary & Manu Bhaker: The duo of Saurabh & Manu have been winning medals in the mixed category since the junior days, they won a Gold medal at the ISSF world cup at Beijing in 2019 in the mixed 10m air pistol category
Video: Saurabh creates World Record in Delhi
Saurabh Chaudhary Quotes
I like farming, I don't get much time off from training but whenever I do, I go back to my Village & help my father
[On the close encounter in the Asian Games finals 2018] I did not feel any pressure
[About world record and Olympics Quota place] I never thought of the quota, just wanted to do my best. And never thought I will make a world record
{About his achievements] If I made it, it's because of the support of my family, and the guidance of my coaches
My family really played an essential role in it. They always supported me. They never said no. They gave me all the assistance I needed to do well in the sport. I hope to continue to perform well to make them proud.
I don't have any role models in shooting really. I just try to get better myself