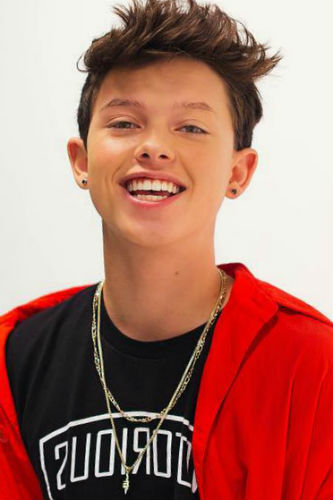 Jacob Sartorius
Date Of Birth
October 2, 2002
Age
21 years 1 months 29 days
Day of Birth
Wednesday
Place Of Birth
Tulsa, Oklahoma, United States
Zodiac Sign
Libra
Professions

Social media celebrity

, Singer ,

Song writer

Nicknames

Jake

,

J

Full Name

Rolf Jacob Sartorius
Personal Information
Residence

Los Angeles, California, United States

Religion
Christianity
Language
English
Nationality
American
Ethnicity
Caucasian
Complexion
White
Trademarks
Hairstyle , Love boy

Body Features & Measurements
Height
173 (2019) CM
5 Feet 8 Inches
Eye color
Hazel
Hair color
Dark Brown
Weight

55 KG


121 lbs

Shoe Size
8
Body Type
Slim
Waist
21
Chest size
34 (2019)
19
Waist Size
28
Biceps Size
11
Family Information
Father

Rolf Sartorius

Mother
Pat Sartorius (Patricia; Social media manager)
Brother

Trey Sartorius

Sister
Caroline Sartorius (born in 1997)

Love, Romance, Marriage
Girlfriends
Maddie Ziegler (Ex)
Luna Blaise (Rumored)
Jenna ortega (rumored)
Millie Bobbie Brown (Ex)
Baby Ariel (Ex)
Career Information
Years Active
2015-
Favorites, Hobbies, Likes/ Dislikes
Favorite Foods
Chocolate milk
Pizza
Mac and cheese (most favorite)
Favorite Color
Blue
Favorite Movie
Pirates of the Caribbean
Favorite Song
Don't (by Bryson Tiller)
Favorite TV show
Stuck in the Middle
Likes
Tacos
Dunkin Donuts
Pasta
Hamburger
Mac & Cheese
Sky jumping
Favorite Restaurant
Taco Bells
Favorite Snacks
Doritos
Lays chips
Snickers
M&M
Favorite Festival
Halloween
Social Networks, Web links
Facebook Profile
Jacob Sartorius Facebook Profile
Twitter Profile
Jacob Sartorius Twitter Profile
Official Website
Jacob Sartorius Official Website
Instagram Profile
Jacob Sartorius Instagram Profile
YouTube Channel
Jacob Sartorius YouTube Channel
Snapchat
JacobSartorius
Spotify Link
Jacob Sartorius Spotify Link
Apple Music
Jacob Sartorius Apple Music
Musical.ly
JacobSartorius
Merchandise Link
Jacob Sartorius Merchandise Link
More Information
Friends
Baby Ariel
Aaron Carpenter
Taylor Caniff
Shawn Mendes
Cameron Dallas (internet personality)
Net worth

$500-$1 Million

Celebrity Crush
Selena Gomez
Ariana Grande
Instruments
guitar
Piano
Biography
Jacob Sartorius is an American Pop Singer, Song writer, social media celebrity known for his short videos on musical.ly and TikTok.
Jacob Sartorius was born as Rolf Jacob Sartorius on 2nd October 2002 in Tulsa, Oklahoma, United States. He grew up in Reston, Virginia with his adopted parents (Rolf Sartorius & Pat Sartorius). He grew up with a sister named Caroline. Caroline and Jacob's mom appear in some of his videos.
Rolf Sartorius works as a CEO of Social Impact(SI), a company based in Virginia. He has worked as a teacher previously and taught 'Foreign Service' in Georgetown University. Worked in World Bank as well.
Interesting Facts
Jacob was adopted: Jacob's biological parents gave him up for adoption after struggling to give him a better life, His adopted parents raised him up in Reston, Virginia.
Rolf: Jacob's actual first name is Rolf, it is the same as his father's and grandfather's. He likes to go by Jacob.
Early beginning: Jacob's interest in acting and performing started at the age of 7, It was in the school he realized he wanted to seek a future in performance arts.
Top searched celebrity: Jacob Sartorius was the top 9th most searched musical artist of year 2016.
Billboard Hot 100: Jacob's debut single song 'Sweatshirt' made it into the USA & Canada top 100 list in 2016.
Jacob plays guitar and also sings vocals.
Bullying: He was bullied at school, he made videos on bullying which became viral, but sadly, he got bullied more at school. He had to change 3 schools in 2015 alone to escape from the "verbal and physical" bullying.
Medications & Therapy: Jacob revealed in February 2019 that he had been undergoing therapy since when he was 11 year old and taking medications to cope with the stress and troubles.
Vine Videos: Jacob started uploading videos on Vine in 2014 at the age of 11, his first video which was about bullying , it became quickly popular and provided him the wind to a successful career online
Musical.ly: Jacob rose to fame through his short videos of lip-syncing to popular songs and videos, he gathered millions upon millions (20+ million in 2019) of followers in a quick time.
Jacob did a magical trick based fun video 'The Magic Key' with Collins Key for youtube in 2016.
Jacob's first live performance was in Baltimore on 7th May 2016
Comparison to Justin Bieber: During his Magcon tour in Baltimore he was compared to Justin Bieber, 'Business insider' called him 'The next could be Justin Bieber'
Gym workout: Jacob doesn't miss Gym sessions, he has put on good muscles in the biceps.
March for Our Lives: Jacob attended the 2018 March Los Angeles 'March For our Lives' protest, he was one of the speakers who spoke at the event
Millie Bobbie Brown: teen actress Millie Bobbie Brown (of Stranger Things) dated for 7 months from 2017 till July 2018.
Some of his favorite snacks are: M & Ms, Snickers, Lays chips, Doritos
Pets: He has cats named Prince. He loves dogs too, preferably a German Shepherd. He once had a bird, it flew away.
Jacob's brother Trey Sartorius is a Nickelodeon actor.
If we are to go by his video (assuming it was not acting), He is terrible at Spelling words.
Jacob made his TV debut on MTV's TRL
Twitter success: He was adjudged 5th most engaged user on Twitter in 2018
Instagram: Jacob is one of the most engaged users on Instagram, with plenty million followers
Youtube: Jacob's youtube channel, though has less followers than Instagram still has millions of followers, He often publishes his music videos on youtube channel, he has a secondary channel where he previously used to publish videos on his life.
Best Friend: A hometown friend named Ma is Jacob's best friend, they went to preschool together.
Pet peeves: He hates it when people bite their nail in public
He wanted to be a Pirate after watching 'Pirates of the Caribbean' series
Braces: He used to wear braces for a long period since childhood, after removing braces, he said "It feels butt naked in the mouth"
He wants to learn how to ride a unicycle, "may be I can join circus one day" he quips.
One thing he can't live without- Mobile phone
He likes it when his fans change their last names to "Sartorius" to show him support
Does he like dating his fans? Yes, if they have nice personality, he doesn't mind
What age does he like to get married? 25
Dream job? He wanted to be a construction worker as a kid
Sartorians: His fans are called Sartorians.
He can wiggle his ear
He can juggle things in his hand
Controversy: Jacob once talked critical of a fan's looks, he faced lot of criticism for that
Tattoos: Jacob doesn't have any tattoos on him, he wants get tattoos after he turns 18, He wants to have Bill Nye (TV presenter, Science promoter) on his back.
Trivia
Sweatshirt: Jacob released his first music video in 2016 through Alissa & Emmas Music Group. The song was written by Alissa Ingham & Emma Delaney Haley Rae Cohen, produced by Tyler Costantino. It featured actress Luna Blaise, The video became an instant target to internet trolls, it received about 75% dislikes on the youtube page, with more than 2 million dislikes, it in fact made into the most disliked youtube videos list on wikipedia. The song reached peak rank of 81 in Canada and 90 in USA.
The Last Text (Extended play): EP had 8 songs in it. It was produced by T3 music group with- Christopher Rojas, Mario Marchetti, Russell Ali, Sanjoy. EP trended in the 32nd position on the US billboard.

Last Text
By Your Side
Bingo
Love Me Back
Jordans
All My Friends
Hit or Miss
Sweatshirt (remix)

Hit or Miss: It was produced by T3 Music Group, written by Jacob Sartorius himself and the critics compared it to the early songs of Justin Bieber.
Left Me Hangin', Better With You, Where Have You Been? are among his other EPs.
Award Nominations: He has received quite a few award nominations over the years

Teen Choice Awards
iHeart Radio Music Awards
Kids' Choice Awards
Radio Disney Music Awards

Some of the tours he has been part of are:

All My Friends Tour
The Last Text World Tour
The Left Me Hangin' Tour
Night & Day Tour
Quotes
[To his fans] I'm pretty open with you guys, I consider you guys my family.. I feel like I can share anything with you guys.
[About his adoption] Luckily for me, I was adopted by 2 loving parents, my mom and dad.
You guys give me the support that I need to get through any tough times that come.
Through the thick and thin, haters and supporters, I love you guys
[About link ups] I don't date every girl that I talk to
I make tunes for your ears and I love chocolate milk
Not everything you think is true
You deserve happiness & peace, you don't have to figure everything out right now, take a deep breath
Be different it is way cooler than trying to impress everybody
I fell in love with you because you loved me when i couldn't love myself
You can't change who you are without changing what you do
They don't appreciate until you in a casket
Half the time I say yes I mean no.
It scares me when people say you know yourself better than anybody because to be honest half the time I'm alone i don't know who i am or what i want
I'm so dedicated to whatever I do
I see through the smile that you are faking

I get bored in airports

I'm the king of deleting pictures
The world ain't all sunshine and rainbows. It is a very mean and nasty place & i don't care how tough you are, it will beat you to your knees and keep you there permanently if you let it.
They used to say I'd never make it, and that's the reason that I will
I'm not good at taking compliments
References