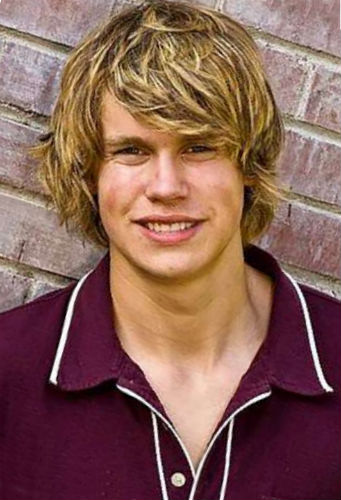 Rory John Gates
| | |
| --- | --- |
| Date Of Birth | May 23, 1999 |
| Age | 24 years 4 months 2 days |
| Day of Birth | Sunday |
| Place Of Birth | Seattle, Washington, United States |
| Zodiac Sign | Gemini |
| Profession | Student |
| Other Name | Rory Gates (the name he goes by) |
Personal Information
Residence

Medina, Washington, United States

Religion
Christianity (Roman Catholic)
Language
English
Nationality
American
Ethnicity
Caucasian
Complexion
White
Trademark
Blonde Hair

Body Features & Measurements
Height

177 CM


5 Feet 10 Inches
Eye color
Brown
Hair color
Grey
Weight

75 KG


165 lbs

Shoe Size
9
Dress Size
6
Body Type
Athletic
Family Information
Father
Bill Gates (William Henry Gates III)
Mother
Melinda Gates (Melinda Ann French)
Sisters

Phoebe Adele Gates




Jennifer Katharine Gates

Uncles
Raymond Gerald French (Maternal)
Steven Michael French (Maternal)
Grandfathers
Bill Gates Sr. (Paternal)
Raymond Joseph French, Jr. (Maternal)
Grandmothers
Elaine Agnes Amerland (Maternal)
Mary Maxwell Gates (Paternal)
Aunts
Kristianne Gates (Paternal)
Elizabeth Gates (Paternal)
Susan Marie French (Maternal)
Great Grandfathers
James Willard Maxwell
William Henry Gates I
Great-grandmothers
Adele Thompson
Lillian Elizabeth Rice

Education Qualifications
Education (Graduation)
Degree in Computer Science & Economics
Alma Mater

University of Chicago

Education (Post-Graduation)
MBA
Social Networks, Web links
Facebook Profile
Rory John Gates Facebook Profile
Instagram Profile
Rory John Gates Instagram Profile
More Information
Net worth
$10 Million (??)
Biography
Rory Gates is the second child and first son of the richest Billionaire Bill Gates & his wife Melinda Gates- a philanthropist & former general manager at Microsoft.
Family- Childhood
Rory John Gates was born on 23rd May 1999 in Seattle, Washington, United States.
Rory Gates is the 2nd child of Bill Gates and Melinda Gates, and their only son, the Children of Gates couple are:
Jennifer Katharine Gates (born in 1996)
Rory John Gates (born in 1999)
Phoebe Adele Gates (born in 2002)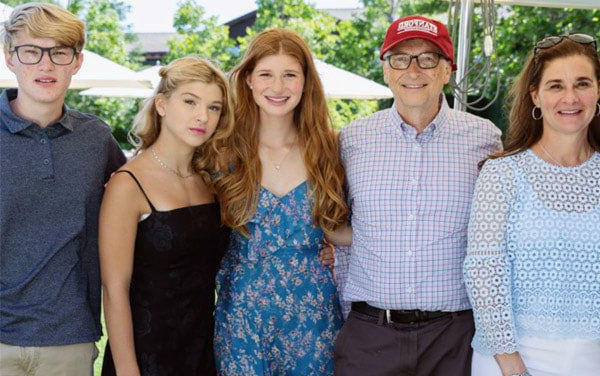 Image: Rory Gates family: Father Bill, Mother Melinda, Sisters Phoebe & Jennifer
Father- Bill Gates
Bill Gates was born on 28th October 1955 in Seattle, Washington to William Gates II (Lawyer) & Mary Gates.
Bill Gates is an entrepreneur, businessman, software Mogul, and a philanthropist. He is known for co-founding the software giant Microsoft with his childhood friend Paul Allen. Bill Gates is one of the people responsible for the software revolution that happened in the 1970s and 1980s.
Bill married his colleague Melinda French in 1994. Bill and Melinda Gates founded "Bill & Melinda Gates Foundation" to help humanity with their own riches. The foundation has been working world around to feed the hungry, provide basic amenities like food, water, shelter, sanitation, and education.
Bill has been one of the world's Top 5 richest people for many decades now.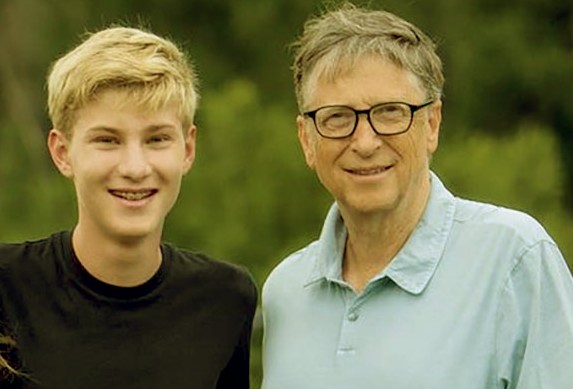 [Rory Gates and father Bill Gates]
Mother- Melinda Gates
Melinda French was born in August 1964 in Dallas, Texas to Raymond French Jr. (an aerospace engineer) and his wife Elaine Agnes Amerland.
She has a B.A and an MBA from Duke University. She got interested in the computers when her father brought her an Apple II, she later got interested in the BASIC language and eventually joined Microsoft and worked there as a general manager of Microsoft until she quit. Melinda married Bill Gates in 1994.
Melinda and Bill founded "Bill & Melinda Gates Foundation", a not-for-profit charity organization to help the poor and needy, from their own money. The foundation has grown heaps and bounds to become the largest private charitable organization in the world.
She has been busy handling things at the "Bill & Melinda Gates Foundation". She has been recognized by various outlets like Forbes, Time for her service to the public.
she has been honored by the Karolinska Institute in Stockholm with an honorary doctorate. She was honored with a Presidential Medal of Freedom by the US president Barack Obama in 2016.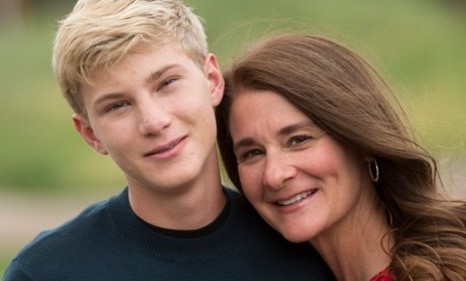 [Rory Gates & Mom Melinda Gates]
Melinda Gates on her son:
"When my son Rory was born, I spent a lot of time imagining what this little person would be like and who he would be as he grew up. Now, as we near his 18th birthday, I have my answer. Rory is compassionate and curious. He's a great son and a caring brother. He's inherited his parents' obsessive love of puzzles. And one of the things that makes me proudest: Rory is a feminist. As he goes out into the world, I feel more optimistic than ever about the future his generation will build."
Sister- Jennifer Gates
Jennifer Gates was born as the first child of Bill Gates & Melinda Gates on April 26th of 1996.
She is an equestrian by hobby and often competes in championships around the world, she is studying to become a doctor in medicine at the medical institute in Mount Sinai. She has a degree in biology from Stanford University. She met her fiance Nayel Nassar at the university.
She likes reading books and often shares them with her father. Rory and Jennifer are very close.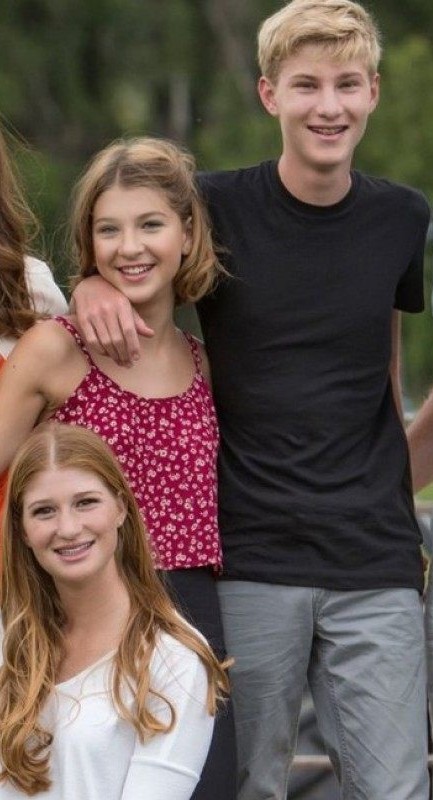 [Gates Siblings- Rory, Phoebe and Jennifer Gates]
Sister- Phoebe Gates
Phoebe (aka Cajuni) Gates is the youngest of the Gates Children, Phoebe was born on 14th September 2002.
She has studied Arts from The Juilliard School in New York City. She is into Arts, Adventures, and occasionally assists her parents in philanthropic works.
Girlfriend- Dating
Rory's Love life is either private or he hasn't had any girlfriend yet. Rory maintains a very low key social media profile and it is highly difficult to find information on him in the media.
For someone of his good looks, intelligence and money, it is unimaginable that he doesn't have a girlfriend. It is safe to bet he has a girlfriend (though we don't know much about it)
Education
High School: Rory attended the Lakeside High School, an independent school in Seattle, Washington. Rory's father Bill Gates attended the same school. The school is rated (in 2019) 14th best private school in the entire United States. The school costs about $33k annually. His older sister Jennifer Gates, little sister Phoebe Gates too studied from the same school.
Duke University: Rory attended Duke University where he studied Economics and Computer Science for a degree.
Duke's Fuqua School of Business: Rory attended Fuqua School of Business for his MBA.
University of Chicago: He is believed to have attended the 'University of Chicago'
Facts & Trivia
Ethnicity: Gates kids are of English, German, Irish and Scottish descent.
Disciplined children: Gates children were not allowed to use mobile phones until they were 14, even as they complained that their peers had a mobile phone of their own by that age.
Rory, the poet: Rory wrote the poem Diamante at the age of 10 on the Physics of Light, his father Bill inspired him with the knowledge of Physics while on vacation in Europe, The poem is named Diamante because it is 7 lined and shaped like a diamond. The poem talked about Stars, Black holes, and Light. Bill Gates published the poem in 2010 on his website. It was the first time we got to notice the son of Gates.
Rory lives in the family mansion named "Xanadu 2.0", a $123 Million mansion.
Rory is believed to be passionate about Cars.
Rory loves Puzzles, like his parents
As per his mother Melinda, Rory is a Feminist and a great brother
Rory was seen flying a plane in 2016, he is interested in flying. The Gates family also owns a family plane.
#BeThe1To: For his 2019 birthday Rory requested donations to 'National Suicide Prevention Lifeline' He raised $100K
Rory watched the "Black Panther" movie with his parents Bill and Melinda in 2018
News & Updates
2015: Trip to East Africa- Rory and mother Melinda took a trip to Malawi in East Africa to see the work the "Bill and Melinda Games foundation" was doing. He told his mother that
2012: Trip to Australia- The Gates family visited Australia in February 2012. Rory and Bill visited the Powerhouse Museum, it exhibits Australian history, science, technology, and space explorations.
2010: Europe Trip: On his family vacation in 2010 to Europe, Rory wrote his first poem, shaped like a Diamond, in seven lines, hence Diamante Poem.
Quotes
[Paraphrased by his mother] Standing up to unfair norms is nothing more than exactly what men everywhere should be doing. [1]
[Paraphrased by his mother] The more entrenched the norms, the more courage it takes to confront them [1]
References