Biography
Rory John Gates is the second child and first son of the richest Billionaire Bill Gates & his wife Melinda Gates- a philanthropist & former general manager at Microsoft.
Rory Gates was born on 23rd May 1999 in Seattle, Washington, United States.
Rory John Gates is the 2nd child of Bill Gates and Melinda Gates, the Children of Gates couple are:
Jennifer Katharine Gates (born in 1996)
Rory John Gates (born in 1999)
Phoebe Adele Gates (born in 2002)
Rory John Gates Education:
Lakeside High School
Duke University: Degree in Economics and Computer Science
Fuqua School of Business: MBA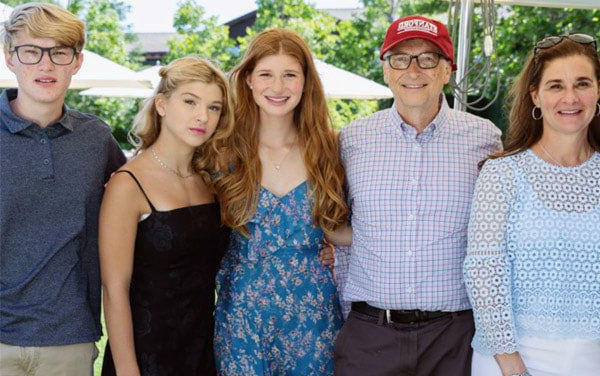 Image: Rory Gates family: Father Bill, Mother Melinda, Sisters Phoebe & Jennifer
Rory John Gates Facts & Trivia
Ethnicity: Gates kids are of English, German, Irish and Scottish descent.
Education: Rory graduated from the Lakeside High School, his father Bill Gates and older sister Jennifer Gates have all studied from the same school.
Duke University: Rory studied at the Duke University where he studied Economics and Computer Science for a degree
Duke's Fuqua School of Business: Rory studied MBA from the Fuqua School of Business.
Gates children were not allowed to use mobile phone till they were 14, even as they complained that their peers had a mobile phone of their own by that age.
Rory, the poet: Rory wrote the poem Diamante at the age of 10 on the Physics of Light, his father Bill inspired him with the knowledge of Physics while on vacation in Europe, The poem is named Diamante because it is 7 lined and shaped like a diamond. The poem talked about Stars, Black holes and Light. Bill Gates published the poem in 2010 on his website. It was the first time we got to notice the son of Gates.
Rory lives in the family mansion named Xanadu 2.0, a $123 Million mansion.
Rory is believed to be passionate about Cars.
Rory loves Puzzles, like his parents
As per his mother Melinda Rory is a Feminist and a great brother
Melinda Gates on her son: "When my son Rory was born, I spent a lot of time imagining what this little person would be like and who he would be as he grew up. Now, as we near his 18th birthday, I have my answer. Rory is compassionate and curious. He's a great son and a caring brother. He's inherited his parents' obsessive love of puzzles. And one of the things that makes me proudest: Rory is a feminist. As he goes out into the world, I feel more optimistic than ever about the future his generation will build."
Rory was seen flying a plane in 2016, he is interested in flying. The Gates family also owns a family plane.
#BeThe1To: For his 2019 birthday Rory requested donations to 'National Suicide Prevention Lifeline'. He raised $100K
Rory watched Black Panther movie with his parents Bill and Melinda in 2018
He is studies at University of Chicago.
Buy Rory John Gates products on Amazon


Photos/ Pictures