Biography
Phoebe Adele Gates is the last child and second daughter of Bill Gates- the Billionaire & Melinda Gates- a philanthropist.
Family- Childhood
Parents
Phoebe Gates was born on 14th September 2002 in Medina, Washington, United States to Melinda Gates (Philanthropist known for her works with Gates Foundation) & Bill Gates- World's most popular Software Mogul & one of the the richest men in the world.
Siblings
Phoebe Gates is the youngest child of Melinda Gates & Bill Gates, the order of birth of all 3 children is as follows:
Jennifer Katharine Gates (born in 1996)
Rory John Gates (born in 1999)
Phoebe Adele Gates (born in 2002)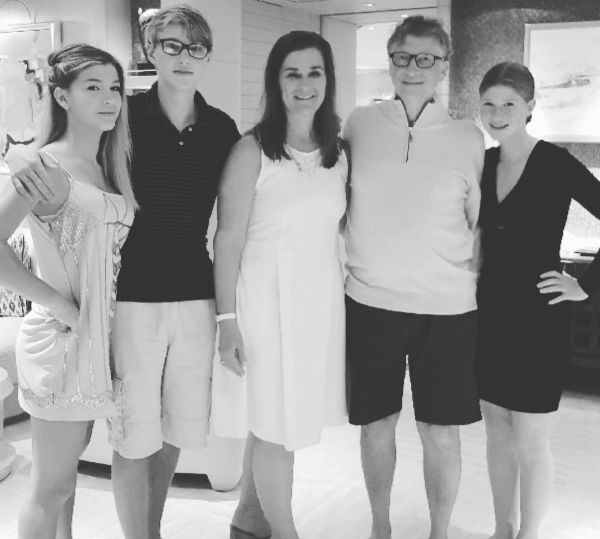 Image: Phoebe Gates family: Dad, Mom, Sister and Brother
Facts & Trivia
Ethnicity: Gates kids are of English, German, Irish and Scottish descent.
Ballet Dancer: Phoebe is professionally trained in Ballet, including at The School of American Ballet.
Philanthropy: She often accompanies her parents to charity events, she is seen involving herself with Philanthropy like her parents.
Wonderlist Top 10: She was listed as the 10th most powerful kid in the world under the age of 12 by Wonderlist website.
Gates children were not allowed to use mobile phone till they were 14, even as they complained that their peers had a mobile phone of their own by that age. They also have restriction on the duration of mobile phone usage.
Education: She studied at the Professional Children's School in New York.
Arts: Phoebe is involved with arts, she studied art at the 'Lincoln Center for the Performing Arts' complex in New York City & The Julliard School, Lincoln Center Plaza in New York
Phoebe lives in her family home located on the shore of Lake Washington at Medina, Washington
She is believed to be passionate about computers like her father and mother.
She likes beaches and water bodies.
Adventure loving: She is into adventures like Snorkeling, Sip Lining, jumping into water from heights, paragliding among other stuff.
She volunteered in a local preschool in Rwanda during her vacations
Phoebe Adele Gates Nose job: Has Phoebe undergone a nose job? No, doesn't appear so, there is no info. She has a perfect nose too.
Quotes
[About her favorite book by John Green] For years I have been a loyal John Green fan- devouring his novels in the back of coffee shops, while traveling, and curled up on my couch. Something about the imagery of his books makes me get caught up in the fantasy of his stories, but "Turtles All the Way Down" hit closer to home for me than the rest.
Skiing and burgers, my kind of weekend
Buy Phoebe Adele Gates products on Amazon


Photos/ Pictures