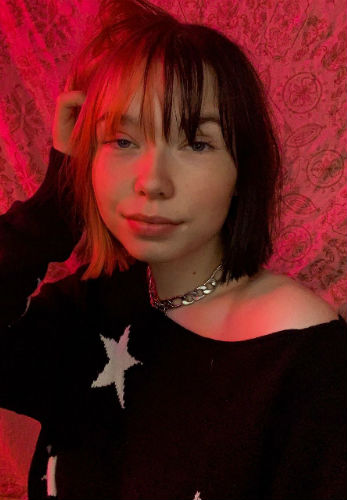 Whitney Scott Mathers
| | |
| --- | --- |
| Date Of Birth | April 16, 2002 |
| Age | 21 years 5 months 9 days |
| Day of Birth | Tuesday |
| Place Of Birth | Saint Joseph, Missouri, United States |
| Zodiac Sign | Aries |
| Other Name | Whitney Scott |
Personal Information
Residence

Clinton Township, Michigan, United States

Religion
Christianity
Language
English
Nationality
American
Ethnicity
Caucasian
Complexion
White

Body Features & Measurements
Height

160 CM


5 Feet 3 Inches
Eye color
Blue
Hair color
Brown
Weight

50 KG


110 lbs

Shoe Size
5 (UK)
Figure Type
Hourglass
Family Information
Fathers
Eric Hartter (Biological; Tattoo Artist)
eminem (Adopted; Marshall Bruce Mathers)
Mother

Kimberly Anne Scott

Brother

Parker Scott

Sisters

Hailie Jade Scott Mathers




Alaina Marie Mathers

Uncles
Michael Mathers (Paternal)
Nathan Kane Samara (Paternal; half brother of Eminem)
Grandfathers
Marshall Bruce Mathers (Paternal)
Casimer Sluck (Maternal)
Grandmothers
Kathleen Sluck (Maternal)
Marie Hartter (Paternal; biological)
Deborah R. Nelson-Mathers (Paternal)
Aunts
Dawn Scott (Maternal)
Sarah Mathers (Paternal)
Body Build
Slim

Love, Romance, Marriage
Boyfriend
Danny (rumored)
Favorites, Hobbies, Likes/ Dislikes
Hobbies
Skateboard
photography
Favorite Food
Pizza
Favorite Singers
Tyler Joseph
Harry Styles
Sam Smith
Favorite Song
Lost in you (Khai dreams)
Favorite Music Band
One Direction
Likes
Ice Cream
Mac Miller
Favorite Rapper
XXXTentacoin
Pet Peeve
People that Lie
Social Networks, Web links
Instagram Profile
Whitney Scott Mathers Instagram Profile
Snapchat
whitneylaine
More Information
Friends
John Swerdan
Louis Tomlinson
Nolan Carbone
Danny
Biography
Whitney Scott Mathers is the youngest daughter of American rapper and singer Eminem (Marshall Bruce Mathers III).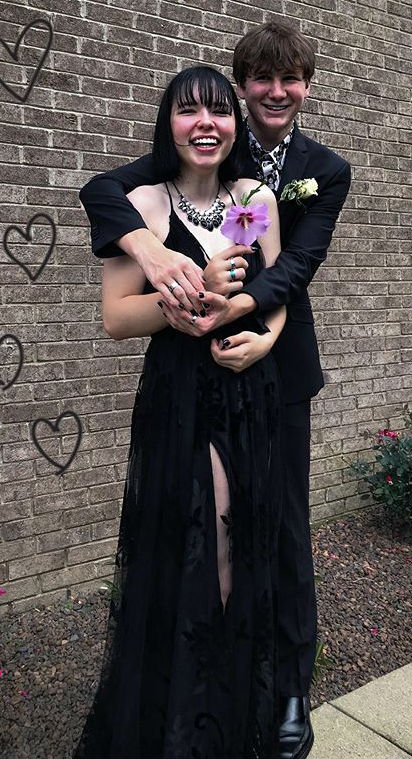 [ Whitney Scott Mathers homecoming 2019 ]
Parents
Whitney Scott Mathers was born on 16th April 2002 in Saint Joseph, Missouri, United States to Kimberly Anne Scott (Ex-wife of Eminem) & a Tattoo artist named Eric Hartter.
Mother
Kimberly Anne Scott is an author and illustrator of children's books. she was born on 9th January 1975 in Michigan to Kathleen Sluck & Casimer Sluck. She had a twin sister in Dawn Scott. She was raised by her mother and stepfather.
Kim and Eminem have known each other since their teen ages. She was 13, Eminem was 15 when they first met at a Youth home. Kimberly is the biological mother of Hailie & Whitney, she had adopted Alaina in 2000 with her then husband Eminem.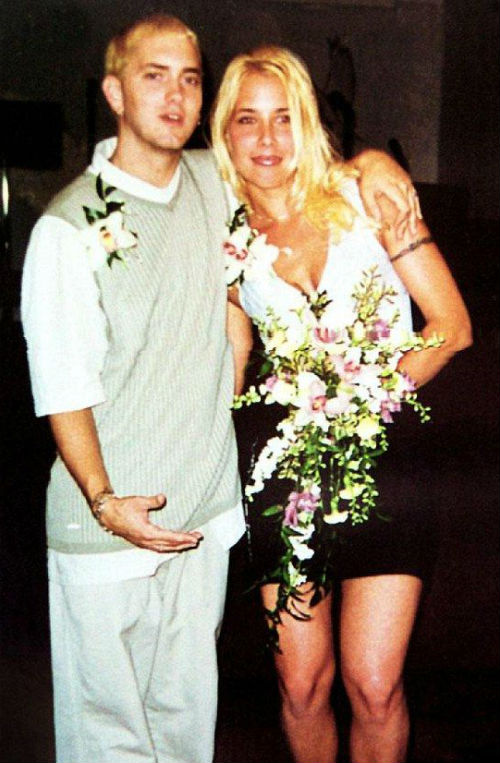 [ Eminem & Kimberly Anne Scott ]
Biological Father
Whitney's biological father Eric Hartter was a Tattoo artist. He was on the run from his criminal past. He had been involved with criminal activities like drug dealing.
As per some reports Eric hadn't met his biological daughter ever. He did not show up at the hospital when the baby was delivered, his mother Marie Hartter had showed up at the hospital and held her grandchild for a few minutes. Eric's name isn't found in Whitney's birth certificate.
Eric and Whitney had an estranged relationship. He did not show any interest in seeing his offspring. Eric's mother Marie who hadn't met her granddaughter since birth cried about not seeing her granddaughter. She wishes to see her granddaughter.
Pop culture reported death of Eric Hartter on 22nd August 2019 in an abandoned house near Detroit. He was found dead by a family member who came to check up on him. He is suspected to have died from drug overdose.
Eminem's daughter
Eminem and Kimberly had bad fights during their marriage that lasted 1999 to 2001. Eminem accused her of cheating on him with other men, their marriage ended in a divorce in 2001. Kimberly had romantic relationships with other men after her divorce. She was in relationship with Eric Hatter for a brief period, she got pregnant with Whitney during those times.
Whitney is not the biological daughter of Eminem, when Whitney was little, her mother Kimberly got addicted to drugs and wasn't in good shape to take care of the girl, she was getting hospitalized frequently.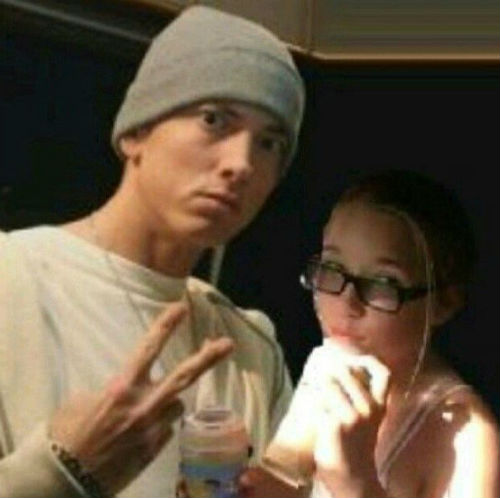 [ Whitney Scott Mathers with Eminem ]
Eminem adopted Whitney in 2005, she was just 3 years old at the time, he has taken care of her like she is his own daughter, "I am in Love with that girl. She is so sweet and funny." he said of Whitney after adopting her. Her mother Kimberly acknowledged that in an interview and said "Eminem has been a good father to all his 3 daughters."
Eminem has looked after his children with utmost care, he is said to have skipped work at times to be with his children. Luckily the nature of his work is such that it allowed him to have more free time with his daughters.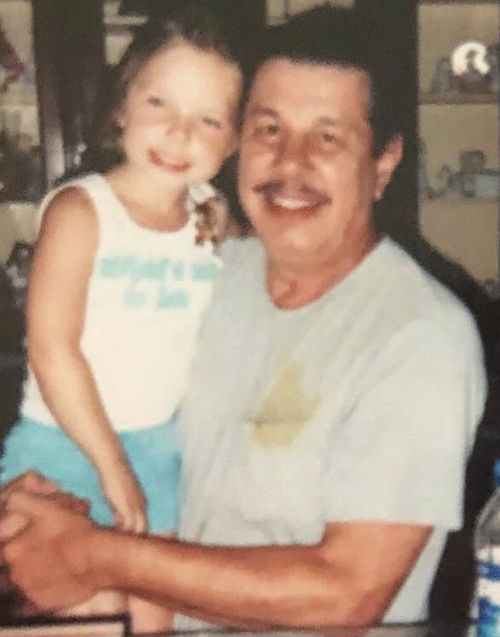 [ Whitney Scott Mathers with grandpa ]
Siblings
Whitney has two older sisters and a brother she is the youngest children of the family:
Alaina Marie Mathers
Alaina Marie Mathers was born Amanda Scott on 3rd May 1993. She was born the daughter of Dawn Scott (twin sister of Eminem's ex-wife Kimberly Scott) and her then boyfriend. Dawn had a close relationship with her twin sister Kimberly. Dawn was addicted to drugs throughout her motherhood. Eminem and Kimberly adopted Amanda in the year 2000. Eminem and Kimberly were married at the time.
She is the oldest of Mathers family children. She is a graduate from the University of Oakland, she has a degree in Public relations.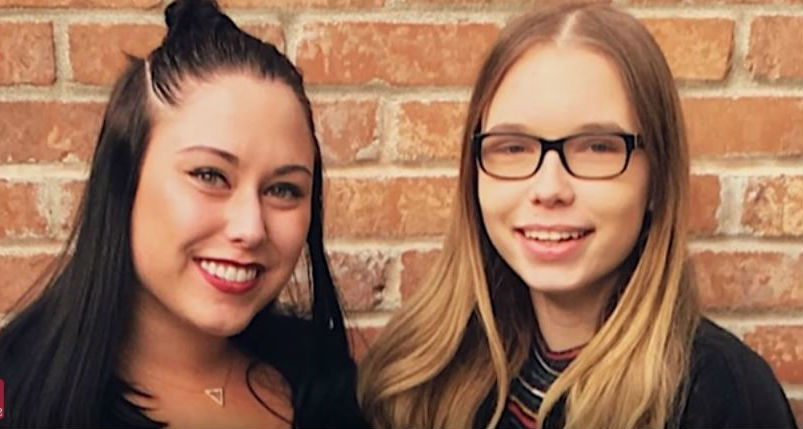 [ Whitney Scott Mathers & Alaine Mathers ]
Hailie Jade Scott Mathers
Hailie Jade was born on 25th December 1995 (Christmas day) to Kimberly Scott & Eminem. She is the only biological child of her father Eminem.
She has a graduate degree from the Michigan State University. She majored in Psychology. Whitney is believed to be very close to her sister Hailie and look up to her for advice.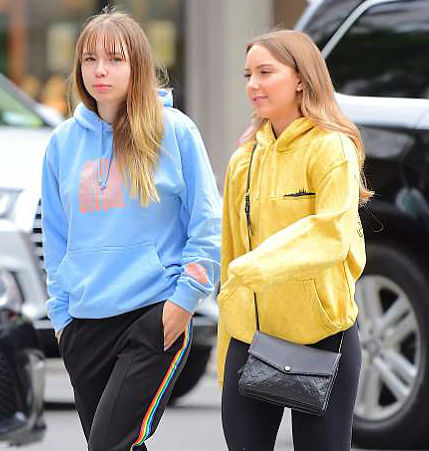 [ Whitney Scott Mathers & Hailie Jade Mathers ]
Interesting Facts & Trivia
Whitney in the songs: Eminem often mentions his children in his songs, Whitney is mentioned in some of his songs like:

'Going Through Changes': In the song he says- "Hailie just smiles & winks at her little sister..", here "Little sister" refers to Whitney.
'When I'm Gone'
Straight from the Lab part 2: In the album Eminem says- "Straight from the Lab part 2" says- "And if I see him again I'ma punch him in the fuckin' face And that's on Hailie Jade, Whitney Laine and Alaina's name"

Mother Kimberly has the names of all her daughters- "Alaina", "Hailie", "Whitney" tattooed on her index finger.
Whitney Scott Mathers sexuality: On October 11th 2017 Whitney announced to the world through her Instagram account that she is Bisexual. Her instagram post read "Happy national coming out day! I am bisexual, I would like to say you're perfect the way you are and that love is love! be yourself"
Fall & winter girl: Fall and Winter are her favorite seasons
Photography: She loves photography, especially wild and nature photography
Pet Peeve: She hates it when people lie, it is her biggest pet peeve.
She is beleived to be in a romantic relationship with her friend Danny.
Freckles: She has beautifying freckles on her face.
Instagram: Whitney's only social media account is her instagram one. There are quite a few fake twitter accounts in her name.
Animal Lover
Whitney is passionate about animals, she visited 'Reptarium' once, where she learned a lot about snakes, spiders and lizards. She has a 'bearded dragon' lizards named Zeppelin & Edward for pets at home. She was afraid of reptiles before visiting the Reptorium and learning about them.
Pets: She has Milo and Otis, two cats for pets. She previously had a dog named 'Winky'.
Beasley: Whitney has a YB ball python snake named 'Beasley' for pet
Quotes
I wanna be the one that makes your day
Self love is most important, Learn to love yourself and others as well! Always spread love, happiness, and positivity
[About singer Harry Styles] He has my whole entire heart, I can really not explain how much harry means to me but I love him so much.
[About Singer Sam Smith] I'm so thankful for everything that you have done for me. You are such an inspiration and I look up to you so much. You spread so much love, positivity and happiness. You are an amazing person
I am really thankful to have such amazing friends and family, They mean everything to me
I've been really happy with myself lately and feeling a lot better. I used to hate lots of things about me.. I would worry about what people thought about me.. After a lot of hard work.. I've come to love myself and not care so much what other people think of me.
You are special and unique, you don't need to be like someone else or be what someone else wants. Do what you want. Remove negative people from your life and surround yourself with people and things that make you happy
I've been pushing myself to step out of my comfort zone and push myself to meet new people, and I'm not afraid to be the one to start the conversation anymore. It's a good feeling to see how happy someone gets when you give them a compliment about their hair, outfit, makeup.. it really changes a person's day
You're allowed to cry and it's okay to if you just ignore your problems and hold it in and throw on a fake personality and a fake smile and you don't deal with your problems then it won't get you anywhere and in the end it will bring you down. So let it out cry and try your hardest to fix your problems. But most importantly love yourself
Don't forget to spread love, happiness, and positivity! The smallest act of kindness can make a person's day
Rainbows never fail to put a smile on my face, always look for the good in the bad
Remember to love yourself, Spread love, kindness, and positivity, Remember boys and girls it's okay to cry and be upset, Do what you want and make yourself happy.
Honestly what bugs me about talking to people is when you want to text someone or call them and just see how you doing you talk yourself out of it because you want them to do it first. But we don't got time for that!!! You gotta do it first if you wanna talk to someone call them ask them about their day, what they are up to, how they have been
Love yourself, don't let anyone bring you down
See I want to be skinny but I also want to eat a chocolate cake in one bite do you see my problem here
Yes I like my own posts & tweets I'm fucking hilarious and awesome and I deserve an extra like
Self love is most important. Learn to love yourself and others as well! Always spread love, happiness, and positivity [1]
Sources