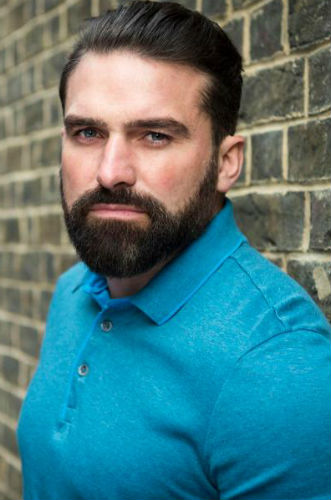 Anthony Middleton
Date Of Birth
September 22, 1981
Age
41 years 8 months 14 days
Day of Birth
Tuesday
Place Of Birth
Portsmouth, Hampshire, England
Zodiac Sign
Virgo
Professions

Adventurer

,

Soldier

,

TV host

Nickname

Ant

Other Name

Ant Middleton
Personal Information
Residence

Chelmsford, Essex, England

Religion
Christianity
Languages
English , French
Nationality

British

Ethnicity
Caucasian
Complexion
White
Trademark
Beard

Body Features & Measurements
Height

173 CM


5 Feet 8 Inches
Eye color
Blue
Hair color
Black
Weight

85 KG


187 lbs

Tattoos
Back of Neck
Arms
Body Type
Athletic
Family Information
Sons

Gabriel Middleton




Oakley Middleton




Bligh Middleton

Wife

Emilie Middleton

Daughters

Shyla Middleton




Priseïs Middleton

Nephew
Michael Middleton
Niece
Phoebe Middleton
Relative
Louis Middleton

Career Information
Years Active
1997-
Favorites, Hobbies, Likes/ Dislikes
Hobbies
Running
Trekking
Bike Riding
Snowboarding
swimming
Favorite Food
Burger
Favorite Sport
MMA
Favorite Cuisines
Chinese
Indian
Favorite sports person
Conor McGregor
Favorite Sports Team
Glasgow Rangers
Social Networks, Web links
Facebook Profile
Anthony Middleton Facebook Profile
Twitter Profile
Anthony Middleton Twitter Profile
Official Website
Anthony Middleton Official Website
Instagram Profile
Anthony Middleton Instagram Profile
YouTube Channel
Anthony Middleton YouTube Channel
Contact
Contacts (Email)
enquiries@jgg.co.uk (Manager)
enquiries@ymugroup.com (Bookings)


enquiries@antmiddleton.com

Contact(Phone)

020 8742 4950
Biography
Anthony Middleton or Ant Middleton is a reality star who was previously a British soldier who rose to fame with the adventure reality show- SAS: Who Dares Wins. He has previously served in Afghanistan. He was one of the instructors on the show. Anthony has appeared in reality shows- Mutiny, Escape as the captain.
Anthony Middleton is a sniper, soldier and survivor.
Anthony Middleton was born on 22nd September 1981 in Portsmouth, Hampshire, England.
Anthony Middleton Family
Anthony lives in his home in Chelmsford, Essex with his Wife- Emilie Middleton (married in May 2006) & their Children. Anthony met his future wife Emilie in 2004 when she was working at a bar in Chelmsford, she was 24 at the time. For her it was 'Love at first sight'. They had periods of separation when Anthony went away to serve, they got married in Antigua and moved in to Taunton.
He has a son named Oakley Middleton from his past relationship. His children are:
Oakley Middleton (born December 2001)
Shyla Middleton (born September 2007)
Gabriel Middleton (born March 2009)
Priseïs Middleton (born September 2015)
Bligh Middleton (born October 2016)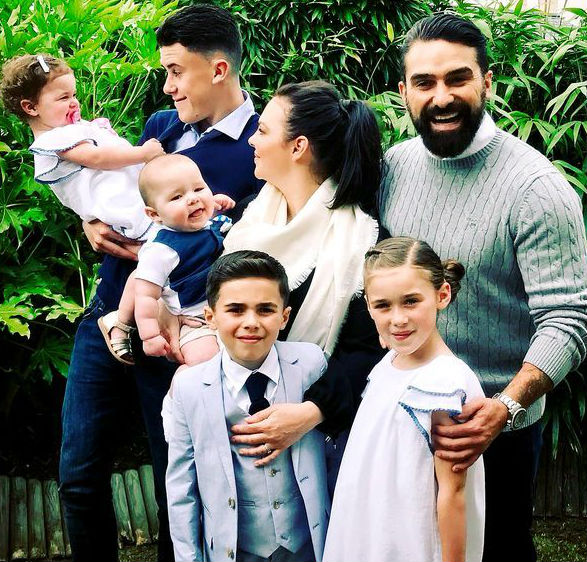 Image: Anthony Middleton Family- Wife, Sons & Daughters
Anthony Middleton Facts & Trivia
Growing up: He grew up in France form the age of 9 to age of 16, he attended the football school of excellence, he was scouted for Southampton FC.
His father had passed away when he was very young, leaving him nobody to look up to.
First Man In: A book on survival by Anthony Middleton, the book was published by Harper Collins in 2018 and it was Number 1 Sunday Times bestseller.
He has been a promoter of O2 Sports.
Anthony is very dedicated to work, he left his pregnant wife home (a mutual decision) to shoot for the new program, he came back on the due date.
He has a rescue dog named Ant for the pet.
He has a huge following on both Instagram and twitter
National Army Museum London: He is the ambassador of the Museum
He is an ambassador of Forces Cars Direct.
He is an ambassador of Garmin.
King's Badge: At the marine training he got King's Badge, a badge of honor given to best recruits
He met Prince Harry at ICAP Annual Charity Day
Controversy: He was alleged to have said SAS is no place for women
3 Life tips to his young self: Be yourself, stay humble, stay positive.
He has worked in Afghanistan, Northern Ireland (Operation Banner), Sierra Leone, Macedonia for work
He rose to fame in 2015 after the first episode of the TV show (SAS: Who Dares Wins) was aired
He has named his son Bligh after Captain William Bligh, who was stranded in the Pacific Ocean in 1790
He has trained presidential security teams in West Africa
He has been a supporter of "Under the Same Sun" charity foundation
Weight Loss: Ant lost about 11 kg when he went for the rigorous training
Nightclub Brawl: He got into a brawl in Chelmsford, Essex with PCs (Christopher Brooksbank & Katherine Alison) and was jailed for 4 months in 2013 on charges of 'unlawful wounding' of a police officer. Originally he was sentenced to 14 months of imprisonment, but luckily got out after 4 months.
His diet includes: omega oils, whey protein, vitamins, steak, jacket potato, mash potato
He is not much of a drinker, he does take some booze, but doesn't keep any beer in the fridge.
Super power he wishes he had: invisibility.
He trains four times a week, bench presses 160kg weight.
His Tips for those seeking to enter special task forces:

Listen very carefully
Don't be a gym bunny
Drink like a fish
Be compassionate and empathetic
Modesty trumps machismo
Accept that pain is illusory
Stay mentally switched on
It's OK to want your mum - for about one second

Extreme Everest with Ant Middleton: In 2018 Ant climbed Mount Everest, the tallest mountain in the world for the TV show.
Football Fan: He loves 'Glasgow Rangers' Scotland football club.
2020 Live Tour: You catch attend his live tour events in 2020 in any of the locations listed on his website
Charity works:

RNLI: Ant is a celebrity Ambassador for the RNLI
The Prince's Trust: He is an ambassador for 'The Prince's Trust' (Royal National Lifeboat Institution)
SSAFA - The Armed Forces Charity: He is an ambassador of SSAFA- UK's oldest military charity that supports Veterans and their families
Give Us Time: He is an ambassador for the organization that organizes holiday events for the members in service & their families

New York time square Billboards: He appeared on the New York time square billboard in December 2019, which according to him tops his 2019 achievements.
Anthony Middleton Career
Army Career
Army: He got enlisted when he was just 16, he joined Royal Engineers, he has served in the British Army (1997-2002), British Royal Marines(2004), Special Boat service(2008-2012). His Service number in the British army was- 255700.
Army units: He has served in- 9 Parachute Squadron Royal Engineers, 40 Commando, Special Boat Service.
Trinity: He has worked in 3 of UK's elite forces: Commando Course, P Company & UK Special Forces Selection
Most Dangerous mission he has been in: He was leading about 40 men in Afghanistan, they were on a tough mission, they had to run through the land mine, his heart was in his mouth and there was no way, he was lucky to survive.
Volunteer Cadet Corps: Anthony was appointed as the chief Cadet in the 'Volunteer Cadet Corps' of Royal Navy in November 2019. He is expected to inspire & mentor the Royal Marines, Naval Cadets
Others
After 2012 he has worked as a personal security guard in South Africa.
Mind Over Muscle: Anthony has been conducting Live shows in UK since 2017 where he shares stories of extreme adventure. He runs 'Mind Over Muscle Day Camps' to help the youth uncover their full physical and mental potential
Books
SAS: Who Dares Wins: Leadership Secrets from the Special Forces(2017): Anthony co-wrote the book with his colleagues- Jason Fox, Matthew Ollerton, Colin Maclachlan
First Man In: Leading from the Front(2018): The book became the #1 Sunday Times bestseller
The Fear Bubble: Harness Fear and Live Without Limits(2019): His second book also became #1 Sunday Times bestseller
Anthony Middleton TV Shows/ Series List
The Russell Howard Hour(2019)
Skavlan(2019)
Lorraine(2018)
Mutiny(2017)
Escape(2017) (Channel 4)
SAS: Who Dares Wins (2015-) (channel 4 Reality Show)
Anthony Middleton Medals & Honors
General Service Medal: For his service in the Northern Island
NATO Medal: for his service in North Macedonia
Operational Service Medal: For his service in Afghanistan he was awarded the medal
Queen Elizabeth II Golden Jubilee Medal: Was awarded the medal in 2002 for his services to the British Royal Army
Queen Elizabeth II Diamond Jubilee Medal: Was awarded the medal in 2012 for his services to the British Royal Army
Awards
Platinum award: Anthony was honored with the 'Platinum award' by the UK Fitness Awards in 2019 for his contribution to fitness in UK. For his contribution towards healthy physiological & physical lifestyle
Anthony Middleton Timeline
1981: Birth
1990: Football training in Rural France
1997: Joined the Royal Engineers
1999: Duty in Northern Ireland
2001: Duty in Macedonia
2002: Joined the Royal Marines
2006: Training in Sierra Leone
2007: Duty in Afghanistan
2008: Special Boat Services
2010: Duty in Afghanistan
2012: Retirement
2015: Worked on TV shows
2017: Reality shows- Mutiny, Escape
2019: 'Mind over body' tours
2020: Live Tours
Anthony Middleton Quotes
It is good to have 2nd and 3rd opinion, first opinion should be yours because you are the experienced.
Strategy is all about preparation and planning. Planning and preparation is key to be successful anywhere
If you are not happy in your job, don't do it.
Snapping at people is a bad indication, in extreme pressure a leader should be calm and collective, you should take responsibility.
If someone is fighting extreme adversity, they need to be true with themselves and whoever they are dealing with, if you are confident about your capabilities just be true. Do what you know you can do and be truthful to people
I don't think anyone in particular inspires me, the way I was brought up, I try to inspire myself to succeed for myself and for my family. I don't look at other people and want to be like them, I look at other people and think what can I learn from them.
I want to be inspiration for my kids, something that I never had.
Everyone fears failure, If you will you will have to get back again and try.
I want to inspire young people, to let them know "If you put your mind into things You would be surprised how much you achieve"
Leaders aren't born, they are made.
Never assume, never think you deserve, sometimes our best just isn't good enough, deal with it, learn from it and bounce back
Stick together but choose wisely
You have to humble yourself when it come to your weaknesses
Everyone talks about "working out" but you rarely hear about "working in"
If you fall, dust yourself off and get straight back on it! Ok.. maybe check for broken bones first
[About terrorist attack] We need to step back, analyze the situation, deal with suitably. Sudden reactions don't help.
I get very bored of things, I love challenges
I'm a very positive person and there was not one moment on selection when I thought I'd quit
I get massive kick to see people succeed, I want to give them tools so that they can better themselves
It makes me laugh when people say they've got to where they are all by themselves. Your friends, Family, those who bring you coffee are all part of the team that has helped you succeed
The whole world is one big team and we fail to recognize that.
I was quite selfish and put my career ahead of my family for a long time.
I call my wife "the long-haired general", she is the only woman who bosses me.
I was very physical as a youngster, I wanted to be self sufficient, I wanted challenges, that is why I joined the British Army.
I relax when I'm with my family, they give me a sense of belonging, everything I do is for them, I relax when my wife annoys me, I relax when my kids are jumping around me.
Life has been slow for me after retirement.
Main thing I miss is combats, I miss the intensity, rush of emotions, the mix of emotions is a powerful drug.
Ego is the difference between a leader and a great leader! If you've never reached the top then there's probably one thing stopping you
People are too wrapped up in cotton wool. We should test our limits
I have a soft spot for children, They are the future and adults have a responsibility to nurture them.
The power of your mind is stronger than physicality
There are two lives you can be living, the one you are living now and the better version which is just a step away!
I'm passionate about giving back and building people's self esteem through my own life experiences.. My reward is seeing people realize their potential.
If we don't allow children to make mistakes in life then they'll never make anything! There is no cotton wool in the real world, so be a responsible parent and prepare them accordingly
[On his wife] I call her The Long-Haired General. She's the only woman who can boss me around
I have failed as a father and I have failed as a husband when I was in the military. Because, especially in the special forces, I prioritized the military, everything was military, military, military
Sources