Biography
Cress Williams was an American TV & movie Actor, Singer. He is popular for roles- Jefferson Pierce in Black Lightning, George in Never Been Kissed (1999), Joe inFallen Detective(1998), Jake in In Your Eyes(2014), Talak'talan in Star Trek: Deep Space Nine (1994), Cole Guthrie in Code Black, Lavon Hayes in Hart of Dixie, Ed Williams in Close to Home, Wyatt Mathewson in Prison Break, Antwon Babcock in Nash Bridges.
Cress Williams was born on 26th July 1970 in Heidelberg, Baden-Württemberg, Germany. After the birth his family moved to Chicago, he grew up mostly in Orange County.
Cress Williams & Simbi Khali Marriage: The couple married on 14th October 2000 in Malibu.
The couple have 2 children. A son named Elijah Khali Thomas Williams born on July 20, 2004. And a Daughter named Amika Khali Williams born on August 13, 2007.
Cress Williams & Kristen Torrianni Marriage: Cress married his long time girlfriend(since 2006) Kristen Torrianni on 15th June 2013 in Kauai, Hawaii. The event was attended by their parents and Cress's daughter. They both met during a Church event which they both attended. It was attended by Cress's co-stars Kaitlyn Black, Scott Porter, Wilson Bethel.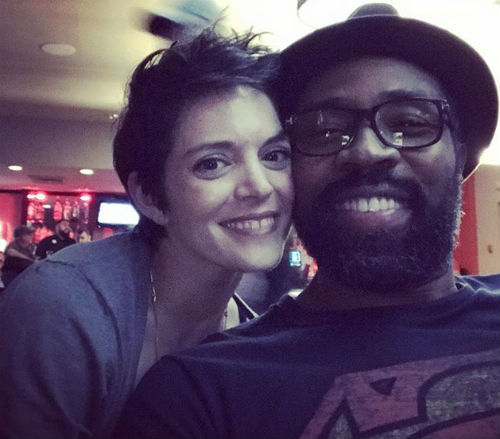 Image: Cress Williams with wife Kristen Torrianni
Cress Williams: Facts & Trivia
Early interest in acting: His interest in acting started when he was 7 years old. While his friends were into basketball and football he would get into singing contests.
Acting school: He went to a junior college where he majored in Theatre.
Smooth transition: He got picked up for roles while he was studying in the last year at UCLA.
First Audition: His first audition was for Original Beverly Hills. He got the role and appeared in about 13 episodes.
He also teaches acting at the acting school, has been teaching since 2008. Usually teaches on the Saturdays.
Voice acting: He has done voice acting for some commercials and public service ads for the sake of his friends.
He went to become a puppeteer after his college and worked for some time on it.
Othello: Cress acted in the Othello(1990) play produced by Fullerton College. Red Noses, The Elephant Man were other plays he acted while at college.
He stated his career in 1990s, he started making enough money to focus solely on acting since 1993.
He was the first actor to play a Jem'Hadar in Star Trek.
Black Lightning: Cress Williams was the first choice for the role of Black Lightning in the Superhero TV series of same name, but the casting directors didn't tell him until he was actually announced.
Believer: He is a devoted Christian, he attends Churches regularly, coincidentally that is where he met his second wife.
He attended Denver Comic Con 2018.
Cress has Tattoos all over his body, on chest, arms, ribcage and many more.
Director Cress: Cress Williams has directed plays like- Talk Radio, Answers, Loyalties.
Karaoke: He is a big fan ok Karaoke, he goes to Karaoke every week, his parents love singing as well and has brushed up on him.
He likes playing video games, Assassin Creed is among his favorites.
Advice for young actors: Always enjoy what you are doing, let your passion lead you into what you want to do, when that happens give it your 110%
He wears a heavy suit for his role in Black Lightening, initially it would cause bruises and wounds even to just wear it.
Drugs: He was addicted to drugs for about 20 years, He watched the show intervention which evnetually helped him get rid of the habit.
Cress Williams: Quotes
While growing up, I always wanted to be an actor, I don't know anytime of my life when I was not interested in acting.
The [acting] program taught me to respect the craft, something I hold dear even today
When I got my first role I thought I'd get famous instantly and spent all my money in the summer thinking I'll be famous very soon. When I didn't get a call for couple of months the panic set in.
I'm 6 feet 5, and I'm black, I was aware people thought I should be on the basketball court and not in the theatre.
Having had no prior experience before college, I felt like an underdog, kids who come to acting college usually attend acting classes before that. I had to work twice as hard to be perceived an equal.
When I was in college I was like a Jedi Knight, I was focused, I would plan what to do next from monologues at school to food and chores.
You would be surprised how many people take arts lightly.
There is always someone willing to work harder than you, there is always someone got it harder than you and those who got it easier than you.
Art is a natural ability, but you need to cultivate the ability into craft and make Art a craft.
The most challenging part in acting is 'free falling' , if you have a job you know you have a job and a salary, in acting you are always free lancing.
To be an actor you have to learn to be joyful, not on sets, but outside, you may not get jobs for months, you need to be busy with things that make you happy. That is the key for longevity in acting. Their joy is dependent on how their career is going, living that way burns you out.
[About playing superhero] I have always wanted to be a superhero. I feel almost like I have been practicing my whole life.
Justice, like lightning, should ever appear to some men hope, to other men fear
I was getting old. I thought, maybe my dream of becoming a superhero will never be realized. And then "Black Lightning" came along, not only is it fulfilling this dream, It is telling a story that is even more important in a package.
I have studied Improv and highly recommend it, not only to actos but directors as well. Having those skills as an improver you can change the dialogues and change with the scene especially in comedy.
If things are a bit chaotic on the set, trying to be little patient, stepping outside and giving them room to fix things up, trying to behave with grace is the best an actor can do.
If it is a long day for actors and directors, one must not forget that crew has had a even longer day, they come before everyone and go after everyone.
When I first started acting all I had was instincts, my instincts were good but there was no practice or technique. An actor with technique will know how audience responds to subtle changes.
One of the biggest things about acting is you have to make 100% commitment, even if you think it feels silly to act certain way.
It is a dream come true to play a superhero.
[About Black Panther & Black Lightening coming out at the right time] I think it is product of the times we live in,
Our children are our precious commodity, you ask anybody who has a kid.
Photos/ Pictures