Biography
Logan Paul is an American actor, youtube content creator, he rose to fame with his Vine videos. He was born on 1st April 1995 in Westlake, Ohio to Greg Paul(father)- realtor and Pam Stepnick(Mother)- registered nurse.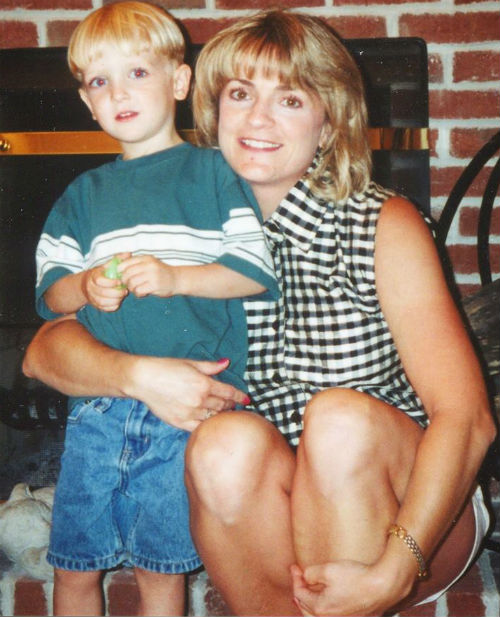 Image: Logan Paul with mother Pamela Ann Stepnick in childhood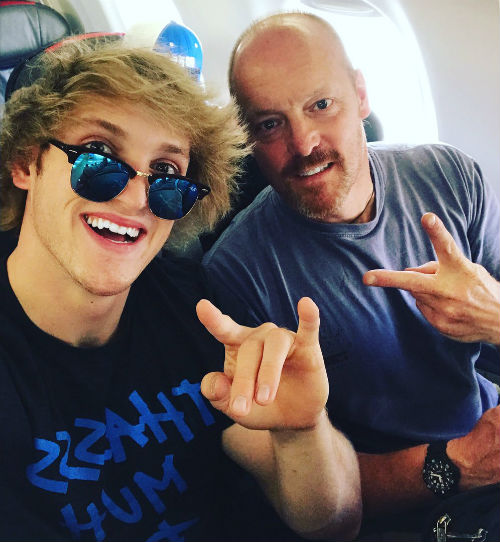 Image: Logan Paul with his father Gregory Allan Paul
His popular works include The Thinning(2016)- a web movie, Airplane Mode- adult comedy series. His popular web series are- Bad Weather Films, Logan Paul, Logan Paul Vs, Foursome.
After his internet success he has appeared in lot of movies- The Space Between Us(2017), Where's the Money(2017), Superstition: The Rule of 3's(2017), Linked(2017), Airplane Mode(2017), Undying(2017), Valley Girl(2018).
Some of the TV series he has made appearance in are: Law & Order: Special Victims Unit, Weird Loners, Stitchers, Walk the Prank, Bizaardvark.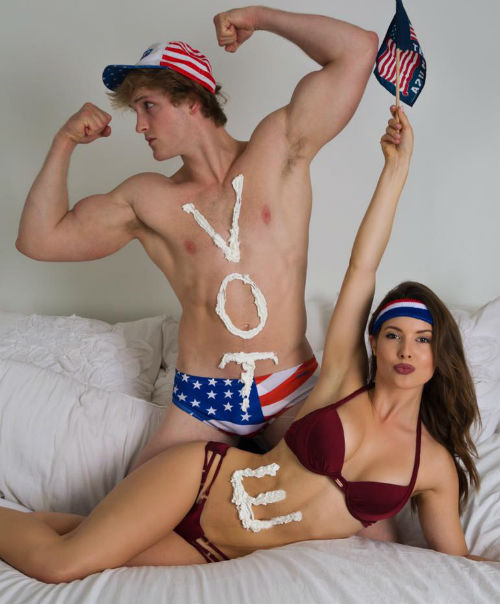 Image: Logan Paul with friend Amanda Cerny inspiring people to vote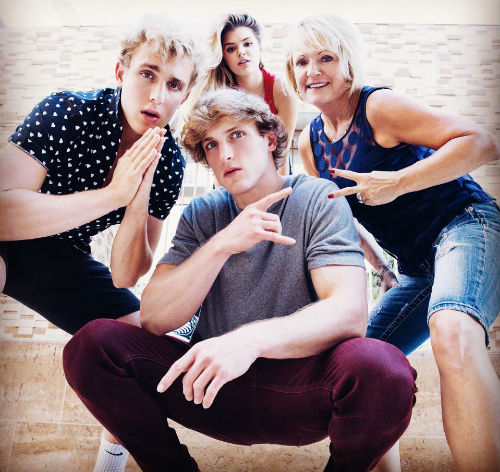 Image: Logan Paul family: Jake Paul(brother), Pamela Ann Stepnick(mother), Alissa Violet(friend)
Logan Paul Interesting Facts
Logan started creating videos when he was just 10 years old. His first channel on youtube was named Zoosh.
He was a successful and popular footballer in the state when he was in college. He was also a wrestling champion.
College drop out: Like many successful people of our times he left college(Ohio University) in the middle to seek career in youtube content creation.
Soon after leaving college he lived with other vine collaborators like Amanda Cerny, Andrew Bachelor, Juanpa Zurita and others.
Training: Logan has been training with groups like- The Groundlings, Upright Citizens Brigade to improve his drama & comedy skills.
Airplane Mode, series by Logan is termed as 'American Pie' for generation Z.
In October 2017 Logan appeared on Jimmy Kimmel Live as a guest.
He lost 15% of his right testicle while performing a stunt for one of his videos.
As a lead singer he has sung: Help Me Help You(2017), Outta My Hair(2017), The Song of the Summer(2017).
He has more than 12 Million subscribers as of October 2017. It was just 100,000 in the early 2016 and 1 Million in 2016.
He has a pet dog named Merch.
He has a pet parrot named Maverick, a sun conure.
He has a pet turtle, has named it Russell.
He bought an estate worth $6 Million in 2017.
In January 2017, he officiated the marriage of his friends Elisha & Shannon.
He has previously worked with brands like- Disney, Pepsi, HBO, JBL, Best buy, Hurley, Virgin Mobile, Ritz, Verizon, Velveeta, Hanes, Ubisoft, Hefty, General Mills, Razor, Focus, Dunkin' Donuts.
He often collaborates with a fellow youtuber Dwarf Mamba for videos.
Amanda Cerny is another of the content makers he collaborates often with.
He was color blind, wears glasses to make up for the defect.
He calls himself Adrenaline Junkie. 75% of his audience is estimated to be male. Majority of his followers are of 18-29 age group.
He is close with his brother Jake, he conisders Jake to be among his best friends.
He appeared on the cover page of Adweek in January 2016.
His parents first bought him a photography camera with which he would shoot flowers and plants, when he turned 10 he got a video camera, it lead to his youtube career.
Logan's social media presence got exponentially increased when he participated in Vigrin mobile sponsored contest #happyaccidents , it began as a competition among brothers (Logan & jake)
Logan was popular on Vine, he uploaded his vines into a 3 minute youtube video which received 4 million views in the very first week establishing him as a youtuber.
Ubisoft paid him $1000 to create an ad for one of their customers, such was his popularity on vine.
At the peak of his time on vine he had more than 40 Million subscribers, he was one of the top 15 subscribed vine makers.
He has appeared in few videos with 'The Rock' on youtube.
His stunts often include doing perfect splits.
Fastest youtube channel to achieve 1 Million subscriptions, also 10 Million subscriptions.
As a kid he wanted to have a school bus, so when he grew up and got money he bought one for himself.
Logan owns a car- purple 2014 Dodge Challenger. His car number plate says- AYYYYYYY.
His family is collectively called- Logang.
Gym time: He trains 6 times a week at the Gym.
Body measurements: He has a 45 inch chest, 16 inch Biceps and waist 33 inches
Logan Paul Quotes
I wish I would have believed in myself more.
Be a Maverick do not to follow in the footsteps of everyone (referring to the colorful and unique feathers of his bird Maverick)
When I grow up I want to be a hand model
I'll spend hours looking for the right emoji if I have to
i wish i had a machine that could just make breakfast burritos on the spot
find that thing that makes you happy and go for it
i have got to get better at being alone
Most people aren't good bro
I want to get married under a total solar eclipse.
You can tell a lot about a person by the way they drive
I'm the only one allowed to roast my brother
Do something different today
No better feeling laying down at the end of the day, exhausted, knowing you lived the day to its full potential
Logan Paul: Photos, Pictures

Logan Paul- Once a stud always a stud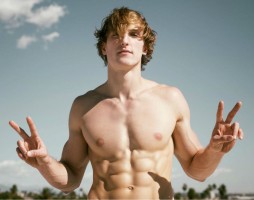 Logan Paul showing off his perfect abs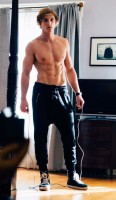 Logan Paul showing off his perfect abs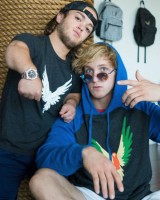 Logan Paul with his friend Dwarf Mamba