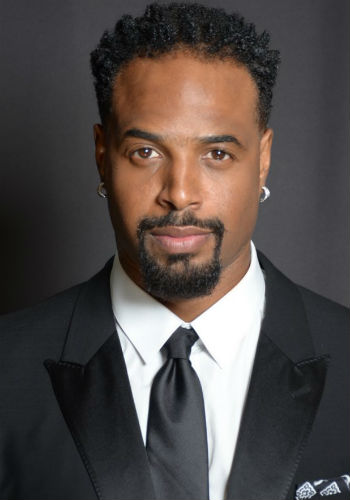 Shawn Wayans
Date Of Birth
January 19, 1971
Age
52 years 8 months 6 days
Day of Birth
Tuesday
Place Of Birth
New York City, New York, United States
Zodiac Sign
Capricorn
Professions

Producer

,

DJ

,

Comedian

, Actor , Writer
Nickname

Sw 1

Full Name

Shawn Mathis Wayans

Other Names

SW1

,

Shaun Wayans

,

DJ SW1

,

Shawn M. Wayans

,

Sean Wayans
Personal Information
Religion
Christianity (Jehovah's Witness)
Language
English
Star Signs
Capricorn , Leo
Nationality
American
Ethnicity
African American
Complexions
White , Black

Body Features & Measurements
Height

185 CM


6 Feet 1 Inches
Eye color
Brown
Hair color
Black
Weight

86 KG


190 lbs

Shoe Size
11 (US)
Body Type
Average
Family Information
Father
Howell Stouten Wayans (Supermarket manager)
Mother
Elvira Alethia Green (Social worker)
Son
Marlon Wayans II (named after his younger brother Marlon)
Wife

Ursula Wayans

Daughters

Illia Wayans


Laila Wayans (Eldest child)
Brothers
Marlon Wayans (Actor/ Comedian; born in 1972)
Damon Kyle Wayans, Sr. (actor, comedian, writer; born September 4, 1960)
Keenen Ivory Wayans, Sr (actor, comedian; born in 1958)


Dwayne Wayans

Sisters

Diedre Wayans




Nadia Wayans




Elvira Wayans


Kim Wayans (born in 1961)


Vonnie Wayans

Uncle
Craig Wayans
Grandfathers
Paul Otto Wayans (paternal)
Ivory Garrett Green (maternal)
Nephews
Jamel Wayans (Son of Diedre Wayans)
Damon Wayans, Jr. (Son of Damon Wayans)
Keenen Ivory Wayans, Jr. (Son ogf Keenen Ivory Wayans, Sr)
Shawn Howell Wayans (Son of Marlon Wayans)
Gregg Wayans (Son of Diedre Wayans)
Justin Wayans (Son of Diedre Wayans)
Craig Wayans (Son of Diedre Wayans)
Damien Wayans (Son of Elvira Wayans)
Michael Wayans (Son of Damon Wayans)
Nieces
Kyla Wayans (Daughter of Damon Wayans)
Summer Wayans (Daughter of Diedre Wayans)
Chaunté Wayans (Daughter of Elvira Wayans)
Cara Mia Wayans (Daughter of Damon Wayans)
Daphne Ivory Wayans (Daughter of Keenen Ivory Wayans, Sr)
Nala Wayans (Daughter of Keenen Ivory Wayans, Sr)
Bella Wayans (Daughter of Keenen Ivory Wayans, Sr)
Jolie Ivory Imani Wayans (Daughter of Keenen Ivory Wayans, Sr)
Amai Zackary Wayans (Daughter of Marlon Wayans)
Brandee Wayans (Daughter of Diedre Wayans)
Grandmothers
Lillian Victoria Howell (paternal)
Elvira Brown (maternal)

Education Qualifications
Education (High School)
Bayard Rustin High School for the Humanities (1989)
Career Information
Debut (Movie)
I'm Gonna Git You Sucka(1988)
Years Active
1988-
Debut (TV)
The Best of Robert Townsend & His Partners in Crime(1991)
Favorites, Hobbies, Likes/ Dislikes
Favorite Beverage
Green Tea
Social Networks, Web links
Facebook Profile
Shawn Wayans Facebook Profile
Twitter Profile
Shawn Wayans Twitter Profile
Instagram Profile
Shawn Wayans Instagram Profile
Contact
Manager
Modus Entertainment
Talent Agent
William Morris Agency
Publicist
Tencer & Associates
More Information
Net worth

$30 Million
Biography
Shawn Wayans is an American actor, comedian, producer, writer. He is popular for his roles in The Wayans Bros. (1995-1999), Scary Movie (1999) and White Chicks(2004). He along with his brother Marlon & Keenan have created an animated comedy series named- The Boo Crew(2017).
He was born on 19th January 1971 in New York City, New York to Howell Stouten Wayans(Father) a supermarket manager & Elvira Alethia Green(Mother) a social worker. He grew up in Fulton Houses, Manhattan with 9 siblings.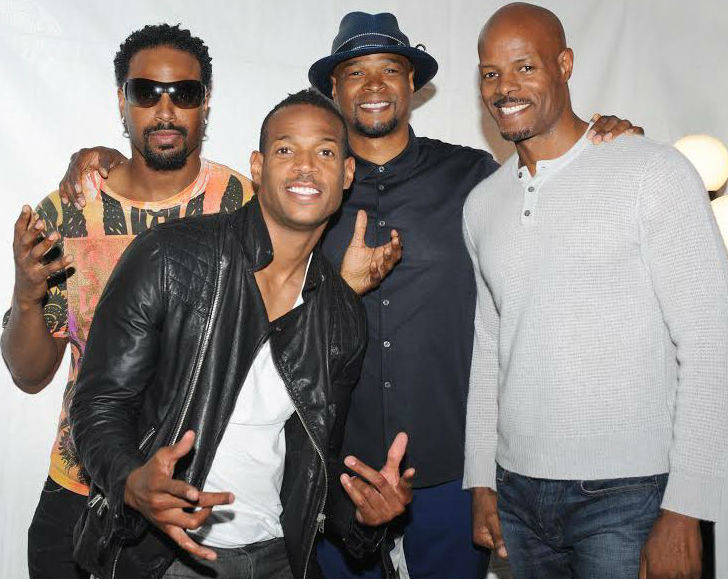 Image: Shawn Wayans with brothers- Marlon Wayans, Keenan Wayans, Damon Wayans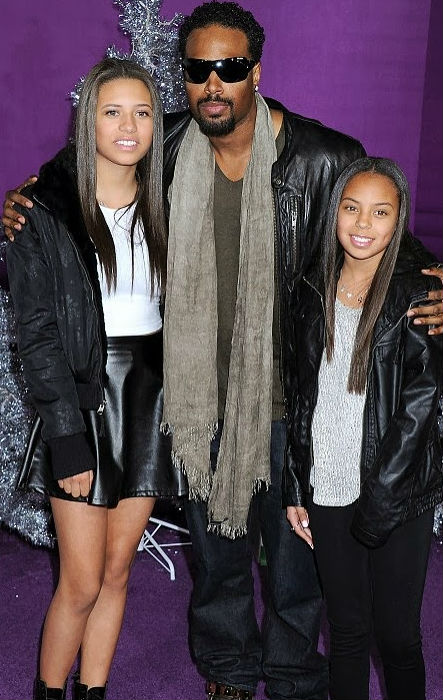 Image: Shawn Wayans with his daughters- Illia Wayans, Laila Wayans
Some of the popular movies he has appeared in are: Don't Be a Menace to South Central While Drinking Your Juice in the Hood(1996), Scary Movie(2000), Scary Movie 2(2001), White Chicks(2004), Little Man(2004), Dance Flick(2009).
Some of the popular TV series he has appeared in or voiced the characters are: MacGyver, In Living Color, Hangin' with Mr. Cooper, The Wayans Bros., Waynehead, The Parent Hood, Happily Ever After: Fairy Tales for Every Child, Thugaboo: Sneaker Madness(voice artist), animals.
Interesting Facts
Shawn is the 9th child among the ten children his parents have.
When he was just 6 years old he got addicted to humor, that is when he realized he will become a comedian some day and make a living out of it.
Shawn's son is named after his younger brother Marlon Wayans. They had made this agreement a long time ago while watching a movie which inspired them to copy the idea, apparently the younger Marlon dresses like the Marlon he is named after.
He hosted the MTV Video Music Awards(2000).
Shawn & his brother Marlon appeared in a WB's Commercial in the 90s.
His profile has appeared in People Weekly/ Teen People magazines.
In 2007 Shawn along with his brother Marlon received Golden Raspberry Award (given for worst film) for the movie Little Man.
German actor Marius Claren is compared to Shawn Wayans in Germany.
Poverty: He grew up in a poor family, he ate a lot of Syrup sandwiches. Growing up, they did not have electricity at home.
He started standup comedy at the age of 17. He sometimes worked with Chris Rock.
He frequently performs in Chicago, he considers it his second home.
Wayans family is an inspiration to the black community as a group which has excelled together. Shawn considers Jackson family an inspiration for him and siblings while growing up.
He doesn't drink Coffee, he likes Green Tea & carries it everywhere.
His brother Keenan 'Ivory' was named after his grandfather 'Ivory'
Scary Movie(1999) which was co-written and starred Shawn was the highest grossing movie by an African-American director at that time. The movie was made in a small budget of $19 Million and made more than $150 Million in the Us & more than $275 Million worldwide.
Next To Last Productions: He has worked with Next To Last Productions.
He is not much into social media, he likes it quiet and peaceful.
He has done Bikram Yoga before. He takes his massages frequently, gets facials once in a while.
He wears shades sometimes just because it makes his life easy, 'its energy management' says Shawn.
He is seen playing Gay characters, he is a straight man, married to a woman and has kids.
As a kid he was scared of Halloween & Trick-or-Treating.
Instagram Profile: There seems to be a Instagram profile in his name with huge following, but there are no posts yet.
Shawn Wayans & Marlon Wayans: They are 1.5 year apart in age, and have been very close among siblings since their childhood. They are often seen together on screen, while Keenan (their other brother) is a regular in writing department, Marlon & Shawn appear on screen together frequently. In Living Color, The Wayans Bros., Little Man , Scary Movie, White Chicks are among the movies they both have appeared.
KTLA 5 Channels viewers rated him the most handsome of Wayans brothers. His mother calls all sons Handsome.
He called Donald Trump as white Kanye West.
Quotes
I love my brother(Marlon) to death, I love being with him & I love being without him. the older we got, more different we have become. He has always been wild.
I'm more like Keenan(his brother), He(Marlon) is more like Marvin.
I have like 2 friends outside my family.
Marlon got me into lot of fights as a kid.
If somebody is offended by what I said, I can't worry about that, this is my job.
Women don't like advice. They don't want you to fix their problems, they just want you to listen.
We have always had gross humor. But we try for funny, not gross.
(About statues being pulled down) Why not have statues reminding of good times, like Abraham Lincoln, Martin Luther King.