Biography
Charlie Heaton is an English TV & Movie actor & Musician. Jonathan Byers in Stranger Things, Sam Guthrie in The New Mutants, Stephen in 'Shut In' , Billy in The Secret of Marrowbone.
Charlie Heaton was born on 6th February 1994 in Bridlington, East Yorkshire, England. Charlie and sister were brought up by their mother in London.
Charlie Heaton: Facts & Trivia
Move to London: Charlie Heaton moved to London at the age of 16 to seek a career in acting.
Comanechi: Charlie was part of the London based noise rock band, he was their drummer for about an year. It was kind of named after Nadia Comanechi. Simon Petrovitch, Akiko Matsuura were the other members of the band.
First acting job: Swiss insurance company Commercial
He was initially into just music, his sister suggested that he try commercials, it was casting director Lucinda Syson who picked him for the job, after commercials came real acting jobs, he has landed in quite a few TV series and movies in a short period of time.
Cocaine controversy: While Charlie was travelling firm UK to USA for the premiere of Stranger Things he was denied by the airport authorities in the USA, he was sent back to USA, he would have been charged with consumption and possession of the drug.
Akiko Matsuura: Charlie previously dated British drummer & vocalist Akiko Matsuura (Japanese ancestry), the couple have a son named Archie(born in 2014) together. They used to work together on the Comanechi band.
Screen Actors Guild Awards(2017): Charlie won the "Outstanding Performance by an Ensemble in a Drama Series" award along with the whole cast of Stranger Things.
The Performers: He appeared in the 3rd act titled "The Performers" for Gucci & GQ in 2017
There was a verified twitter account in the name of Charlie Heaton, it wasn't his, he had to report to get it down.
GQ Style Mexico: He has featured in the magazine in the 2017 edition
GQ Italia: He has appeared in GQ Italia in 2017
Charlie worked in a Bar for a brief period to make enough money to travel to Los Angeles
Charlie's sister Levi Heaton is an actress, She has acted in The Limehouse Golem, McMafia, Vera among other projects.
He worked in extreme temperatures of about -20 degrees in Vancouver, Canada.
When he was in Japan on the tour, he got into Kendama toy, he liked playing it.
Stars of Tomorrow 2015: Screen Daily named him as one of the stars of future to watch out for
Is Charlie Heaton Gay?: He has had girlfriends and has a son with ex-partner. Doesn't look like a Gay except in perhaps cute looks.
Charlie Heaton: Quotes
One of the reasons I enjoy acting is "I'm quite shy & acting allows me to take on the world and allows me to get rid of the anxiety
If you want to do something enough, there can't be a backup plan, you got to just do it
[About West minister weather] I just got off the plane, I was away for 6 months, I realized I missed the place, then it started raining
I was lucky to avoid the commercials where you're their puppet.
I had no idea what I was doing when I started, but sometimes that helps
I've had great feedback, and that builds your confidence
[About his passion] I do miss playing drums, I haven't played music in a while
I'm not really into horror, I was scarred as a kid, I watched scream way too young
Filmography
Charlie Heaton: Filmography
Movies
The New Mutants(2019): He acted in the role of Sam Guthrie in the Horror directed by Josh Boone created by Marvel Entertainment, Chris Claremont, Twentieth Century Fox, Josh Boone starring Maisie Williams, Anya Taylor-Joy, Alice Braga in the main roles.
The Secret of Marrowbone(2017): He portrayed Billy in this Horror Thriller Drama movie directed by Sergio G. Sánchez with stars- Charlie Heaton, Anya Taylor-Joy, George MacKay in the lead.
As You Are(2016): He portrayed the role of Mark in this Mystery Drama directed by Miles Joris-Peyrafitte with actors- Amandla Stenberg, Charlie Heaton, Owen Campbell playing main roles.
Shut In(2016): He played the role of Stephen in the Horror Thriller movie directed by Farren Blackburn starring Naomi Watts, Jacob Tremblay, Charlie Heaton in the lead.
Urban & the Shed Crew(2015): Charlie played Frank in this Drama movie by Candida Brady produced by Candida Brady, Circadian Pictures, Bernard Hare with the cast of Richard Armitage, Anna Friel, Fraser Kelly
Rise of the Footsoldier Part II(2015): He portrayed the character- Dealer in the Drama movie directed by Ricci Harnett with Charlie Heaton, Steven Berkoff, Daniel Adegboyega in the lead.
TV Series
Stranger Things(2016): He played the role- Jonathan Byers in this Horror Fantasy Drama Series with actors- Finn Wolfhard, Winona Ryder, Millie Bobby Brown in the lead cast.
Vera(2015): He acted as Riley in this Crime Drama Series with the cast Riley Jones, Jon Morrison, Brenda Blethyn
DCI Banks(2015): Charlie played Gary McCready in this Mystery Drama Series starring Stephen Tompkinson, Jack Deam, Andrea Lowe in the lead.
Casualty(2015): Charlie Heaton was Jason Waycott in this Drama Series starring Ian Bleasdale, Suzanne Packer, Derek Thompson in the lead.
Others
The Schoolboy(2015): He portrayed Michael Stevens in the short Mystery film directed by Paloma Lommel created by Paloma Lommel with the cast Emma Nicole Bailey, Clark Baker, Emily Aitcheson
Charlie Heaton: Photos, Pictures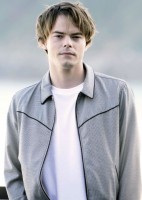 Charlie Heaton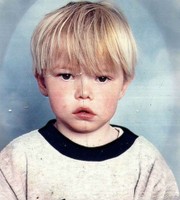 Charlie Heaton childhood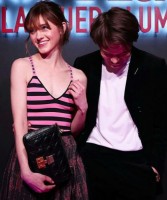 Charlie Heaton with Natalie Dyer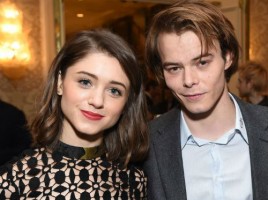 Charlie Heaton with Natalie Dyer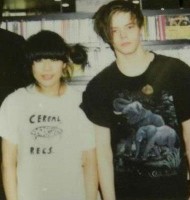 Charlie Heaton with ex-girlfriend

Charlie Heaton with ex-girlfriend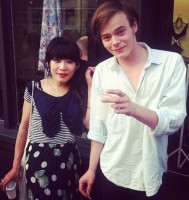 Charlie Heaton with ex-girlfriend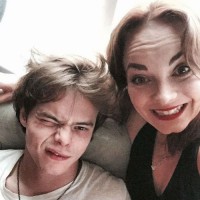 Charlie Heaton with his siter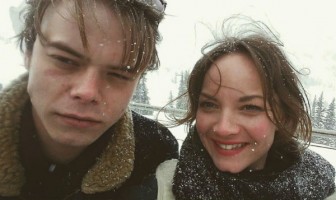 Charlie Heaton with his siter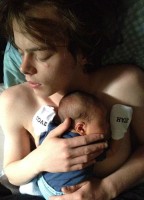 Charlie Heaton with his son Archie Heaton