Biography
Jason Genao [pronounced Ja-nay-oh] is an American actor known for playing the roles- Rictor in Logan(2017), Ruby Martinez in "On My Block", Napoleon in "The Get Down" and minor roles in "Noches con Platanito", "Law & Order: Special Victims Unit".
Jason Genao was born as Jayson Genao on 3rd July 1996 in Jersey City, New Jersey, United States
Jason Genao Facts & Trivia
Jayson Genao: Jason was credited as Jayson Genao in first few of his projects (ex: Ladrones(2015)), he later changed it to the more familiar version "Jason"
Ancestry: Jason is of Domincan descent.
Jason acted in school plays, despite his love for acting he never pursued an acting job until he was 16, he thought it was out of his reach. He found a budget acting school in the summer to get his skills honed and paid with his savings and financial support from his father and brother.
Graduation: Jason graduated from the William L. Dickinson High School, a public high school in Jersey city, Hudson County
La Vie en Rose(1947): The actor has admitted to have been inspired to become an actor after the 1947 French classic
Debut: Jason's first entry into cinemas was through Logan, where he played a minor role. Jason got a breakthrough when he got the Netflix TV series.
Breakthrough: Jason got a big breakthrough on the coming-of-age comedy TV series on Netflix "On My Block" where he played Ruby Martinez, the young protagonist. The show was ranked #1 among 65 Netflix Originals in 2018 by the business insiders. The billboard for the TV series also featured on Times Square.
Academy Award: He considers winning an academy award to be his lifetime goal.
His instagram profile bio says "Actor... for now"
His Twitter bio reads "fake it till you make it"
NOH8 Campaign: He promotes NOH8 Campaign which fights bullying and discrimination, and stands for equality
Backstage Cast Interview: The very first interview of Jason was by Backstage Cast magazine, they printed his picture as well as text.
He is a fan of Black Panther movies.
He is not that much into musicals.
He likes Kanye West's "Family business"
He likes watching movie trailers in his free time, he calls it his favorite thing to do.
Favorite movies: Into the Wild, Who's afraid of Virginia Woolf, Young Frankenstein, La Vie en Rose(1947) as the movies that made him fall in love with movies.
Gasland is his favorite documentary
If he was not an actor he would have like to be a medical examiner or a chef
He likes acting in films, theater comes second
Jason Genao Quotes
[About giving dreams up] Life is too short to settle [for something less than one deserves]
It's hard [to achieve dreams] but these things aren't impossible
I just hope that everyone can go to bed, they dream, and the dream isn't over when they wake up
Imagine I was born after 2002 and made a musically... Tragic
Orange juice is disgusting
Art is a spiritual thing. You don't play with art
I'm a cancer just trying to be an Aquarius
Be kind or be silent
Mother Nature is tired of us
The world would be such a better place if people would mind their damn business
Dying is easy, comedy is hard
Don't let the mental barriers that because those before you couldn't strive force you to settle
Do it or don't, you'll regret both
I don't want to be a big blockbuster person. I want to do the films that inspired me to act.
Jason Genao: Photos, Pictures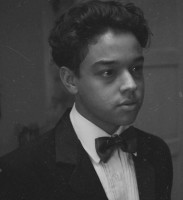 Jason Genao