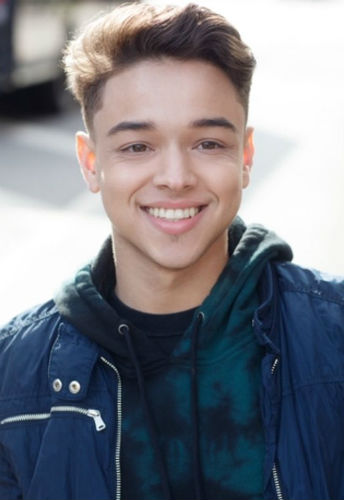 Jason Genao
| | |
| --- | --- |
| Date Of Birth | July 3, 1996 |
| Age | 27 years 4 months 28 days |
| Day of Birth | Wednesday |
| Place Of Birth | Jersey City, New Jersey, United States |
| Zodiac Sign | Cancer |
| Profession | Actor |
| Nickname | Jospeh |
| Full Name | Jason Steven Genao |
| Other Name | Jayson Genao |
Personal Information
Residence

New Jersey, United States

Religion
Christianity
Languages
Spanish , French , English
Nationality
American
Ethnicity
Domincan American
Famous For
Playing

Body Features & Measurements
Height

156 CM


5 Feet 1 Inches
Eye color
Brown
Hair color
Brown
Weight

55 KG


121 lbs

Shoe Size
8
Family Information
Brothers

David Genao




Danny Genao

Education Qualifications
Education (High School)
William L. Dickinson High School
Career Information
Debut (Movie)
Logan(2017)
Years Active
2016-
Favorites, Hobbies, Likes/ Dislikes
Hobbies
Dancing
Cooking
surfing
Favorite Actors
Gary Oldaman
Heath Ledger
Al Pacino
Gene Wilder
Favorite Actresses
Michelle Williams
Bette Davis
Bea Arthur
Marion Cotillard
Elizabeth Taylor
Cate Blanchett
Amy adams
Meryl Streep
Favorite Food
Cheese Burger
Favorite Colors
Blue
Black
Favorite Movies
Young Frankenstein
Who's afraid of Virginia Woolf
The Dark Knight
La Vie en Rose(1947)
Into the Wild
All About Eve
Favorite Singers
Bob Dylan
Nina Simone
Lauryn Hill
Favorite Musicians
Kanye West
Amy Whinehouse
Favorite Book
The Catcher in the rye
Favorite Cuisines
Hispanic
Japanese
Likes
Boyz n the Hood
Lupita Nyong
Gina Rodriguez
Tilda Swinton
When They See Us
Favorite play
Eclipsed
Favorite Movie genre
Horror
Favorite Ice-creams
Pineapple coconut
Dulce de Leche
Social Networks, Web links
Twitter Profile
Jason Genao Twitter Profile
Instagram Profile
Jason Genao Instagram Profile
More Information
Friends
Sierra Capri
Brett Gray
Net worth

$200,000
Biography
Jason Genao [pronounced Ja-nay-oh] is an American actor known for playing the roles- Rictor in Logan(2017), Ruby Martinez in "On My Block", Napoleon in "The Get Down" and minor roles in "Noches con Platanito", "Law & Order: Special Victims Unit".
Jason Genao was born as Jayson Genao on 3rd July 1996 in Jersey City, New Jersey, United States. Jason's parents are of Dominican ethnicity from Jersey City, New Jersey.
Jason has two brothers:
Jason Genao Education
Jason attended William L. Dickinson High School, a community public high located in Jersey City, Hudson County of New Jersey, Where he studied 9th through 12th.
Jason Genao Facts & Trivia
Jayson Genao: Jason was credited as Jayson Genao in first few of his projects (ex: Ladrones(2015)), he later changed it to the more familiar version "Jason"
Ancestry: Jason is of Domincan descent.
Acting: Jason was 9 years old when he realised he wanted to become an actor.
Jason acted in school plays, despite his love for acting he never pursued an acting job until he was 16, he thought it was out of his reach. He found a budget acting school in the summer to get his skills honed and paid with his savings and financial support from his father and brother.
Graduation: Jason graduated from the William L. Dickinson High School, a public high school in Jersey city, Hudson County
La Vie en Rose(1947): The actor has admitted to have been inspired to become an actor after the 1947 French classic
Debut: Jason's first entry into cinemas was through Logan, where he played a minor role. Jason got a breakthrough when he got the Netflix TV series.
Breakthrough: Jason got a big breakthrough on the coming-of-age comedy TV series on Netflix "On My Block" where he played Ruby Martinez, the young protagonist. The show was ranked #1 among 65 Netflix Originals in 2018 by the business insiders. The billboard for the TV series also featured on Times Square.
Academy Award: He considers winning an academy award to be his lifetime goal.
His instagram profile bio says "Actor... for now"
His Twitter bio reads "fake it till you make it"
NOH8 Campaign: He promotes NOH8 Campaign which fights bullying and discrimination, and stands for equality
Backstage Cast Interview: The very first interview of Jason was by Backstage Cast magazine, they printed his picture as well as text.
He is a fan of Black Panther movies.
He is not that much into musicals.
He likes Kanye West's "Family business"
He likes watching movie trailers in his free time, he calls it his favorite thing to do.
Favorite movies: Into the Wild, Who's afraid of Virginia Woolf, Young Frankenstein, La Vie en Rose(1947) as the movies that made him fall in love with movies.
Gasland is his favorite documentary
If he was not an actor he would have like to be a medical examiner or a chef
He likes acting in films, theater comes second
Avante Magazine: The fashion magazine featured him in June 2019
Ride and Seek: Jason made a video on safe driving (wearing seat belts, buckling up and wearing helmets) with the "Do Something", the non-profit organization that promotes empowering community.
Adventure: He likes simple adventures.
Cooking: He loves cooking, he was very close to becoming a chef, Acting and Cooking are his 2 biggest passions
Auditioning: He googled "How to Audition" when he got his first chance to Audition for a role in the TV series.
Movie Genre: He likes comedy, but he always thought of himself as a Drama guy.
Accident: In his early 20s he had an accident which shook him real bad, he wears seat belts even if he has to move just couple of blocks, he has made safety promotion videos for charity foundation.
Rapid Questions:

First thing to do in the morning- Brush the Teeth
Best known among friends for- Being Funny
If he wasn't an actor, he would be a- Chef
Favorite thing to cook- Roasted Pork shoulder
Hopes people remember him as- Good actor
Imitations?- NO

PTSD: He reached out to his fans about PTSD, surprisingly it was older folks that thanked him and reached out to him, despite his audience being youth
Crazy Fan Movement: A 16 year old all of a sudden started crying by the side of road, she had to drink water to calm herself down, Jason was looking around to make sure if she was in awe of him or someone else around him
Jason Genao Career
Debut: Jason made his acting debut through the episode "41 Witnesses of "Law & Order: Special Victims Unit" in 2016 where he played 'William Reeves'.
Major Role: Jason first major role was in the Netflix original series "On My Block" where he played "Ruby Martinez". He played one of the major roles in this most watched Teen web Series.
Jason Genao Filmography
Max Winslow and the House of Secrets(2019)- Benny
God Friended Me(2018)- (TV series)- Isaac
On My Block(2018-) (Netflix series)- Ruby Martinez
The Get Down(2016-) (Netflix series)- Napoleon
Logan(2017)- Rictor
Law & Order: Special Victims Unit(2016)- William Reeves
Ladrones(2015)- Agente FBI
Jason Genao News & Updates
May 2019: Posed for "A BOOK OF Magazine" in May, they made couple of his posters available to his fans for purchase online.
March 2019: Jason & the crew of "On My Block" appeared on the "Times Square" billboard in New York, as a part of the promotion of the next season of the TV series
Jason Genao Quotes
[About giving dreams up] Life is too short to settle [for something less than one deserves]
It's hard [to achieve dreams] but these things aren't impossible
I just hope that everyone can go to bed, they dream, and the dream isn't over when they wake up
Imagine I was born after 2002 and made a musically... Tragic
Orange juice is disgusting
Art is a spiritual thing. You don't play with art
I'm a cancer just trying to be an Aquarius
Be kind or be silent
Mother Nature is tired of us
The world would be such a better place if people would mind their damn business
Dying is easy, comedy is hard
Don't let the mental barriers that because those before you couldn't strive force you to settle
Do it or don't, you'll regret both
I don't want to be a big blockbuster person. I want to do the films that inspired me to act.
[On his movie interests] I don't know what's wrong with me, but I have to watch any type of murder documentaries
[About change in his life after popularity] I can't go to the stores anymore, people will be like .."Is it.. is it..", I'd be like "No"
Give it your all, give it your 100%, you will realize after some time if it is working out for you, if it is not working out try the second best thing
[He made a pun] These typos are getting out of hand
Yeah you're cute but are you good for my mental health
[A funny take] Airlines like to play who's more dramatic with these safety demonstration videos
Lauryn Hill really only gave us one album maybe that's why the world is in shambles
I need some sort of medicine to help with procrastination
[why don't people wear seat belts] People never think it is not going to happen to them
Hygiene is big on my list
I Love acting, I love it so much. I don't mind acting any character under the face of the sun
[About Social Media] I love twitter, Twitter is the best
Sources