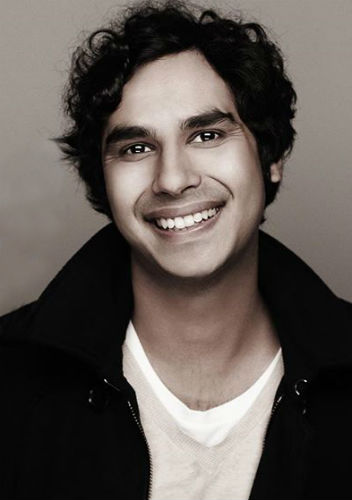 Kunal Nayyar
| | |
| --- | --- |
| Date Of Birth | April 30, 1981 |
| Age | 42 years 1 months 6 days |
| Day of Birth | Thursday |
| Place Of Birth | Hounslow, London, England |
| Zodiac Sign | Taurus |
| Professions | Writer , Actor |
| Other Name | DJ Million (DJ name) |
| Name (Hindi) | कुणाल नय्यर |
Personal Information
Residence

Los Angeles, California, United States

Religion
Hinduism
Languages
Hindi , English , Punjabi
Star Sign
Taurus
Nationalities

Indian

, British (by birth)
Ethnicity
Punjabi
Complexion
Brown

Body Features & Measurements
Height

171 CM


5 Feet 7 Inches
Eye color
Brown
Hair color
Black
Weight

68 KG


150 lbs

Body Type
Average
Hair type
Curly
Family Information
Father
Rakesh Nayyar (Accountant)
Mother
Heita Nayyar (interior designer)
Wife
Neha Kapur (married in 2011)

Education Qualifications
Education (Graduation)
Bachelor of Science
Education(School)
St Columba's School
Alma Mater

University of Portland




Temple University

Education (Post-Graduation)
Master of Fine Arts
Career Information
Debut (Movie)
S.C.I.E.N.C.E(2004)
Years Active
2004-
Debut (TV)
NCIS(2007)
Debut(Theater)
Huck & Holden(2006)
Favorites, Hobbies, Likes/ Dislikes
Hobbies
Writing
Dancing
Golf
Favorite Food
Chicken wings
Favorite Movies
Star Wars
The Lord of the Rings
Favorite Singer
Mariah Carey
Favorite Sports
Badminton , basketball , Golf
Favorite Song
Deep Deep Trouble (Bart Simpson)
Favorite Car
BMW i8
Favorite Drink
Whiskey (Jack Daniels)
Favorite TV shows
Friends
Modern Family
Game of Thrones
30 Rock
Favorite Cuisine
Gujarati
Indulgence
Pizza (Hawaiian)
Social Networks, Web links
Instagram Profile
Kunal Nayyar Instagram Profile
More Information
Teachers
Doug Wager (Acting)
Mindi Logan (Acting)
Net worth
$50 Million (December 2017)
Biography
Kunal Nayyar is a London-born Indian descent American actor. He is most known for his role as astrophysicist Rajesh Ramayan Koothrappali on the CBS situational comedy show The Big Bang Theory.
Kunal was born on 30th April 1981 in Hammersmith, London, England to parents of Indian origin. His family moved to Delhi when he was 3 years old, he grew up and studied mostly in New Delhi, India.
Some of the other major works of Kunal are- voicing the character Vijay in the Nickelodeon animation series "Sanjay and Craig", voicing the character 'Gupta' in the animation movie Ice Age: Continental Drift(2012).
Education
School: Kunal attended St Columba's School situated at Ashok Place, Gole Market, New Delhi for his schooling.
Graduation: Kunal moved to the United States in 1999 to study at the University of Portland, Oregon for a Bachelor of Science in Finance (Business & Marketing). He grew interested in acting and drama during his time as a college student, he had participated in school plays as a child.
Masters: Kunal attended Temple University in Philadelphia, Pennsylvania for his master's degree (Master of Fine Arts) in acting.
Family
Kunal's father Rakesh Nayyar worked as an accountant and his mother Heita Nayyar worked as an interior designer. His parents are now settled in Delhi.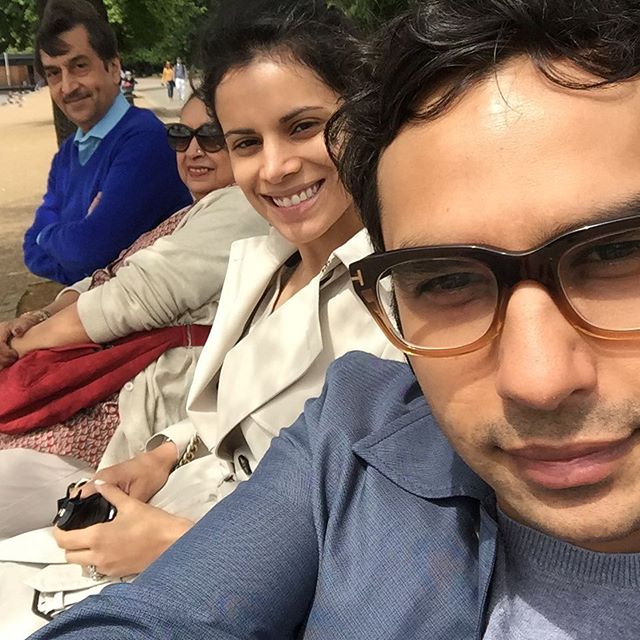 [Kunal Nayyar Family: Rakesh Nayyar(Dad), Heita Nayyar(Mother), Neha Kapur(Wife) Neha Kapur(Wife)]
Marriage
Kunal Nayyar & Neha Kapur: Kunal married Former Miss India(2006) Neha Kapur on 22nd December 2011, the couple live in Los Angeles and Delhi. The two had met for the first time on December 24, 2009 in Delhi. Their wedding was conducted for eventful 6 days with 1000 guests attending the event.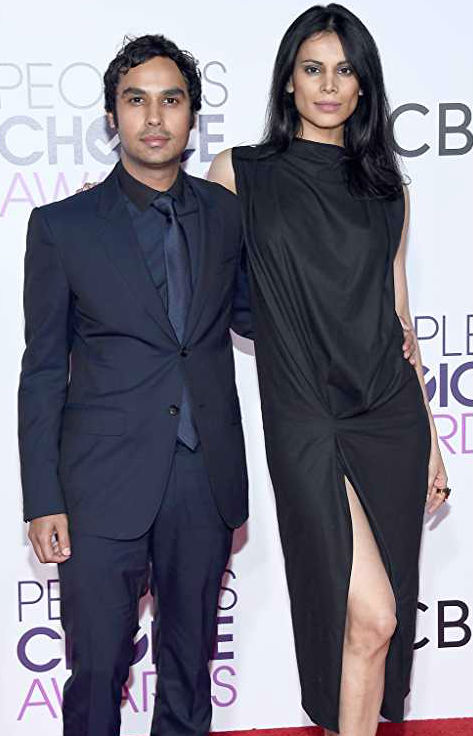 Image: Kunal Nayyar with wife Neha Kapur
Career
While in college, Kunal attended an event organized by the Kennedy Center American College Theater Festival (KCACTF), inspired by the event he decided to change his line of career and become an actor. He chose a major in 'acting' at the Temple University in Philadelphia, Pennsylvania, for his 'Master of Fine Arts' degree. He studied theater for 7 years.
For a brief period after his graduation, Kunal worked in the London theaters and started working in American TV ads.
Huck & Holden(2006): Kunal first gained attention for his work in Rajiv Joseph's (famous for his Pulitzer finalist play 'Bengal Tiger at the Baghdad Zoo') play Huck & Holden(2006), it was also Rajiv's debut play. Kunal acted as an Indian exchange student in the USA trying to experience the American culture before returning home to India.
Cotton Candy: Kunal and his friend Arun Das co-wrote a drama named 'Cotton Candy' in 2006, it was played in the New Delhi stages and received a good response from the audience.
He next appeared in one of the NCIS episodes named 'Suspicion' playing the Iraqi terrorist Youssef Zidan.
The Big Bang Theory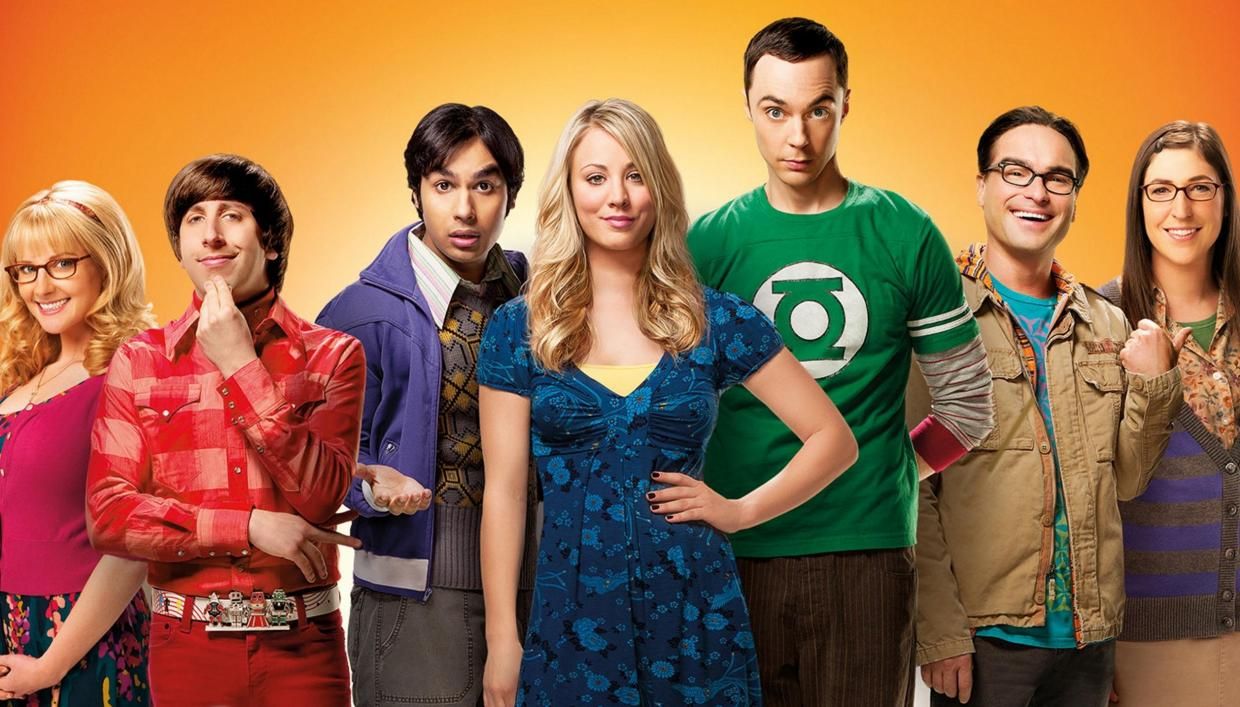 [Kunal Nayyar in The Big Bang Theory with the main roles]
Kunal's big break came in the year 2007 through his role as 'Raj Koothrappali' an astrophysicist in the CBS sitcom 'The Big Bang Theory'.
His character Raj Koothrappali became an instant hit among the fans of the show. The character lasted from the pilot episode till the last episode released in 2019.
People have been so obsessed with the character Raj that they have been searching the internet to know if Raj's accent on the show is Kunal's actual accent or modification for the show. Kunal vows that it is his natural accent.
Forbes listed Kunal in the Top 3 highest-paid TV actors list of 2015. He had earned $20 Million in the year. In 2018 he earned $23.5 million, again making the appearance on the list for 2018. Others on the list with him were Jim Parsons, Johnny Galecki, Simon Helberg (all 3 from The Big Bang Theory), Mark Harmon.
He is reported to have received $100,000 per episode in 2013-14 and >$900,000 per episode in the last seasons (2017-19) of the series.
Tribute to Nerds: In 2011 Kunal co-hosted the show with Simon Helberg (his co-star on The Big Bang Theory, played Howard Wolowitz at the 'Just for Laughs' comedy festival.
In 2012, Kunal voiced the character 'Gupta' in the animation movie 'Ice Age: Continental Drift'.
Kunal's first appearance in a (TV) film was through the 2014 Canadian-Indian romantic comedy (actually shot in 2012) film 'Dr. Cabbie' directed by Jean-François Pouliot and co-produced by the Bollywood superstar Salman Khan.
The Spoils: From May 5 2015-June 29 2015, Kunal appeared in the off-Broadway production 'The Spoils' written by Jesse Eisenberg (The Social Network), who also played the leading role of 'Ben' in the show. Kunal played Ben's roommate Kalyan, a Nepalese student.
In 2016, he voiced the character 'Guy Diamond' in the animation movie 'Trolls' by DreamWorks.
Criminal: UK- Kunal appeared in the last episode of Season 2 ("Sandeep") of the Netflix series 'Criminal: UK' as the serial killer named Sandeep (titular role). It was directed by Jim Field Smith and released in 16 September 2020.
The Storied Life Of A. J. Fikry
Kunal appears in the titular role of A. J. Fikry in the film adoption of Gabrielle Zevin's novel of the same name.
Christina Hendricks (Ismay), Lucy Hale (Amelia), David Arquette (Lambiase), Scott Foley( Daniel) Lauren Stamile(Leonora) and others also appear in the comedy drama.
Suspicion (2022-)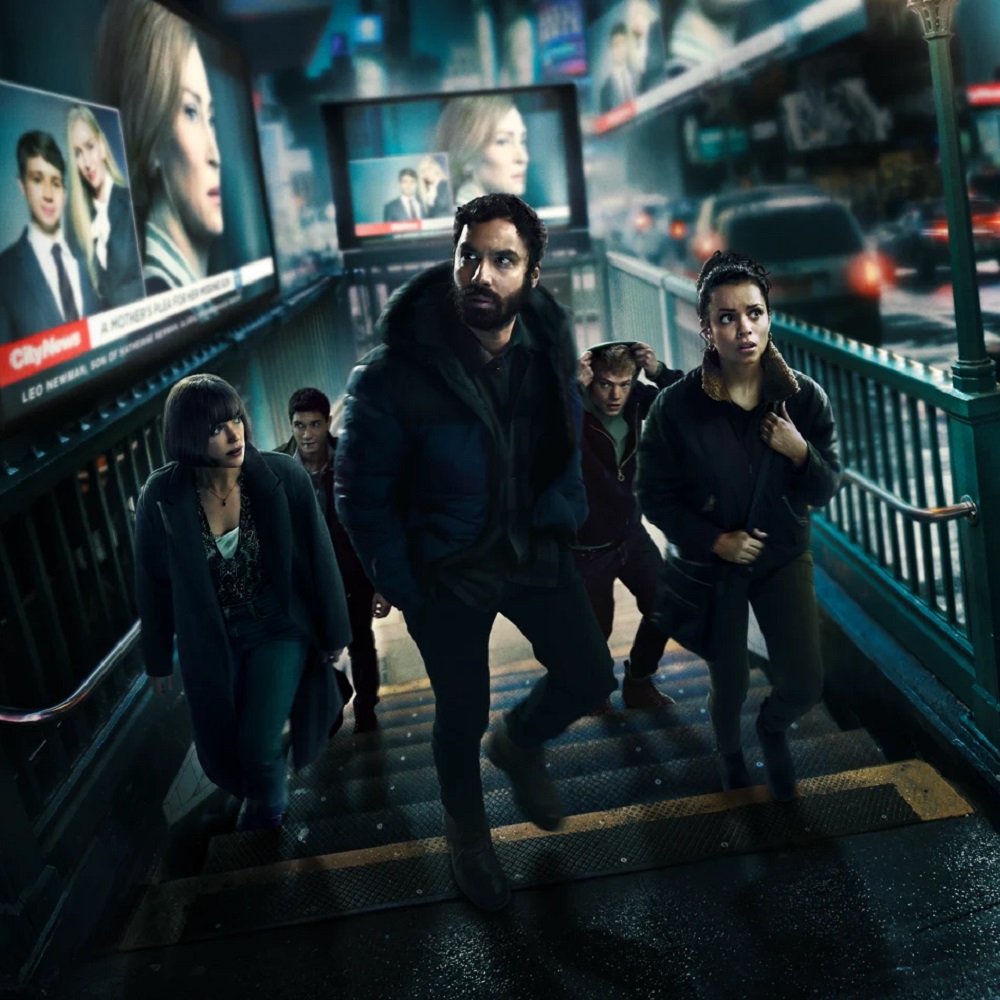 [Kunal Nayyar in 'Suspicion']
Kunal is appearing in the Apple TV+ series named 'Suspicion', which is based on the Israeli thriller series 'False Flag'. Kunal appears in one of the main roles as 'Aadesh Chopra', alongside Georgina Campbell, Elyes Gabel, Elizabeth Henstridge, Angel Coulby, Lydia West, Clare Perkins, Tom Rhys Harries, Noah Emmerich and Uma Thurman.
The first season of the series was released in February 2022. The show received mixed reviews, it received a 6+ rating on imdb. Kunal sports a cool beard in the show, giving him a very different look from the Raj of The Big Bang Theory.
Filmography
Movies
| Year | Movie | Character | Notes |
| --- | --- | --- | --- |
| 2004 | S.C.I.E.N.C.E | Pizza Man | |
| 2012 | Ice Age: Continental Drift | Gupta(Voice) | Gupta is the name of a Bengali badger |
| 2013 | Beyond All Boundaries | (as Narrator) | |
| 2014 | The Scribbler | Karim | |
| 2014 | Dr. Cabbie | Tony | |
| 2015 | Consumed | Serge Negani | |
| 2016 | Trolls | Guy Diamond(Voice) | |
| 2019 | Sweetness in the Belly | Dr. Robin Sathi | |
| 2020 | Trolls World Tour | Guy Diamond(Voice) | |
| 2020 | Think Like a Dog | Mr. Mills | |
| 2021 | Spaceman | | |
| | The Storied Life of A.J. Fikry | A.J Fikry | Titular role |
TV Series
| Year | TV Series | Character | Notes |
| --- | --- | --- | --- |
| 2022 | Suspicion | Aadesh Chopra | Main role; |
| 2020-2021 | Mira, Royal Detective | Naveen | TV shorts |
| 2020 | Criminal: UK | Sandeep Singh | Episode "Sandeep" |
| 2020 | Think Like a Dog | Mr. Mills | |
| 2015 | The Mindy Project | Sendhil | "While I Was Sleeping" |
| 2013-2014 | Sullivan & Son | Sanjay/Neal | 2 Episodes ("Ladies Night", "Sexual Healing") |
| 2013-2016 | Sanjay and Craig | Vijay (voice) | voiced the main role, alongside Maulik Pancholy and Chris Hardwick |
| 2007-2019 | The Big Bang Theory | Raj Koothrappali | Main role, all episodes |
| 2007 | NCIS | Youssef Zidan | Episode "Suspicion" (S04E12) |
TV
| Year | Name | Notes |
| --- | --- | --- |
| 2021 | Trolls Holiday in Harmony | Voices the character Guy Diamond in the TV short |
| 2020 | Tiny Diamond Goes Back to School | Voices the character Guy Diamond |
| 2020 | Trolls 2: World Tour | Voices the character Guy Diamond |
| 2017 | Drop the Mic | "Mayim Bialik vs. Kunal Nayyar / Ashley Tisdale vs. Nick Lachey" |
| 2017 | Trolls Holiday | as the voice of Guy Diamond in the TV special |
| 2016 | Ice Age: The Great Egg-Scapade | In a cameo of the TV special of the movie |
| 2015 | The Late Late Show | He hosted the show on 25th-27th Feb 2015 |
| 2010 | The Late Late Show with Craig Ferguson | as the character Raj Koothrappali from 'The Big Bang Theory' |
Theater
Year
Play
Character
Notes
2016
The Spoils
Kalyan
Trafalgar Studios, London
2015
The New Group at The Pershing Square Signature Center, New York, United States
2006
Love's Labour's Lost
Royal Shakespeare Company, Stratford upon Avon, United Kingdom
2006
Love's Labour's Lost
Shakespeare Theatre Company, Lansburgh Theatre, Washington, DC, United States
2006
Huck and Holden
Kalyan

Writer & Lead actor: Jesse Eisenberg

Dahlia Theater, Los Angeles, United States
Interesting Facts & Trivia
He played Badminton for his school team in his school days at St. Columba's School (New Delhi).
He lives in Los Angeles for his work, while his parents live in Delhi India.
Yes, My Accent is Real: and Some Other Things I Haven't Told You: Kunal wrote an autobiographical book in 2015 based on his career journey, the title is a play on people who would get curious about his accent.
He grew up loving Friends, he has met Friends stars- Matthew Perry & David Schwimmer.
Acrophobic: He is afraid of Heights.
Claustrophobic: He is afraid of narrow passages.
Mark Twain Award: He won the fellowship at the Sundance Theatre Lab- Utah as well as the Mark Twain Award for Comedic brilliance.
American College Theatre Festival: He won at the competition with his monologue.
Kunal: means he who sees beauty in everything, it comes from the name of a bird in the Himalayas.
Raj Mahal: The apartment Kunal lives is called 'Raj Mahal' after the character in The Big Bang Theory.
He has appeared in commercials of products such as- Milky Way Chocolate
He often attends Comic-cons to meet fans of his shows.
He has a pet dog named Boba Fett, after the Star Wars character.
Sometimes he gets confused with other brown actors like- Kumail Nanjiani, Asif Mandvi, Kal Penn. He reportedly enjoys those confusions.
The Prince and the Pauper: He was part of the band with a friend, he was the prince
He owned and drove- 'BMW i8' in 2017.
Buddhas in Jeans: Kunal Nayyar opened an Instagram page 'buddhas.in.jeans' in April 2020. On the page, he talks about spirituality, love and grace, mental health, and healing. The page was started during the Covid pandemic to support each other.
Awards
Garland Award(2006): He won the award for playing the lead role in the play Huck and Holden
Screen Actors Guild Award: Kunal has been nominated along with the cast of The Big Bang Theory continuously for years- 2012,13,14,15,16.
BAFTA TV Award(2021)- Kunal got a nomination at the BAFTA TV awards in the Best Supporting Actor category for his role as "Sandeep" in the TV series "Criminal: UK"
Quotes
I know the industry in India. They pay so much money that it's bad for the heart (Speaking about moving to India for a career)
If you tell me my scope gets limited because of my ethnicity, I'll tell you there are so many tall good looking American boys for every mainstream role, I have no complaints.
I would rather do social movies than be the quintessential Bollywood hero.
My accent is exactly the one I had when I first landed in the United States.
I was horrible in the play. I realized that I'm a bad actor & I must improve, I decided to take acting classes.
Everyone warned me about trying to make a career in acting abroad. But that's what made me think about how cool it would be if I could make it.
(About being stereotyped, about how people believe he is like the character he plays on TV) Girls have come up to me in the mall to talk, when I reply they get so shocked that I could actually speak to a girl.
I really don't care much about being typecast. I really don't expect to play an American hero
I have a dialect myself; It's half-British, half-Indian.
I wish Jedi was a true religion.
No one ever sees the sleepless nights, the years of studying and 14-hour days earning your dues.
(About similarities with the character he plays) There is a lot of Koothrappali in me as a human being. A lot of mannerism, humor, mischievousness, my innocence.
When you have a safety net, it allows you to take risks.
I was pretty awkward when I was young, but I was never afraid of putting myself out there.
Many of us will spend hours a week at the gym working on our outer body- yet won't spend five minutes in silence working on our inner body. Today unplug- just for 5 minutes- sit in solitude- be with your silent self- your true nature
It's so much harder trying to be an ass to protect your ego. Let it go, release the burden, be a chiller, be a boss
As much as possible today. Choose love.
Today get out of your own way quit all the planning and for one day let everything just unfold.
The more you choose to love, the less the burden of all the pettiness that we carry. So Be love.
It's so much easier to be kind than to hold on to all the petty things that literally don't matter.
If you could just put this self-made psychological box aside- even for a second, who is left inside? Who is there? Truth awaits.
Sometimes it's just easier to give in to the universe- instead of banging your fists so hard against it. Stop fighting. Breathe. Surrender.
Being kind is easier than being mean. And you know it.
I'm making a commitment every day to make this a more loving world. Join me
No one can put out your light but you. Keep the light on
I haven't lost my Indian accent because I'm not trying to blend in
We never say, 'Let's go grab Indian food' We just call it food.
Sports have taught me how to lose with dignity.
Scotch is my biggest weakness.
I only understand the weather in Celsius.
I can drive on both sides of the road.
Napping is the secret to my success.
Sources