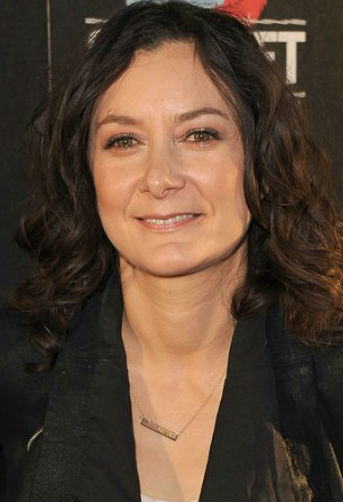 Sara Gilbert
| | |
| --- | --- |
| Date Of Birth | January 29, 1975 |
| Age | 48 years 10 months 2 days |
| Day of Birth | Wednesday |
| Place Of Birth | Santa Monica, California, United States |
| Zodiac Sign | Aquarius |
| Profession | Actress |
| Full Name | Sara Rebecca Abeles |
| Other Name | Sara Abeles |
Personal Information
Residence

Los Angeles, California, United States

Religion
Judaism
Language
English
Star Sign
Aquarius
Nationality
American
Ethnicity
Caucasian
Complexion
White

Body Features & Measurements
Height

157 CM


5 Feet 2 Inches
Eye color
Green
Hair color
Brown
Weight

49 KG


108 lbs

Figure Measurements
3-26-34
Figure Type
Hourglass
Body Type
Average
Family Information
Father

Harold Abeles

Mother

Barbara Gilbert Cowan

Sons
Levi Hank Gilbert Adler (Mother-Allison Adler; born October 2004)
Rhodes Emilio Gilbert Perry (28th February 2015)
Daughter
Sawyer Jane (born August 2007)
Grandfather
Harry Crane (Maternal; Comedy writer)
Nephews
Dakota Paul Brinkman (son of Melissa Gilbert; born May 1, 1989)
Michael Garrett Boxleitner (son of Melissa Gilbert; born October 6, 1995)
Brothers In-Law
Bo Brinkman (Ex)
Bruce Boxleitner (Ex)
Grandmother
Julia Grandis (Maternal)
Aunt
Stephanie Crane (Maternal)
Half Brothers
Jonathan J. Gilbert (Maternal(Adopted); stockbroker; born April 28, 1967)
Joseph Abeles (Paternal;)
Half Sisters
Patrice Abeles (Paternal;)
Melissa Ellen Gilbert (Maternal; born May 8, 1964)
Stepfathers
Warren Cowan
Paul Gilbert
Stepsister
Claudia Cowan (MAternal; born July 31, 1963)
Stepgrandmother
Lillian Reifman (Maternal)

Education Qualifications
Education (Graduation)
Degree in Art (Major), Photography(Minor)(1997)
Alma Mater

Yale University

Love, Romance, Marriage
Partner
Allison Adler (2001-2011)
Spouse
Linda Perry (married in 2014)
Career Information
Years Active
1984–
Debut (TV)
Calamity Jane(1984) (Movie)
Favorites, Hobbies, Likes/ Dislikes
Hobbies
photography
Music
Favorite Sport
basketball
Social Networks, Web links
Facebook Profile
Sara Gilbert Facebook Profile
Twitter Profile
Sara Gilbert Twitter Profile
Instagram Profile
Sara Gilbert Instagram Profile
Contact
Address

9229 W Sunset Blvd., Suite 710, Los Angeles, CA 90069

More Information
Friends
Leonardo Dicaprio
Johnny Galecki
Aarti Mann
Tobey Maguire
Inspiration
Jodie Foster
Net worth
$16 million (in 2017)
Biography
Sara Gilbert is an American TV & Movie actress. She is popular for her role as Darlene Conner in the situational comedy Roseanne (1988-1997). She is known for her role as Leslie Winkle in the CBS situational comedy 'The Big Bang Theory'.
Childhood, Family, Personal Life
Sara Gilbert was born on 29th January 1975 in (St. John's Hospital) Santa Monica, California to Barbara Gilbert Cowan & Harold Abeles. Both her parents are of Jewish ancestry.
Harry Crane- a comedy writer and Julia Grandis were her maternal grandparents. She has a maternal aunt named- Stephanie Crane. From her mother's side she has two siblings- Melissa Ellen Gilbert(1964) an actress and Jonathan J. Gilbert(1967) who was an actor.
From her father's side she has two siblings Patrice Abeles & Joseph Abeles.
Dating Johnny Galecki & Homosexuality: Sara previously had a role in Roseanne (1988-1997) where Johnny Galecki had a role too. They started dating briefly for a period until Sara realized she was a lesbian. They remain close friends. He was her love interest in the popular CBS sitcom The Big Bang Theory(2007-2010).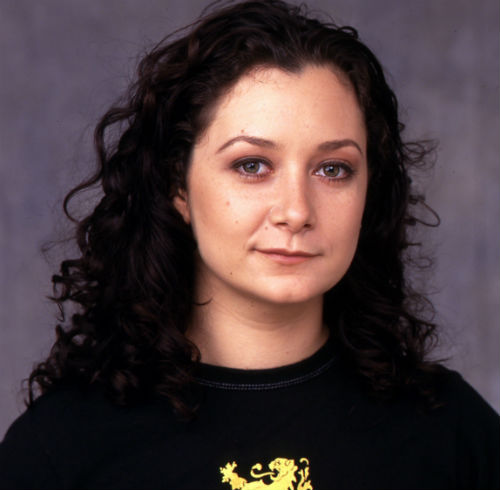 Image: Young Sara Gilbert
Relationship with Allison Adler: Sara & producer Allison Adler started dating in 2001. They lived together for 10 years from 2001-2011. They raised two children together. A son named Levi Hank born to Allison Adler (October 2004) & a daughter named Sawyer Jane born to Sara Gilbert (August 2007) with the help of a sperm donor.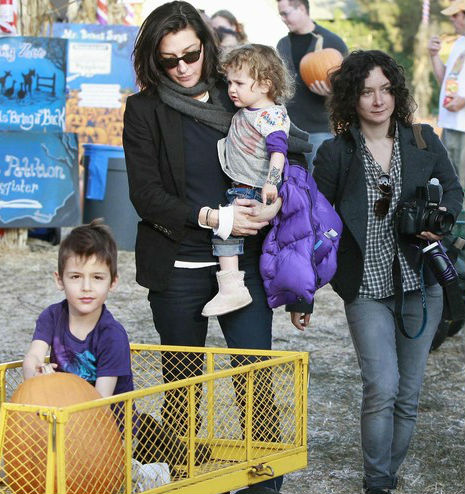 Image: Sara Gilbert & Allison Adler Family: Levi Hank(Son), Sawyer Jane(Daughter)
Relationship with Linda Perry: Sara got acquainted with the songwriter & music producer Linda Perry in 2012. They dated for a while and got engaged in April 2013, they got married on 30th March 2014. Sara gave birth to Rhodes Emilio Gilbert Perry on 28th February 2015.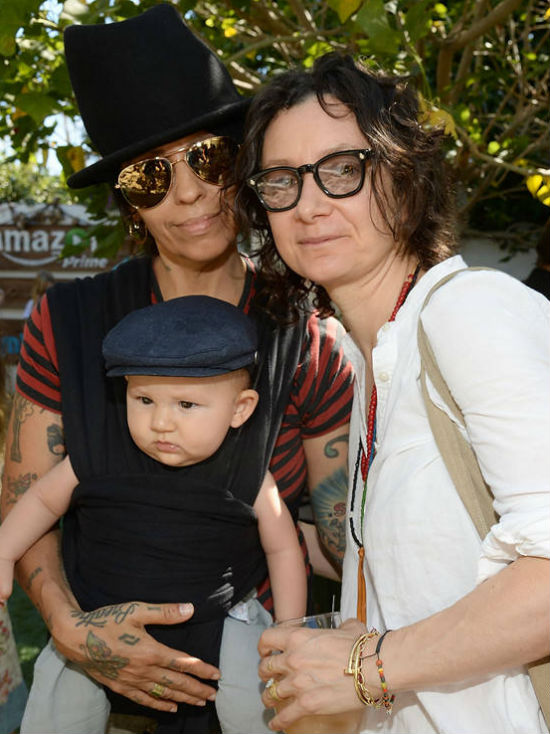 Image: Sara Gilbert & Linda Perry Family: Rhodes Emilio Gilbert Perry(Son)
Career
Sara started her career as a child actress in the TV movie Calamity Jane(1984).
Sara Gilbert on Roseanne(1988-1997): She became popular as a child actress in the TV series Roseanne(1988-1997) along with Roseanne Barr, John Goodman, Laurie Metcalf, Michael Fishman, Lecy Goranson, Natalie West, Estelle Parsons, Johnny Galecki. She received two Emmy Nominations for her role in the series. She later became a writer on the show as well. The show will be reprised with the stars Roseanne Barr, John Goodman, Sara taking their old roles. It was announced in 2017and will be telecast in 2018.
She co-hosts the show 'The Talk' with other hosts- Aisha Tyler, Julie Chen, Sharon Osbourne, Sheryl Underwood on CBS. She was also the creator and co-producer of the show.
Sara Gilbert on Big Bang Theory: Sara appeared on the show The Big Bang Theory(2007-2010) as the scientist Leslie Winkle, a friend of Leonard Hofstadter (Johnny Galecki). She played the love of interest of Johnny Galecki.
Sara made her debut in the movies with Poison Ivy(1992) as Sylvie Cooper. Some of her popular movies are- Desert Blue(1999), Light It Up(1999), The Big Tease(2000), High Fidelity(2000), Boys Life 3(2000), Riding in Cars with Boys(2001), Laws of Attraction(2004).
She had recurring roles in the TV series- Welcome to New York(2000-2001), 24(2002), ER(2004-2007), Twins(2005-2006), The Class(2006-2007), HawthoRNe(2010), Bad Teacher(2014).
Interesting Facts
Her first ever on screen appearance was in a Kool-Aid commercial at the age of 6.
Her family has been in show biz for three generations starting from her grandfather Harry Crane.
She uses the surname 'Gilbert' same as her elder half-siblings though she is not the daughter of Paul Gilbert.
She had a prominent role in Roseanne, creators of the show would accommodate her extra time to study in the Yale University.
She realized she was lesbian after dating few men.
Sara had kept her homosexuality private for a long time, she finally opened up on it on her show 'The Talk' in 2010.
Sara was ranked 38 in the "100 Greatest Kid Stars" list by VH1 cable network.
She is into philosophy and Yoga, she likes Deepak Chopra's works.
She is a vegetarian by choice, she became one in her teen years and animal rights activist.
She has close friendship with actor Johnny Galecki, this is what she said about him "Whenever I'm upset about something, he's the first person I talk to."
Her spouse Linda Perry is of Brazilian(Mother) & Portuguese(Father) ancestry.
She was a tomboy in childhood.
Her grandmother Julia crossed 100 years in 2017.
she loves chocolates.
The imperfect Environmentalist(2013): Sara Gilbert has written a book on Environment, its degradation and ways to overcome pollution
Quotes
About her homosexuality- "I always felt like so scared , if it came out, what could happen. Would I lose my career? Could I ever play a straight role again?"
Johnny would come over, and we would make out, and then I would start to get depressed. I eventually told him that I thought it was about my sexuality and he was super sweet about it.
When I talk about my sexuality on the show or in public, I still feel really scared, So I'll try to act confident or I'll make jokes about it
There can be a part of you that doesn't want to be different or feel scared. And that is maybe more important than any of it
Stop being so tenacious auto-correct. If I go back and spell it that way 3 times it means I WANT to spell it that way.