Biography
Steve Howey is an American TV & movie actor. Steve is well know for his roles as Van Montgomery in Reba(sitcom named after Reba McEntire), Ben Piller in Ctrl (NBC comedy web series), Kevin Ball in Shameless (black comedy-drama) among others.
Steve Howey was born on 12th July 1977 in San Antonio, Texas, United States to Bill Howey(father)- an actor, director and acting coach and Carla Howey(Mother). He grew up in Denver.
Steve Howey & Sarah Shahi Marriage: Steve and Sarah got engaged in June 2007 during their vacation in Hawaii, the couple got married on 7th February 2009 in Las Vegas.
Image: Steve Howey With Wife Sarah Shahi
The couple have three children, a son born on 8th July 2009 named William Wolf Howey (home birth) and twins (son & a daughter) born on 1st March 2015 named Violet Moon Howey(daughter) & Knox Blue Howey(Son).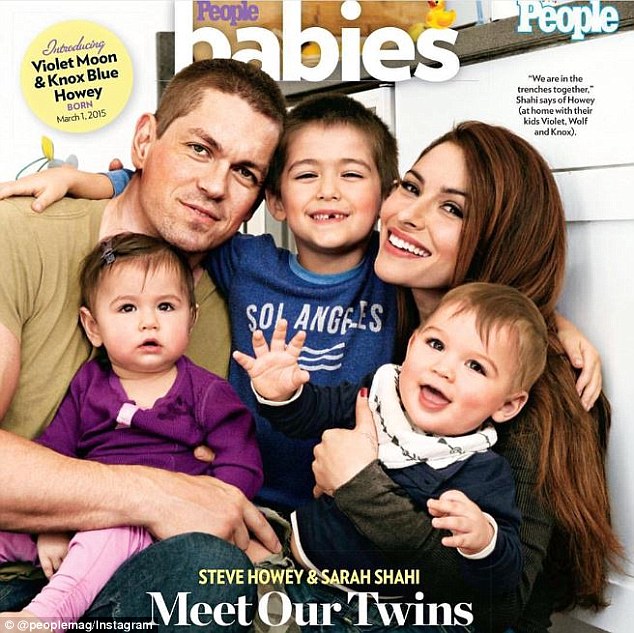 Image: Steve Howey family: Wife Sarah Shahi, Sons and daughter
Steve Howey: Interesting Facts
Steve was into basketball in High school, basketball helped him get a scholarship in Sterling Northeastern Junior College.
Scottish descent: Steve Howey is of Scottish ancestry, as revealed by him during the Craig Ferguson Late Night show. He also has English, German genes in him.
Steve's elder brother used to ride Dirt bikes.
He didn't want to be an actor as a kid, his father was an actor as well as an acting coach, that got him in to the business.
Steve Howey is a member of the Republican Party .
In early childhood Steve grew up in a boat house with his parents.
Diving for bottle caps: As a kid of 8 years he would dive on the coast of Mexico for bottle caps and trade them for candies, he grew up loving and living adventures.
He has been interviewed and profiled by Hollywood Reporter, People magazine, Men's Fitness and others.
He is an investor with Opkix.
He doesn't like working out hard, he likes to walk on treadmill while listening to music.
Nanny controversy: Steve's nanny Sarah Alaseri had sued him and his wife in 2016 alleging he had insulted her calling names and insulting her religion Islam. There were also allegations of sexual malpractices against Steve and his wife Sarah.
He used to drink everyday in his youth he would eat bowls of chicken wings and drink 3 pitchers of beer
Tattoos: he has tattoos all over his body- on biceps, arms, chest. He has a tiger tattoo on his arm.
He doesn't like casting directors touching on shoulders for bonding, he prefers words for bonding
Miami Living: He appeared on the cover page of Miami Living magazine.
He participated in SpiritDay pride wearing Purple jacket to support LGBT
His family threw him a surprise party for his 40th birthday on a boat. He grew up on a sailboat.
Steve Howey: Quotes
I always want to challenge myself
I'm never content just to pursue one style or art form. It's about forging ahead in new adventures at every turn.
Getting into shape helped get me into a better mood, and when I'm in a better mood, I'm funnier
The older you get, the easier it is to get injured.
There is a correlation between being in better shape and having great sex.
sex scenes are like fight scenes they demand highest fitness
Procrastination is a habit like anything else.
98% of the actors out there are struggling, its hard out there
I feel my career hasn't started yet.
There is no specific method to success in acting, each has his/ her own way.
A Man's career is a marathon, a woman's career is a sprint.
I can not eat eggs without hot sauce.
There's no filter for ones soul (referring to snapchat filter)
Be thankful for the microwave.
Selling meth is actually quite easy
Baseball makes people very loud.
Turn off the news. Hug someone.
Love who you got
Hell in earth.
Being a parent everyday is a Monday
I drink coffee not cause I have to but because I want to. I drink whiskey not cause I want to but because I have to.
Just when I start getting good at bottle flip, apparently it's not a thing anymore.
Surfers describe riding a wave as living in the moment. Nothing else existing but the present. I feel the same way about falling down stairs
Sometimes I smoke a cigar just to annoy you. Most times I enjoy it.
Stretch marks show me that you're not what you use to be. That's beautiful. Change is good.
Kids are so wonderful and ruin everything at the same time.
Don't talk unless you can improve the conversation.
I bet you that when aliens get stoned they think about us.
For someone who practices unhealthy habits, I'm in great shape.
The greatest gift doesn't come with an exchange receipt. #children
Photos/ Pictures