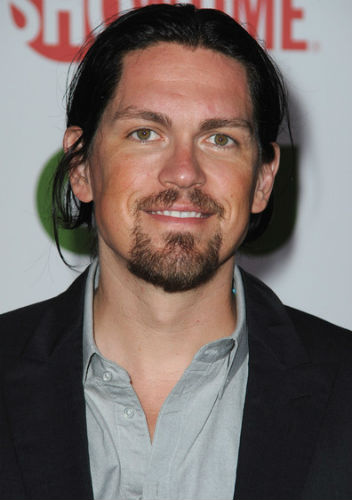 Steve Howey
Date Of Birth
July 12, 1977
Age
46 years 2 months 13 days
Day of Birth
Tuesday
Place Of Birth
San Antonio, Texas, United States
Zodiac Sign
Cancer
Professions

Producer

,

Entrepreneur

, Actor , Writer
Full Name

Steven Michael Robert Howey
Personal Information
Residence

Los angeles

Religion
Christianity
Languages
Spanish , English
Star Sign
Cancer
Nationality
American
Ethnicity
Caucasian
Complexion
White
Trademark
Beard

Body Features & Measurements
Height

192 CM


6 Feet 4 Inches
Eye color
Hazel
Hair color
Dark Brown
Weight

84 KG


185 lbs

Tattoos
Biceps
Arms
chest
Body Type
Athletic
Waist
31
Chest size
41
Biceps Size
17
Family Information
Father
Bill Howey (William Duncan Howey; Actor, director, Acting coach)
Mother
Carla Howey (Carla Sue)
Sons
Knox Blue Howey (twin; born on 1st March 2015)
William Wolf Howey (born on 8th July 2009)
Wife
Sarah Shahi (born on January 10, 1980; Actress, model; birth name- Aahoo Jahansouz Shahi;)
Daughter
Violet Moon Howey (twin; born on 1st March 2015)
Brothers

Bret Howey


Chad Howey (diseased; died in 1976, before Steve was even born)
Sister

Tammy Howey

Grandfathers
Col. Harry Novinger (ww2 veteran)
Harry E. Novinger (Maternal)
Brother In-Law
Cyrus Shahi
Grandmother
Mary Louise Flentge (Maternal)
Father In-Law
Abbas Jahansouz Shahi
Mother In-Law
Mah Monir Soroush Azar (interior designer)
Sister In-Law
Samantha Shahi

Education Qualifications
Education (High School)
Colorado High School
Education(College)
Northeastern Junior College (Sterling, Colorado)
Career Information
Years Active
1999
Debut (TV series)
Pacific Blue (1999)
Favorites, Hobbies, Likes/ Dislikes
Hobbies
Martial Arts
Music
riding (Motorcycle)
Diving (For bottle caps)
Shooting (Competitive shooting)
Favorite Actors
John Ritter
Rob Reiner
Denzel Washington
Jackie Gleason
Steve McQueen
Favorite Foods
Bacon
Cheese
Chicken wings
Favorite Sports
Baseball , basketball
Favorite Beverages
Beer
Coffee
Social Networks, Web links
Twitter Profile
Steve Howey Twitter Profile
Instagram Profile
Steve Howey Instagram Profile
Snapchat
stevehowey13
More Information
Net worth

$3 Million
Biography
Steve Howey is an American TV & movie actor. Steve is well know for his roles as Van Montgomery in Reba(sitcom named after Reba McEntire), Ben Piller in Ctrl (NBC comedy web series), Kevin Ball in Shameless (black comedy-drama) among others.
Family - Childhood
Steven Michael Robert Howey was born on 12th July 1977 in San Antonio, Texas, United States to Bill Howey(father) & Carla Howey(Mother). He grew up in Denver, Colorado. He spent his early childhood in a boat house with his parents.
Father
Steve's father Bill Howey is an actor, director & a acting coach. Bill is a Navy veteran. The family has lived on the Pacific coast. Bill has directed the movie Class(1998) which starred Steve Howey & Dixon White. Bill was the first Los Angeles acting teacher of George Clooney.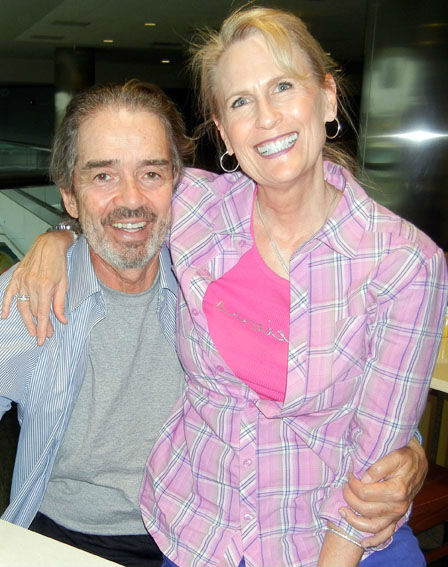 [ Steve Howey parents- Bill & Carla Howey ]
Mother
Carla Novinger is Steve's mother. Carla & Bill Howey married on 11th October 1975. They have 3 children together. Carla also works as acting coach/ teacher. The two live in Chandler, Arizona [2]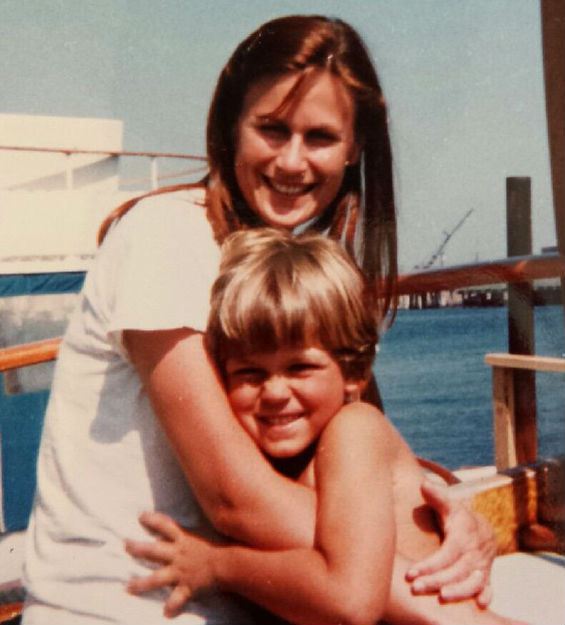 [ Steve Howey with his mom Carla ]
Siblings
Steve has a brother in- Bret Howey. Tammy Howey is the only sister among the three siblings.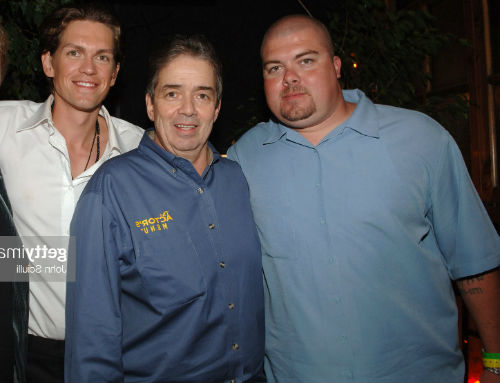 [ Steve Howey with brother Bret Howey & Dad Bill Howey ]
Education
Colorado High School: Steve Studied at the Colorado Public High school. Steve was into basketball in High school, He got into the Northeastern Junior College through a basketball scholarship.
Northeastern Junior College: Steve studied at the NJC, a public community college in Sterling, Colorado.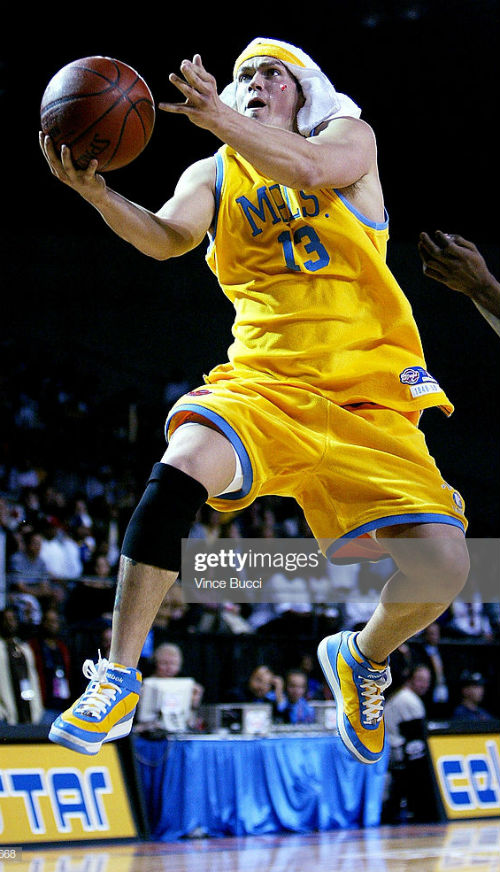 [ Steve Howey playing basketball ] [Credits: Getty Images]
Marriage
Steve Howey & Sarah Shahi
Steve met actress Sarah Shahi (known for "Bullet to the Head", "Alias", "Old School", "Fairly Legal") in 2004. The two got engaged in June 2007 during their vacation in Hawaii. The couple got married on 7th February 2009 in Las Vegas.
Image: Steve Howey With Wife Sarah Shahi
Children
The couple have three children, a son born on 8th July 2009 named William Wolf Howey (water birth at home) and twins (son & a daughter) born on 1st March 2015 named- Violet Moon Howey(daughter) & Knox Blue Howey(Son).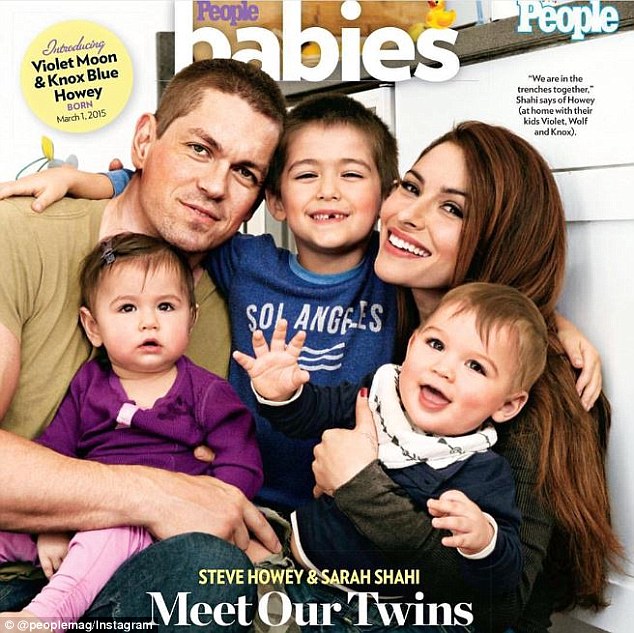 [ Steve Howey family: Wife Sarah Shahi, Sons and daughter ]
Interesting Facts
Scottish descent: Steve Howey is of Scottish ancestry, as revealed by him during the Craig Ferguson Late Night show. He also has English, German genes in him.
Bret Howey: Steve's older brother Bret used to ride Dirt bikes.
He didn't want to be an actor as a kid, his father was an actor as well as an acting coach, that got him in to the business.
Political affiliation: Steve Howey is a member of the Republican Party .
Diving for bottle caps: As a kid of 8 years he would dive on the coast of Mexico for bottle caps and trade them for candies, he grew up loving and living adventures.
Opkix: He is one of the key investors of Opkix.
He doesn't like working out hard, he likes to walk on treadmill while listening to music.
He used to drink everyday in his youth he would eat bowls of chicken wings and drink 3 pitchers of beer
Most devoted Role: Among many roles he has taken up, he is most devoted to the role of Husband and Father (as per the Imdb bio written by the actor himself)
He doesn't like casting directors touching on his shoulders for bonding, he prefers words for bonding
SpiritDay pride: He participated in SpiritDay pride wearing Purple jacket to support LGBT
40th birthday party: His family threw him a surprise party for his 40th birthday on a yacht. He had grown up on a sailboat, the family had decided it was time of reminiscence for him. It was planned by his wife Sarah, attended by his 'shameless' castmates.
Kate Hudson' Love interest: He has played Kate's love interest in two movies- Bride Wars (2009) & Something Borrowed (2011)
Steve is known for his physical masculinity combined with gentleness of heart
Philanthropy

Starlight Children's Foundation: Steve Howey volunteers for the nonprofit organization "Starlight Children's Foundation" which has been helping hospitalized children & the families.

What are Steve Howey's Hobbies?

Competitive shooting
Diving
Martial Arts
Music
Riding Dirt Bikes
Riding Motorcycles
Playing Poker
Nanny controversy
Steve's nanny Sarah Alaseri had sued him and his wife in 2016 alleging that he had insulted her calling bad names and insulted her religion Islam. As per the complainant, she was berated for practicing Islamic customs at Steve & Sarah's home.
There were also allegations of sexual malpractices (including showing male private pics) against Sarah & Steve by the Nanny Sarah Alaseri. After the spat she publicized that Sarah Shahi had confided in her of having an affair with an A-list actor.
She complained of wrongful termination, non-payment and harassment.
Tattoos
He has tattoos all over his body- on biceps, arms & chest. He has a tiger tattoo on his arm. His Tattoos have been changing with time.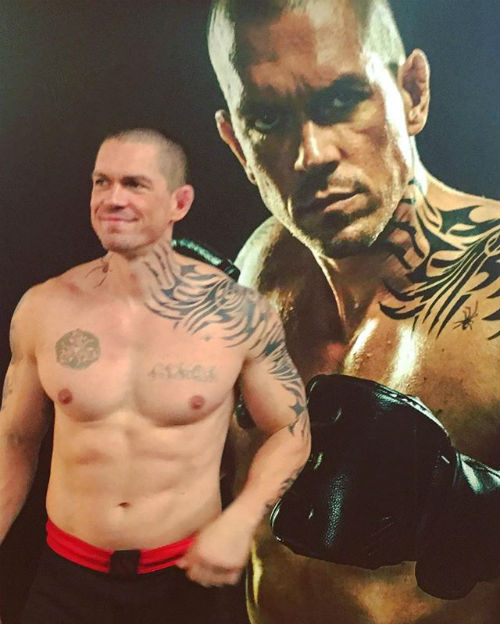 [ Steve Howey Tattoos ]
Career
Shameless
Steve has appeared in more than 90 Episodes of the TV Series 'Shameless', he played Kevin Ball, the husband of Veronica in the Series. Kevin plays a dyslexic who had grown up in foster home.
Steve played the father of twins on 'Shameless', years later he became father of twins in real life.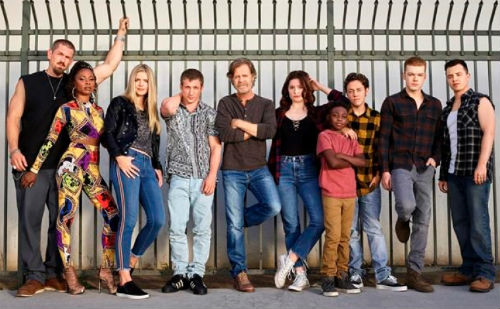 [ Steve Howey with Shameless Cast ]
Reba
Steve played Van Montgomery, the son in-law of the titular role Reba (played by Reba McEntire). Van Montgomery is the high school football team cornerback. He was kicked out of house by his parents after he decided to marry his pregnant girlfriend Cheyenne. He moves in with Cheyenne at her mother Reba's house. He gets a tailbone injury which forces him to give up the football career dream. He becomes a realtor in partnership with his mother in-law Reba.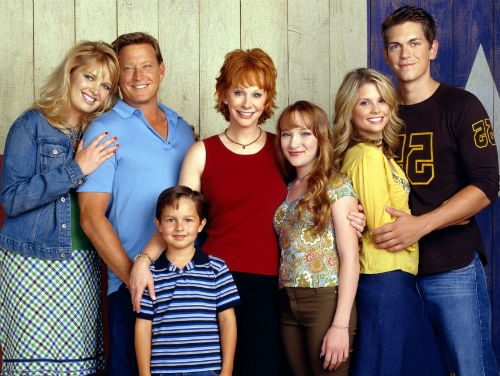 [ Steve Howey with Reba Cast ]
Filmogrpahy
Movies List
| Year | Movie | Character | Comments |
| --- | --- | --- | --- |
| 2019 | Stuber | Felix | |
| 2018 | Game Over, Man! | Rich | |
| 2018 | Making Babies | John Kelly | |
| 2017 | Blue & Green | Michiga'n | TV Movie |
| 2016 | Unleashed | Sam | |
| 2016 | Love on the Run | Rick | |
| 2015 | See You in Valhalla | Makewi | |
| 2014 | In Your Eyes | Bo Soames | |
| 2013 | Wrong Cops | Sandy / Michael | |
| 2011 | Conception | Joel | |
| 2011 | Something Borrowed | Marcus | |
| 2011 | Losing Control | Terry | |
| 2009 | Stan Helsing | Stan Helsing | |
| 2009 | Still Waiting... | Agnew | Direct to video |
| 2009 | Bride Wars | Daniel | |
| 2008 | Five Year Plan | Mickey | TV Movie |
| 2007 | The Beast | Ty Troop | TV Movie |
| 2006 | DOA: Dead or Alive | Weatherby | |
| 2005 | Supercross | K.C. Carlyle | |
| 1998 | Class | Jim | It was directed by Steve's father Bill; Steve is also the producer of the movie |
TV Series List
| Year | TV Series | Character | Comments |
| --- | --- | --- | --- |
| 2011-2020 | Shameless | Kevin Ball | 120+ Episodes; Main Role |
| 2019 | Dead to Me | Jason | I've Gotta Get Away (Season 1 Episode 5) |
| 2018 | Good Mythical Morning | | "Name That Pet Shame" (Season 14 Episode 33) |
| 2018 | SEAL Team | Danny Cooper | Containment, The Upside Down,Getaway Day (Season 1 Episode 11-13) |
| 2017 | Law & Order: Special Victims Unit | Andy McPherson (The Monster) | Intent (Season 19 Episode 8) |
| 2016 | The Oversharer | Delivery Man | Delivery Man (Season 1 Episode 8) |
| 2015 | Workaholics | Blue Knight DeMamp | "Gramps DeMamp Is Dead" ( Season 5 Episode 7) |
| 2014 | Where's This Party? | Marco Santini | |
| 2014 | Jennifer Falls | Frank | The Virginity Thief ( Season 1 Episode 4) |
| 2013 | Sons of Anarchy | Hopper | One One Six, Poenitentia, Salvage (Season 6 Episode 2,3,6) |
| 2013 | New Girl | Jax McTavish | Tinfinity ( Season 2 Episode 18) |
| 2011 | Love Bites | Kell | Season 1 Episodes- 0 & 1 |
| 2010 | Psych | Derek | "Thrill Seekers and Hell Raisers" ( Season 4 Episode 11) |
| 2009 | State of Romance | Mike | Season 1 Episode 1 |
| 2009 | Ctrl | Ben Piller | 10 episodes; Season 1 Episodes 1-10; Main role |
| 2009 | Surviving Suburbia | Brock | Three End Tables(Season 1 Episode 11) |
| 2001-2007 | Reba | Van Montgomery | 125 Episodes; Main Role; performed in the track: "The Morning After" |
| 2006 | Twins | Zack | Blast from the Past( Season 1 Episode 18) |
| 2001 | Any Day Now | Troy | Everyone Deserves to Be Loved(Season 4 Episode 3) |
| 2000 | The Drew Carey Show | Student | Be Drew to Your School( Season 6 Episode 2) |
| 2000 | ER | Quarterback Elizey | Homecoming(Season 7 Episode 1) |
| 2000 | Get Real | Chris DeFalco | Falling from Grace( Season 1 Episode 13) |
| 1999 | Totally Tooned In | (Narrator) | |
| 1999 | Pacific Blue | | Silicone Valley of the Dolls(Season 5 Episode 5 |
Music Videos
"Every Other Weekend": Steve appeared in Reba McEntire's music video "Every Other Weekend" along with his co-star on the Reba show Joanna García.
News & Updates
Miami Living: He has appeared on the cover page of Miami Living magazine.
He has been interviewed and profiled by Hollywood Reporter, People magazine, Men's Fitness and others.
Quotes
I always want to challenge myself
I'm never content just to pursue one style or art form. It's about forging ahead in new adventures at every turn.
Getting into shape helped get me into a better mood, and when I'm in a better mood, I'm funnier
The older you get, the easier it is to get injured.
sex scenes are like fight scenes they demand highest fitness
Procrastination is a habit like anything else.
98% of the actors out there are struggling, its hard out there
There is no specific method to success in acting, each has his/ her own way.
A Man's career is a marathon, a woman's career is a sprint.
I can not eat eggs without hot sauce.
There's no filter for ones soul (referring to snapchat filter)
Be thankful for the microwave.
Selling meth is actually quite easy
Baseball makes people very loud.
Turn off the news. Hug someone.
The greatest gift doesn't come with an exchange receipt. #children
Love who you got
Being a parent everyday is a Monday
I drink coffee not cause I have to but because I want to. I drink whiskey not cause I want to but because I have to.
Just when I start getting good at bottle flip, apparently it's not a thing anymore.
Surfers describe riding a wave as living in the moment. Nothing else existing but the present. I feel the same way about falling down stairs
Sometimes I smoke a cigar just to annoy you. Most times I enjoy it.
Stretch marks show me that you're not what you use to be. That's beautiful. Change is good.
Kids are so wonderful and ruin everything at the same time.
Don't talk unless you can improve the conversation.
I bet you that when aliens get stoned they think about us.
There is a correlation between being in better shape and having great sex.
I feel my career hasn't started yet.
For someone who practices unhealthy habits, I'm in great shape.
Sources