Biography
Kyle Massey is an American Actor, Rapper and Singer. Kyle is most known for his roles- Cory Baxter(That's So Raven), Cory Baxter(Cory in the House), PJ Watson(The Electric Company), Milo(Fish Hooks), Calvin Wheeler(Life Is Ruff).
Kyle Massey was born on 28th August 1991 in Atlanta, Georgia, United States to Angel Massey(Mother) & Michael Massey(Father).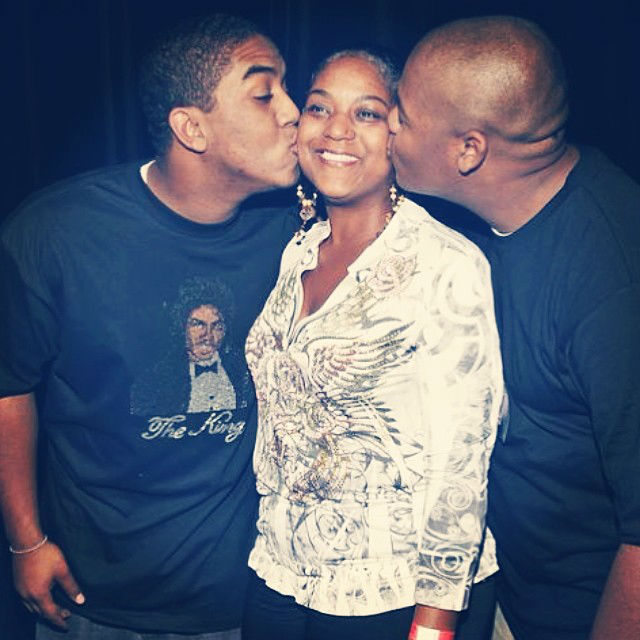 Image: Kyle Massey with Christopher Massey(Brother) & Angel Massey(Mother)
Dancing with the Stars (Season 11): Kyle participated in the 11th season of the competition which premiered on September 20, 2010. Other celebrity competitors on the show were- Audrina Patridge, Brandy Norwood, Bristol Palin, David Hasselhoff, Florence Henderson, Jennifer Grey, Kurt Warner, Margaret Cho, Michael Bolton, Michael Sorrentino, Rick Fox.
Kyle along with his professional partner Lacey Schwimmer was a finalist and lasted till the last day of the competition. He was the runner-up of the show losing the finals to Jennifer Grey. His final dance was for the song- Tootsie Roll.
Kyle Massey: Facts & Trivia
Kyle Massey has sung many rap songs for Hollywood Records & Walt Disney Records.
Kyle mostly works on the genres of music- Hip hop & Rock music.
His career in TV started when he was in grade school, he hosted a children's program
Kyle plays Guitar, Drums among other instruments.
Fresh Prince of DWTS: His performance on the finals of the Dancing with the Stars gained him appreciation from the judges and the title of 'Fresh Prince'
He was nominated for the Outstanding Young Performer in Live Theater award.
He often performs in collaboration with his brother Christopher Massey & singer-song writer Raven-Symoné.
Kyle was the captain of the Yellow Team at Disney Channel Games in 2007.
Commercials: Kyle has appeared in many commercials along side his brother Christopher, those ads include- Burger King, Disney, Pepsi
Massey Boyz: Christopher and Kyle formed a music band where they performed together as a team
Starlight Children's Foundation: Kyle and his brother Christopher are the StarPower Ambassadors of the foundation.
Both his parents are born on the same day- September 28th.
Kyle & Christopher received young leadership award for Entrepreneurship.
Back in 2013 there was a viral rumor on twitter than Kyle was dying of cancer, he has had 2 uncles die of cancer and he was really unhappy about it all.
Weight Loss: Kyle lost about 18 lbs of weight during the 'Dancing With the Stars' show.
Spelling Bee: As a kid he participated in Spelling bee competitions.
National Minority Junior Golf Tournament: Kyle was always interested in sports, he was a pro in Gold, in fact he went on to win 'National Minority Junior Golf Tournament'
Philanthropy:

Britti Cares International: Supports children fighting fatal diseases
Children's Hospital, Los Angeles: Kyle has financially supported the institution.
Kyle Massey: Quotes
Amsterdam is cold
Keep your eyes on the prize.. everything else is a distraction.
I just want to take thank every single person that's stuck with me! Because we're about to take off now
I hate when people take you out to eat and then tell you what to order then it taste like s**t
My name is Cory, this is my story, 2+2=4ie
Fix your attitude
God please don't let me crack my I phone 7
I miss the old Kanye West
You ain't got the answers trump.
I wish I could fly.
Some people are for now... Some people are forever
You never get what you deserve.. It's up to you to build your leverage to negotiate.
The thief is Not the guys that steal songs from iTunes! It's the lames that steal them from the brilliant minds in the studio
You gotta be more than crazy
Every new friend is a potential enemy.
There are no permanent friends or enemies in Business
If you're trying to achieve, there will be roadblocks everyone has them. But obstacles don't have to stop you Don't give up
You may choose to look the other way but you can never say again that you did not know
Love your team and your team will love you.

Discography:

It's a Dog(2006)
Yin Yang Yo!(2006)
Cory in the House(2007)
Underdog Raps(2007)
Jingle Bells(2007)
Finess(2016)
Shaggy Dog
Well barked is half won
Disney Channel Holiday CD
Ridin Wit My Brother
Photos/ Pictures