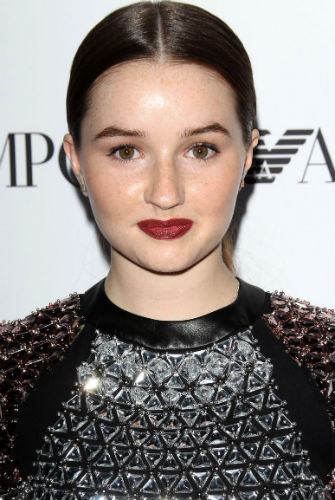 Kaitlyn Dever
| | |
| --- | --- |
| Date Of Birth | December 21, 1996 |
| Age | 26 years 5 months 15 days |
| Day of Birth | Saturday |
| Place Of Birth | Phoenix, Arizona, United States |
| Zodiac Sign | Sagittarius |
| Professions | Model , Actress |
| Nickname | Kait |
| Full Name | Kaitlyn Rochelle Dever |
Personal Information
Residence

Los Angeles, California, United States

Religion
Christianity
Language
English
Nationality
American
Ethnicity
Caucasian
Complexion
White

Body Features & Measurements
Height
160 (2016) CM
5 Feet 3 Inches
Eye color
Dark Brown
Hair color
light brown
Weight

53 KG


117 lbs

Shoe Size
6
Dress Size
2
Figure Measurements
33-24-34
Figure Type
Hourglass
Body Type
Slim
Bra Size
32A
Family Information
Father

Tim Dever

Mother

Kathy Dever

Sisters
Jane Dever (Youngest)
Mady Dever (Actress & Model)
Grandfathers
Fred Denham (Maternal)
Daniel Lynn Dever (Paternal)
Grandmothers
Louise Anne Longacre (Paternal)
Mary Janice (Maternal)

Education Qualifications
Education
Dallas Young Actors Studio
Love, Romance, Marriage
Boyfriend
Ansel Elgort (Rumored (2014))
Career Information
Debut (Movie)
An American Girl: Chrissa Stands Strong(2009)
Years Active
2009–
Debut (TV)
Make It or Break It
Favorites, Hobbies, Likes/ Dislikes
Hobbies
Singing
Gymnastics
Ballet
Skating
guitar
Favorite Actor
Joaquin Phoenix
Favorite Actresses
Sandra Bullock
Jennifer Lawrence
Natalie Portman
Favorite Food
Circus Cookies (with pink and white frosting)
Favorite Movies
The Help (2011)
Walk the Line (2005)
Favorite Singers
Avril Lavigne
Johnny Cash
Favorite TV show
Modern Family
Social Networks, Web links
Facebook Profile
Kaitlyn Dever Facebook Profile
Twitter Profile
Kaitlyn Dever Twitter Profile
Official Website
Kaitlyn Dever Official Website
Instagram Profile
Kaitlyn Dever Instagram Profile
Contact
Talent Agent
Osbrink Talent Agency
More Information
Net worth

$1 Million

Celebrity Crush
Chris Pine
Instruments
guitar
Biography
Kaitlyn Dever is an American TV & movie actress. Kaitlyn is popular for her roles as Eve Baxter (in Last Man Standing), Loretta McCready(Justified), Her roles in movies Detroit, Short Term 12 are notable.
Kaitlyn Rochelle Dever was born on 21st December 1996 in Phoenix, Arizona, United States to Kathy Dever(Mother) & Tim Dever(Father), She grew up mostly in Dallas, Texas. Both her parents are ice skating coaches, father Tim is also a voice actor who has voiced (Barney, the purple dinosaur, Bob the Builder). She moved to Los Angeles to seek a career in acting
She has two sisters:
Mady Dever (actress and a model)
Jane Dever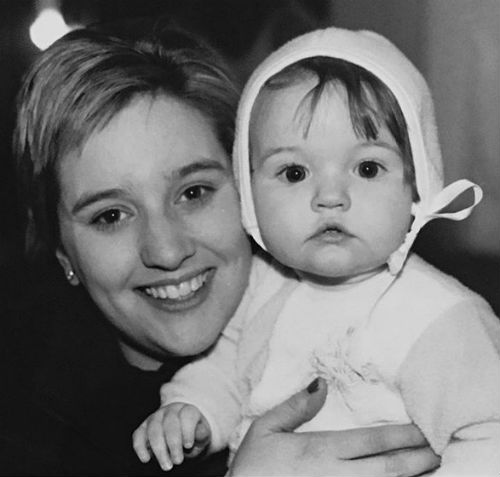 Image: Kaitlyn Dever childhood, mother Kathy Dever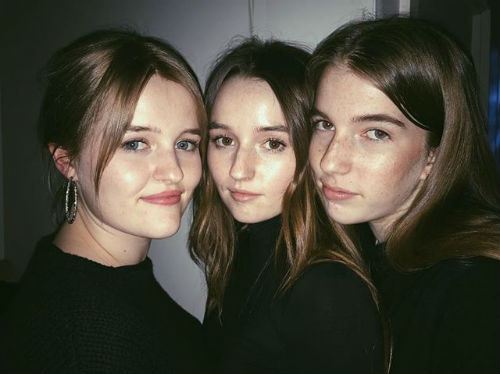 Image: Dever sister- Kaitlyn, Mady & Jane
Facts & Trivia
Kaitlyn Dever got interested in acting very early, her parents got her into the acting school at the age of 5.
She is trained in- Ballet dancing, Gymnastics, Skating. (her parents are ice skating teachers, so obviously)
Dallas Young Actors Studio: She got trained in acting at the Dallas Young Actors Studio, her family was her supportive of her interest, they moved to Dallas to help her.
Kaitlyn is of English, German and Irish descent.
She has appeared in numerous commercials.
Three nominations in the same year: Kaitlyn received 3 nominations in 2012 for various roles at the "33rd Young Artist Awards"
Variety Magazine named her- '10 emerging young Hollywood actors to watch for".
Bullying: She is vocal against Bullying in schools.
She drew on the walls as a kid and did not confess it, until later when she grew up.
She has a dry sense of humor.
Guitar fanatic: She has been playing guitar for many years (since she was 8/9), she owns at least 6 guitars.
Singing: She is training in singing as well.
Activism:

Transgender issues: She posted in support of transgender people opposing the policy change of American Govt.

Pet: She has a pet dog named Banjo.
The first ever concert she attended was of Hilary Duff.
First movie that made her cry- Marley & Me.
First movie that gave her nightmares- Insidious.
One fashion thing she hates- High Top
One thing she is bad at- Drawing
Best advice she has got (by Tim Allen)- Joke is not funny if you have to explain it.
Commercials she has appeared in include-

Franklin Templeton Investments
Gogurt
Hallmark
Johnsonville Sausages
Kellogg's
Mattel Sizzle
McDonald's
Nintendo Wii
Ortega
Skate 'n' Tricks Puppy
Sizzlers
Subaru
Trix Yogurt.

Actress Molly Ephraim called Kaitlyn- 'The little sis I never had but always dreamed for'
She wants to host Saturday Night Live and to be on Jimmy Fallon's show.
Magazines Covers:

Content Mode Magazine (January 2020)

Mother's Breast cancer: Kaitlyn has opened up about her mother's battles with breast cancer. Her mother Kathy had stage 4 cancer in the early 2000s.
Tom Hanks: When Tom Hanks and Kaitlyn met at the Cecil B. DeMille awards, he handed her his own Golden globe and said "You've got to get used to it, because you're going to be holding one soon". That was an adorable gesture and a pat on the back for her work from the best in the industry.
Career
2009
An American Girl: Chrissa Stands Strong: Kaitlyn started her professional acting career with "An American Girl: Chrissa Stands Strong", a movie in the "American Girl" series based on "Chrissa" books by Mary Casanova, it was directed by Martha Coolidge. The movie also starred Sammi Hanratty, Austin Thomas, Adair Tishler, Ariela Barer.
Make It or Break It(2009)- In the same year Kaitlyn made her debut in TV as well, she appeared in the pilot episode (Season 1 Episode 1) of the Sports Drama "Make It or Break It" as the "Adorable Girl". A very minor role, nevertheless a beginning for her career in TV. The Episode was directed by Steve Miner & had Zachary Abel, Chelsea Hobbs, Ayla Kell in the cast.
Modern family- She appeared in the episode "Fizbo" (season 1 Episode 9) of Modern family as Bianca Douglas (a girl in school that Rico Rodriguez tries to impress), It was directed by Jason Winer. Nolan Gould, Ty Burrell, Julie Bowen were in the cast.
2010
Private Practice: Kaitlyn appears in the Medical drama "Private Practice" in the episode "Love Bites" (Season 3 Episode 14) in a minor role playing "Paige", the episode was directed by Matthew Penn. The cast included Taye Diggs, Amy Brenneman, Audra McDonald and others.
Party Down- She makes an appearance in the Comedy TV series as Escapade Dunfree in the Episode "Party Down Company Picnic" (Season 2 Episode 7). It was directed by Bryan Gordon & starred Adam Scott, Ken Marino, Megan Mullally.
2011
Justified- Kaitlyn plays Loretta McCready , a teen girl in the weed business. Raylan Givens (played by Timothy Olyphany) is the father figure to her in the TV Series, she appears in a total of 17 episodes (Seasons- 2,3,5,6).
The Mentalist- She played a small role (Trina) in the Pyschic Crime drama series directed by Martha Mitchell, It was the 14th Episode of Season 3 titled "Blood for Blood" dealing with Drug related murder & recovering repressed memory. Lead actors in the episode were- Simon Baker, Robin Tunney, Amanda Righetti..
Cinema Verite: A drama film made on the first American family to have a reality show on. Kaitlyn played the daughter of lead characters played by- Diane Lane & Tim Robbins. Thomas Dekker, James Gandolfini, Caitlin Custer played the other supporting roles.
Bad Teacher: A school comedy movie focused on the role of a bad teacher played by Cameron Diaz, Kaitlyn played "Sasha Abernathy", a student in the school who idolizes her teacher Elizabeth (Cameron Diaz). Other cast includes- Lucy Punch, Jason Segel, Phyllis Smith, John Michael Higgins
Curb Your Enthusiasm: Kaitlyn played the role of Kyra O'Donnell in the Larry David comedy TV show, she appears in the episode "The Divorce" (season 8 Episode 1)
J. Edgar: A biographical drama based on the life of J. Edgar Hoover. Kaitlyn plays the role of Mitchell Palmer's daughter. Leonardo DiCaprio plays the lead role, while Geoff Pierson & Cheryl Lawson play parents of Kaitlyn's role
Last Man Standing- Kaitlyn has played "Eve Baxter" one of the main characters in the sitcom TV series created by Jack Burditt. She plays the daughter of Mike Baxter (Tim Allen) & Vanessa Baxter (Nancy Travis), sister to Kristin Baxter(Amanda Fuller) & Mandy Baxter(Molly Ephraim & Molly McCook). She is a strong athlete, a scholar at school with patriotic fervor & her father's favorite child.
2013
The Spectacular Now- Kaitlyn had a small role in the Comedy Drama 'The Spectacular Now' directed by James Ponsoldt. She plays the character of Kristal. Other roles were played by Miles Teller, Shailene Woodley, Brie Larson, Jennifer Jason Leigh..
Short Term 12- Kaitlyn appears in the psychological drama directed by Destin Daniel Cretton as Jayden- a funny girl in the residential facility, a victim of abuse from her father. Kaitlyn has a prominent role in the movie.
2014
Laggies: Kaitlyn plays the role of Misty, a girl mentored by Megan (played by Keira Knightley) in the romantic comedy directed by Lynn Shelton
Men, Women & Children- Kaitlyn plays Brandy Beltmeyer in the comedy-drama film by Jason Reitman. She plays the love interest of Tim Mooney (played by Ansel Elgort) & daughter of lead character Patricia Beltmeyer (played by Jennifer Garner). Brandy is a girl with a secret identity on Tumblr
2016
Uncharted 4: A Thief's End: She has voiced the character Cassie in the Action, drama video Game. This is her first time working for a video game
2017
All Summers End- Kaitlyn plays Grace Turner, the love interest of Conrad Stevens (played by Tye Sheridan). This is one of the highlights of Kaitlyn's career. she plays the lead role as an adult for the first time. She appears on the movie poster in this romantic emotional drama.
We Don't Belong Here(2017)- In this Mystery family drama Kaitlyn plays Lily Green, the daughter of Nancy Green (played by Catherine Keener) and sister to Maxwell Green (Anton Yelchin), Elisa Green (Riley Keough), Madeline Green (Annie Starke). The story is of a dysfunctional family looked after by Mother
Detroit- In this periodical crime movie Kaitlyn plays Karen Malloy. A white girl who befriends the black R & B group. It was directed by the academy award winning director Kathryn Bigelow, and starred John Boyega, Will Poulter, Algee Smith, Jacob Latimore, Jason Mitchell in the lead roles.
Outside In- She plays Hildy- the daughter of Carol(Edie Falco) & Tom (Charles Leggett).The story is about relationships, friendships, her mother's affair with Chris (Jay Duplass).
2018
The Front Runner- Kaitlyn played the daughter of Gary Hart- a U.S senator seeking democratic party nomination in the 1988 elections. Vera Farmiga played her mother (Lee Hart). Molly Ephraim, J. K. Simmons, Alfred Molina have also appeared in the movie
Beautiful Boy- In the biographical drama film directed by Felix van Groeningen Kaitlyn plays Lauren- a drug addict who has had on and off relationship with Nicholas Sheff (Timothee Chalamet), son of lead character David Sheff (Steve Carell). Jack Dylan Grazer (young Nic), Maura Tierney, Oakley Bull played other important roles
she sand in two songs for the movie Tully.
2019
Them That Follow- Kaitlyn plays Dilly Picket, a friend of Mara (Alice Englert) in this religious cult based thriller film. Olivia Colman, Jim Gaffigan, Walton Goggins,Thomas Mann play important characters
Booksmart- Kaitlyn plays Amy Antsler- a high school senior, the best friend of Molly Davidson (Beanie Feldstein) in the coming of age teen comedy directed by Olivia Wilde. A tale of teen adventure. Other important characters are played by Jessica Williams, Lisa Kudrow, Will Forte, Billie Lourd.
Unbelievable - Kaitlyn plays Marie Adler, a teenager who is charged with lying about being raped. this miniseries is based on the 2008 Washington & Colorado serial rape cases. "Marie Adler" the victim from real case is one of the producers of the mini series.
She has appeared in a minor role in the TV series "Platform"
2020
She made music videos in January 2020, she played guitar and sang.
Filmography
Movies List
| Year | Movie | Character | comments |
| --- | --- | --- | --- |
| 2019 | Them That Follow | Dilly Picket | |
| 2019 | Booksmart | Amy Antsler | |
| 2018 | The Front Runner | Andrea Hart | |
| 2018 | Beautiful Boy | Lauren | |
| 2017 | All Summers End | Grace Turner | |
| 2017 | We Don't Belong Here | Lily Green | |
| 2017 | Outside In | Hildy | |
| 2017 | Detroit | Karen | |
| 2014 | Laggies | Misty | |
| 2013 | Men, Women & Children | Brandy Beltmeyer | |
| 2014 | The Spectacular Now | Kristal | |
| 2013 | Short Term 12 | Jayden | |
| 2011 | Bad Teacher | Sasha Abernathy | |
| 2011 | J. Edgar | Palmer's Daughter | |
| 2011 | Cinema Verite | Michele Loud | TV |
TV Series List
| Year | Series | Character | comments |
| --- | --- | --- | --- |
| 2019 | Unbelievable | Marie Adler | based on real story |
| 2019 | Platform | | |
| 2011-2015 | Justified | Loretta McCready | |
| 2011 | The Mentalist | Trina | |
| 2011 | Curb Your Enthusiasm | Kyra O'Donnell | |
| 2011-2020 | Last Man Standing | Eve Baxter | |
| 2010 | Private Practice | Paige | |
| 2010 | Party Down | Escapade Dunfree | |
| 2009 | Make It or Break It | Adorable Girl | |
Others
Benny Blanco & Juice WRLD: Graduation (2019) (short, musical)
Are You Bored Yet?(2019)- (music) by Wallows
Music & audio
Let You Go- Beulahbelle (Kaitlyn & Mady Dever), Released on May 11th 2018
Video Games
Uncharted 4: A Thief's End: Cassie (voice)
Awards
| Year | won? | Award | Category | Award for? |
| --- | --- | --- | --- | --- |
| 2020 | Nomination | Golden Globe Award | Best Actress – Miniseries | Unbelievable |
| 2020 | | British Academy Film Award | Rising Star Award | |
| 2019 | Nomination | 33rd Young Artist Awards | Supporting actress | Bad Teacher |
| 2019 | Nomination | Detroit Film Critics Society | Best Breakthrough Performance | Booksmart, Them That Follow |
| 2013 | Nomination | Phoenix Film Critics Society | Best Female Youth Performance in a Leading Role | Short Term 12 |
| 2012 | Nomination | Young Artist Award | Best Performance in a TV Series | Justified |
| 2012 | Nomination | Young Artist Award | Best Supporting Young TV Series Actress | Last Man Standing |
| 2012 | Nomination | Young Artist Award | Best Supporting Young Film Actress | Bad Teacher |
| 2011 | Nomination | Young Artist Award | Best TV Guest Starring Young Actress | Private Practice |
News & Updates
SAG Awards: Attended SAG Awards in January 2020
Content Mode Magazine: Featured in the magazine in January 2020, also on the cover page, she was their company instagram page thumbnail for the month
2020 rising stars portfolio: She was featured by the Vogue magazine as a part of their "New Crew"
CHANEL: covered her for the winter in 2020
Quotes
Drama roles come more naturally, I need to concentrate more with comedy
When someone is bullying you, try to ignore it as much as possible, don't let it get to you. [2]
I love switching between Comedy & Drama to show people that I can do both.
I definitely dress a little more girly
I was 4 years old, I went crying to my parents saying I wanted to go out to California to become an actress.
I'd like to do TV for a while & then maybe to some movies here and there
I grew up with cell phone a lot as a kid, because I had to.
For someone to leak someone's private photos to the public is very sad. I don't have an icloud, that is good.
Texas toast will always have my heart
Anyone else miss the sugar cookies from the target food court?
I just smooshed cookie dough in my home button on the phone
16 was awesome, 17 is weird man, it is just an awkward, half here half there age.
(When she was 17) My friends can't wait to be 18 (to be driving, go to college), I just want to be 16 a little longer.
I've always been good at doing impersonations, Acting has always come naturally to me.
I want to play strong, complex women.. and find the roles that are more often given to men. I want to find the really rich characters for women [3]
Sources