Biography
Eric Andre is an American Actor, Comedian, TV personality. Eric is a comedian specializing in improvisational dark-cringe comedy. Eric is well known for his show 'The Eric Andre Show' on adult swim & for the roles of Mark Reynolds (in Don't Trust the B- in Apartment 23), Deke(in 2 Broke Girls), Wes Borland (in Lucas Bros Moving Co), Mike (in Man Seeking Woman)
Eric Andre was born on 4th April 1983 in Boca Raton, Florida, United States to a Black Haitian father- a psychologist & an American Jewish(Ashkenazi Jew) mother- a teacher. He did his schooling in Boca Raton, Florida. His father when came to America wasn't fluent in English, he wanted a tutor and that is how Eric's parents met.
The Eric Andre Show: An adult swim surreal comedy cocktail talk show series starring Eric Andre & Hannibal Buress. The show is a mock Night show created by Eric Andre. It was a free & fun show with impersonations and imposters of famous comedians as well as real guests. New York Times called it 'one of the darkest comedy shows on TV'.
Eric Andre: Facts & Trivia
Eric Andre considers himself as both Black & Jewish. He is an atheist Black Jew.
Eric's interest in acting started at the age of 6 after watching Enter 'the 36 Chambers'
When Eric was in high school he made homemade rap records.
Rosario Dawson: Eric dated the gorgeous actress Rosaria Dawson from 2016 until late 2017.
He acted in the Geico commercial as the caveman.
He was a music enthusiast, when it came to choosing between music and acting at the age of 22, he chose acting & gave up music career.
Crashing Civil war enactments: Andre saw one of the ads of Civil war enactments and on seeing no black person on the sets he realized black people were not having good times in that era, he thought of crashing the sets as handcuffed slaves with his friends.
People he wants to date- Sofia Rodriguez (he likes Latin women), Maya Angelou, Jerry Sandusky
High School life: He dyed his hair green in High school with locks, he got suspended for mooning his friends, he got suspended for not wearing shoes. He got suspended for taking Meth.
Transcendental Meditation has helped Eric to cope with the stress.
Best piece of advice he received- 'Don't listen to anybody'
He is a big history nerd.
His co-star Jay Baruchel called him- 'inwardly very moral man'
He was once sent to jail for crashing an event in real life.
He took care of his girlfriend Rosaria when she was going through Ovarian Cyst problem.
He has been a supporter of Net Neutrality
He put on a Cardi B costume for Halloween.
He got on Donald Trump's rally and disrupted the stage in 2016
Eric Andre: Quotes
My Dad looks like Arthur Ashe, my mom looks like Howard Stern.
I'm Bluish, Black & Jewish.
I got beat up at a Mensa convention, that was kind of cool
Everyone in rap talks about money. I don't even believe in money. I'm a communist, I did this whole communist rap. It's so embarrassing. I'd never show anyone.
I set out to make the worst talk-show on the planet ever and I succeeded
Work really hard and treat people with kindness.
It's not easy being a black woman. It looks like shit every morning
I was crazy in High School, I was a class clown, everybody hated me, I was a real nerd.
I grew up in Boca Raton, Florida -a place old people go to die, it's God's waiting room.
My mom's aunts and uncles died in the holocaust.
I come from a family of 4 generations of atheists.
The existence is meaningless, Are we all really here? who is Donald Trump? is he Barbara Bush in mask?
I felt like If I get into music it does no good to life.
The South lost the Civil War and we've never recovered as a nation from that. There's this angry white guy mentality that's never gone away.
I voted for Obama twice. I just think at the end of the day he's a politician and he's murdering innocent people.
'stick to comedy' is code for 'stick to apathy.' Also my twitter sucks.
I don't believe that the position of burning balls of hydrogen millions of light years away have anything to do with my personality.
How do we get rid of the electoral college? Also who the fuck is in the electoral college?
I feel like The Civil War AND The Crusades never officially ended. I also feel like Eddie Murphy doesn't age.
I was Rastafarian for 4 months in the 9th grade
I'm at the age where I still pick my nose but I throw my boogers in the garbage like a gentleman.
I'm a Jew. Which is Hebrew for atheist.
My porn name is Sasha SW 13th Avenue.
I have a karaoke punk band called The Ungrateful Dead, but we don't exist yet.
I was born a woman
Eric Andre: Career
Movies
The Lion King(2019): Eric Andre voiced the character of Azizi in the Adventure Drama directed by Jon Favreau with the cast Donald Glover, Seth Rogen, Chiwetel Ejiofor.
Michael Bolton's Big, Sexy Valentine's Day Special(2017): He acted as Baby Archer in the Musical movie directed by Akiva Schaffer, Scott Aukerman featuring Sarah Shahi, Michael Bolton, Adam Scott in the cast.
Rough Night(2017): Eric appeared as Jake in this Comedy movie by Lucia Aniello , cast includes Zoë Kravitz, Scarlett Johansson, Kate McKinnon
Popstar: Never Stop Never Stopping(2016): He portrayed the role of CMZ Reporter in this Comedy movie directed by Jorma Taccone, Akiva Schaffer , cast includes Andy Samberg, Akiva Schaffer, Jorma Taccone
Flock of Dudes(2016): He portrayed Mook in the movie directed by Bob Castrone with Bryan Greenberg, Chris D'Elia, Eric André in the lead cast.
The Internship(2013): He played the character of Sid in the Comedy movie , it was directed by Shawn Levy with actors- Vince Vaughn, Rose Byrne, Owen Wilson in the lead cast.
Should've Been Romeo(2012): He portrayed the character- Buzz in this Comedy Drama movie directed by Marc Bennett , it has B.J. Britt, Edward Asner, Paul Ben-Victor in the lead cast.
The Invention of Lying(2009): He acted in the Romantic Fantasy Comedy directed by Ricky Gervais, Matthew Robinson starring Jonah Hill, Ricky Gervais, Jennifer Garner in the main roles
TV Series
Disenchantment(2018): He portrayed the role of Luci in the Fantasy Comedy created by Matt Groening , it has Matt Berry, Eric André, Jeny Batten playing in the lead.
Mostly 4 Millennials(2017): Eric wrote and produced the Comedy series starring Jordan Cody Brandon, Derrick Beckles, Vic Noto in the lead.
Poser(2016): He acted in the role of Sherman in the Comedy Series with Jonny Cruz, Christina Kirkman, Eric André in the lead cast.
Animals.(2016): Eric Andre was Alex in the Comedy Series produced by Phil Matarese, Mike Luciano, with Mike Luciano, Phil Matarese, Katie Aselton in the lead.
American Dad!(2016): Eric Andre was The Drifter in the Comedy Series with the cast Dee Bradley Baker, Wendy Schaal, Seth MacFarlane
Man Seeking Woman(2015): He portrayed the role of Mike in the Fantasy Comedy TV Series , cast included Eric André, Britt Lower, Jay Baruchel
Robot Chicken(2015): Eric played mutliple characters in the Comedy Series , it was produced by Matthew Senreich, Seth Green, Mike Fasolo with the cast Seth Green, Matthew Senreich, Breckin Meyer
Lucas Bros Moving Co(2014): He played multiple roles in this Comedy Series with Kenneth Lucas, Keith Lucas, Jerrod Carmichael in the lead.
2 Broke Girls(2013): Eric appeared as Deke in the Series , cast included Kat Dennings, Beth Behrs, Garrett Morris .
The Eric Andre Show(2012): Eric hosted the Comedy TV Series with Hannibal Buress being the other fellow
Don't Trust the B- in Apartment 23(2012): He portrayed the character- Mark Reynolds in the Series featuring Dreama Walker, Krysten Ritter, Michael Blaiklock in the cast.
FCU: Fact Checkers Unit(2011): Eric played Mirage in this Comedy Series created by SXM starring Brian Sacca, Peter Karinen, Kristen Schaal in the lead.
Hot in Cleveland(2011): He played the role- Jeff in this Comedy Series created by SamJen Productions, Suzanne Martin, it has Jane Leeves, Wendie Malick, Valerie Bertinelli in the lead cast
Zeke and Luther(2011): He played the character of Zorn in this Adventure Comedy TV Series featuring Hutch Dano, Daniel Curtis Lee, Adam Hicks in the cast.
The Big Bang Theory(2010): He played the role of Joey in the Romantic Comedy TV Series , it stars Johnny Galecki, Kaley Cuoco, Jim Parsons in the cast.
Curb Your Enthusiasm(2009): He acted in the Comedy Series with Jeff Garlin, Cheryl Hines, Larry David in the lead.
Research Unit(2007): Eric acted in the Series with actors- Chrystelle Labaude, Xavier Deluc, Virginie Caliari playing the lead characters.
TV Movie
La balade de Lucie(2013): He played Serveur cafe in the Drama by Sandrine Ray , cast included Sandrine Bonnaire, Nicolas Gob, Mylène Demongeot
Inland Empire(2012): He portrayed Jew Fro in the Comedy by Eric Balfour , it features Eric André, Jordan Masterson, Eric Balfour in the cast
Level Up(2011): Eric played Max Ross in this Adventure Family directed by Peter Lauer , it stars Connor Del Rio, Jessie T. Usher, Gaelan Connell in the cast.
TV Shows
Party Legends(2016)
Chelsea(2016)
Not Safe with Nikki Glaser(2016)
The Mythicist Milwaukee Show(2016)
The Late Show with Stephen Colbert(2016)
Pop Trigger(2016)
Larry King Now(2016)
The Worst of Pirated Adult Swim Shows(2016)
Ridiculousness(2015)
The Late Late Show with Craig Ferguson(2015)
Jimmy Kimmel Live!(2015)
The Meltdown with Jonah and Kumail(2014)
Speakeasy: With Paul F. Tompkins(2014)
The Playboy Morning Show(2014)
Comedy Bang! Bang!(2014)
Between the Sheets with Josh Macuga(2013)
Getting Doug with High(2013)
Tubbin' with Tash(2013)
Convention Panels(2013)
The Pete Holmes Show(2013)
Tom Green Live(2013)
In Bed with Joan(2013)
The Jeselnik Offensive(2013)
The Arsenio Hall Show(2013)
Fashion Police(2013)
The ArScheerio Paul Show(2013)
Money From Strangers(2012)
Conan(2012)
Late Night with Jimmy Fallon(2012)
Funny as Hell(2011)
In the Flow with Affion Crockett(2011)
Storytime(2010)
The Awkward Comedy Show(2010)
Laugh Track Mash-ups(2010)
Russell Simmons Presents: Stand-Up at the El Rey(2010)
Kyomedy with Melinda Hill(2009)
Comedy.Com's Best of the Web(2009)
Comedy.TV(2009)
Live at Gotham(2007)
Short movies
An Ode to Hannibal Buress(2016)
Eric Andre's VMA Audition(2013)
Free Mammograms with Eric Andre(2012)
The Eric Andre New Year's Eve Spooktacular(2012)
Thin Skin(2010): Eric Andre played a Passenger in the Drama directed by Alexandra Billington with actors- Marcel Miller, Robert Bizik, Eric André playing main roles.
Stereotypical 80's Movie Gangs(2010): Eric played Dance in the short video directed by Jeff Tomsic with Eric André, Brian Sacca, Peter Karinen in the lead cast.
The Lonely Death of the Giggler(2010): Eric was The Giggler in this Comedy directed by Rodney Ascher created by starring Josh Fadem, Eric André, Alex Baker in the lead
Eric Andre: Photos, Pictures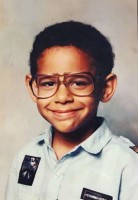 Eric Andre childhood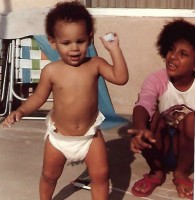 Eric Andre childhood with sister Amy Andre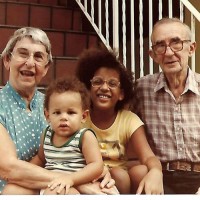 Eric Andre & sister Amy with grandparents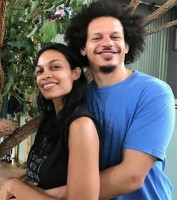 Eric Andre with girlfriend Rosario Dawson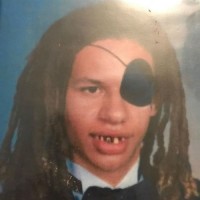 Eric Andre in youth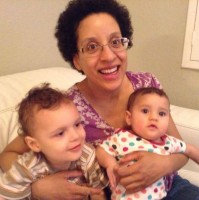 Eric Andre's sister Amy Andre & her children