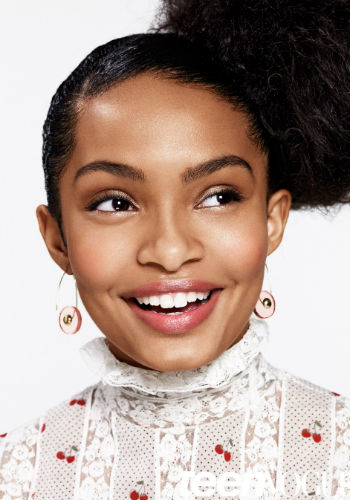 Yara Shahidi
| | |
| --- | --- |
| Date Of Birth | February 10, 2000 |
| Age | 23 years 3 months 26 days |
| Day of Birth | Thursday |
| Place Of Birth | Minneapolis, Minnesota, United States |
| Zodiac Sign | Aquarius |
| Professions | Model , Actress |
| Nickname | Pilgrim (Her mom gave it) |
| Full Name | Yara Sayeh Shahidi |
| Name(Native Language) | يارا‎ (Iranian) |
Personal Information
Residence

Los Angeles, California, United States

Religions
Islam , Christianity
Languages
Persian , English
Star Sign
Aquarius
Nationality
American
Ethnicities
Multiracial , Iranian American , African American
Complexion
Brown
Famous For
Black-ish
Trademark
curly hair

Body Features & Measurements
Height
165 (2017) CM
5 Feet 5 Inches
Eye color
Dark Brown
Hair color
Dark Brown
Weight
45 (2017) KG
99 lbs

Shoe Size
8
Dress Size
4 (US)
Figure Measurements
31-23-32 (2017)
Figure Type
Hourglass
Body Type
Slim
Hair type
Curly
Bra Size
30A
Family Information
Father
Afshin Shahidi (Photographer)
Mother

Keri Salter Shahidi

Brothers
Ehsan Shahidi (Younger)
Sayeed Shahidi (Actor & Model)
Cousins
Jabari (second cousin)
Nas (Rapper; second cousin)
Uncles
Olu Dara (Nas's father)
Kevin Jamal Salter (Maternal)
Grandfathers
Mark Keljik
Kwame Samuel Salter (Maternal)
Grandmothers
Forough Emami (Paternal)
Connie Sue (Maternal)
Aunts
Romeldia Salter (Maternal)
Fannie Ann Jones (Nas's mother)
Great Grandfathers
Charles Rufus Jones (Maternal)
Samuel Leon Salter (Maternal Paternal)
Great-grandmothers
Ella Mae (Maternal)
Reva Daniels (Maternal Paternal)

Career Information
Debut (Movie)
Imagine That(2009)
Years Active
2007-
Debut (TV)
Entourage
Favorites, Hobbies, Likes/ Dislikes
Hobbies
Baking
Gardening
Roller Skating
Cooking
Favorite Foods
Chocolate
Korean barbecue
Ice Cream (Cookies and cream)
Favorite Color
Purple
Favorite Movies
Thor
X-Men
Favorite Musicians
the Creator
Taylor Bennett
Tobi Lou
Favorite Dress
Vests & Blazers
Favorite Author
James Baldwin
Favorite Song
It's Gonna Be Me (NSYNC)
Favorite Books
Children of Virtue & Vengeance (Tomi Adeyemi)
The Bluest Eye (Toni Morrison)
Giovanni's Room (James Baldwin)
Sing Unburied Sing (Jesmyn Ward)
The Catcher in the rye
Favorite TV show
The Great British Baking Show
Likes
Hamburger
Favorite superhero
Loki (from Asgard; Thor's brother)
Favorite Album
Blonde (Frank Ocean)
Favorite TV Series
Criminal Minds
Social Networks, Web links
Facebook Profile
Yara Shahidi Facebook Profile
Twitter Profile
Yara Shahidi Twitter Profile
Official Website
Yara Shahidi Official Website
Instagram Profile
Yara Shahidi Instagram Profile
Blog
Yara Shahidi Blog
Snapchat
slimshahidi
Contact
Contact (Email)

commercialmommy@gmail.com

Address

AEF Public Relations 3500 W. Olive Ave., Ste. 710 Burbank, CA 91505

Web Contact
Web Contact
Managers
Erica Tucker (Publicity)
Donovan Tatum (Endorsements)
Sara Leeb (Voice over)
Erik Telford (Speakers Dept)
Liz York
Talent Agents
Meredith Fine
Michelle Henderson
New York's Women Management modeling agency
Publicists
Patty Freedman
Erica Tucker
More Information
Friend
Rowan Blanchard (Actress, Singer)
Inspiration
Kerry Washington (fashion icon)
Role Models
Janelle Monae
Emma Watson
Net worth

$1 Million
Biography
Yara Shahidi is an American TV & movie actress. She is popular for her roles Natasha Kingsely in The Sun Is Also a Star (2019), Chloe Johnson (The First Family), Zoey Johnson(Black-ish), Darci(Trollhunters), Zoey Johnson(Grown-ish).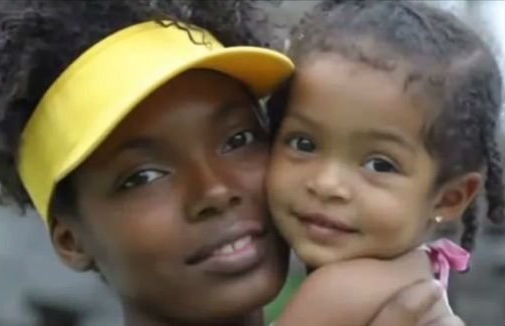 Image: Yara Shahidi with Mom in childhood
Yara Shahidi was born as Yara Sayeh Shahidi on 10th February 2000 in Minneapolis, Minnesota, United States to Keri Salter Shahidi(Mother)- a model & Afshin Shahidi(Father)- a photographer. The family lived in Minneapolis until she was 4 years old, family relocated to California after that.
She has two brothers-
Sayeed Shahidi who is also an actor & model (born February 14, 2003)
Ehsan Shahidi- youngest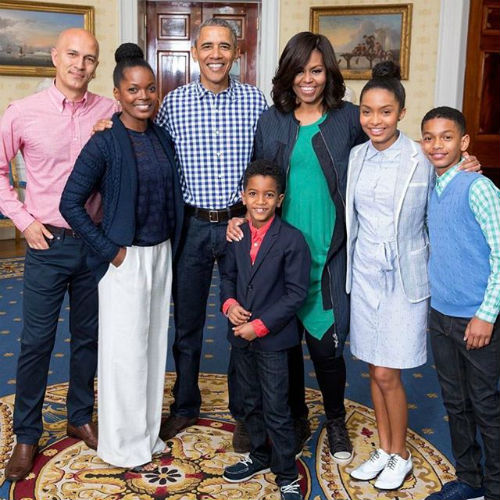 Image: Yara Shahidi Family with Barack Obama & Wife Michelle Obama
Yara Shahidi Education
Oxbridge: She attended the program which took her to various universities along with Oxford
Harvard University: Yara wore a Harvard University shirt in 2017, she was visiting her cousin Nasir in the University, she was excited by the atmosphere there and decided to apply there. Former USA first lady Michelle Obama wrote a letter of recommendation to the University supporting Yara.
Yara Shahidi Facts & Trivia
Ancestry: Yara Shahidi is of African-American (Maternal) & Iranian-American(Paternal) background.
Multilingual: She has been learning to read, write & speak the Persian language(Farsi), her father's mother tongue.
Ethnicity: Yara's mother is part native American, she belongs to Choctaw- tribe in the modern day Southeastern United States.
Tang Soo Do: Yara is trained in the Korean martial art- Tang Soo Do(similar to Kung fu), she received her black belt (with a 99% score in the tests) when she was in her High School.
History Lover: She is a nerd for history, she wants to graduate in world history
Rapper Nas (Nasir bin Olu Dara Jones) is her second cousin.
Meaning of the name in Persian:

Yara- dear to heart
Sayeh- shadow
Shahidi- witness

Unique career achievement: She has played characters named Olivia, Chloe & Zoey in more than one TV Series/ Movies
Early acting career: Yara's interest in acting began very early, in fact she was already in commercials when she was 6 weeks old with her mother, by the age 9 she was already acting in mainstream movies and TV, her family moved from Minneapolis to California for the sake of Afshin's work and it worked out.
Commercials: She was 6 weeks old when she first appeared in Ads, she has worked with her younger brother and mother as well on various ads. She has appeared in ads for-

Disney(The Walt Disney Company)
GapKids (Gap Inc. for kids)
Guess Kids(Guess fashion line for kids)
McDonald's(hamburgers)
Ralph Lauren(style)
Target Corporation
The Children's Place(Children's Place Inc)
Tropicana.

She was named one of the 30 most influential teens of 2017 by the TIME magazine.
Yara calls her father- Baba, she loves cooking with him.
She is a big science geek, she likes experimenting with science things at home, she wants to build a lab at home some day.
She had a pet fish named- Cleophus.
Charity Integrative Clinics International: She supports them and volunteers for them at times.
She likes listening to radio shows, she considers herself old school.
History is her favorite subject in the school.
Mother: Yara's mother Keri is an actress & model herself, she now runs a consultancy firm for parents- Commercial Mommy.
Childhood fantasy: As a child she wanted to be a C.I.A agent.
She loves comics, especially Marvel characters.
She has been vocal about gay rights, Black lives Matter & women issues.
She has contributed financially and otherwise towards Saint Jude's Children's Hospital.
Favorite Disney princess character- Jasmine.
Her father has released a storybook named- Prince
Best dressed women (2018)- online fashion portal- Net-a-Porter listed her among the best dressed women of 2018.
Activism

Eighteen x 18: An initiative by Yara with NowThis (social new publisher) to encourage first time voters to vote
Young Women's Leadership Network: Yara has partnership with Young Women's Leadership Network(YWLN) in New York, a brilliant initiative which aims to end poverty through education.
Integrative Clinics Internationa: She is a volunteer for the charity foundation
Supporting Jussie Smollett- Yara stood with Jussie even after reports of him faking hate crime for benefit was reported in the media. She announced at the NAACP Image Awards(2019) that she still supports him.

Black Panther: Her maternal grandfather was a Black Panther
Modeling for Beyonce: She modeled for Beyoncé's Ivy Park
Meeting Angela Davis: She met Angela Davis, a fellow black panther activist who was a collegue of Yara's grandfather.
Reading: She likes reading books, has read Voltaire's Candide.
She listens to financial podcasts like- 99% Invisible, Freakonomics, Planet Money [4]
Intellectual: She has left smart hosts like Trevor Noah, Stephen Colbert, Jimmy Kimmel surprised at her maturity and vocabulary. "I'm just trying to imagine myself trying to have a conversation with you when I was 18 and I don't see it happening at all." said Kimmel when she was on his show. "I've met few people in my life who are as enigmatic and amazing as Yara Shahidi is" said Trevor Noah about her
Yara Shahidi Filmography
bold: most popular/ lead roles
Acting: She started her acting debut with the TV series 'Entourage', 'Imagine That' is her first movie.
Producer: She has produced numerous episodes of "Grown-ish", she has produced short films like "Hair Love (2019)"
Writing & Direction: She wrote & directed the short movie- "X" in 2018
Yara Shahidi Movies List
The Sun Is Also a Star(2019)- Natasha Kingsley
Smallfoot(2018) (voice)- Brenda
Alex Cross(2012)- Janelle Cross
Butter(2011)- Destiny
Rip City(2011) (TV movie)- Montana
Unthinkable(2010)- Katie
Salt(2010)- Young Neighbor
Imagine That(2009)- Olivia Danielson
Yara Shahidi TV Series List
3Below: Tales of Arcadia(2018-2019)- Darci Scott (voice)
Grown-ish(2018-) Zoey Johnson
Trollhunters(2016-18)- Darci Scott (voice)
Mission Force One(2017)- Malison
Black-ish(2014-)- Zoey Johnson
The Fosters(2014)- Maddie
Bad Teacher(2014)- Jalissa
Scandal(2013)- Olivia Pope (Olivia)
The First Family(2012-13)- Chloe Johnson
The Finder(2012)- Adina
Family Guy(2011)- Little Girl (voice)
The Cape(2011)- Layla
$h*! My Dad Says(2010)- Girl Scout
Lie to Me(2010)- Olivia
Wizards of Waverly Place(2009)- Olive
Cold Case(2009)- Meesha Sullivan '91
In the Motherhood(2009)- Esther
Entourage(2007)- Kandace West
Others
Drake: Nice for What(2018) (short)
X(2018)- She directed the short film
Yara Shahidi Awards
2019: Choice Summer Movie Actress: She received a nomination for her role in 'The Sun is also a star'
2019: Choice Comedy TV Actress- Teen Choice Award- for her role in 'Black-ish'
2017: Generation Next Award: She was honored with the award at the 10th annual Essence Black Women In Hollywood(2017)
2017: Choice Comedy TV Actress- Teen Choice Award- for her role of Zoey Johnson in 'Black-ish'
2017: BET Award for YoungStar- received a nomination for 'Black-ish'
2017: Outstanding Performance by an Ensemble- Screen Actors Guild Awards- Nomination for her role in black-ish
2016: Outstanding Performance by an Ensemble- Screen Actors Guild Awards- Nomination for her role in black-ish
2014: Best Supporting Actress in a Comedy- NAACP Image Awards: She won the award in December 2014 for her role in Black-ish
2009: Best performance in a feature film- Young Artist Award: She received a nomination at the awards for her role in Imagine That (her very first movie) alongside Eddie Murphy
Yara Shahidi News & Updates
Golden Globe 2020: attended the Golden Globes in January 2020, she wore goldenrod strapless mini-dress
British Vogue Cover: Yara was one of the 15 selected beautiful women to feature on the cover of September 2019 British Vogue magazine. It was (guest) edited by the Duchess- Meghan
Hillary Clinton Interview: She interviewed 2016 Presidential candidate Hillary Clinton for the Vogue Magazine in 2017
Yara was interviewed by Your Teen magazine, Tribute, People NOW, Essence Magazine, Equanimity..
Yara Shahidi Quotes
Life is too long not to make mistakes
Although High school is way harder than middle school, I think it's more enjoyable than middle school
Japanese erasers are the best
Knowing my learning style has benefitted me in my acting career. I think that just knowing your learning style is empowering and important.
I can memorize a script pretty quick, but I need to know the story to really connect to the script.
One week spring breaks are a crime against humanity
I have wanted to be a historian for the longest time, I'm also interested in public relations & advertising, particularly to combat gender stereotypes
I have been interested in History- African-American, Islamic, World history in general.
Improv is a large part of comedy projects, I've learned to adopt so that acting comes out naturally
People love when you bring life to a character
There is no reason that a girl should feel limited by the standards of other people
I was going to dress up as Black Privilege, but I couldn't find the costume.. because it doesn't exist
We don't integrate, we recreate
War is not the answer and the fact that it is even being entertained is frightening [1]
There's power in just displaying joy [2]
My Metric for Success Is Having an Impact on Something Greater Than Myself [3]
My mother always says, 'There's nothing more interesting than an interested human.' And I've just always been interested. [3]
If you're committed to doing the work and bringing about change, it does get overwhelming at times [3]
My dream of dreams, is to create some form of alternate curriculum that is inclusive of all people [4]
To Be a Woman Is to Be an Abolitionist. To be a woman is to understand the power of our yes [5]
Sources
References