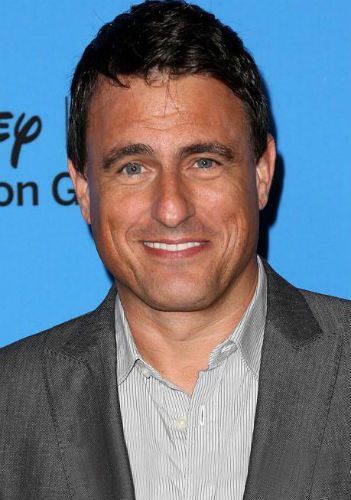 Ben Koldyke
Date Of Birth
March 27, 1968
Age
55 years 5 months 29 days
Day of Birth
Wednesday
Place Of Birth
Chicago, Illinois, United States
Zodiac Sign
Aries
Professions

Football Coach

, Teacher (High school English) ,

Director

, Writer , Actor ,

Entrepreneur

Nickname

Ben

Full Name

Benjamin Koldyke
Personal Information
Residence

Santa Monica, California, United States

Religion
Christianity
Language
English
Star Sign
Aries
Nationality
American
Ethnicity
Caucasian
Complexion
White

Body Features & Measurements
Height

188 CM


6 Feet 2 Inches
Eye color
Blue
Hair color
Dark Brown
Weight

85 KG


187 lbs

Body Type
Average
Family Information
Father
Martin J Koldyke (investment banker)
Mother
Patricia Blunt Koldyke (Educator)
Wife
Maggie Lawson (Actress; married in2015 divorced in 2017)
Brothers

Carl Koldyke




Laird Koldyke

Sister

Elizabeth Koldyke

Education Qualifications
Education (Graduation)
Bachelors in English (Dartmouth College)
Education (High School)
New Trier East High School (Winnetka, Illinois) , New Trier High school
Education(School)
Choate Rosemary Hall
Education(College)
Dartmouth College
Alma Mater
Dartmouth College (Hanover, New Hampshire)
Career Information
Debut (Movie)
The Next Best Thing(2008)
Years Active
2000-
Debut (TV)
24
Favorites, Hobbies, Likes/ Dislikes
Favorite Sports
Football , Baseball
Social Networks, Web links
Facebook Profile
Ben Koldyke Facebook Profile
Contact
Talent Agent
The Gersh Agency
More Information
Net worth

$1.2 Million
Biography
Ben Koldyke is an American actor, director & writer. He used to be a football coach and English teacher at a High School.
Ben is known for playing Lee Standish in "Work It", Paul Edley in "Masters of Sex", Dick Slingbaugh in "Back in the Game", Donald Bangs in The Finest Hours (2016), Jimmy Hooper in "Mr. Robinson".
Recently he has appeared in "The Good Place" as Brent Norwalk, in "Carol's Second Act" as Coach Dean.
Family- Childhood
Ben Koldyke was born on born 27th March 1968 in Chicago, Illinois, United States to Martin J Koldyke (Father)- an investment banker & Patricia Blunt Koldyke(Mother)- an educator, he grew up in Kenilworth with 3 siblings
Father- Martin J Koldyke
Ben's father Martin J. Koldyke aka "Mike" is a retired banker, He founded the Chicago-based private equity firm "Frontenac Company" in 1971 (The company had invested $1.5 billion by 2017)
Martin is a lifetime trustee of Northwestern University.
Mother- Patricia Blunt Koldyke
Mother Patricia Blunt is an educator, her extended family owns "Laird Norton Company", a 7th generation family held diversified equity firm which began as a timber industry in the Pacific Northwest.
Siblings
Ben is the youngest of four children of his parents:
Laird Koldyke
Laird, the oldest of Koldyke children was born in 1962. He has an MBA from Northwestern University (from J. L. Kellogg Graduate School of Management). He attended Joseph Sears Elementary School for high school.
Carl Koldyke
Carl was born in 1963, he is a cerebral-palsy victim and attended special needs children schools.
Elizabeth Koldyke
Elizabeth, the only girl among the Koldyke siblings was born in 1965. She attended Joseph Sears Elementary School for high school. She studied at Dartmouth College.
Education
Elementary school: Ben, like all his elder siblings, attended "Joseph Sears Elementary School", a public school on the North Shore.
High school: Ben studied at the "New Trier High school"- a four-year public high school, located in Winnetka, Illinois. Ben played football as Quarterback at the high school. He played for the team at the State Championship (and eventually lost)
Post-graduate: He did a post-graduate year at "Choate Rosemary Hall", a prep boarding school in Wallingford, Connecticut.
College: Ben graduated from Dartmouth College (located in Hanover, New Hampshire, United States) in the year 1991. He graduated with a bachelor's degree in English. He played as a quarterback in the college football team.
Sports
Football: Ben played football both in high school as well as college, he mostly played the role of "Quarterback". He has led his team to 14-0 perfect win in one of the games.
Baseball: He has lettered in baseball, he mostly played the third baseman.
Wife- Marriage
Ben Koldyke & Maggie Lawson
Ben and Maggie met while acting on the sets of the ABC sitcom show 'Back In The Game', they got engaged on November 14, 2014. The couple got married on 8th August 2015 at Ben's family ranch in Las Vegas, New Mexico. Maggie is younger than Ben by 12 years.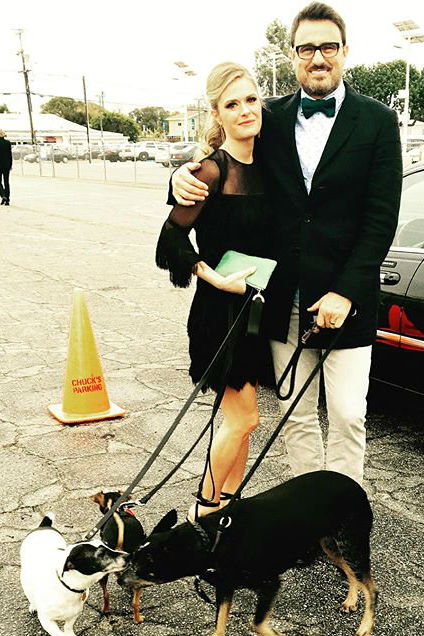 Image: Ben Koldyke with wife Maggie Lawson
Divorce: Maggie filed for divorce in early 2017 and they have been divorced since 2017.
Facts & Trivia
He was an English teacher at a High school in Chicago, he has also worked as a high-school football coach. He has also worked as an "acting" teacher at KIPP charter school in Inglewood (Hollywood).
Ben doesn't have social media accounts, he previously had an Instagram account.
Embarrassing scene: His previous most embarrassing scene was kissing a man on TV, he topped that by appearing nude in one of the later shows.
Handsome: Ben is a natural athlete, tall and cute. Vulture magazine's Lauren Waterman describes him as "Square-jawed, tall, and almost cartoonishly handsome" and we agree.
"Dickish jackass": He specializes in playing "dickish jackass" characters (as phrased by Dan Hamamura of "Pajiba"), his role as Brent Norwalk in "The Good Place" is a testament to that.
1923 Santa Monica Craftsman bungalow: Ben had bought the bungalow in Santa Monica's Ocean Park neighborhood in 2009 for $1.45 million. It is 2,276 sq. ft. large and has three-bedroom and two-bathrooms.
Career
Meeting Rob McElhenney
Rob & Ben both used to be regulars at the 'Venice cafe', Ben was an admirer of the show 'It's always sunny in Philadelphia'. Once Ben wrote an appreciative note that said 'the show was fantastic' and handed it to Rob, the two eventually became friendly, it eventually led to Ben appearing on the Fox show- 'Boldly Going Nowhere' (unfortunately the show wasn't picked up, however, he went on to appear in the HBO series "Big Love" as Dale Tomasson )
Becoming an actor
Ben had written a couple of short films, had sold a few scripts too, but becoming an actor wasn't even on his mind, the opportunity just opened up. [2]
"I was interviewing to be a writer on a comedy pilot for Fox and they asked me to come in and read as an actor. I did, sort of on a whim, and I got the job. That shifted everything."
Work It(2012)
A sitcom with a cross-dressing theme where Ben played the lead role, was pulled out after just the 2 episodes were aired, the transgender community had expressed that it was uncomfortable with the theme. The Gay & Lesbian Alliance Against Defamation (GLAAD) had taken an AD in the Hollywood trade to display their displeasure at the theme of the show. An AD in the "Variety" magazine displayed statistics of violence on the transgender community (sponsored by National Gay & Lesbian Task Force) and demonstrated how the show could be misinterpreted and unwittingly lead to violence on the transgender community.
ABC replaced the show with the rerun of Tim Allen's "Last Man Standing".
Filmography
Movies
| Year | Movie | Character | Comment |
| --- | --- | --- | --- |
| 2017 | Controversy | Coach Jim Scarmuchi | TV Movie |
| 2016 | The Finest Hours | Donald Bangs | |
| 2010 | This Little Piggy | | TV Movie |
| 2009 | Boldly Going Nowhere | | TV Movie |
| 2009 | The Big D | Will Dupree | TV Movie |
| 2003 | Say I Do | Ben | |
| 2003 | Stuck on You | Officer Tommy Johnson | |
| 2002 | Osama Bin Laden: Behind the Madness | | Video; as Director & Writer |
| 2001 | Red Zone | Dutch Van Roble | also as Director & Writer |
| 2000 | Thirteen Days | RF-8 Pilot | |
| 2000 | The Next Best Thing | Kelly's Boyfriend | |
TV Series
| Year | TV Series | Character | Comment |
| --- | --- | --- | --- |
| 2019-2020 | The Good Place | Brent Norwalk | 7 episodes |
| 2019 | Carol's Second Act | Coach Dean | Episode: "Game Changer" |
| 2018 | Silicon Valley | Ben Burkhardt | Episode "Chief Operating Officer" |
| 2017 | Curb Your Enthusiasm | Dave | Episode: "The Accidental Text on Purpose" |
| 2015-2016 | Gortimer Gibbon's Life on Normal Street | Greg Gibbon | 5 Episodes |
| 2015 | Masters of Sex | Paul Edley | 9 episodes |
| 2015 | Mr. Robinson | Jimmy Hooper | 6 episodes |
| 2014 | The Michael J. Fox Show | Brandon | Episode: Brandon |
| 2013-2014 | Back in the Game | Dick Slingbaugh | 13 episodes |
| 2012-2013 | Work It | Lee Standish | 13 episodes |
| 2013 | The Newsroom | Cyrus West | Episode: "First Thing We Do, Let's Kill All the Lawyers" |
| 2009-2010 | How I Met Your Mother | Don | 6 episodes |
| 2010 | Big Love | Dale Tomasson | 5 episodes |
| 2009 | It's Always Sunny in Philadelphia | Sean | Episode: "The Gang Exploits the Mortgage Crisis" |
| 2002 | 24 | LAPD Officer | Episode: "Day 2: 10:00 a.m.-11:00 a.m." |
| 2001 | Jack & Jill | Andrew Bower | Episode: "California Dreamin'" |
Short Movies
| Year | Short movie | Character | Comment |
| --- | --- | --- | --- |
| 2016 | Four Day Weekend | Christopher | |
| 2008 | Jedi Gym | Master Flynn | also as Director, Producer & Writer |
Quotes
I didn't think success can actually happen this late
I was interviewing to be a writer, they asked me to come in and read as an actor. I did, on a whim, and I got the job.
[When asked about his specialization in both Drama and comedy] My general sensibility is most certainly comedic... By no means does it (Drama) feel close to home, but I was willing to explore it [2]
References