Biography
Ben Koldyke is an American actor, director & writer. He used to be a football coach and English teacher at an High School.
Ben Koldyke was born on born 27th March 1968 in Chicago, Illinois, United States to Martin J Koldyke(Father)- an investment banker & Patricia Blunt Koldyke(Mother)- an educator, he grew up in Kenilworth with 3 siblings- a sister named Elizabeth Koldyke and brothers- Carl Koldyke, Laird Koldyke.
Ben Koldyke & Maggie Lawson Marriage : Ben and Maggie met while acting on the sets of the show 'Back In The Game', they got engaged on November 14, 2014. The couple got married on 8th August 2015 on their New Mexican ranch, Maggie was younger to Ben by 12 years. Maggie filed for divorce in early 2017.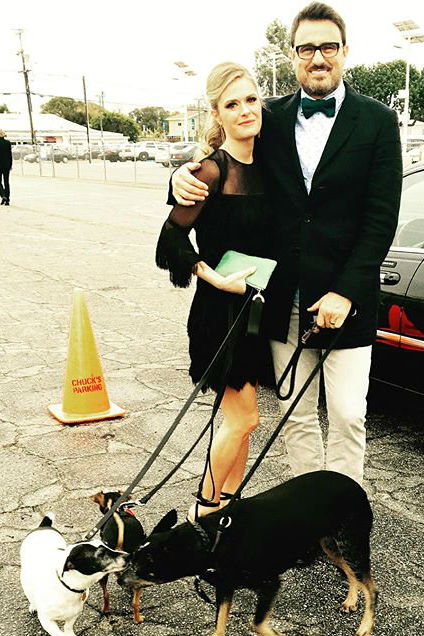 Image: Ben Loldyke with wife Maggie Lawson
Meeting Rob McElhenney & start to acting career: Rob & Ben both used to be regulars at the 'Venice cafe', Ben was an admirer of the show 'It's always sunny in Philadelphia'. He wrote a note that said 'the show was fantastic' it eventually lead to the two getting close. It eventually lead to Ben appearing on Boldly Going Nowhere.
Ben Koldyke: Facts & Trivia
He played as quarterback for the High School football team.
He played baseball (third baseman) in High school as well.
He was an English teacher at an High school in Chicago, he also worked as a acting teacher at KIPP charter school in Inglewood.
Work It(2012): a sitcom with cross dressing theme was pulled out after 2 episodes after the transgender community felt uncomfortable with the theme.
Ben doesn't have social media accounts, he previously had instagram account.
Embarrassing scene: His previous most embarrassing scene was kissing a man on TV, he topped that by appearing nude in one of the later shows.
Ben Koldyke: Quotes
I didn't think success can actually happen this late
I was interviewing to be a writer, they asked me to come in and read as an actor. I did, on a whim, and I got the job.
Photos/ Pictures