Biography
Ben Koldyke is an American actor, director & writer. He used to be a football coach and English teacher at an High School.
Ben Koldyke was born on born 27th March 1968 in Chicago, Illinois, United States to Martin J Koldyke(Father)- an investment banker & Patricia Blunt Koldyke(Mother)- an educator, he grew up in Kenilworth with 3 siblings- a sister named Elizabeth Koldyke and brothers- Carl Koldyke, Laird Koldyke.
Ben Koldyke & Maggie Lawson Marriage : Ben and Maggie met while acting on the sets of the show 'Back In The Game', they got engaged on November 14, 2014. The couple got married on 8th August 2015 on their New Mexican ranch, Maggie was younger to Ben by 12 years. Maggie filed for divorce in early 2017.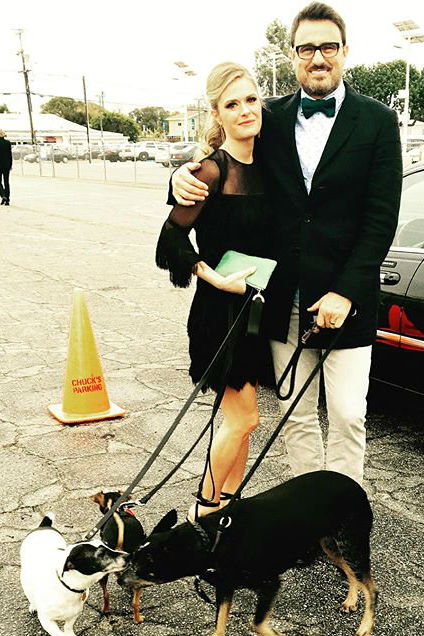 Image: Ben Loldyke with wife Maggie Lawson
Meeting Rob McElhenney & start to acting career: Rob & Ben both used to be regulars at the 'Venice cafe', Ben was an admirer of the show 'It's always sunny in Philadelphia'. He wrote a note that said 'the show was fantastic' it eventually lead to the two getting close. It eventually lead to Ben appearing on Boldly Going Nowhere.
Ben Koldyke: Career
Movies
The Finest Hours(2016): He portrayed the character- Donald Bangs in the Historical Drama directed by Craig Gillespie with the cast Chris Pine, Casey Affleck, Ben Foster
Say I Do(2003): He played the role of Ben in the movie directed by Ron Vignone starring David Bel Ayche, Samuel Bliss Cooper, Don O. Knowlton in the lead.
Stuck on You(2003): He played Officer Tommy Johnson in the Comedy directed by Peter Farrelly, Bobby Farrelly with actors- Eva Mendes, Greg Kinnear, Matt Damon playing main roles.
Red Zone(2001): He acted as Dutch Van Roble in this movie directed by Benjamin Koldyke with actors- Terence Bernie Hines, Benjamin Koldyke, Bobby Nish playing the lead characters.
The Next Best Thing(2000): He acted in the Comedy Drama movie directed by John Schlesinger starring Madonna, Rupert Everett, Benjamin Bratt in the lead.
Thirteen Days(2000): He played the role of a Pilot in the Historical Thriller Drama movie , it was directed by Roger Donaldson with stars- Kevin Costner, Shawn Driscoll, Bruce Greenwood in the main roles.
TV Movie
Controversy(2017): Ben appeared as Coach Jim Scarmuchi in this Thriller Drama directed by John Requa, Glenn Ficarra , it has Anthony Edwards, Archie Panjabi, Erin Moriarty in the main roles.
This Little Piggy(2010): He played the character- in the Comedy directed by , cast includes Nicholas D'Agosto, Benjamin Koldyke, Erinn Hayes
The Big D(2009): He played the character- Will Dupree in this Comedy directed by Andy Ackerman , cast included Kelen Coleman, Andrea Anders, Deanna Dunagan
Boldly Going Nowhere(2009): Ben Koldyke was in this directed by Wayne McClammy with the cast of Chad L Coleman, Yara Martinez, Natalie Morales
TV Series
Curb Your Enthusiasm(2017): He played the role of Dave in this Comedy TV Series , it was produced by Larry David with Cheryl Hines, Jeff Garlin, Larry David in the lead.
Gortimer Gibbon's Life on Normal Street(2015): Ben Koldyke was Greg Gibbon in the Family Fantasy Series with the cast of Drew Justice, Sloane Morgan Siegel, Ashley Boettcher
Mr. Robinson(2015): He portrayed Jimmy Hooper in this Series starring Benjamin Koldyke, Craig Robinson, Brandon T. Jackson in the lead.
Masters of Sex(2015): He played the character of Paul Edley in the Romantic Drama Series produced by Michelle Ashford , it has Michael Sheen, Caitlin FitzGerald, Lizzy Caplan playing in the lead.
The Michael J. Fox Show(2014): He played Brandon in the Series created by Sam Laybourne, Will Gluck, Sam Laybourne with Betsy Brandt, Wendell Pierce, Michael J. Fox in the lead.
Back in the Game(2013): Ben played Dick Slingbaugh in the Series produced by Robb Cullen starring Benjamin Koldyke, James Caan, Maggie Lawson in the lead.
The Newsroom(2013): He played the role of Cyrus West in this TV Series starring Emily Mortimer, John Gallagher Jr., Jeff Daniels in the lead.
Work It(2012): Ben appeared as Lee Standish in the Comedy Series produced by Ted Cohen, Andrew Reich, with the cast of Amaury Nolasco, Benjamin Koldyke, Rochelle Aytes
Big Love(2010): He played Dale Tomasson in this Drama TV Series featuring Jeanne Tripplehorn, Chloë Sevigny, Bill Paxton in the cast.
It's Always Sunny in Philadelphia(2009): Ben appeared as Sean in the TV Series starring Glenn Howerton, Rob McElhenney, Charlie Day in the lead.
How I Met Your Mother(2009): Ben Koldyke was Don in the Romantic Comedy Series with the cast of Cobie Smulders, Josh Radnor, Jason Segel
24(2002): He portrayed the role of LAPD Officer in the Crime Drama Series starring Carlos Bernard, Kiefer Sutherland, Mary Lynn Rajskub in the lead.
Jack & Jill(2001): He portrayed the role- Andrew Bower in the Comedy Drama Series with stars- Amanda Peet, Ivan Sergei, Jaime Pressly in the lead.
Short Movies
Four Day Weekend(2016): He played the role of Christopher in this Drama directed & produced by Nicole Jones starring Benjamin Koldyke, Noelle Messier, Nicole Jones in the lead.
Jedi Gym(2008): Ben appeared as Master Flynn in the Comedy created & directed by Benjamin Koldyke with the cast of Steve Faloon, Josh Drennen, Lorenzo Deguia
Osama Bin Laden: Behind the Madness(2002): He directed & produced the short comedy movie with Jeremiah Alley, Josh Drennen, Terence Bernie Hines
TV Show
Ben Koldyke: Facts & Trivia
He played as quarterback for the High School football team.
He played baseball (third baseman) in High school as well.
He was an English teacher at an High school in Chicago, he also worked as a acting teacher at KIPP charter school in Inglewood.
Work It(2012): a sitcom with cross dressing theme was pulled out after 2 episodes after the transgender community felt uncomfortable with the theme.
Ben doesn't have social media accounts, he previously had instagram account.
Embarrassing scene: His previous most embarrassing scene was kissing a man on TV, he topped that by appearing nude in one of the later shows.
Ben Koldyke: Quotes
I didn't think success can actually happen this late
I was interviewing to be a writer, they asked me to come in and read as an actor. I did, on a whim, and I got the job.
Ben Koldyke: Photos, Pictures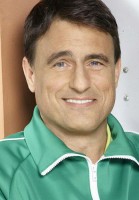 Ben Koldyke

Ben Koldyke with wife Maggie Lawson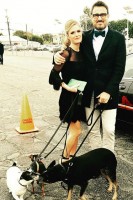 Ben Koldyke with wife Maggie Lawson