Biography
Grace Hightower is an American actress, singer, Socialite, philanthropist. She was born on 7th April 1955 in Kilmichael, Mississippi, United States. She is the wife of popular Hollywood actor Robert De Niro. Her parents were farmers, she grew up on the farm.
Marriage
Grace Hightower & Robert De Niro
Grace met Robert De Niro in 1987 when she was working at Mr. Chow's restaurant in London. This led to them going on dates and eventually into a marriage a decade later on June 17th 1997. She was 32 at the time and he was 44. (He was previously married to Diahnne Abbott)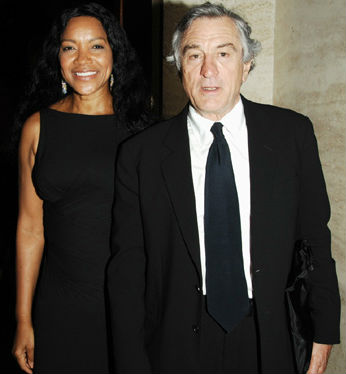 Image: Grace Hightower & Robert De Niro
Children
The couple had a son Elliot De Niro born in 1998, the marriage suffered a bit when their differences flared up and the couple filed for divorce in 1999, the issues got published in tabloids, Robert De Niro filed for the custody of the son in 1999, however the couple got back together in 2004 and renewed their vows of marriage (it was attended by Hollywood celebrities like- Ben Stiller, Martin Scorsese, Meryl Streep).
The couple had another child, a daughter Helen Grace De Niro born in 2011 born through a surrogate mother.
Career
Movies
Unspoken: Diary of an Assassin(2017): She has a small role of in the movie directed & produced by Ron with the cast Ian Anthony Dale, Zoë Bell, Brian Tee.
The Paperboy(2012): She acted as Yardley's Girlfriend in the Thriller Drama directed by Lee Daniels starring Nicole Kidman, John Cusack, Matthew McConaughey in the lead.
Precious(2009): She portrayed the role of a Socialworker in the Drama directed by Lee Daniels with the cast of Gabourey Sidibe, Mo'Nique, Paula Patton. She also performed in the song "Somethin's Comin' My Way"
TV Series/ Shows
The View(2013): She appeared on the show hosted by Whoopi Goldberg
NYPD Blue(1994): She acted in a minor role in this Crime Drama TV Series with actors- Jimmy Smits, Dennis Franz, Gordon Clapp in the lead cast.
Interesting Facts & Trivia
Vogue magazine published her 55th birthday party as a way of appreciating her efforts in charity.
She was invited by Pratt Institute to present the Creative Spirit Award to director Lee Daniels.
Flight attendant: Grace has previously worked as a flight attendant for Trans World Airlines. Her passion for travelling and flying fueled her ambition to become one. She has stayed and worked in European cities like Paris & London.
Odd Jobs: She has worked as a mutual fund trader, worker in a restaurant, flight attendant, mailroom, insurance agency, at the S. S. Kresge, the five & dime among other small jobs.
Losing Diamond jewelry: maid of Robret & Grace's had stolen diamond earrings of Grace worth $95,500 which Robert had gifted her in 2006. However maid was caught soon.
She has a Southern accent.
She learnt fluent French when she lived in Paris
Philanthropy
Grace Hightower & Coffees of Rwanda- A charity organization started by Grace in 2013 with the purpose of helping life of people of Rwanda. She was inspired by the Rwanda president who said 'Not just aid but trade' while asking the world to help him through trade opportunity and not just aid money.
New York Women's Foundation(NYWF)- Grace is the board member of the charitable organization that is focused on women's health & economic issues.
Fund for Public Schools, New York- She is the member of the board of the organization, the foundation has been supporting public schools since 1982, supporting about 1800 public schools and more than million students.
Women's Heart Health Advisory Council: She has been associated with the initiative by Ronald Perelman to care for women's health.
International Women's Coffee Alliance: She is associated with the non-profit organization which helps with the education & training of women involved with the coffee industry.
American Cancer Society: she has worked in promotion of American Cancer society and has been honored by them for her efforts towards health issues.
Hudson River protection: she supported the nonprofit organization which sought to protect Hudson river and environment around it
Autism Speaks: She supports Autism related events.
Quotes
What have I learned from bob? I'd say patience.
Good business means doing good for the communities in which we work.
(About dating Robert De Niro) It was an ease-in. It wasn't a whirlwind.
Everyone has something to contribute to this world. It's just a matter of being given that opportunity to do so
I don't encourage kids to eat sugar, but I do it
I hope people find compassion and find all this energy spent on terrorizing into something good.
My efforts are about teaching how to fish, not giving them fish (About her work in Rwanda)
Photos/ Pictures