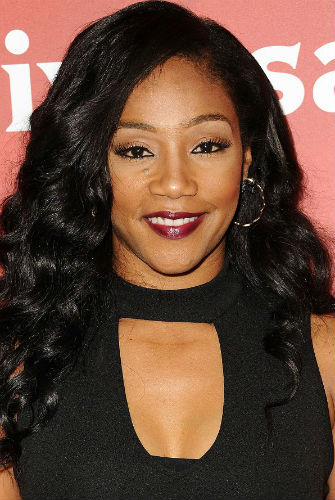 Tiffany Haddish
Date Of Birth
December 3, 1979
Age
43 years 3 months 28 days
Day of Birth
Monday
Place Of Birth
Los Angeles, California, United States
Zodiac Sign
Sagittarius
Professions
Actress ,

Dancer

,

Comedian

Nickname

Tiffany

Full Name

Tiffany Sarac Haddish
Personal Information
Religions
Scientology , Jehovah's Witnesses , Judaism
Language
English
Star Sign
Sagittarius
Nationality
American
Ethnicity
Multiracial
Complexion
Brown

Body Features & Measurements
Height

167 CM


5 Feet 6 Inches
Eye color
Brown
Hair color
Brown
Weight

58 KG


128 lbs

Figure Measurements
33-26-32
Figure Type
Hourglass
Body Type
Slim
Family Information
Father

Tsihaye Reda Haddish

Mother

Leola Haddish

Brother
Justin (born 1984)

Education Qualifications
Education (High School)
El Camino Real High School, Woodland Hills
Education (Middle School)
George Ellery Hale Middle School, Woodland Hills
Career Information
Debut (Movie)
The Urban Demographic(2005)
Years Active
2005-
Favorites, Hobbies, Likes/ Dislikes
Favorite Actress
Meryl Streep
Favorite Comedian
Will Ferrell
Favorite Character
Roger Rabbit
Social Networks, Web links
Facebook Profile
Tiffany Haddish Facebook Profile
Twitter Profile
Tiffany Haddish Twitter Profile
Instagram Profile
Tiffany Haddish Instagram Profile
YouTube Channel
Tiffany Haddish YouTube Channel
Contact
Contact(Phone)

310-888-4232

More Information
Friend
Arsenio Hall
Net worth

$1 Million
Biography
Tiffany Haddish is an American standup comedian and actress. Tiffany Haddish started her film career with The Urban Demographic(2005) & TV series That's So Raven(2005). Some of her popular films are The Carmichael Show(2015–2017), Real Husbands of Hollywood & Keanu(2016). Bill Bellamy's Who's Got Jokes? (2016) was a breakthrough event in her career.
Tiffany Haddish was born on 3rd December 1979 in Los Angeles, California, United States to Leola Haddish - a business woman & Tsihaye Reda Haddish.
Marriage
Tiffany while searching for her biological father got acquainted with a private investigator, she promised him she would marry him if he could find her biological father, he found her father Tsihaye within 3 weeks, Tiffany kept her words and married the investigator, however marriage did not work out for the couple, they divorced in 2013.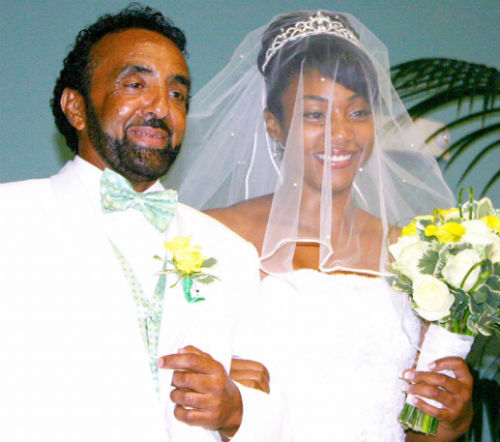 [Tiffany Haddish with her father Tsihaye at her wedding]
Interesting Facts & Trivia
Tiffany's father Tsihaye Reda Haddish(1954-2017) was an Eritrean Jewish refugee. He left Tiffany's mother when Tiffany was just 3 years old.
She wanted to be a Horse Farmer and own a beef jerky factory as a child. She also wanted to have a Snicker factory, Pantyhose factory.
She is of mixed race, she has Eritrean, Puerto Rican, Ethiopian genes in her.
Tiffany's mother Leola is an African American of the faith Jehovah's Witnesses, she was a business woman by profession.
Tiffany has 2 half brothers and 2 half sisters from her mother's second marriage.
Tiffany's mother had schizophrenia & other troubles, Tiffany and siblings were put in foster house for a brief period until their grandmother took them all home.
Tiffany took care of her young siblings while her mother worked outside.
Tiffany could not read properly until High School, a teacher of her's helped her learn reading in private time. She calls him her uncle.
Her mother Leola is Black American and was a small business owner who was part of the Jehovah's Witnesses church.
While in High school she participated in Drama competitions and won.
At the age of 17, she was sent to Laugh Factory Comedy Camp by her social worker, it was there she developed interest in comedy. Association with many famous comedians helped her develop a career in comedy.
After her time in High School she was homeless for a brief period, she used to live in her car.
Rape: Tiffany said she was raped by a police man at the age of 17 after returning from her home coming dance.
Tiffany was a school mascot while in her High School at El Camino Real High School.
Tiffany was into sports as well, she participated in High School track events.
Initially in her career she performed at the Bar Mitzvahs, she was appreciated.
Philanthropy: Tiffany Haddish serves as a volunteer at the Laugh Factory Comedy Camp and at other charity organization helping the people in need.
Some of her prominent TV series are: If Loving You Is Wrong(2014), The Carmichael Show(2015), Legends of Chamberlain Heights(2016)
Book: Tiffany's writing a book The Last Black Unicorn(2017).
She has an agent named Danny Robinson for booking her or for contact.
She was a guest at the Late Show in 2017. Midnight in 2016.
She attended Beta Awards 2017.
She developed and produced a comedy show Chuckles Not Knuckles.
She was part of the group that toured Japan entertaining the U.S. troops.
She toured United States on the show What My Husband Doesn't Know hosted by David E. Talbert.
She was part of Jenny McCarthy's comedy tour Dirty, Sexy, Funny(2014)
Girls Trip: Tiffany worked on the movie Girls Trip, a women centered movie with stars- Queen Latifah, Regina Hall, Jada Pinkett Smith.
Tiffany has started a comedy show Tiffany Haddish: She read! From the Hood to Hollywood, named after herself.
Tiffany has a production house named 'Dhe Ready Productions', she produces comedy shows.
She was bullied when in school, she took to laughter as a way to cope with the pain.
She regularly performs at the Guy Torry's Phat Tuesdays, Nokia Theatre (Los Angeles)
She wants to make a story out of her life named- Tiff Happens.
She is compared with the actress Halle Berry for her similar looks. Tiffany would lie that Halle Berry is her aunt and get into Night Clubs, because people would believe that.
Quotes
I'm not smart enough to be a teacher, but I'm not stupid enough to do customer service
It's been a lot of times where I thought this wasn't going to happen.
I watched Who Framed Roger Rabbit one day, and the detective asked the rabbit, 'Why are all of these people doing nice things for you?' He goes, 'Because I make them laugh. If you make them laugh, people will do anything for you.'
I was the only talking mascot in the whole school district
when I turn, 70 that's when I'm gonna try all the hard stuff, because that's when it makes sense to do drugs