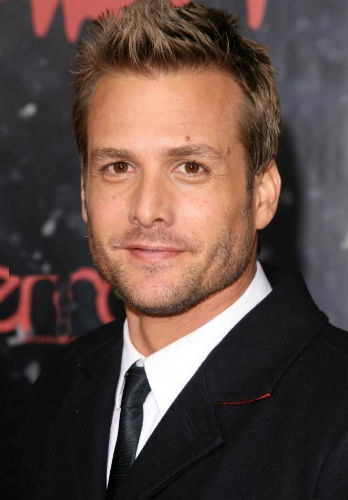 Gabriel Macht
Date Of Birth
January 22, 1972
Age
51 years 8 months 3 days
Day of Birth
Saturday
Place Of Birth
The Bronx, New York, United States
Zodiac Sign
Aquarius
Professions
Actor ,

Producer

Full Name

Gabriel Stephen Macht

Other Name

Gabriel Swann
Personal Information
Residence

Los Angeles, California, United States

Religion
Judaism
Language
English
Star Sign
Aquarius
Nationality
American
Ethnicities
Jewish , Caucasian
Complexion
White
Famous For
Role of Harvey Specter in Suits

Body Features & Measurements
Height

183 CM


6 Feet 0 Inches
Eye color
Brown
Hair color
Blonde
Weight

78 KG


172 lbs

Family Information
Father
Stephen Macht (Actor)
Mother
Suzanne Victoria Pulier (Archivist)
Son
Luca Macht (born on February 26, 2014)
Wife
Jacinda Barrett (Actress; married 2004-)
Daughter
Satine Anais Geraldine Macht (born on August 20, 2007)
Brothers

Ari Serbin Macht


Jesse Macht (Musician)
Sister
Julie Macht (district attorney)
Brother In-Law
Dr. David Owen Beenhouwer (Husband of Julie Macht)
Father In-Law
Jerry Barrett
Mother In-Law
Lyn Barrett
Body Build
Average

Education Qualifications
Education (Graduation)
Carnegie Mellon College of Fine Arts (1994)
Education (High School)
Beverly Hills High School(1990)
Alma Mater

Carnegie Mellon University

Career Information
Debut (Movie)
Why Would I Lie?(1980)
Years Active
1980-
Debut (TV)
Beverly Hills, 90210(1991)
Favorites, Hobbies, Likes/ Dislikes
Favorite Food
Saag Paneer (Among Indian)
Favorite Director
Frank Miller (Among those he has worked with)
Favorite Dress
T shirt and Jeans
Favorite Cuisine
Indian
Social Networks, Web links
Twitter Profile
Gabriel Macht Twitter Profile
Instagram Profile
Gabriel Macht Instagram Profile
Snapchat
Iamgabrielmacht
More Information
Friend
Sarah Rafferty
Inspiration
John Travolta
Net worth

$2 million
Biography
Gabriel Macht is an American actor who made his debut as a child artist playing the award-nominated role of Jorge in the movie Why Would I Lie? Gabriel is most popular for the role of Harvey Specter from the TV series Suits , the lead role in the movie The Spirits(2008), The Good Shepherd(2006)
Career
Movie Debut: Why Would I Lie?(1980) marked the debut of Gabriel Macht, where he plays the role of Jorge. He was just 8 years old.
TV debut: Beverly Hills, 90210(1991) marked the debut of Gabriel into the TV series, he acted in the role of Tal Weaver, in the Season 2 Episode 11- "Leading from the Heart"
TV movies: Follow the River(1995), The Audrey Hepburn Story(2000) are among the TV movies he has appeared in.
Major Movie Breakthroughs: Behind Enemy Lines(2001), a movie where Gabriel played the role of Aviator Lt. Jeremy Stackhouse got him the initial popularity.
The Spirit(2008), where he played the lead role.
Gabriel Macht on Suits: Gabriel Macht signed with the USA Network for a role in the TV drama Suits. The show has been a huge hit, and a career defining product, The show has been running for the successfully 7th season, Gabriel turned co-producer for the series in the later seasons of the show.
Personal Life
Gabriel was born on January 22, 1972 in The Bronx, New York to Stephen Macht(father) an actor & Suzanne Victoria Pulier(mother), a museum curator.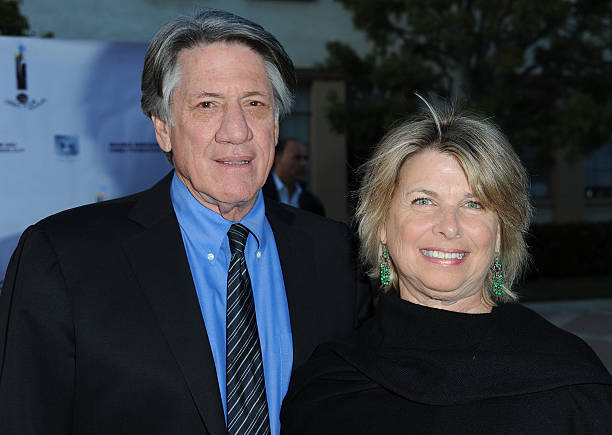 Image: Gabriel Macht's parents: father- Stephen Macht, mother-Suzanne Pulier
Gabriel Macht Siblings: Gabriel is one of the four siblings, he has two brothers named Ari Serbin Macht & Jesse Macht, and a sister named Julie Macht.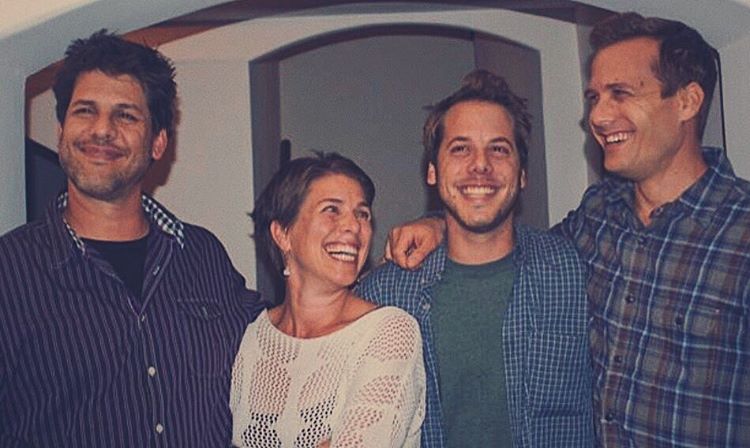 Image: Gabriel Siblings: Brothers- Ari Serbin Macht & Jesse Macht, Sister- Julie Macht
Gabriel Macht & Wife Jacinda Barrett: In December 2004 Gabriel married Jacinda Barret, an Australian-American model & actress known for her roles in Poseidon (2006), The Last Kiss (2006). They have appeared together in Middle Men (2009), Suits (2012-2013).
Image: Gabriel Macht with wife Jacinda Barrett
They have two children. An elder daughter named Satine Anais Geraldine Macht born on August 20, 2007 in Los Angeles. A son named Luca Macht born on February 26, 2014.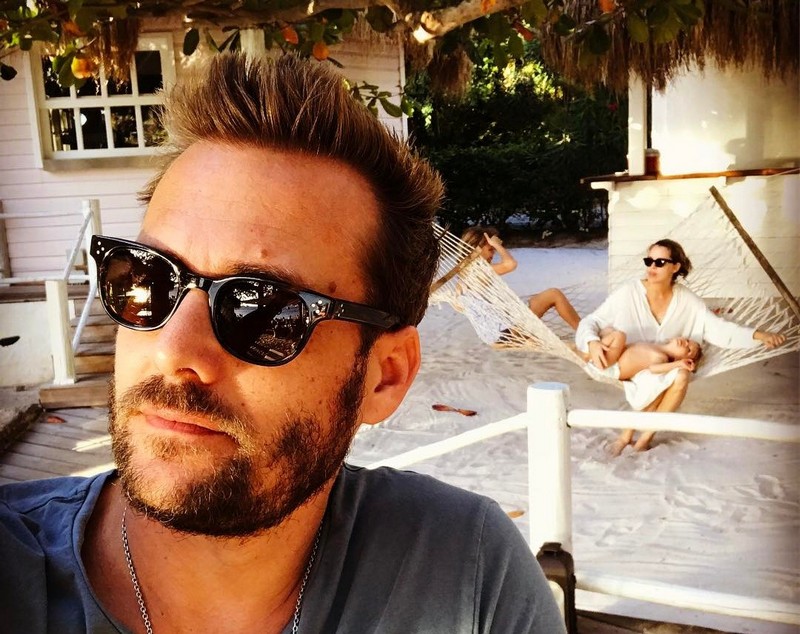 Image: Gabriel Macht family: wife Jacinda Barrett, daughter Satine Macht, Son Luca Macht
Interesting Facts & Trivia
Gabriel's mother Suzanne Victoria Pulier is a museum curator.
Gabriel's father Stephen Macht is a TV & Film actor.
His parents are Ashkenazi Jews of Russian-German-Polish-Lithuanian-Ukranian descent.
His acting career started at the young age of 8.
Macht is a vegetarian by choice.
Gabriel's brother Jesse is a musician and was a contestant in the reality show "The Next Great American Band"
He was born in New York, but brought up in California after the age of 5.
Gabriel appeared in the movie Why Would I Lie?(1980) as a child actor using the pseudonym Gabriel Swann. He was nominated for the award in the category "Best Young Motion Picture Actor".
Gabriel was member of the fraternity Delta Upsilon in his college.
Pets: Gabriel & Jacinda family has a pet dog named Lucky, they also Koi fish.
Best Friend: He has been close friends with Suits co-actor Sarah Rafferty for the last 20 years. They have known each other since 1993.
He doesn't like president Donald Trump and has been a vocal critic on Social Media.
He shaves everyday when working, chooses not to shave at all when not working.
He is a fan of Baseball team- New York Yankees
He is active with the theatre, once in a while he takes to theatre.
He appeared as Elvis Presley in Steve Martin's 1995 show at the Lapin Agile.
He & Monica Lewinsky studied in the same High school, they were in the cast of "The Music Man".
He comes from a musical family, his cousin owns a studio where the extended family loves to gather and Jam together once in a while.
He has been eating Indian food since age 6. He likes Saag Paneer.
In an FB interview with the Indian audience he said- "I'd love to do a Bollywood movie."
Despite his cool & fashionable appearance, Gabriel Macht is not a Gay.
Quotes
I do love being me. I'm hot.
Honestly, I'm not a massive fan of courtroom dramas.
I really feel that New York City is the greatest city in the world.
My parents would have loved it if my brother or I had become a doctor or lawyer.
I think if you're artistic in any way, you're probably born with it.