Biography
Mckenna Grace is an American actress, known for her roles in Crash & Bernstein (as Jasmine Bernstein), The Young and the Restless (as Faith Newman), Gifted(as Mary Adler), I- Tonya(young Tonya), Dog With a Blog, K.C. Undercover.
Mckenna Grace was born on 25th June 2006 in Grapevine, Texas to Ross Burge(father) an Orthopedic surgeon and Crystal Grace(Mother)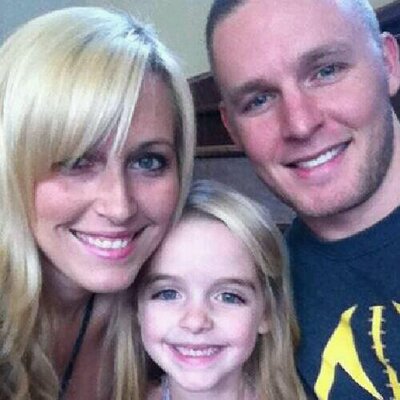 Image: Mckenna Grace family: Father Ross Burge & Mother Crystal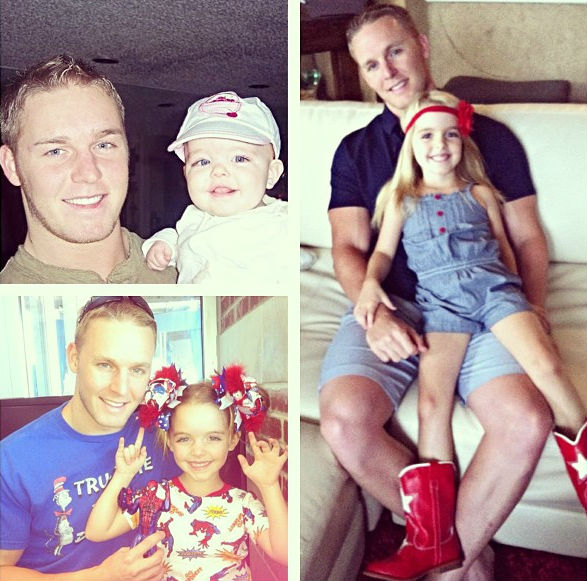 Image: Mckenna Grace Childhood photos with her Dad Ross Burge
Career
On her 5th birthday Mckenna's grandparents gifted her DVDs of classic movies of Shirley Temple. It inspired Mckenna to become an actress.
Mckenna Grace started her career in TV at the age of Six, She has appeared in Movies, TV series, TV shows, Commercials and Ads.
---
TV Career:
Mckenna made her debut in TV as Jasmine Bernstein, the youngest of Bernstein family in the show Crash & Bernstein(2012-2014).
Major Roles: She has had major & recurring roles in TV series like: The Young and the Restless(2013–2015), Designated Survivor(2016).
Minor Roles: She has had minor & guest roles in numerous TV series like- The Goodwin Games, Joe, Joe & Jane, Instant Mom, CSI: Crime Scene Investigation, K.C. Undercover, The Vampire Diaries, Dog with a Blog, Once Upon a Time, CSI: Cyber, Teachers, Bizaardvark, Fuller House.
voice artist: She has lent her voice for characters in shows like- Clarence(2014), Pickle and Peanut(2015), The Lion Guard(2016), Mickey and the Roadster Racers(2017)
TV Movies: some of the TV movies she has appeared in are: Clementine(2014), Love Is Relative(2014), Genie in a Bikini(2015), Babysitter's Black Book(2015).
---
Movie Career:
Movie Debut: Mckenna made her debut through the short movie R(2012) in the role of Young Wiley. Later in 2013 she played the role of Hannah Palmer in Goodbye World.
She has appeared in numerous movies like: Suburban Gothic(2013), Russell Madness(2015), Frankenstein(2015), Mr. Church(2016), The Angry Birds Movie(2016), Independence Day: Resurgence(2016), Gifted(2017), How to Be a Latin Lover(2017), Amityville: The Awakening(2017), I, Tonya(2017).
The Pearl Whale(2015) was another short movie she was part of.
---
Mckenna Grace Playing Piano and singing with uncle Tanner
Mckenna Grace Interesting Facts
She has been appearing in TV shows since was 6 years old. She has appeared on many Disney, Nickelodeon shows. She had been bugging her mom since she was 4 and 1/2 to make her an actress.
Mckenna is a vegetarian. She became vegetarian after meeting some vegetarian awareness activists at the age of 7. She is the only vegetarian in the family.
She likes animals and works with PETA.
She is best friends with Girl meets Girl star August Maturo.
In the movie Gifted, she had long lines (& equations) to remember, she sang the lines like a song and it became easy, it was her mom's idea to turn it into a song.
She learns her maths with singing.
Mckenna won her role in Gifted among 600 other girls in an audition spanning 8 months.
She describes herself on her Instagram bio as- 'Dreamer', 'Bookworm', 'Free Spirit'
She is a practicing cheerleader in school.
She sings songs with her uncle Tanner and published them on youtube.
She has two pet dogs named Marshmallow (a Morkie) and Baby Unicorn (a Pomeranian)
She is a huge Pokémon fan.
Her great grandmother is an immigrant from Mexico.
She likes cats very much, she collects Cat pics, Memes. But she is allergic to Cats and does not have them as pets. She had to take allergy medicines for her part in Gifted which had lots of scenes with Cats.
She likes praying, she prays before every audition.
Her first job was a commercial for the YMCA.
She is a natural actress, she used to act with her stuffed animals at home.
Mckenna is compared with Drew Barrymore in her childhood.
She maintains a fairy garden in her backyard.
She likes watching movies, especially the scary ones.
She is a voracious reader and an extraordinary student. She reads huge novels, not just children's books, She reads at least a dozen an year amidst her busy schedule.
Her parents consider an old soul.
She is a very compassionate fellow in general, to bugs, animals, friends and family alike.
When she is excited she wiggles.
She is home schooled. She likes Maths & Science in particular. She has a tutor who teaches her on sets, her home schooling is through public school.
She likes giving and helping: she has helped at Hospitals like Cook Children's Hospital, Scottish Rite Hospital.
She likes collecting bugs, Roly Poly (doodle bugs) are among her favorites. She likes spiders.
She likes candies, especially Skittles, purple ones.
She likes The Muppet Babies cartoons
She joined Girl Scout organization in 2017
She was on the cover of Suburban Parent magazine ( July 2011)
She liked stuffed animals, she has more than 100 of them.
Tough role: She feels her character Mary from Gifted was the most challenging she had. It is also her favorite character.
Her bucket List:

Raise money for cancer
Ride in a hot air balloon
Pet a llama, a chicken, a hairless cat, panda
Feed orphans
Visit Paris & the Eiffel Tower
work with Tim Burton, M. Night Shyamalan
Drink tea in England
See the Great Wall of China
Participate in a protest
Be part of flash mob
Mckenna Grace Quotes
I like music with messages.
I want my characters make the audience Cry, make them happy, make them smile.
I became a vegetarian because I felt really bad for the animals
Lost 2 family members to suicide. Be kind, you never know who might need your kindness
I wish I could un-read 'Of Mice and Men'!! I'm emotionally traumatized! WORST ENDING EVER! Please warn people not to read it!
On my 18th birthday, I'm going to get a tattoo of E.T. on my shoulder
The best movies are the ones that make you feel
I feel really thankful that my parents let me do what I love
Mckenna Grace: Photos, Pictures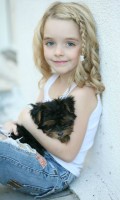 Mckenna Grace with her puppy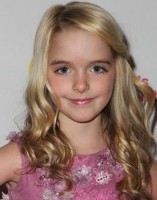 Mckenna Grace in her curly blond hair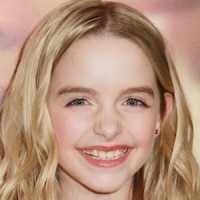 Mckenna Grace in her curly blond hair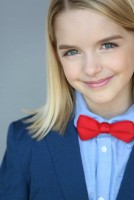 Mckenna Grace in suit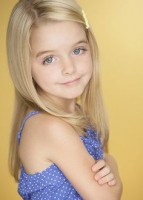 Mckenna Grace cute and little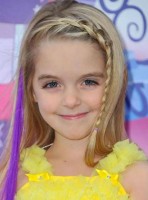 Mckenna Grace cute and little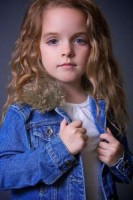 Mckenna Grace cute and little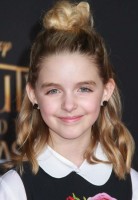 Mckenna Grace young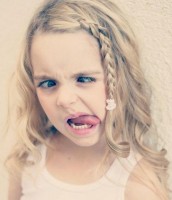 Mckenna Grace- Funny face