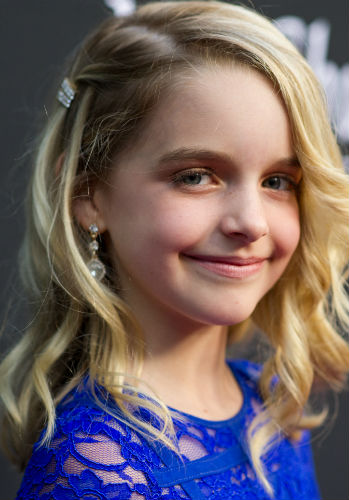 Mckenna Grace
| | |
| --- | --- |
| Date Of Birth | June 25, 2006 |
| Age | 16 years 9 months 6 days |
| Day of Birth | Sunday |
| Place Of Birth | Grapevine, Texas, United States |
| Zodiac Sign | Cancer |
| Profession | Actress |
| Nickname | Doodle bug (Her grandpa gave her) |
Personal Information
Religion
Christianity
Language
English
Star Sign
Cancer
Nationality
American
Ethnicity
Caucasian
Complexion
White
Trademark
Cute Giggle

Body Features & Measurements
Height
152 (2019) CM
4 Feet 12 Inches
Eye color
Blue
Hair color
Blonde
Family Information
Father
Ross Burge (Orthopedic Surgery Resident)
Mother

Crystal Grace

Uncle
Tanner G. Burge

Career Information
Debut (Movie)
R(2012)
Years Active
2012-
Debut (TV)
Crash & Bernstein(2012-2014)
Favorites, Hobbies, Likes/ Dislikes
Hobbies
movies
Singing
Music
Crafting
Favorite Actor
Tom Hanks
Favorite Actresses
Octavia Spencer
Meryl Streep
Favorite Food
Asparagus Salad
Favorite Singers
Taylor swift
John Lennon
Ariana Grande
Alessia Cara
Favorite Director
Tim Burton
Favorite Song
'Imagine' (John Lennon)
Favorite Character
Harry Potter
Favorite Animals
Alpaca ([3])
Cats ([3])
Unicorn ([3], at age 10)
llama ([3])
Skills
Ice skating
Social Networks, Web links
Facebook Profile
Mckenna Grace Facebook Profile
Twitter Profile
Mckenna Grace Twitter Profile
Official Website
Mckenna Grace Official Website
Instagram Profile
Mckenna Grace Instagram Profile
YouTube Channel
Mckenna Grace YouTube Channel
Contact
Contact (Email)

mckennagracebusiness@gmail.com

Address

PO BOX #5386, Ventura, California 93005

Talent Agent
Linda McAlister (Texas)
More Information
Friends
August Maturo
Kenzie
Inspirations
Emma Watson
Ellen DeGeneres
Net worth

$300,000

Instruments
guitar
Piano
Biography
Mckenna Grace is an American actress, known for her roles in Crash & Bernstein (as Jasmine Bernstein), The Young and the Restless (as Faith Newman), Gifted(as Mary Adler), I- Tonya(young Tonya), Designated Survivor (Penny Kirkman), Dog With a Blog, K.C. Undercover.
Mckenna Grace was born on 25th June 2006 in Grapevine, Texas, United States to Ross Burge(father) an Orthopedic surgeon and Crystal Grace(Mother)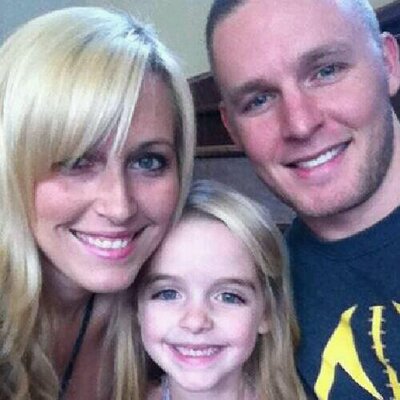 Image: Mckenna Grace family: Father Ross Burge & Mother Crystal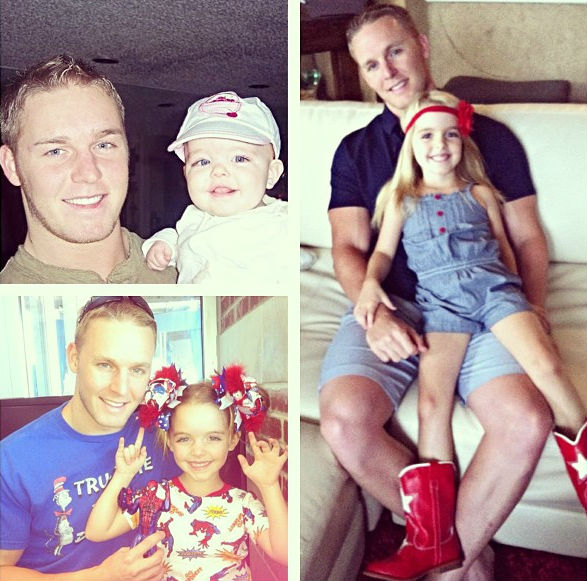 Image: Mckenna Grace Childhood photos with her Dad Ross Burge
---
Mckenna Grace Playing "Young"- a song written by her
Interesting Facts
She has been appearing in TV shows since was 6 years old. She has appeared on many Disney, Nickelodeon shows. She had been bugging her mom since she was 4 and 1/2 to make her an actress.
Ancestry: She is 1/8th Mexican by ancestry.
She is best friends with Girl meets Girl star August Maturo.
In the movie Gifted, she had long lines (& equations) to remember, she sang the lines like a song and it became easy, it was her mom's idea to turn it into a song.
She learns her maths with singing.
Mckenna won her role in Gifted among 600 other girls in an audition spanning 8 months.
She describes herself on her Instagram bio as- 'Dreamer', 'Bookworm', 'Free Spirit'
She is a practicing cheerleader in school.
She sings songs with her uncle Tanner and published them on youtube.
She has two pet dogs named Marshmallow (a Morkie) and Baby Unicorn (a Pomeranian)
She is a huge Pokémon fan.
Her great grandmother is an immigrant from Mexico.
She likes cats very much, she collects Cat pics, Memes. But she is allergic to Cats and does not have them as pets. She had to take allergy medicines for her part in Gifted which had lots of scenes with Cats.
She likes praying, she prays before every audition.
Her first job was a commercial for the YMCA.
She is a natural actress, she used to act with her stuffed animals at home.
Mckenna is compared with Drew Barrymore in her childhood.
She maintains a fairy garden in her backyard.
She likes watching movies, especially the scary ones.
She is a voracious reader and an extraordinary student. She reads huge novels, not just children's books, She reads at least a dozen an year amidst her busy schedule.
Her parents consider an old soul.
She is a very compassionate fellow in general, to bugs, animals, friends and family alike.
When she is excited she wiggles.
She is home schooled. She likes Maths & Science in particular. She has a tutor who teaches her on sets, her home schooling is through public school.
She likes giving and helping: she has helped at Hospitals like Cook Children's Hospital, Scottish Rite Hospital.
She likes collecting bugs, Roly Poly (doodle bugs) are among her favorites. She likes spiders.
She likes candies, especially Skittles, purple ones.
She likes The Muppet Babies cartoons
She joined Girl Scout organization in 2017
She was on the cover of Suburban Parent magazine ( July 2011)
She liked stuffed animals, she has more than 100 of them.
Tough role: She feels her character Mary from Gifted was the most challenging she had. It is also her favorite character.
Gifted Characters: She often plays intelligent and gifted girl characters in the movies/ TV series. Her roles of Mary Adler (Gifted), Paige (Young Sheldon), Jasmine Bernstein (Crash & Bernstein) are of intelligent girl
Self Description: Her instagram biography describes herself as- Free Spirit, Bookworm, Pokémon Enthusiast, David Bowie Obsessed, Proud Hufflepuff, Animal Whisperer
Top 30 Stars under age 18: The Hollywood reporter listed her as one of the top 30 stars of hollywood within age of 18 [5]
Bucket List
In an interview in 2017 McKenna Listed these as her bucket list items:
Raise money for cancer
Ride in a hot air balloon
Pet a

Llama(She has pet a Llama in 2016)
Chicken
A hairless cat
Panda

Feed orphans
Visit Paris & the Eiffel Tower
work with Tim Burton, M. Night Shyamalan
Drink tea in England
See the Great Wall of China
Participate in a protest
Be part of flash mob
Books List
She likes to read books, once she read about 15 books in just 4 months: [6], Her favorites in bold
A World without Princess (Soman Chainani)
Catching Fire (Suzanne Collins) [13]
Dark Descent
Dear Evan Hansen
Dry (Neal Shusterman) [12]
Escape from Asylum
Ghost buster's daughter
Glass Sword
Hamlet (Shakespeare)
Harry Potter Series [8]
I Am Malala [9]
Number the Stars [19]
Quests for Glory (Soman Chainani)
Rabbit Cake (Annie Hartnett) [7]
Red Queen
Romeo and Juliet (Shakespeare)
SCYTHE(Neal Shusterman) [17]
Shade's Children [15]
The Boy on the bridge (Mike Carey) [18]
The Fourth Closet
The Hunger Games [14]
The Last Ever After (Soman Chainani)
The Remarkable Journey of Coyote Sunrise [11]
The sun and her flowers
The Twisted ones
Thunderhead(Neal Shusterman) [16]
Tuck Everlasting [19]
Pan's Labyrinth
Watership Down [10]
Where the Red Fern Grows [19]
Wundersmith
Animal Lover
Mckenna is a vegetarian. She became vegetarian after meeting some vegetarian awareness activists at the age of 7. She is the only vegetarian in the family.
PETA: She has worked with PETA- an organization for Ethical treatment of Animals
Farm Sanctuary: She works with 'Farm Sanctuary'- an organization since 1980s that is dedicated to shelter farm animals, promote veganism.
She has appeared in campaigns asking people to not leave their pets in cars during summer, which causes them thirst, fast heart beat, tiredness [2]
She once visited animal sanctuary with her friend August Maturo, she talked about not eating animals to help them.[2]
Career
On her 5th birthday Mckenna's grandparents gifted her DVDs of classic movies of Shirley Temple. It inspired Mckenna to become an actress.
Mckenna Grace started her career in TV at the age of Six, She has appeared in Movies, TV series, TV shows, Commercials and Ads.
Mckenna made her debut in TV as Jasmine Bernstein, the youngest of Bernstein family in the show Crash & Bernstein(2012-2014).
Movie Debut: Mckenna made her debut through the short movie R(2012) in the role of Young Wiley. Later in 2013 she played the role of Hannah Palmer in Goodbye World.
Voice artist: She has lent her voice for characters in shows like- Clarence(2014), Pickle and Peanut(2015), The Lion Guard(2016), Mickey and the Roadster Racers(2017)
Mckenna has largely played younger versions of adult lead actresses in movies. In a few projects she has worked as a little girl with full roles
2019
Captain Marvel- Mckenna plays the younger version of Carol Danvers / Captain Marvel (played by Brie Larson). McKenna playe the 13 year old version of Captain Marvel while London Fuller played the 6 year old.
Troop Zero- She plays Christmas Flint daughter of Ramsey Flint, she is a spunky outcast who with her group infiltrates a strong Birdie scouts youth group and tries to win the talent show, with the intention that her dead mother would hear her if her message is recorded on the NASA's Golden Record (which was believed to be the prize for the talent show winner)
2018
Young Sheldon- She has appeared in the role of "Paige"- another 10 year old genius in the Series whose parents are getting divorced. A friend of lead character Sheldon (Iain Armitage). She has appeared in the Episodes- "Body Glitter and a Mall Safety Kit", "A Stunted Childhood and a Can of Fancy Mixed Nuts", "Carbon Dating and a Stuffed Raccoon", "A Rival Prodigy and Sir Isaac Neutron"
She plays the younger version of Sabrina Spellman in "Chilling Adventures of Sabrina", older version is played by Kiernan Shipka.
The Haunting of Hill House- She plays the younger version of Theodora Crain, whose adult character is played by Kate Siegel. Theodora is a perceptive young girl who can feel others' feelings and sense supernatural occurences, she is the daughter of Hugh Crain (Timothy Hutton) & Olivia Crain (Carla Gugino). Lulu Wilson, Paxton Singleton, Julian Hilliard, Violet McGraw also appear in the series in young roles.
She appears in the Horror drama TV movie "The Bad Seed" as Emma
She played Paige in the family themed short film "Lucky Penny"
2017
2017 was one of the highlight in her career with great projects like Gifted, I- Tonya winning her critical acclaim in the same year.
I, Tonya- Mckenna played the role of Young "Tonya Harding" in the movie, she trained in Ice-skating for the role. McKenna plays the 8-12 year old Tonya, Maizie Smith played the 3 year old Tonya while Margot Robbie played the adult Tonya
Amityville: The Awakening- She plays Juliet Walker- the daughter of Joan Walker and sister to Belle Walker & James Walker in the supernatural horror movie. Jennifer Jason Leigh, Bella Thorne, Cameron Monaghan, Thomas Mann played the lead roles. Her character Juliet is chased by brother James to be killed, which she escapes with the help of her older sister.
She plays Arden, the crush of Hugo (Raphael Alejandro) in "How to Be a Latin Lover". Eugenio Derbez, Salma Hayek, Rob Lowe, Kristen Bell plays important roles in this comedy drama.
Gifted- She plays Mary Adler, the Gifted young child who is dragged in a tussle for guardianship between her uncle and her grandmother in this Drama movie. She has the main role in the movie, she has also performed in the song "Shame, Shame, Shame". Chris Evans, Lindsay Duncan, Jenny Slate, Octavia Spencer appear in main roles.
She voiced "Bitsy Beagleberg" character from "Mickey Mouse Mixed-Up Adventures"
2016
Fuller House- McKenna plays Rose Harbenberger daughter of C.J. Harbenberger (Virginia Williams) & Love interest of Max Fuller(Elias Harger)- the son of lead role. She appears in multiple episodes such as- "President Fuller", "My Best Friend's Japanese Wedding", "Here Comes the Sun", "Declarations of Independence", "Break a Leg", "Happy New Year Baby", "Nutcrackers" and others
Annabelle Comes Home- McKenna plays the lead character of Judy Warren, daughter of Lorraine Warren(Vera Farmiga) & Ed Warren(Patrick Wilson). Judy is followed by the spirit of a priest, who protects her in the troubled night from Annabelle's ghost. Madison Iseman, Katie Sarife, Michael Cimino play other roles
Designated Survivor- McKenna plays Penny Kirkman, daughter of president Tom Kirkman and his wife- lawyer Alex Kirkman. She has a brother in Leo. The role is recurring but has very less to add to the story than being daughter of the president.
She voiced "Bella" from Elena of Avalor. She plays a small role in Steven Spielberg directed "Ready Player One"
She voiced Kambuni in the animated series "The Lion Guard"
Appears as Didi in Bizaardvark
She plays Daisy Blackwell, the sister of Sam Blackwell (Joey King) in "Independence Day: Resurgence"
2015
Once Upon a Time- She plas the younger version of lead character Emma Swan(Jennifer Morrison). She makes appearances in the episodes- "The Song in Your Heart", "Awake", "Tougher Than the Rest", "The Dark Swan". Lana Parrilla, Robert Carlyle, Jared Gilmore, Jennifer Morrison, Ginnifer Goodwin can be seen in the lead roles
Voiced characters Sugarbee & Cindy in "Pickle and Peanut"
CSI: Cyber- Plays Michelle Mundo in 3 episodes- "Red Crone", "Heart Me", "CMND:Crash".
Apepars as Jules in the episode "You're Not My Sister Anymore" of "Dog with a Blog"
Played Molly in the horror science fiction movie Frankenstein.
Played Lena in the family pet movie- "Russell Madness"
She was "Quinn" in the Zendaya starring detective series- K.C. Undercover
2014
Appears as young Abby Fisher in the "CSI: Crime Scene Investigation" episode- "Dead Woods" (season 15 Episode 12)
Had a tiny role in "The Bridge" episode- "Eidolon"
Played Zelda in "Suburban Gothic" starring- Matthew Gray Gubler, Kat Dennings, Ray Wise, Barbara Niven
2013
The Young and the Restless- Has appeared in the series as Faith Newman, appears in more than 50 episodes
Played Sam in "Instant Mom", appears in the episodes- "True Romance", "Forty-Two Inches of Pure Evil"
Goodbye World- she played Hannah Palmer, the daughter of James Palmer(Adrian Grenier) & Lily Palmer(Kerry Bishé). It is a comedy drama about the life of a man moving off the grid
She played Chloe in the "Hamletta" episode of "The Goodwin Games"
2012
Crash & Bernstein- She plays Jasmine Bernstein, the sister of Amanda (Oana Gregory), Wyatt (Cole Jensen) and Cleo Bernstein (Landry Bender). She is the youngest of the family. She is known for her tantrums and extraordinary intelligence
Filmography
Movies List
| Year | Movie | Character | Comments |
| --- | --- | --- | --- |
| 2020 | Ghostbusters: Afterlife | Phoebe | |
| 2020 | Scoob! | Daphne (voice) | Young version of Daphne |
| 2019 | Annabelle Comes Home | Judy Warren | |
| 2019 | Captain Marvel | Carol Danvers | young version of Carol |
| 2019 | Troop Zero | Christmas Flint | |
| 2018 | The Bad Seed | Emma | TV Movie |
| 2018 | Ready Player One | Elementary Kid | |
| 2017 | I, Tonya | Tonya | young version of Tonya |
| 2017 | Amityville: The Awakening | Juliet | |
| 2017 | How to Be a Latin Lover | Arden | |
| 2017 | Gifted | Mary Adler | |
| 2016 | Independence Day: Resurgence | Daisy | |
| 2016 | The Angry Birds Movie | Ella Bird | |
| 2016 | Mr. Church | Izzy | |
| 2015 | Genie in a Bikini | Teresa | TV Movie |
| 2015 | Frankenstein | Molly | |
| 2015 | Babysitter's Black Book | Cindy | TV Movie |
| 2015 | Russell Madness | Lena | |
| 2014 | Clementine | Lucy | TV Movie |
| 2014 | Love Is Relative | Casey | TV Movie |
| 2014 | Suburban Gothic | Zelda | |
| 2013 | Joe, Joe & Jane | Sydney | TV Movie |
| 2013 | Goodbye World | Hannah Palmer | |
TV Series List
| Year | Movie | Character | Comments |
| --- | --- | --- | --- |
| 2018- | Young Sheldon | Paige | Recurring role |
| 2016- | Fuller House | Rose Harbenberger | Recurring role |
| 2016- | Designated Survivor | Penny Kirkman | Daughter of the Lead role, recurring |
| 2017- | Mickey Mouse Mixed-Up Adventures | Bitsy Beagleberg(voice) | Recurring |
| 2018 | Chilling Adventures of Sabrina | Sabrina Spellman | younger version of Sabrina Spellman, "Chapter Eleven: A Midwinter's Tale" |
| 2018 | The Haunting of Hill House | Theodora Crain | younger version of the lead character, Recurring |
| 2016- | Elena of Avalor | Bella (voice) | "A Lava Story", "All Heated Up" |
| 2016- | The Lion Guard | Kambuni (voice) | "Rafiki's New Neighbors", "Follow That Hippo" |
| 2015- | Once Upon a Time | Emma Swan | Younger version of Emma Swan, "The Song in Your Heart", "Awake", "Tougher Than the Rest", "The Dark Swan" |
| 2016 | Bizaardvark | Didi | "Pretty-Con" |
| 2016 | Teachers | Avery | "Drunk Kiss" |
| 2015 | Pickle and Peanut | Sugarbee/ Cindy (voice) | "Cookie Racket/Busted Arm", "Cart Rustlers/Swim Lessons" |
| 2015 | CSI: Cyber | Michelle Mundo | "Red Crone", "Heart Me", "CMND:Crash" |
| 2013- | The Young and the Restless | Faith Newman | She appears in 50 Episodes |
| 2015 | Dog with a Blog | Jules | "You're Not My Sister Anymore" |
| 2015 | The Vampire Diaries | Caroline Forbes | younger version of Caroline Forbes, "Let Her Go", "Stay" |
| 2015 | K.C. Undercover | Quinn | "Give Me A 'K'! Give Me A 'C'!" |
| 2014 | CSI: Crime Scene Investigation | Abby Fisher | young Abby, "Dead Woods" |
| 2014 | Clarence | Tinia(voice) | Patients |
| 2014 | The Bridge | | "Eidolon" |
| 2014 | Gravity Falls | (voice) | "Sock Opera" |
| 2012- | Crash & Bernstein | Jasmine Bernstein | Main role |
| 2013- | Instant Mom | Sam | "True Romance", "Forty-Two Inches of Pure Evil" |
| 2013 | The Goodwin Games | Chloe Goodwin | younger version of Chloe Goodwin, "Hamletta" |
Short Movies
| Year | Movie | Character | Comments |
| --- | --- | --- | --- |
| 2018 | Lucky Penny | Paige | |
| 2015 | The Pearl Whale | | |
| 2013 | R | Riley | young Riley |
Awards
| Year | Won? | Award | Project | Category |
| --- | --- | --- | --- | --- |
| 2018 | Nomination | Critics' Choice Awards | Gifted | Best Young Performer- Movie |
| 2018 | Nomination | Online Film & TV Association Awards | Gifted | Ensemble of the Year |
| 2017 | Nomination | Women Film Critics Circle | Gifted | Best Young Actress |
| 2017 | WON | Hollywood Film Awards | I, Tonya | Ensemble of the Year |
| 2017 | WON | Phoenix Film Critics Society Awards | Gifted | Best Breakthrough Performance |
| 2017 | WON | Phoenix Film Critics Society Awards | Gifted | Best Performance by a Youth |
Quotes
I like music with messages.
I want my characters make the audience Cry, make them happy, make them smile.
I became a vegetarian because I felt really bad for the animals
Lost 2 family members to suicide. Be kind, you never know who might need your kindness
I wish I could un-read 'Of Mice and Men'!! I'm emotionally traumatized! WORST ENDING EVER! Please warn people not to read it!
On my 18th birthday, I'm going to get a tattoo of E.T. on my shoulder
The best movies are the ones that make you feel
I feel really thankful that my parents let me do what I love
Animals are very sweet, and I don't think that they deserve to be tortured [2]
I've been dreaming of doing a really dramatic role where I get to push myself [4]
Sources