Biography
Nancy Carell is an American Comedian, TV & Movie actress & writer. She is known for playing Helen Goode(in The Goode Family), Carol Stills(The Office), Linda(in Seeking a Friend for the End of the World Linda (2012)). She is the wife of actor/ comedian Steve Carell. The couple have created the show 'Angie Tribeca' on TBS together.
Nancy Carell was born on 19th July 1966 in Cohasset, Massachusetts, United States to Carol Walls(Mother) & Robert Walls(Father).
Nancy Carell & Steve Carell Marriage: Nancy & Steve met on the troupe 'The Second City'. They had their first date at the Green Mill jazz club. Nancy was attending the classes while Steve was teaching them. Steve is about 4 years elder to her.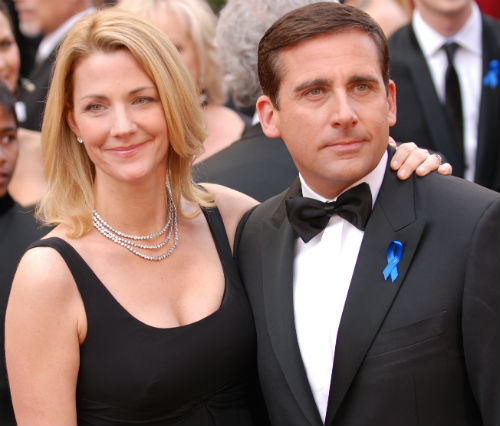 Image: Nancy Carell & Steve Carell(husband)
The couple got married on 5th August 1995, they have two children, a daughter named Elisabeth "Annie" Carell and a son named John "Johnny" Carell. The couple own a house in Los Angeles as well as in Marshfield, Massachusetts.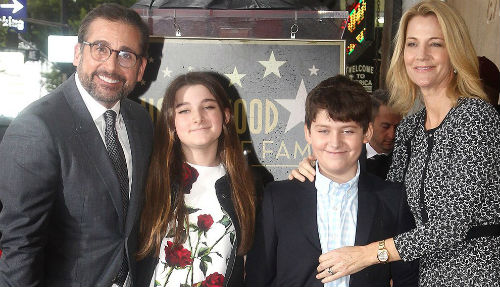 Image: Nancy Carell Family: Steve Carell(husband), Elisabeth Carell(sister), John Carell(son)
Nancy Carell: Interesting Facts & Trivia
My Mother's Fleabag: When she was in college, Nancy was a part of the improvisational comedy troupe named- My Mother's Fleabag.
The Second City: Nancy was part of the Chicago based improvisational comedy group, she featured on the TV show 'Saturday Night Live' in 1995-1996.
Impersonation: Nancy appeared frequently on Saturday Night Live in mid 90s, she was popular for her impersonation of anchor Bobbie Battista. Other popular impersonations of her are- Cokie Roberts, Diane Sawyer, Kathy Ireland, Martha Stewart, Sharon Stone.
She likes reality shows and cooking shows.
Nancy's husband Steve on her- "She is the smartest, funniest person I've ever met. I always look to her as a barometer of whether jokes are good or not." " I just never assumed that a woman that smart and attractive would be even remotely interested in me."
She has appeared on shows with David Koechner, Will Ferrell among others.
She has appeared on TV commercials for Ameritech Cell Phones in late 90s.
She used to play football as a kid.
She loves to become a writer, after her kids grow up she likes to take it full time.
She went Boston College because her other choice was 'Holy Cross' which would have kept her in the town, and also her ex-boyfriend went there.
First Job: Her first job after college was in a grocery store, where she worked at the salad bar.
Nancy & Steve have been married since 1995, they made it into National Ledger's "Hollywood's longest lasting marriages"
She has 5 siblings
On few occasions Nancy has played Steve's love interest.
Nancy Carell: Quotes
The kids are hysterical. We laugh quite a bit in our house.
(On her parents support during her early years) Even though it wasn't easy for them to watch me starve for five years, they never told me to get a real job.
Everyone should take a semester abroad. I didn't, and I regret it.
I did not have a math brain. Economics was the one class that I truly understood & loved.
I'm very insecure when it comes to entertaining.
I come from a family of six kids, so when I got to school and saw the unlimited bacon it was like heaven.
Nancy Carell: Career
Some of the Movies, TV Seies, Shows Nancy has been part of are as follows:
Movies
Seeking a Friend for the End of the World(2012): She portrayed Linda in the Adventure Comedy Drama movie directed by Lorene Scafaria starring Steve Carell, Keira Knightley, Melanie Lynskey in the lead.
Bridesmaids(2011): Nancy played a small role in the Romantic Comedy movie directed by Paul Feig starring Kristen Wiig, Rose Byrne, Maya Rudolph in the main roles.
The 40-Year-Old Virgin(2005): She played a guest role in the Comedy movie directed by Judd Apatow with Catherine Keener, Paul Rudd, Steve Carell in the lead cast.
Anger Management(2003): She was a Flight Attendant in the Comedy by Peter Segal , it was produced by David Dorfman, cast included Marisa Tomei, Adam Sandler, Jack Nicholson
TV Series
Angie Tribeca(2016): She played Mrs. Perry in this Mystery Crime Series, it was produced by Nancy Carell & her husband Steve Carell, it stars Rashida Jones, Andree Vermeulen, Jere Burns in the lead.
Georgia(2012): Nancy played Davinia in the Comedy Series with the cast of Mary Elizabeth Ellis, Debra Azar, Harold Perrineau
The Goode Family(2009): She acted as Helen Goode in the Comedy Series starring Linda Cardellini, Mike Judge, Nancy Carell in the main roles.
The Naked Trucker and T-Bones Show(2007): She played the character- Marcia in the Comedy Series with stars- J.P. Fitting, Dave Allen, David Koechner playing important roles.
The Office(2005): She played the character of Carol Stills in the Comedy Series with actors- Steve Carell, Jenna Fischer, John Krasinski in the lead cast.
Random Play(1999): She has a minor role in the TV Series starring Michael Showalter, David Wain, Michael Ian Black in the main roles.
LateLine(1998): She played the role of Jill in this Comedy Series , it has Al Franken, Megyn Price, Miguel Ferrer in the lead cast.
Others
Golden Globe Arrivals Special(2016)
Extra(2015)
60 Minutes(2015)
Live! with Kelly(2015)
E! Live from the Red Carpet(2007)
MTV Movie Awards(2006)
I Love the '70s(2003)
Comedy Central Laughs for Life Telethon(2003)
The Daily Show(1999)
Saturday Night Live(1995)
Nancy Carell: Photos, Pictures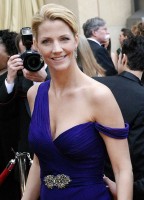 Nancy Carell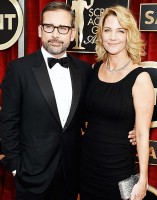 Nancy Carell with husband Steve Carell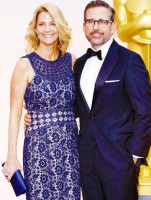 Nancy Carell with husband Steve Carell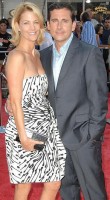 Nancy Carell with husband Steve Carell